February 10, 2021
Orlando, Florida (Capitol Wrestling Center)
Commentary: Wade Barrett, Vic Joseph, and Beth Phoenix
Results by: Mike Tedesco of Wrestleview.com and Mike Hogan of Rajah.com
---
Quick Match Results
Dusty Rhodes Classic Semifinal Match: MSK defeated Legado del Fantasma (Raul Mendoza & Joaquin Wilde) via standing slam/blockbuster combo on Wilde
Xia Li defeated Cora Jade via spin kick
Dusty Rhodes Classic Semifinal Match: Shotzi Blackheart & Ember Moon defeated Candice LeRae & Indi Hartwell via senton bomb by Blackheart on Hartwell
Kushida defeated Austin Theory by disqualification when Gargano attacked Kushida
Dusty Rhodes Classic Semifinal Match: The Grizzled Young Veterans defeated Tommaso Ciampa & Timothy Thatcher via Ticket to Mayhem on Ciampa
---
Dusty Rhodes Classic Semifinal Match
MSK vs. Legado del Fantasma (Raul Mendoza & Joaquin Wilde)
It will be Wes Lee starting against Joaquin Wilde. Wilde sidesteps Lee trying a tie-up. Wilde signals for a test of strength, but Wilde quickly gets out and goes for a back suplex. Lee gets out, but Wilde takes him down and applies a wristlock. Wilde rolls through and takes him down before kipping up. Wilde is acting very cocky. Wilde takes him down and ties up the legs. Lee gets out and applies an arm bar. Wilde fights up and tries to whip him off, but Lee quickly takes him down. Lee sends him to the corner, and Nash Carter tags in. Lee dropkicks Wilde in the corner before Carter hits a bronco buster for a two count. Carter applies a front facelock, but Wilde quickly fights up and powers out. Wilde hooks the arm, but Carter rolls through, flips to reverse the pressure, and knocks him back. Raul Mendoza tags in, and they lock up. Mendoza hooks a side headlock, but Carter fights out. They each go for a takedown, but neither budge. They twist out of moves. Lee tags in, and MSK hit some quickly strikes. Carter hits a double stomp to the back of Mendoza, and Lee picks up a near fall.
Mendoza quickly takes Lee down before bouncing him in the corner. Wilde tags in and hits a running corner clothesline. They tag in and out hitting multiple corner clotheslines. Legado del Fantasma then hit a double-team suplex followed by an aided springboard moonsault for a near fall. Lee soon counters and gets away. Carter tags in and runs over Wilde before kneeing Mendoza. Carter rolls Mendoza down and kicks him in the jaw for a near fall. Carter sends him into the ropes, but Mendoza hangs onto the ropes. Mendoza knocks him back and puts him on the apron. Mendoza throws Wilde up in the air for him to wildly dropkick Carter off the apron. They then wipe out Lee as we go to commercial.
We come back from the break to see Carter flip through a German Suplex from Mendoza before delivering an enzuigiri. Lee tags in and takes Mendoza down twice. Lee hits a strike combination on Mendoza followed by a dropkick. Wilde is then given a back body drop over the top rope as he attempts to attack. Carter gets on the apron and jumps… Lee pushes him and helps him do a moonsault on Mendoza and Wilde! Lee then hits a senton plancha. Lee gets them in the ring for a near fall.
Legado del Fantasma fights back. Mendoza climbs the ropes and hits a missile dropkick. Wilde follows up with a poisonrana. Mendoza hits a twisting brainbuster, but Carter breaks it up. Mendoza lifts Carter up on his shoulders, so Wilde jumps off the top rope onto Carter and does a 450 splash to Lee… but Lee gets the knees up! Mendoza breaks up the pin by throwing Carter onto Lee. Legado del Fantasma get Carter out of the ring. Carter pulls Mendoza out of the ring. Lee superkicks Wilde and tags Carter in. MSK hits a standing slam/blockbuster combo for the win!
Winners by Pinfall: MSK
MSK will go to the finals of the Dusty Rhodes Tag Team Classic this Sunday at NXT TakeOver: Vengeance Day. MSK celebrates in the ring. Their opponents will be determined later tonight.
---
Video: Mercedes Martinez
It took @RealMMartinez 20 years to get here, and she's going to do whatever it takes to walk out of #NXTTakeOver: Vengeance Day as #WWENXT #WomensChampion!

BET. ON. THAT. pic.twitter.com/jIAPD9llU0

— WWE NXT (@WWENXT) February 11, 2021
Mercedes Martinez is shown in a video package talking about how the NXT Women's Championship is her destiny and goal. She's back because she wants the title. Io Shirai's title reign has an expiration date: this Sunday. Bet on that.
---
Xia Li vs. Cora Jade
Before the match begins, Kacy Catanzaro and Kayden Carter run down and confront Boa. Jade attacks Li from behind, but Li angrily gets up and cuts her down with kicks. Li crushes her with a spin kick for the win.
Winner by Pinfall: Xia Li
Li attacks Cora Jade after the match, angering Catanzaro and Carter. The commentators explain they are concerned about what has happened to Li. Carter runs over to Tian Sha and yells at her on the throne. Carter says this isn't Xia Li and wants to know what she did to her. Li comes from behind and flips Carter off the stage!
Li begs for forgiveness from Sha. Boa comes over and tries to speak with Sha. Sha grabs him by the throat and points with her other hand. Li goes to ringside and viciously attacks Catanzaro, wiping her out with a spin kick to the skull. Tian Sha releases Boa, and Li kneels before her.
---
Backstage: William Regal, Scarlett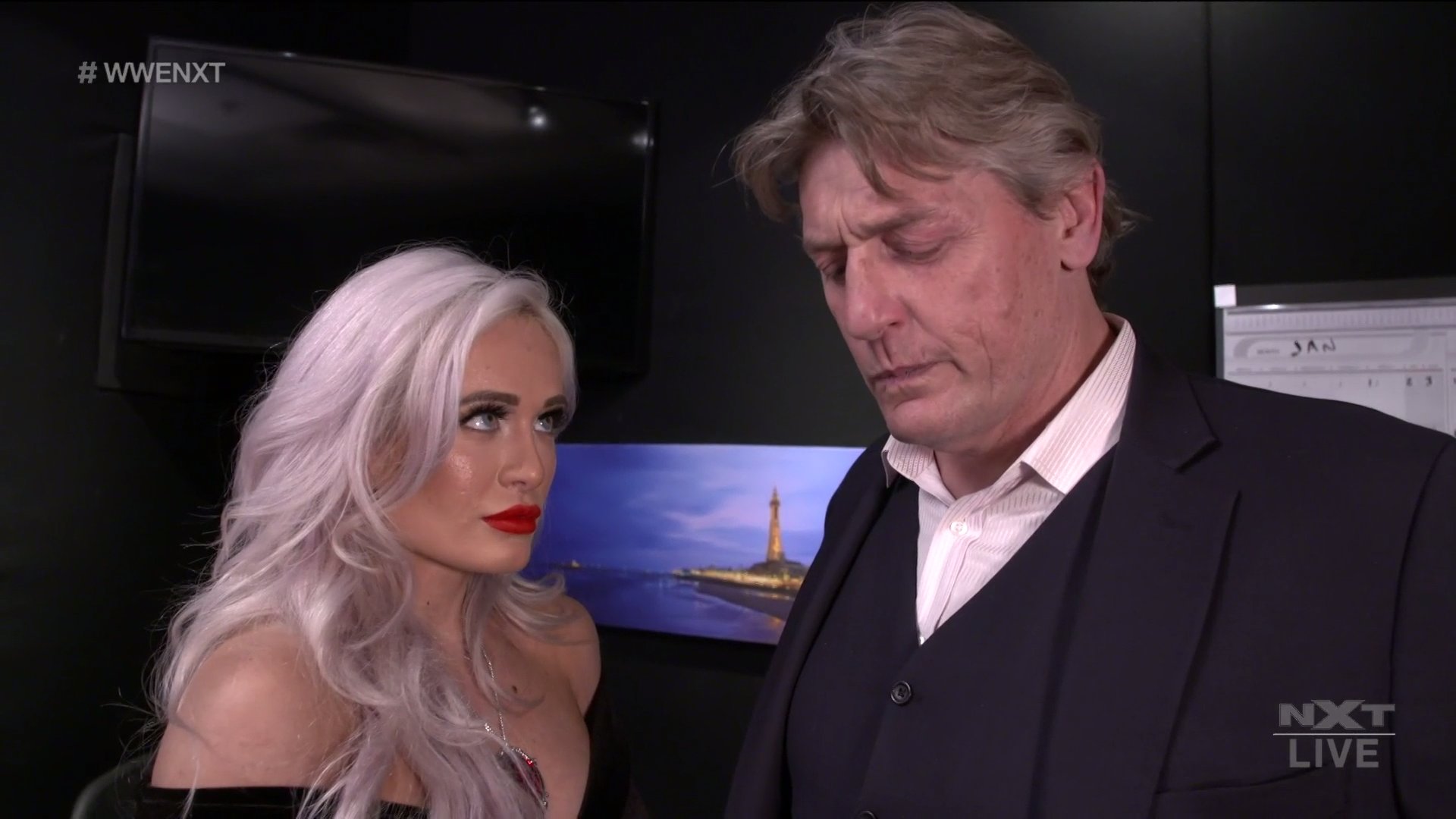 McKenzie Mitchell comes up to NXT General Manager William Regal. Regal puts over MSK before walking into his office. Scarlett is inside. Scarlett says she is here because if HE comes, it won't be good. Time is up for Santos Escobar next week. Regal agrees to Karrion Kross against Santos Escobar next week.
---
In-Ring: The Way, William Regal, Kushida
Candice LeRae and Indi Hartwell are walking backstage. Austin Theory is wheeling Johnny Gargano behind them.
The Way are carefully helping NXT North American Champion Johnny Gargano into the ring. Gargano says the people are rude and insensitive. Before Candice and Indi punch their ticket to NXT TakeOver in the Women's Dusty Rhodes Tag Team Classic Finals, he has to address the attack by Kushida last week. A "You deserve it" chant lightly picks up. Gargano says he was minding his own business when Kushida attacked him for no good reason and broke his arm.
Footage is shown of Kushida kicking Gargano in the arm last week. Candice LeRae covers Gargano's eyes as he watches.
Gargano says he has four fractures in his arm. He's a leftie and a power walker. Now he can't swing his arms. The worst part of it is he cannot defend his NXT North American Championship against Kushida on Sunday at NXT TakeOver. Gargano calls for Mr. Regal to suspend Kushida for injuring the most beloved member of the NXT Locker Room.
Regal walks out onto the stage. Regal says the NXT medical team cleared Gargano yesterday afternoon, so it's time to stop the ridiculous chirade. Gargano won't trust the quacks in medical. Gargano went to his own doctor and shows a fake x-ray of a broken arm. Regal asks him for the name of the bone. Regal says that's an x-ray of a right arm (Gargano's left arm is supposedly injured). Gargano says the "R" stands for "real." Regal says Austin Theory can be Gargano's surrogate and defend the NXT North American Championship for him. The second option is Gargano forfeits the title right now. Gargano says he just needs a few months and they'll do a "Beautiful Day" music video.
Kushida appears behind them and attacks Gargano. Gargano's arm is perfectly fine, and Kushida knocks him back into his wheelchair.
---
The rest of the results by Mike Hogan of Rajah.com
---
Dusty Rhodes Classic Semifinal Match
Candice LeRae & Indi Hartwell vs. Shotzi Blackheart & Ember Moon
When we return from break, we start our first Women's Semifinals match. Hartwell isolates Blackheart and works her over with strong kicks and strikes. She tags in LeRae. Candice LeRae uses working holds to ground Shotzi Blackheart, and targets her assault on Shotzi's left arm. Candice hits a beautiful form of the Natural Selection and covers for a close two. Hartwell is tagged back in and drops Blackheart. Hartwell moves to the corner and sticks her tongue out at Moon, taunting her, before taking Blackheart back to The Way's corner and tagging in Candice LeRae. Wade Barrett mistakenly calls Candice LeRae "Candice Michelle" and mentions that she's been wrestling nineteen years. LeRae continues to work over Blackheart slowly, using working holds before attempted covers. It appears Shotzi and Ember have matching red face paint over their left eyes and temples. Moon hits the ring fast, taking out LeRae and Hartwell. Hartwell is legal. Moon with a running knee. Moon with a hard Irish Whip into the corner and tags Blackheart in. Shotzi with a springboard strike and an attempted cover. Shotzi pulls up Hartwell and slips up onto her shoulders, then leans back over the ropes for a form of a spider submission. Shotzi is distracted by Candice, and heads outside where LeRae sends her face-first into the announcer's table. Hartwell tags in LeRae. The Way take down both Blackheart and LeRae as we go to a picture-in-picture commercial break.
During the commercial, The Way utilize quick tags and isolate Ember Moon in their corner. They keep Moon grounded, using sleepers, arm holds, stiff strikes and kicks throughout the commercial break to keep her shut down. LeRae with a big punt-style kick. Hartwell is legal again, and continues the barrage of kicks and weardown holds. LeRae tags back in. Moon takes her down quick and dives over, tagging in Shotzi! Shotzi hits the ring all fired up, dropping LeRae's face onto her knee. LeRae rests against the middle rope and Shotzi rockets off the opposite ropes to come back and hit a hard running knee to the upper back. Shotzi attempts a cover but gets two. Blackheart tags in Moon, who drops LeRae and attempts a cover. Hartwell breaks it up. Hartwell and Blackheart fight, with Blackheart and Hartwell both down outside. LeRae looks for a tag after hitting a stunning strike on Ember, leaving her staggering. Hartwell quickly recovers and tags in. LeRae springboards off the middle rope as Hartwell holds Moon in position as if she were considering a Scorpion Death Drop (best way I can describe how she stood). Hartwell continues to work over Moon. Hartwell goes for a high kick as she tags LeRae in but accidentally hits LeRae. Ember escapes and tags in Shotzi. Candice drops Shotzi, then tags in Hartwell. Hartwell springboards off the top rope, nailing a diving elbow as LeRae held Shotzi's feet. LeRae exits and Hartwell covers, but only gets a two. Shotzi starts her comeback, whipping Hartwell into the corner and charging in to hit a middle rope-assisted DDT that looked sick. LeRae comes in but Ember Moon neutralizes her as she dives across to hit the Eclipse on LeRae! Shotzi heads up top and Hartwell crawls on top of LeRae, hoping to protect her friend despite the fact that Hartwell is apparently legal. Shotzi flies off the top and hits a senton bomb on top of both women! Shotzi shoves Hartwell over and covers her for the win!
Your Winners and advancing to the Finals of the Women's Dusty Rhodes Tag Team Classic, Ember Moon & Shotzi Blackheart!
Ember Mion & Shotzi Blackheart will face Dakota Kai & Raquel Gonzalez in the finals for the first-ever Women's Dusty Classic.
---
Backstage: Timothy Thatcher & Tommaso Ciampa
Thatcher talks about the upcoming match with the Grizzled Young Veterans. Ciampa calls himself "Old Man Ciampa" as proof he reads our comments, I think. They promise to school the GYV as they defeat them and head on to the finals. Ciampa yells that class is dismissed, slaps his chair over and leaves. Thatcher smiles broadly with the most jacked-up teeth I've ever seen. We go to break.
---
Backstage: Legado del Fantasma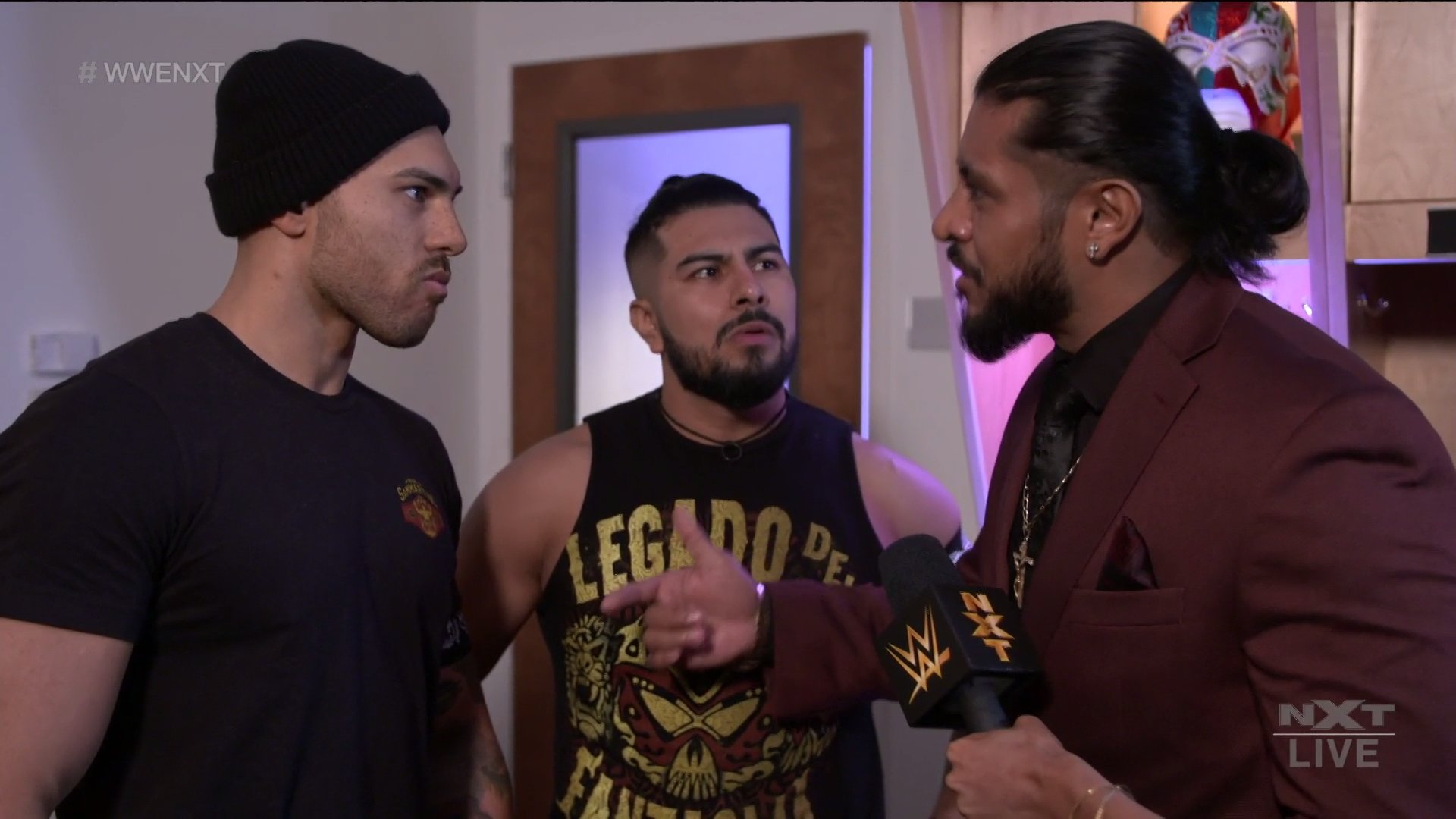 Santos is with Mackenzie, and she asks about his title defense next week. He tells us how great he is and how he'll defeat any challenger. Wilde & Mendoza come up and apologize to their boss for losing their match earlier. He tells them if they want to make it up to him, they can make sure Karrion Kross doesn't make it to next week. They nod and head off as we had off to:
---
Video: Finn Bálor and Pete Dunne
We get a promotional video package featuring clips of both Bálor and Dunne, and words from both, as each threaten each other ahead of their championship match this Sunday.
---
Austin Theory vs. Kushida
Apparently Regal's insistence earlier that Gargano forfeit, or let Theory defend the title in this match, is just not happening as this isn't a title match and the title belt is still around Gargano's waist. As the match starts, Gargano can suddenly walk again and hops up on the apron. The ref warns him and Theory uses the distraction to his a beautiful dropkick to take down Kushida. Kushida doesn't stay down for long and takes control early, using a cartwheel drop, a running arm drop, a suplex and several working holds to punish and ground Theory. Kushida pulls Theory's arms back behind him, with Theory face-down on the mat, and proceeds to stomp a hole in Theory's back while staring angrily at Gargano. Kushida takes Theory up and into a corner, and Theory starts to fight back. Theory with a forearm. Kushida stumbles back against the ropes. Kushida shuts his offense down fast, though, and drops Theory in the ring and locks in an arm submission. Theory screams as he locks eyes with his The Way partner, Gargano. Kushida pulls Theory's left arm up, behind Theory, and between Kushida's legs…then he slams his body back, snapping Theory's arm! Kushida pulls Theory up and continues to assault him with a long series of kicks, strikes, and a focused assault on Theory's left shoulder. Theory desperately attempts a clothesline but Kushida ducks under. Theory can't seem to land a move in as Kushida counters it all. That is, until Kushida leaps over the ropes, slipping off them and falling onto the apron. Theory lunges his body against the ropes twice, sending Kushida flying into the barricade and us to a commercial break!
We return from break and find Theory firmly in control, softening up Kushida per Vic Joseph with a series of clotheslines. Thoery pulls Kushida up and whips him into the ropes. Kushida leaps for a crossbody but Theory catches him, repositions and hits a great Fallaway Slam! Theory stands a foot on Kushida's chest and flexes his arms as he attempts a cover, but Kushida easily kicks out at one. Theory kneels and begins to hammer Kushida's head with fists. Gargano offers some advice to his young protege. Theory punches Kushida against the ropes, then rains fists down repeatedly as Kushida drops to his knees. Theory loses control and Kushida hits an Atomic Drop followed by a springboard back elbow. Theory charges Kushida, but Kushida hits a drop toe hold to send Theory face-first into the turnbuckle! Kushida gets two on a close pin attempt. Kushida tugs off his shirt, stands on Theory's neck, then changes his mind and drags Theory to his feet by his arm. Kushida hits one, two, three armbreakers! Kushida focuses on that injured arm. Theory fights back but Kushida takes control again, and drops to the apron. As Theory, at ringside, comes over to grab him, Kushida locks in an arm bar submission! Gargano's had enough and runs over, attacking Kushida and causing the DQ.
Your Winner by Disqualification, Kushida!
Gargano and Theory beat down Kushida for a few moments as the ref yells at them. Gargano yells at Kushida and holds up the North American Championship, telling Kushida he'll never have it. Suddenly, Theory drops to the floor and is dragged under the ring! He yells for help from Gargano. Gargano rushes over and reaches under, grabbing his hands and closing his eyes as he grunts with effort to pull his friend out from the ring…only to see its Dexter Lumis! Lumis sends Theory into the ring when he crawls out. Kushida is up and attacks Theory! Gargano rushes in and Kushida catches him, locking a submission hold on his "injured" left arm! Theory attempts to break it up but Lumis slips into the ring and slides on a side headlock of his own on Theory! We end things with Gargano writhing in pain, Kushida standing strong, and Dexter holding Theory's head in his lap and calmly petting his head or something.
---
Video Promo: Toni Storm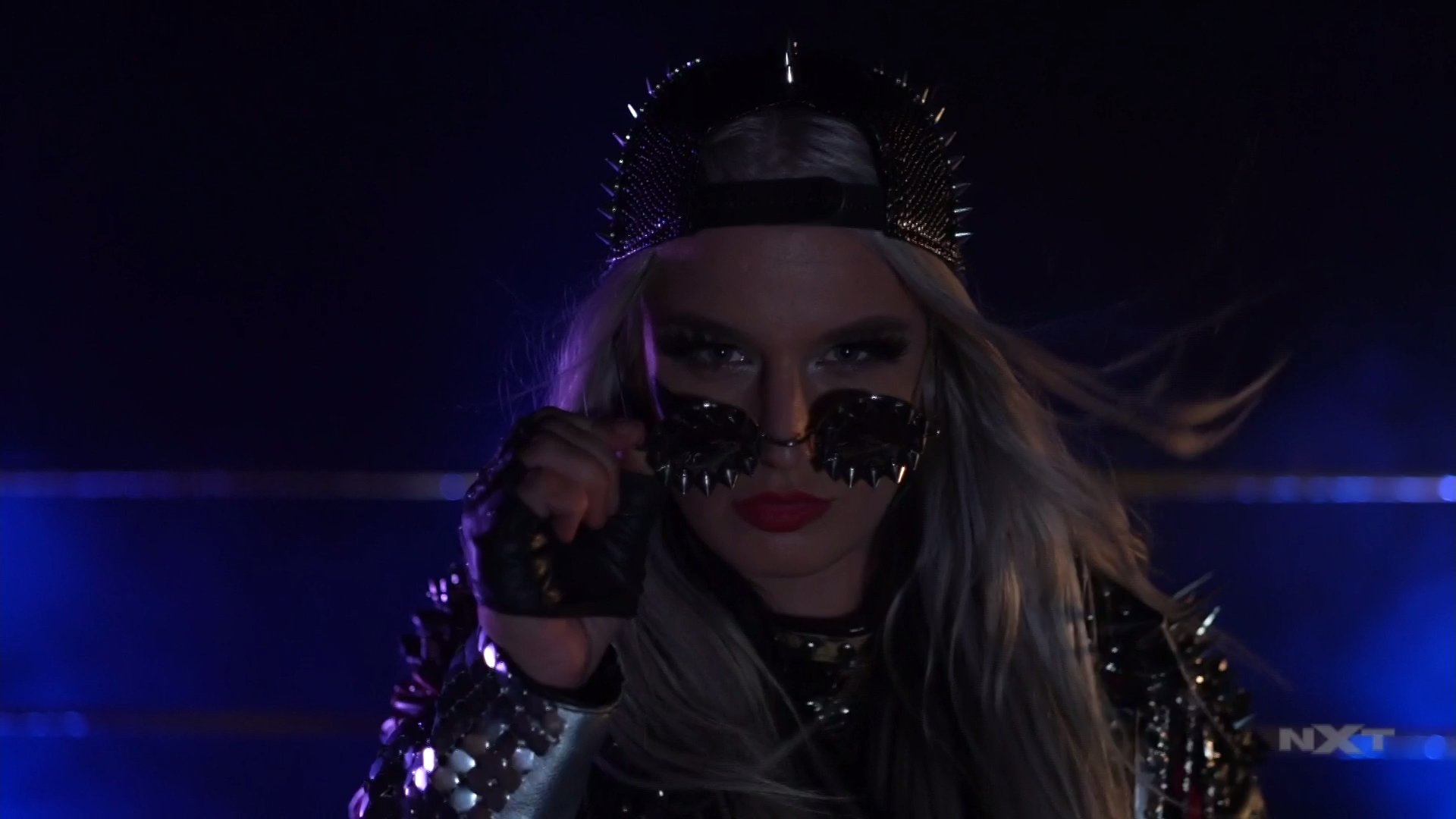 Storm tells us that nine months ago, she was walking on a beach or something. We see her walking on a beach, then other clips of her. She tells us that she hates it when people put their noses in her business, as Mercedes Martinez has done when Toni went after Io. She tells Shirai and Martinez they're both on notice as it's Toni Time. We go to break.
---
Video Promo: Imperium
We're told Imperium is all about unity. Marcel Barthel, disciplined. Fabian Aichner is their equalizer who adapts and overcomes. Alexander Wolfe, formerly of SAnitY, is their newest addition and Walter, their leader, is the most dominant champion in NXT UK history. Together they are…Imperium. They say in unison that to them, the mat is sacred.
---
Backstage: Karrion Kross
We cut to the back and see Joaquin WIlde and Raul Mendoza destroyed, under some wreckage in the back. Karrion Kross gets in the camera's face and tells Santos Escobar that he should be a man and handle business himself, like Karrion does. He warns Escobar that he's coming for him next week. Tick tock!
---
In-Ring: Cameron Grimes
We see Wade Barrett, Michael Cole's long-lost love child Vic Joseph, and the Glamazon Beth Phoenix as they start to talk about Kross. They hear a car horn honking and we cut to the parking lot. A nice sports car (sorry, not my specialty, its fancy though) drives up. Out wearing a row sports coat, hat, pants and boots and a gold watch is Cameron Grimes!
He gives out money as he makes his way into the arena and ring, just tossing cash around. He's wearing glasses, too, and gets on the mic. "Everybody, up on your feet! T here's a nice reward in it for everybody who gets up on their feet! That's right, Cameron Grimes is back, baby! Hahahaha! Now you know, two months ago I laid outside this very ring 'cause that no-good Timothy Thatcher, that MCL-snatcher, he took me out, he left me layin', I was screamin' and I was flailin'. So I went home and did what every man would do. I thought how I was gonna come back and cave in to Timothy Thatcher! But know what, I'm not gonna sit here and say I trained the whole time. I had a little down time. And just like a normal man would do, I found these things called video games man. Turns out these video games are pretty freakin' cool man! …I (wondered) why am I wrestling if I can play video games?"
He tells us that he then went out and found a place called "GameStop" and its lights and video games interested him and–oh god, they're doing this aren't they?–he decided to invest his money in such a fine establishment. And it turns out he did it at the right time, as he's made bank. He's got so much money he doesn't know what to do with it. He tells us they're making money for dogs, something called a "dog coin" and he hates cats so he invested in "dog coin" too and made even more money. Now he's so rich he's richer than anybody, he claims as he excitedly hops up and down and yanks off his hat and jacket. He says he's the richest man in NXT. He's so rich that there's not anyone who can tell him anything now. "Mr. Regal, you think you're gonna tell me something? Well I'm gonna tell you something, you can kiss my grits!…You think I'm gonna wrestle Dexter Lumis, you can kiss my grits! You think I'm gonna wrestle zombies (long pause) you can kiss my grits! They say money is power! Well now, I've got so much money it ain't even that funny. it's hilarious," he says as he tosses his small wad of cash in the air and the mic. He hoops and hollers and heads off.
---
Video Promo: Io Shirai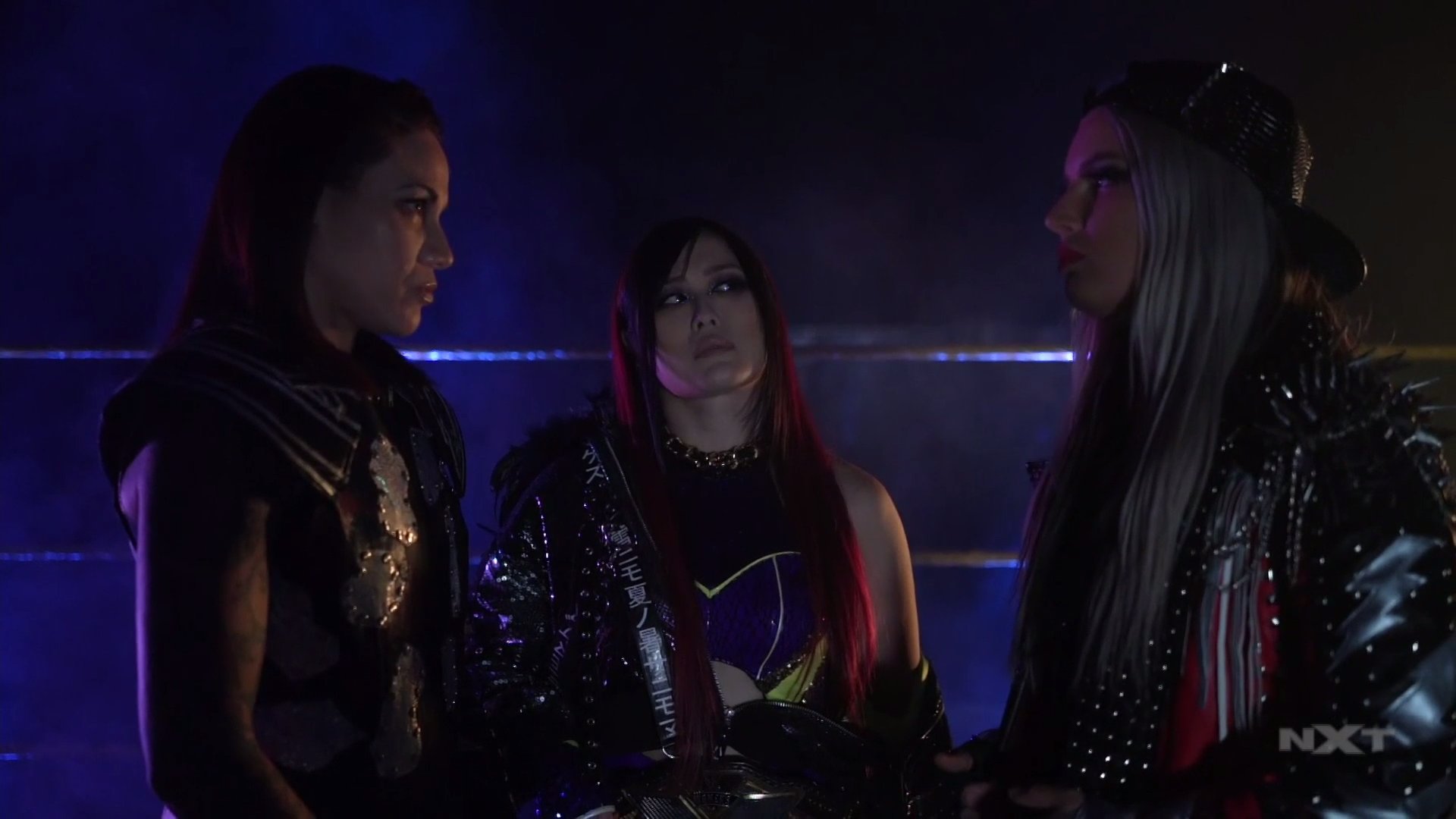 And the third participant of this weekend's triple-threat match, Io Shirai, speaks. She tells her challengers that she will walk out Sunday as the champion. They end the promo with a cool shot of all three women together.
---
Dusty Rhodes Classic Semifinal Match
The Grizzled Young Veterans vs. Tommaso Ciampa & Timothy Thatcher
We cut to the arena and Ciampa & Thatcher are ready in the ring. Out next are the GYV, who get on the mic at the top of the ramp. They tell them to take their fake friendship and "stick it all the way up your ass" and say that the Dusty Cup belongs to them. They continue to run off on the mouth until Ciampa and Thatcher slide out the ring and brawl with them outside the ring! Thatcher whips Drake into the steel rigging and Ciampa beats Gibson down into the mat. The match hasn't even begun yet. Ciampa grabs Drake and throws him over the barricade and into the crowd. Ciampa and Thatcher take Gibson into the ring, and Thatcher starts things off for his team as the ref calls for the bell. Thatcher drops Gibson and works on his left leg, then tags in Ciampa within moments. Ciampa with a leg pick. Ciampa locks in a left arm bar and tags Thatcher in, who comes in and punishes Gibson with stiff strikes and joint manipulation on Gibson's left shoulder. Finally, Drake is up in the corner. Drake catches Thatcher as he runs Gibson into the ropes and rocks his opponent. Gibson tags Drake in, and Drake starts to work Thatcher in the corner. Drake tags Gibson back in and Thatcher regains control, dropping Gibson with a big European Uppercut. Drake runs around outside the ring and attacks Ciampa, taking him off the apron. Gibson takes control in the ring and tags in Drake. They work together to double team Thatcher in the ring, then move outside together to double team Ciampa, dropping the former champ h ard to the floor. Ciampa rolls, holding his head as the ref checks on him and we go to picture-in-picture break!
When we return from break, Gibson is still in control over Thatcher. Thatcher's been unable to tag out as medical staff have been attending to Ciampa at ringside. Gibson with a big back drop and a pin attempt. We see Dusty Rhodes' image on the X-shaped tron/screen at the top of the ramp, in memory of the Legend. Gibson locks in a side headlock and holds it for a solid minute or so. Thathcher slowly gets to his feet, but Gibson immediatley hits a big forearm. Drake strikes Thatcher. Gibson beats down on Thatcher. Thatcher is lifted up onto Gibson's shoulder as Drake tags in. They set up for the Doomsday Device but Thatcher slips free and takes Drake off the top, sending him crashing to the mat before taking Gibson down. Ciampa suddenly pulls a John Cena, hops up on the apron, gets the tag in and runs around the ring, taking out both opponents with splashes, running lariats, a running crossbody, then a pair of snap German suplexes for both Gibson and Drake! Ciampa lifts up Gibson and runs, back body dropping Gibson onto Drake! There are lacerations on the back of Ciampa's head but he's still cleared to fight. Ciampa pulls up Drake and hits a few big chest slaps. Ciampa looks for the Fairy Tale Ending but Drake wisely drops to his knees, blocking it. Drake escapes and tags in Gibson.
Gibson with a few strikes but Ciampa fights back! Ciampa with a jumping knee. Gibson chops Ciampa in the throat then hits a long suplex. Both men are down. Ciampa crawls for Thatcher. Gibson tags in Drake; Drake runs across the ring, up Ciampa's back and leaps, connecting with a kick to Thatcher and sending Thatcher flying off the apron! Gibson comes in and helps set up for the Doomsday Device–and they connect and cover! Thatcher barely gets in the ring to make the save. We're now now three minutes into the overrun Drake and Thatcher brawl on the outside. The ref's simply quit enforcing tag rules. Gibson and Drake double team Ciampa, hit the Ticket to Mayhem and cover, picking up the win as Thatcher's down outside.
Your Winners and advancing to the Finals of the Dusty Rhodes Tag Team Classic to face MSK, Grizzled Young Veterans