Results by Mike Hogan of Rajah.com
May 25, 2021
Orlando, FL – Capitol Wrestling Center
Commentary: Vic Joseph, Wade Barrett & Beth Phoenix
---
Quick Match Results
Ember Moon & Shotzi Blackheart defeated Raquel Gonzalez & Dakota Kai via the Eclipse by Moon on Kai
Pete Dunne defeated Bobby Fish via the Bitter End
Mercedes Martinez defeated Zayda Ramier via Air Raid Crash
Franky Monet defeated Cora Jade via Road to Valhalla
NXT Championship: Karrion Kross (c) defeated Finn Balor via Kross Jacket
---
Ember Moon & Shotzi Blackheart vs. Raquel Gonzalez & Dakota Kai
We cut to the Capitol Wrestling Center. Ember Moon & Shotzi Blackheart make their way out in their own unique style. The tank's back this week. Both women are fired up as they pace and hop around the ring, eager to fight. Out next are their opponents, my future wife Dakota Kai and NXT Women's Champion Raquel Gonzalez. The bell rings and we start with the NXT Women's Champion and Shotzi Blackheart. Shotzi hops on Raquel's back but nothing comes from it. Shotzi leaps at Raquel, who shoves her easily down across the ring and onto the apron. Shotzi tags in Ember Moon. Moon goes straight after the champ, leaping in the air. Raquel easily deflects the move. Moon finally scores some offense as she catches the champ in a Hurricanrana that floors the champ for the first time tonight! Raquel pops up and again, Moon drops the champ down! Raquel is incensed and chases Moon outside the ring and back in. Raquel Gonzalez lifts Moon in a cross-body and takes her to the corner, tagging in Kai. Kai fails to contain Moon and Shotzi comes back in. Blackheart shows off her speed, quickly taking Kai down with a faceplant and attempting a cover. Moon's tagged back in. Kai's whipped into the ropes; once again, Moon & Blackheart show off their growing innovative playbook of double-team moves, dropping Kai down with a drop toehold followed by both women connecting with standing sentons/moonsaults. Shotzi puts Kai into a modified standing Sharpshooter. Kai struggles to get to the ropes. Raquel hops off the apron and yanks Kai over to the ropes. The ref chastises her but does nothing about it. Raquel takes up her position on the apron so Kai can tag out. Raquel comes in and decks Shotzi as we go to break.
Back from the break and rather disappointed there was no picture-in-picture break this time. Bummer, brother. When we return, Kai and Blackheart clothesline each other and fall on their backs. Both women make the tag to their partners. Moon comes in and drops the champ to a knee with a pair of leaping kicks. Moon does a little jig then drops an elbow on the champ. Moon with a running forearm across the back. Moon rushes up top and hits the Eclipse! The champion is staggered. Kai runs along the apron to distract moon. Raquel uses it to drop moon and tag in Kai. Kai and Raquel with some innovation of their own, hitting a double-team and attempting a pin. Kai tries to prevent Moon from tagging in Shotzi but fails. Shotzi comes in fast, two kicks to the side of Kai's face, a kick to the jaw, a strike to the temples and another to the back of her head, dropping the captain of Team Kick with a team of kicks for a close two!. Shotzi whips Kai into the corner and tags in Moon. Moon lifts Kai up in the Electric Chair while Shotzi climbs–threatening a Doomsday Device!–when Raquel runs over to break it up. Shotzi dives off the top and takes down Raquel. Wade Barrett, Beth Phoenix, and Michael Cole's long-lost son Vic Joseph all comment that the ref is giving our superstars a lot of lateral right now. Moon with a submission attempt on Kai. Raquel breaks it up before clashing with Shotzi. Moon hits the backbreaker and Eclipse. Moon finally puts Kai away and picks up the win.
Your Winners, Ember Moon & Shotzi Blackheart!
As Moon and Shotzi celebrate, the NXT Women's Champion attacks them both. Kai uses the corner to choke Moon and Raquel picks up Shotzi, Powerbomb-slamming her against the barricade multiple times. Finally Kai and Raquel leave.
---
Video Promo: Timothy Thatcher & Tommaso Ciampa
Ciampa tells us that they were aiming for MSK but Grizzled Young Veterans had to get in their path. Again. He points out each team has one a match, and they're looking for the rubber match. Ciampa hops up and storms off. Thatcher waits a moment then throws his steel chair against the loading dock door behind him and yells a threat before both men pose and we move on.
---
Bobby Fish vs. Pete Dunne
We return from a break. Dunne makes his way out with Oney Lorcan, in street gear, accompanying him to the ring. Despite his heel status, Dunne gets a solid amount of cheers amongst the sea of boos. Out next is Bobby Fish, to his first post-UE theme. Fish goes immediately after Dunne as soon as the bell rings. Fish faults Dunne for being shelved for months. Fish pummels Dunne with fists and knees, and continues to assault him against the ropes until the ref forces the break. Dunne, ever the opportunist, clubs Fish with a forearm and takes control. Dunne with a ground and slow pound. Dunne takes Fish around the ring, delivering knee strikes and an arm bar to drop Fish. Dunne begins to focus his attack on Fish's surgically-repaired arm. Fish makes it to his feet and kicks Dunne off. Dunne counters another strike attempt and looks for a submission; Fish counters by rolling through and locking an arm bar of his own onto Dunne! Dunne attempts to flip through and escape but Fish adjusts his stance. Eventually Dunne breaks free but Fish uses a rope-assisted pop-up strike to Dunne's ribs that stuns the former NXT UK Champion. Dunne spills to the outside as we go to break.
Back from the break. We return to find Dunne in control, cranking Fish's leg back in a modified half-crab. Dunne stands on the insides of Fish's knees, forcing Fish face-down on the mat, and begins slapping the back of Fish's head, disrespecting the vet. Dunne grabs Fish's left arm and holds it, kicking Fish in the face repeatedly. Fish gets pissed and starts his comeback, fighting Dunne off with a series of kicks. Dunne looks to regain control with a charge but Fish reverses it into a big spinebuster! Fish with strikes to Dunne. Fish with a Sleeper on Dunne. Dunne focuses on the fingers of Fish's right hand, forcing him to break the sleeper. Dunne pushes Fish to the mat face-down and leaps up, dropping both knees on Fish's surgically-repaired left elbow/arm. Fish rolls outside to hold his arm and regain his composure. Fish returns into the ring and walks right into a Step-up Enziguri. Dunne hops around Fish's waist, looking for perhaps a Guillotine submission. Fish converts it into a belly-to-belly suplex that drops Dunne on the back of his neck and picks up a close two. Both men rise to their feet and lock up, throwing strong knee strikes into each other's midsections, attempting to wind each other. Fish gets control, delivering alternating knees as he beats Dunne back into the corner! We're reminded of Fish's apparent kickboxing background. The ref counts and warns as Fish continues to throw knees. Fish breaks it. Dunne attempts to use this to his advantage, attacking Fish. Fish quickly shuts it down by rolling under a running leaping kick and leveling Dunne. Dunne rolls his body, latching on to Fish's right arm and applies an armbar. Dunne attacks the fingers again! Fish rolls through and reverses it, putting Dunne in an armbar of his own and attempting to manipulate Dunne's fingers. Dunne escapes and connects with the Bitter End to end the match.
Your Winner, Pete Dunne!
As Dunne celebrates, Oney Lorcan hits the ring and attacks an already-exhausted Bobby Fish. Lorcan stands on Fish's chest on the apron and uses the top ropes for added pressure. Four refs tell Oney to leave. He runs over and kicks Fish hard in the side. The refs finally get Lorcan and Dunne to back up the ramp. Dunne just shrugs at Fish. Fish is back to his feet, angry but restrained by refs.
---
Backstage: Mercedes Martinez
👀 ⚔️ 🐉 @FearTianSha @Bigboawwe @RealMMartinez pic.twitter.com/YTEiPwIjmY

— WWE NXT (@WWENXT) May 26, 2021
We find Mercedes walking backstage and addressing NXT Women's Champion Raquel Gonzalez. Mercedes says their fight over the title isn't over. In the background it looks like Boa is watching curiously. We head to break.
---
Video Promo: Hit Row
We get a promo from the newly-formed Hit Row. Swerve says "tick tock, tick tock" and states he'll be watching the outcome of this main event. He can't wait to….cross Karrion. Top Dolla puts Legado on notice, Ashante "Thee" Adonis puts Kushida on notice, and B-Fab implies the same about the NXT Women's championship. It looks like Hit Row wants to go for all the gold.
---
Zayda Ramier vs. Mercedes Martinez
Mercedes Martinez makes her way out first. Zayda's already set up in the ring. We start off with Zayda mounting a sizable amount of offense, dropping Martinez with a series of kicks and attempts a pin. Martinez shuts it down with a big fist. Martinez with a trio of butterfly underhook suplexes followed by a pin attempt. Martinez slaps a Dragon Sleeper on Ramier. Ramier struggles to her feet and wiggles over Martinez's shoulders, then attempts to roll her up. Martinez with a big spinebuster and pin attempt. Ramier looks for a sleeper submission but Martinez easily gets to her feet and breaks the hold by running backwards into the corner. Martinez places Ramier on the top turnbuckle and climbs up the middle rope. Ramier fights her back so Martinez stays standing and tosses Ramier off the top rope. Martinez with a running knee to the jaw, followed by an Air Raid Crash to put away Ramier in a short but fun match.
Your Winner, Mercedes Martinez!
The lights suddenly go out. Red light floods the ring but this is no Fiend, it's another teaser for Tian Sha! When the lights return, as does Martinez's theme, she notices a black charcoal Asian character written on her hand. Wade Barrett speculates if this means she's the next marked (victim) and we go to break.
---
Million Dollar Face-Off: Ted DiBiase & Cameron Grimes
After a break we get right on with this…whatever this is! Introduced first is Cameron Grimes, who comes out shirtless wearing a blue suit and his brown hat as usual. Announced next is WWE Hall of Famer and Legend "the Million Dollar Man" Ted DiBiase, who comes out to massive cheers as he interrupts Grimes as soon as he begins to speak. Ted makes his way out, every bit as glib and the incredible heel he was decades ago. Ted gets a mic and stands in the ring, opposite Grimes.
Ted listens to a "DiBiase" chant til Grimes speaks. "I'm sure everybody wants to know, Ted, and that's why man? Seriously, why? I don't know if you know this but I wasn't always rich, Ted, I didn't always have this lavish lifestyle and I didn't have this gold watch. (Then) I start to flaunt it" a bit and suddenly, DiBiase begins one-upping him. Grimes tells Ted that he looks up to him. He learned from Ted that he can make anyone do anything, and he can do anything to anyone, because he has money–he learned that from Ted, that everyone has a price. Grimes wraps it up by saying that the saying is true, to "never meet your idols." DiBiase speaks, and asks Grimes if he's considered the fact that DiBiase beat, battered and put Grimes through all that hell is because when he looks at Grimes, he sees a little bit of a younger DiBiase. Ted tells Cameron that he's there (in NXT) looking for someone who embodies everything it means to be a Million Dollar Man. He tells Grimes that it's not just about using money to toy with people, it also involves talent in the ring. DiBiase tells Grimes that he's seen him fight and he's got the skills but ever since becoming rich, he's lost his focus.
They're interrupted by LA Knight! Knight motions for the music to be cut and a fan yells "nobody wants you here!" Knight says he hears Ted talking about a Million-Dollar Opportunity and Knight wants to introduce himself. He walks down the ramp, adding that "walking down this ramp is a man who's a perpetual motion machine of badassery and the man who just didn't strike it lucky with virtual money, but instead is personified walking, talking gold."
Grimes warns him not to get in the ring as this is a conversation between Millionaires, "not you, nickel-and-dime!" DiBiase encourages Grimes to listen him out. The crowd starts a chant against Knight and he yells "I'm not here for you incels." Gotta love his heel promo work. Knight tries to make an argument that this game (wrestling) belongs to LA Knight. DiBiase points out that he's aware of Knight's international career and feels Knight's successful and talented enough to be a megastar. He tells Knight that LA's got a "million-dollar body." Grimes snaps, telling Ted that Knight's jacked but he's no Cameron Grimes. This is supposed to be a Million Dollar Face-Off, so he's going to tell Knight one last time–and the crowd chants "to the moon!" over and over–which is for Knight to get out of the ring or Grimes is going to kick his ass "to the moon." Grimes turns back to Ted and Knight attacks Grimes from behind, leaving him laid out as the fans chant "you suck" and Ted stands over Grimes. Ted speaks again. "Kid, you're just never gonna get it, are ya?" He breaks out his iconic laugh and his music plays him off. Grimes angrily looks on from the ring at Knight and DiBiase who walk off together.
---
Backstage: Indi Hartwell, Ever-Rise
We return from the break and Indi Hartwell is frantically looking for Dexter Lumis backstage. Mackenzie follows her, trying to ask about her tag title retention. She blows it off with some comment like "yeah yeah, we won, cool" or the such. She comes across Ever Rise who are now "bro'ing out" hard and ask her if she wants to take a swing at them for interrupting their podcast or whatever. Drake Maverick comes up and scolds them, then tells Indi the last place he saw Dexter. She storms into the small room. The walls are covered with various drawings Dexter did of himself and Indi. Hartwell fixates on one of Dexter with a knife in his chest, standing over a masked figure saying "loser." She rushes off to find him.
---
Franky Monet vs. Cora Jade
Cora Jade, fka Elayna Black from Impact/AEW, is Monet's debut opponent. Franky Monet worked in Impact as Taya Valkyrie, just for anyone new/out of touch the last few weeks. Monet takes control right out the gates and easily womanhandles Cora. She verbally taunts her throughout the match. Franky calls herself "lucha loca" at some point. Franky uses leaping knees and chops to maintain control. Cora briefly gets a few offensive strikes in, including a textbook Side Russian Leg Sweep before Monet takes control back with a spear. Monet exhibits her strength, hitting a modified Northern Lights suplex with one arm. Monet hoists Cora up and hits the Road to Valhalla–a move Phoenix/Joseph said "looked familiar" but have not given an official name to yet–to put away and end the short match.
Your Winner, Franky Monet!
---
Video Promo: Imperium
We get a video from WALTER, promoting Marcel Barthel and Fabian Aichner, praising them as a top-tier tag team and calls them true professionals and showmen. He's eager to see them take the NXT Tag Team championships for themselves.
---
In-Ring: Bronson Reed, Legado del Fantasma, MSK
We get a video package, very short one in fact, of Reed talking about his big win. We see Kushida and Reed backstage, in street clothes at a photoshoot showing off their titles. We head to break with Reed on his way out to the ring to speak.
Reed speaks in the ring, reminding us–just as Vic Joseph did moments ago–that it took Reed fourteen years to get to his first title. He tells us it was fourteen years of climbing the mountain, falling and getting back up, over and over and over. Over the years, plenty of people told him "no" so this (his North American Championship win) is proof to all the kids out there not to take "no" for an answer or the such. Reed goes on to tell us that he's not going to let anyone take his title and anyone who wants it has a colossal mountain to climb.
Out comes Legado del Fantasma. Santos Escobar, flanked by Joaquin Wilde and Raul Mendoza, gets on the mic. He tells Reed that Reed brought tears to his eyes, and they use a box of tissues to wipe fake tears. "I've got to say, though, I can't relate to anything you just said. I was born a champion. I was even born to belong in this business–this business belongs to me. Now after your victory, something caught my eye. And it wasn't your colossal mass. No. It was the North American title. You see, I am the Emperor of Lucha Libre. I run the bingo (his words) which is why I took the Cruiserweight title. Now, I see the North American title, and I see USA and Mexico." Joaquin Wilde taps Santos on the shoulder and asks, "What about Canada?" Santos responds "Canada doesn't count!" He goes on to state that Mexico is in North America, so the North American Championship belongs to him.
He starts to enter the ring, his men flanking Reed, as he yells that he's about to do what he does best and "take what's mine!" MSK hit the ring to even the odds and help Reed hold off any Legado attack. The six men exchange words, with MSK hopping in place practically, full of energy and ready to go. We head to break with our main event up next!
---
Next Week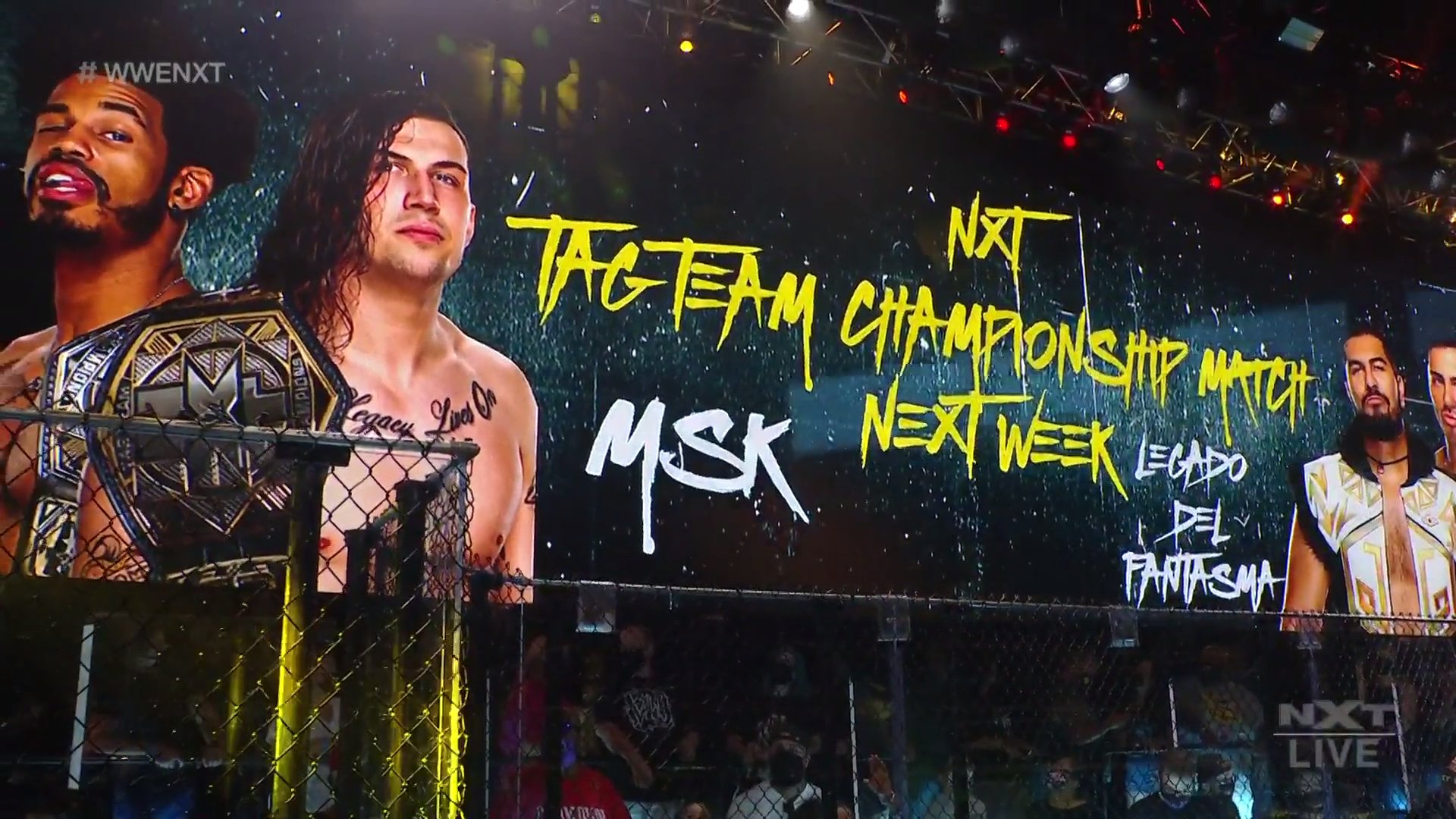 Kyle O'Reilly will take on Pete Dunne and Johnny Gargano in a triple-threat match to determine the next number-one contender for the NXT Championship. Also, MSK will defend their Tag Team Championship against Legado del Fantasma.
---
NXT Championship
Karrion Kross (c) vs. Finn Balor
Our challenger Finn Bálor is out next to loud cheers from the in-person and digital audiences. Out next comes our champion, Karrion Kross with the beautiful Scarlett. As Scarlett's vocals play over his entrance theme, the platinum beauty makes her way out wearing face makeup and glittery gemstones in the pattern. His entrance never grows old. Official announcements are made and we ready-up for this match.
As Kross presents his title, the in-house crowd starts a loud "fall and pray" chant. The lights come down and the bell rings. BOth men circle, looking to lock up. Bálor with a kick to the leg. Kross sends Bálor outside the ring. Bálor right back in, runs off the ropes and hits a low dropkick to Kross's knee as we go to our picture-in-picture break! Kross takes a moment outside, talking to Scarlett and taking the ref's count to compose himself and revise his strategy. Finally, Kross makes his way back into the ring. Both men circle again. Kross wraps up Bálor from behind and takes him down to the mat. Bálor shows off his prowess and agility, squirming free and dodging a submission attempt. So far both men seem equally matched. Bálor calls for another lock-up attempt then goes to pick the leg from Kross. Kross blocks it and latches onto Bálor's right arm. Bálor rolls the armbar attempt over so Kross' shoulders are down, forcing the champ to reposition. Kross loses his grip and Bálor locks on a modified prone half-crab in the middle of the ring. Scarlett leans over the apron, cheering her husband on. Bálor and Kross exchange control, each using working holds to slow the pace during the break and wear down each other. Bálor focuses on Kross' left arm and manipulates the fingers and wrist. As we return from break, Bálor still cranks the left shoulder back behind the champ. We're reminded that Kross is undefeated in single's competition.
Back from the break. Kross escapes Bálor's hold and starts a new wave of offense. Kross with a back drop. Kross stomps on Bálor's ankle then kicks him in the ribs. Kross with a double-forearm head squeeze submission on Bálor. Bálor gets his hands up and attempts to break the hold. After a few crucial moments, Bálor escapes but Kross delivers a kick to the abdomen for his troubles. Bálor escapes again and fires off on the champ, hammering his right ribs and lower right back with rapid-fire fists and an elbow smash. Bálor pounds the champ in the corner. Bálor twists the left arm, using it to restrain the champ while delivering kidney shots. Kross' had enough, though, and sends Bálor into the corner. Kross with several shoulder thrusts into Bálor's midsection before the ref breaks it. Kross turns Bálor to face the crowd, his back to the ring, and throws several stiff blows into the lower back of Bálor. The ref warns Kross again, telling him to let Bálor out of the corner. Kross backs off then easily two-hand tosses Bálor across the ring. Kross with a brutal German Suplex. Kross pulls Bálor to his feet and wraps him up from behind, but Bálor counters it and transitions into a Crossface Crippler attempt! Kross escapes but Bálor with a standing double-foot chest stomp (a Coup de Grace without the dive off the top). Kross fires back with a big chop. The champ sends Bálor outside the ring and Bálor seems to be resting on the apron. Kross pursues but Bálor was playing possum. Bálor traps Kross between the ringside and the apron, stomping away at him before streaking across the apron to nail the champ hard. We go to another picture-in-picture commercial break.
During the break, Kross and Bálor clash outsdie the ring. Scarlett paces outside the ring, seemingly stalking. The ref is giving our superstars a lot of leeway with the count. Bálor sends Kross hard into the plexiglass barricade. Kross fires back and sends Bálor into the ring. Kross paces, catching his breath while holding his right arm to his side as if its injured. Kross stomps Bálor, then drops a right elbow on his shoulder. Kross pulls up the challenger and hits a snap suplex. His arm seems fine now. Kross points at the fallen Bálor and flexes his arm, working blood through it to regain some feeling. Kross pulls up Bálor, who throws a swing, then hits another quick suplex. Kross with a lariat to drop the challenger. Kross looks for a pin but only gets a two–albeit a close two. Kross pulls Bálor up, hinting at a Powerbomb, but Bálor rolls through to seat the champ and pops up, dropkicking him in the face! We are now in overrun territory.
Back from the break. Kross and Bálor struggle for control. Both men with slow, powerful kicks and fists as both attempt to take a firm lead. Bálor with a suplex and a pin attempt but only gets a one! Kross immediately pulls Bálor down tot he mat and locks in the Kross Jacket! Bálor extends his feet, desperate for the rope but he's out of reach. Bálor writhes in pain, wiggling, desperate to get free. Finally Bálor sits up just enough to desperately dive for, and grab, the bottom rope to force the break! Bálor heads outside. Kross follows him. Kross holds Bálor's head, stares at him with an evil grin, then rams the back of Bálor's head into the barricade a few times. Kross hoists Bálor up in an Outsider's Edge and hits it against the barricade! Kross takes Bálor back into the ring at eight to break the count. Kross takes his time, setting Bálor up. Kross hoists Bálor up, who floats through and reverses it into a DDT! Bálor with a Sling Blade! Kross to his feet just in time to take a clothesline from the challenger. Kross is sent to the outside! Bálor with a tope con giro over the top rope and onto Kross! Kross immediately pops up and slams Bálor down across the announcer's table! The crowd starts a loud "this is awesome" chant. Kross takes his time, sending Bálor into the ring only at eight after working over Bálor briefly. Bálor fights back when Kross comes in, dropping the champ and hitting another double-stomp to the chest! Bálor sets up Kross and hits the Shotgun Dropkick! Bálor climbs up top, signalling for the Coup de Grace! Kross rolls out the way then lifts Bálor up and rams him back into the turnbuckle. Big German Suplex from Kross, laying out Bálor. THe crowd begins to alternate boos and loud cheers. Kross with another big German Suplex, dropping Bálor hard on the back of his neck. Kross sets up in the corner. Kross looks for the Doomsday Saito but Bálor rolls him up for a close two! Bálor looks for an abdominal stretch and rolls them both to the mat, attempting a prone variant. Kross escapes and rolls Bálor, then pounds the small of Bálor's back with forearms. Bálor escapes and returns the favor, pounding on the champ's back! The champ can't seem to defend himself. The ref forces a break and checks on Kross. Kross kneels by the ropes, looking at Scarlett. Bálor locks a sleeper on Kross–Kross grabs the middle rope and the ref counts, warning Bálor! Bálor doesn't break the hold, instead ripping Kross from the ropes. The ref never broke the hold as he should. Bálor transitions the hold into a modified triangle. The ref lifts Kross' arm and it's dropping–no! Kross grabs the ref's wrist! Kross powers to his feet and breaks the hold by dropping Bálor down hard. Bálor rises, grimacing and angry, as does the champ. Kross with a pair of big forearms to the upper back of Bálor. Kross stomps on Bálor's head repeatedly, easily a dozen times as the ref warns him. Kross slaps a sleeper on Bálor. Bálor's face is turning red, he's fading. The ref checks his arm. Bálor's unresponsive! The ref calls it–this one is over!
Your Winner by TKO and STILL NXT Champion, Karrion Kross!
This match ended at 10:08pm EST–gotta love the overrun! The crowd is torn between silence, boos and cheers as we get replays. Kross and Scarlett kneel, belt in hand, next to the fallen challenger and we fade to black! Kross remains undefeated in single's competition.