July 5, 2021
Tampa, Florida (Yuengling Center)
Commentary: Jimmy Smith, Corey Graves, and Byron Saxton
Results by: Mike Tedesco of Wrestleview.com
---
Quick Match Results
John Morrison defeated Ricochet by count out when The Miz prevented Ricochet from getting back in the ring on time
8-Woman Tag Team Match: Nia Jax, Shayna Baszler, Eva Marie & Doudrop defeated Nikki Cross, Alexa Bliss, Naomi & Asuka via Samoan Drop by Jax on Cross
Mustafa Ali defeated Mansoor via roll up
Drew McIntyre defeated Jinder Mahal by disqualification when Veer and Shanky attacked McIntyre
Lucha House Party defeated T-Bar & Mace via roll up by Dorado on T-Bar
Riddle defeated AJ Styles via roll up
Jaxson Ryker & R-Truth defeated Elias & Cedric Alexander via side slam by Ryker on Alexander
The New Day defeated Bobby Lashley & MVP via Trouble in Paradise by Kingston on MVP
---
In-Ring: The Miz, John Morrison, Drew McIntyre, Ricochet, Riddle, AJ Styles, Omos
The Miz and John Morrison are in the ring for Miz TV. Miz, still in his wheelchair, says he is a Money in the Bank expert, cashing it in twice. He will lead John Morrison to victory. Morrison says on July 18, Johnny Drip Drip will climb his way to the Money in the Bank contract.
Drew McIntyre makes his way to the ring. McIntyre says Miz is what makes him have a love-hate relationship with Money in the Bank. Miz cashed in twice, the last time on him. Since then, he has scratched and clawed his way to the championship once again. McIntyre claims he is a distant relative of Davy Crockett. Unlike Crockett, he's not going to die on the Alamo because he'll win the contract in Texas. He hopes Morrison is extra moist so he can rip his head off and shove it up Miz' ass.
Ricochet comes out. Miz says he could have waited for his introduction. Miz has a replay shown of Ricochet's impressive cross-body block onto John Morrison over the barricade. Ricochet says he'll claw through the competition to win the briefcase.
Riddle makes his way to the ring. His right ankle is taped up from the main event of Raw last week. Riddle climbs up the ladder set up in the ring and sits on it. Miz asks what he's doing. Riddle thinks this is what everyone is supposed to do on the Money in the Bank edition of Miz TV. Riddle says he's really high and a little sad because he let his bro, Randy Orton, down. Miz is getting really frustrated.
Raw Tag Team Champions AJ Styles and Omos come down to the ring. Styles is upset because he feels he got robbed in the match. Randy Orton dropped out of the match last week, so it should have been Styles versus Drew McIntyre, but no, it had to be a triple threat match. Riddle lost that match, but he didn't belong anyway. Omos tips the ladder over, and Riddle lands on his injured ankle.
Styles kicks Riddle in his ankle, and a brawl breaks out. Ricochet sends Morrison out of the ring. Omos angrily gets in the ring, but McIntyre clotheslines him out. Ricochet dropkicks Morrison off the apron and breaks a Drip Stick.
---
Ricochet vs. John Morrison
Ricochet takes it to Morrison early on with punches. Ricochet sends him to the corner and avalanches him before taking him down for a one count. Ricochet punches Morrison to the corner and stomps him. Ricochet whips Morrison hard into the corner and hits a clothesline. Morrison hits a scoop slam and drops an elbow for a two count. Ricochet takes him down and applies a chin lock. Morrison pulls at Ricochet's fingers, so Ricochet clubs the back. Morrison breaks free and forearms him down. Morrison stomps Ricochet in the corner before putting a chin lock on. Ricochet fights out, but Morrison kicks him in the ribs. Ricochet chops him back, but Morrison kicks him and hits a neckbreaker. Morrison goes back to the chin lock. Ricochet attempts to fight up, but Morrison knees him down. Ricochet comes back with a hurricanrana that sends Morrison out of the ring. Ricochet goes for a baseball slide, but nearly hits Miz when Morrison moves. Ricochet flips over Miz, but Morrison catches him and powerbombs him into the barricade.
We come back from the break to see Morrison trying to kick Ricochet. Ricochet ducks and rolls him up for a two count. Ricochet rolls him up for another near fall. Morrison fights back and hits a Spanish Fly for a two count. Morrison applies a stretch and elbows him in the ribs. Morrison stops him fighting up and powers him to the corner. Ricochet fights out and hits a head-scissor into a DDT. Miz shakes Morrison's ankle from ringside to try and wake him up.
They get to their feet, and Ricochet punches away at Morrison before clotheslining him down for a near fall. Miz quickly sprays Ricochet with a Drip Stick. Morrison kicks Ricochet down for a two count. Morrison viciously knees Ricochet in the face. Ricochet is up on the apron and puts Morrison down. Ricochet goes for a cross-body off the apron. Morrison tries to turn it in mid-air, but they don't rotate enough. They crash and burn on the floor. Morrison gets in the ring. Miz gets in Ricochet's way, and Ricochet is counted out.
Winner by Count-Out: John Morrison
---
Backstage: Jinder Mahal
.@JinderMahal has his sights set on @DMcIntyreWWE 👀#WWERaw pic.twitter.com/oiHZhLe0hC

— WWE (@WWE) July 6, 2021
Earlier today, Jinder Mahal is shown riding into the Yuengling Center on a motorcycle. Kevin Patrick asks him about his match against Drew McIntyre tonight. Mahal says they were friends, but when McIntyre got big he ignored him. Mahal should be in Money in the Bank based on past accomplishments. He's always been better than McIntyre and will prove it tonight.
---
Backstage: Nia Jax, Shayna Baszler, Reginald, Alexa Bliss
Nia Jax and Shayna Baszler are with Reginald backstage. Jax says they shouldn't have to team with Eva Marie and Doudrop. Alexa Bliss is in the background. Reginald points out that she's there, but when Jax and Baszler turn around she's not there. Baszler says he needs to get his head in the game. Jax says Reginald has been through a lot.
Jax and Baszler will team with Eva Marie and Doudrop to face Asuka, Nikki Cross, Naomi, and Alexa Bliss.
---
Backstage: Nikki ASH (Nikki Cross), Naomi, Asuka, Alexa Bliss
Who's ready for #NikkiASH @NIkkiCrossWWE to team up with @NaomiWWE @WWEAsuka … and @AlexaBliss_WWE?! #WWERaw pic.twitter.com/VNRkOhhZdS

— WWE (@WWE) July 6, 2021
Footage is shown of Nikki Cross beating Shayna Baszler last week.
Nikki Cross, who they're calling Nikki A.S.H. (almost a superhero), is with Naomi and Asuka backstage. Cross says she's been really successful and hopes to uplift other people. She runs off to make her entrance. Alexa Bliss tells Naomi and Asuka to lower their expectations about winning Money in the Bank.
---
8-Woman Tag Team Match
Nikki Cross, Alexa Bliss, Naomi & Asuka vs. Nia Jax, Shayna Baszler, Eva Marie & Doudrop
Doudrop will start against Naomi, but Eva Marie tags herself in. Eva and Naomi lock up before Eva shoves her. Eva tags Doudrop back in before she's attacked. Naomi dropkicks Doudrop off the apron and hits Jax and Baszler with a plancha. Asuka hits Doudrop with a hip attack off the apron, but Doudrop is still standing. Nikki Cross then hits Doudrop with a cross-body block off the apron. Eva gets in the ring, but is scared away by Alexa Bliss.
We come back from the break to see Bliss and Doudrop going at it. Nikki Cross tags herself in and goes for a bulldog, but Doudrop throws her off. Cross quickly fights back and brings Doudrop to a knee. Asuka tags in and kicks away at Doudrop. Doudrop quickly head-butts her down. Nia Jax tags in. Jax and Doudrop sandwich Asuka for a one count. Baszler tags in and punches away at Asuka. Eva tags in, but Jax quickly gets in the match. Asuka tries to make a tag, but Jax cuts her off.
Alexa Bliss stares at Reginald, hypnotizing him. Baszler pulls Bliss off the apron and sends her into the barricade to break the hold on Reginald. Asuka tries to fight back. Eva tags herself in, but Asuka quickly fights back at her. Baszler quickly tags in, and she runs into an arm bar attempt from Asuka. Baszler fights it and goes for an arm bar of her own. Asuka rolls Baszler over and nearly gets a pin. Naomi tags in and kicks Baszler before Asuka hits Baszler with a German Suplex. Chaos breaks out. Cross tags in and rolls up Baszler, but Jax tagged back in. Jax and Cross go back and forth before Jax hits a Samoan Drop for the win.
Winners by Pinfall: Nia Jax, Shayna Baszler, Eva Marie, and Doudrop
Eva Marie announces herself as the sole winner of the match. Everyone takes exception to that.
---
Backstage: Bobby Lashley, MVP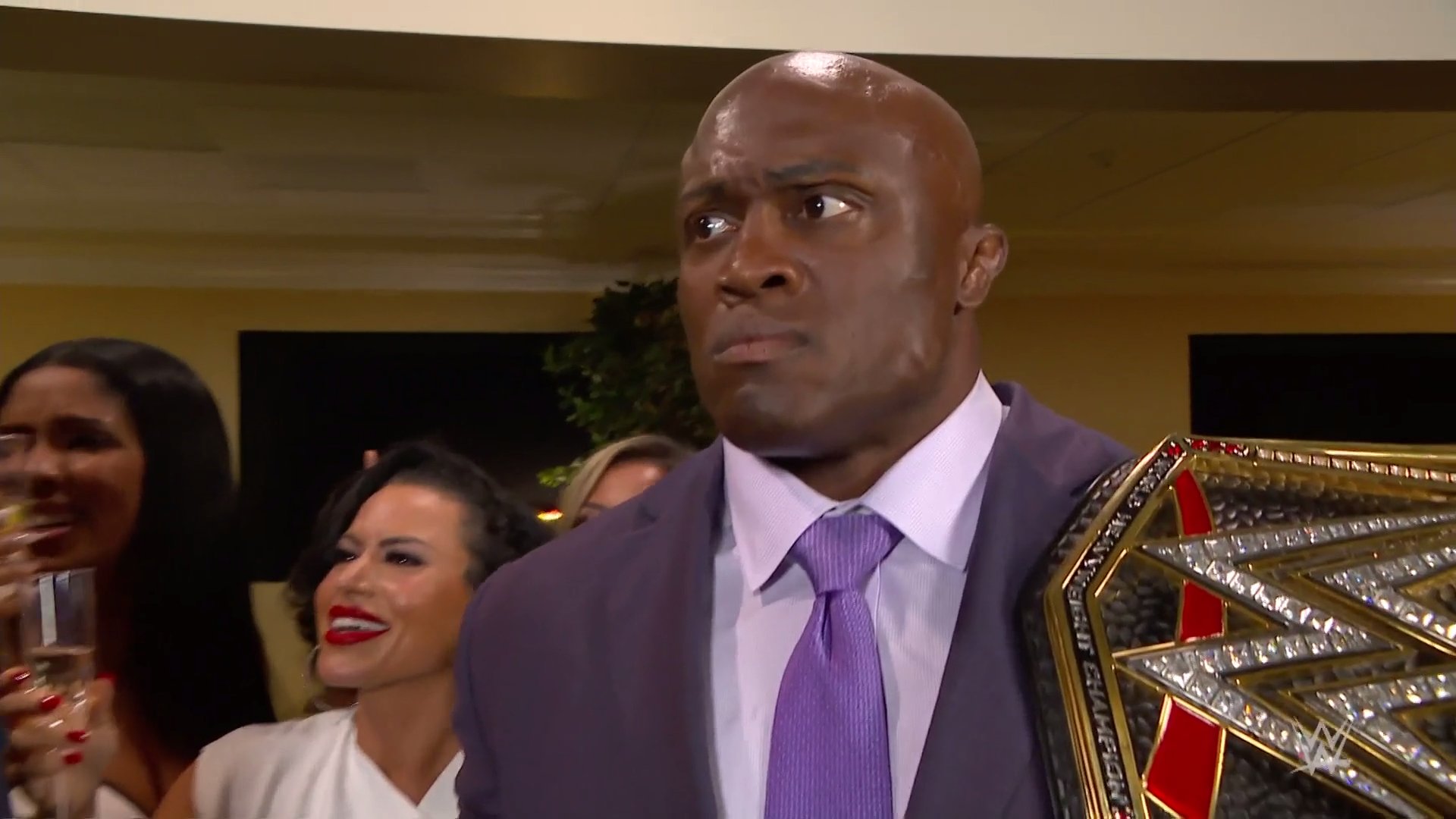 WWE Champion Bobby Lashley and MVP are celebrating in the VIP Lounge when Kevin Patrick comes in. MVP cannot believe he continues to get in week after week. MVP says he was disrespected, which is why he made it a tag match. Lashley says he went on vacation after eviscerating McIntyre. Lashley says he'll end Kingston's Money in the Bank pipe dreams and hurt him. They're the Hurt Business and that's what they do.
---
Mustafa Ali vs. Mansoor
Ali takes it to Mansoor and shouts instructions at him throughout. Ali goes into the ropes and gets his foot tied up. The referee tries to save him and Mansoor comes up to help. Ali gets freed from the ropes and rolls Mansoor up from the win. Ali tells him to stop thinking with his heart and use his head.
Winner by Pinfall: Mustafa Ali
---
Drew McIntyre vs. Jinder Mahal
Backstage, Drew McIntyre says his sword is from the Loch Ness Monster's tooth and goes into a long story about it. McIntyre says he'll go through Mahal and win Money in the Bank.
They lock up, and McIntyre powers him to the corner. Mahal fights out and punches away at McIntyre in the corner. Mahal whips him hard into the opposite corner, but McIntyre pops out and clotheslines him down. McIntyre chops the chest and punches Mahal in the face. Mahal fights back and hits a suplex. McIntyre fights back with an overhead belly-to-belly suplex that knocks Mahal out of the ring. Veer and Shanky come over to Mahal. McIntyre approaches, but Mahal throat chops him and hits a suplex on the commentary table!
We come back from the break to see Mahal applying a chin lock. McIntyre fights up, but Mahal viciously knees him in the face. Mahal smothers him in the corner with his knee before elbowing him in the neck. McIntyre gets fired up and hits some clotheslines before two overhead belly-to-belly suplexes. McIntyre ducks a clothesline and hits a neckbreaker. McIntyre goes for a Future Shock DDT, but Mahal counters into a Khallas attempt. McIntyre fights out and hits a Future Shock DDT. Veer and Shanky get involved and cause a disqualification.
Winner by Disqualification: Drew McIntyre
McIntyre fights Veer and Shanky off, but Mahal wipes him out with a superkick. They then send McIntyre into the ring post shoulder-first. Mahal then connects with the Khallas. Mahal goes up the ramp and steals McIntyre's sword, which was put over as a family heirloom.
---
Backstage: The New Day
That greatest tag team of all time feeling. 🦄🦄#WWERaw @TrueKofi @AustinCreedWins pic.twitter.com/zoJJYdMQLu

— WWE Universe (@WWEUniverse) July 6, 2021
Kevin Patrick is backstage with Kofi Kingston and Xavier Woods. Kingston is fired up and says MVP was injured last week and magically cleared this week. Kingston will run through him and defeat Bob Lashley for the WWE Championship at Money in the Bank.
---
T-Bar & Mace vs. Lucha House Party
Mace and T-Bar take it to Lince Dorado. They send him over the top rope and toss him around the ring. Gran Metalik attacks from behind and planchas one of them. Dorado rolls T-Bar up for the win.
Winners by Pinfall: Lucha House Party
---
Backstage: Riddle, Damian Priest
Damian Priest @ArcherOfInfamy has some #MITB advice for @SuperKingofBros… #WWERaw pic.twitter.com/oCHUFBJyd3

— WWE (@WWE) July 6, 2021
Riddle is checking on his foot when Damian Priest walks up to him. Priest says he needs to be careful against AJ Styles with his hurt foot. Riddle says he's not afraid of heights or AJ Styles. Riddle will show that he belongs.
---
AJ Styles vs. Riddle
AJ Styles quickly takes it to Riddle's injured ankle. Styles attacks it throughout. Riddle fights back and hits a gutwrench suplex. Riddle sets Styles up, but Omos sweeps the feet.
We come back from the break to see Styles go for an ankle lock. Riddle fights out, but Styles goes for a Calf Crusher. Riddle rolls through and knees Styles in the face. Styles fights back and goes to the apron for a Phenomenal Forearm, but Riddle knocks him down. Riddle pulls him into the ring with a draping DDT. Riddle goes to the top rope and does a backflip, but Styles moves. Riddle lands on his feet and the injured ankle gives out. Styles gives him a nasty reverse Death Valley Driver for a near fall.
Riddle is holding his ankle in pain. Styles sets up for a Styles Clash. Erik and Ivar appear behind the barricade and distract Omos. Riddle rolls Styles up for the win.
Winner by Pinfall: Riddle
---
In-Ring: Charlotte Flair, Rhea Ripley
Charlotte Flair is on a crutch and hobbling to the ring. Flair says Rhea Ripley is so scared of her that she stole her move to injure her just to keep the Raw Women's Championship.
Raw Women's Champion Rhea Ripley makes her entrance hobbling on a crutch. She takes forever to get to the ring. Flair says Ripley is stealing her entrance. Ripley says she's doing what Flair did, which is being a drama queen. They kick their crutches out and circle the ring. They start swinging and ducking and clashing them like swords. Ripley jabs her in the midsection with the crutch, and Flair escapes the ring.
---
Elias & Cedric Alexander vs. Jaxson Ryker & R-Truth
Before the match starts, WWE 24/7 Champion Akira Tozawa runs down. R-Truth rolls him up for a two count. R-Truth chases him away, leaving Ryker on his own.
Ryker starts the match, which is now a handicap match somehow. Ryker easily wipes the floor with Alexander and demands Elias tag in. Elias backs away. Ryker slams Alexander for the win. R-Truth is still announced as the winner despite not being in the arena.
Winners by Pinfall: Jaxson Ryker and R-Truth
---
Next Week
NEXT WEEK on #WWERaw:

🔴 @TheGiantOmos makes his singles match debut against @Erik_WWE

🔴 @AJStylesOrg vs. @Ivar_WWE

🔴 @KingRicochet vs. @TheRealMorrison #FallsCountAnywhere

🔴 @WWESheamus vs. @humberto_wwe for the #USTitle pic.twitter.com/uoSBvcUj5b

— WWE (@WWE) July 6, 2021
Next week on Raw, Ricochet faces John Morrison in a Falls Count Anywhere match. Sheamus will defend the WWE United States Championship against Humberto Carrillo. We'll also see AJ Styles vs. Ivar and Omos vs. Erik. In two weeks, WWE Raw will take place in front of a live crowd for the first time in a year and a half. AJ Styles and Omos will defend the Raw Tag Team Championship against the Viking Raiders.
---
The New Day vs. Bobby Lashley & MVP
Xavier Woods will start against MVP. They lock up, and MVP wrenches the arm before clubbing him. Woods wrenches the arm and clubs him in the shoulder. MVP shoves Woods down and stands over him. They lock up, but MVP punches away at him. MVP hobbles a bit before sending Woods into the ropes. Woods ducks a few clotheslines and chop blocks the knee. MVP screams in pain. Woods punches away at MVP and goes for a tag. MVP crawls away, but Woods grabs him. Kofi Kingston tags in and attacks MVP's knee. MVP fights back and pulls Kingston's hair before slamming him down.
WWE Champion Bobby Lashley tags in and sends Kingston into the ropes for a shoulder block. Lashley throws him to the corner with ease and punches away at him. Lashley shoulders him in the midsection in the corner before hitting a neckbreaker for a two count. Kingston counters out of a move and kicks him in the face. Lashley easily fights back and takes Kingston down. Lashley stomps Kingston in the corner and elbows him. MVP tags in and punches Kingston. MVP goes for a delayed vertical suplex, but Kingston gets out and knocks MVP to the corner. The New Day tag in and out doing a Unicorn Stampede before Kingston hits a low dropkick. MVP rolls out of the ring. Lashley goes to check on him, but he's taken out with a baseball slide. Kingston then hits him with a trust fall.
We come back from the break to see Lashley take Woods down before hitting a vicious snap suplex. MVP tags in and takes it to Woods for a bit until Kingston tags in. Kingston hits a springboard axe handle on Woods and knocks Lashley off the apron. MVP quickly punches Kingston in the ribs before trying a back suplex, but Kingston flips through. Kingston takes MVP down and covers for a two count. Kingston knocks Lashley off the apron again before mocking MVP's Ballin' Elbow and hitting a Boom Drop. Kingston superkicks Lashley off the apron again. MVP clotheslines Kingston down for a near fall.
Lashley tags in. MVP hits a big boot in the corner, and Lashley hits Kingston with a one-armed spinebuster. Woods breaks up the pin. Lashley sends Woods out of the ring. MVP tags in. Kingston hits Lashley with Trouble in Paradise. Woods then takes Lashley out by diving off the steps. MVP sets up for a Playmaker, but Kingston gets out and hits Trouble in Paradise for the win.
Winners by Pinfall: The New Day