Results by Mike Tedesco of Wrestleview.com
October 4, 2021
Nashville, Tennessee (Bridgestone Arena)
Commentary: Jimmy Smith, Corey Graves, and Byron Saxton
---
Quick Match Results
WWE United States Championship: Damian Priest (c) defeated Jeff Hardy via crucifix pin
Shayna Baszler defeated Dana Brooke via Kirifuda Clutch
Angel Garza & Humberto Carrillo defeated Mustafa Ali & Mansoor via pinfall by Garza on Ali after Carrillo hit Ali's head on the ring post
Big E & Drew McIntyre defeated Dolph Ziggler & Robert Roode via Claymore by McIntyre on Ziggler
WWE Women's Tag Team Championship: Nikki A.S.H. & Rhea Ripley (c) defeated Natalya & Tamina via splash by Nikki off of Ripley's shoulders onto Tamina
The New Day (Kofi Kingston & Xavier Woods) defeated Shelton Benjamin & Cedric Alexander via springboard elbow drop by Woods on Alexander
Bianca Belair defeated Charlotte Flair by disqualification when Becky Lynch attacked Belair
---
In-Ring: Becky Lynch, Charlotte Flair, Bianca Belair
SmackDown Women's Champion Becky Lynch makes her way to the ring. Footage is shown of Friday Night SmackDown selecting Raw Women's Champion Charlotte Flair to the show. Flair attacked Sasha Banks and Bianca Belair before having a staredown with Becky Lynch.
At WWE Crown Jewel, Becky Lynch will defend the SmackDown Women's Championship against Bianca Belair and Sasha Banks.
A loud "Becky" chant picks up. Lynch says, "The Man has come around to Monday Night Raw!" It's been about a year and a half since she stood on this stage, and it feels good to be back. Now she's about to make a lot of executives very unhappy by jumping the gun, but she does what she wants. The first draft pick for Monday Night Raw is… Becky Lynch! Lynch says this is her show now.
She is still holding the SmackDown Women's Championship, but she's the longest-reigning Raw Women's Champion and technically never lost it. The person holding it has gone back and forth with her a lot. The last time she beat Charlotte Flair, Flair has never been the same. The last time Flair beat her, Lynch was better than ever. It's time to be Becky 2 Belts again.
Raw Women's Champion Charlotte Flair, now a member of the SmackDown roster, makes her way to the ring. Flair takes her time getting to the ring. The crowd boos her as the music stops. A light "Becky 2 Belts" chant picks up. Flair wants to say hello to her old friend. Flair says before Lynch was Becky 2 Belts and beat her, Becky Lynch was "Becky Preshow." Flair made Lynch famous and needs to get over her inferiority complex, and she'll always be looking up to the most decorated woman in sports entertainment. It's good that Lynch left SmackDown since they have some unfinished business.
Bianca Belair, now a member of the Raw roster, comes out. Belair says she has unfinished business with them since they took cheap shots at her during and after her match against Sasha Banks. Neither of them is ready for the EST of WWE, who is becoming the EST of Raw because she goes here now. Flair says that was cute and then shushes her. The champions are trying to have a conversation. Belair takes umbrage with that. A "Charlotte sucks" chant picks up. Flair silences the crowd. Belair says Flair is standing her, but technically she doesn't even go here anymore. Belair tells Lynch to get her girl because Flair doesn't know her. Flair says she is no one's girl and is not a girl. She is a woman. Flair knows Belair has done a lot by winning the Royal Rumble, winning the title, and main eventing WrestleMania. She's almost done as much as Flair. Flair says Belair should ask for her autograph for paving the way for her.
Lynch says it sure sounds like Flair is disrespecting Belair. Lynch has beaten Flair a lot and has nothing to prove, but Belair and Flair have never faced. Flair says she only gives out opportunities, not charities. Belair says she has something to give her and takes out her earrings.
---
Draft Round 1
WWE Officials Adam Pearce and Sonya Deville come out to the stage. Pearce says we're looking at a hell of a main event. Deville says for the first time on Monday Night Raw, it'll be "The Queen" Charlotte Flair taking on the "EST of WWE" Bianca Belair. Pearce says Natalya and Tamina will take on Rhea Ripley and Nikki A.S.H. for the WWE Women's Tag Team Championship. Deville says we're going to kick the night off with a WWE United States Championship match.
They make it official and announce SmackDown Women's Champion Becky Lynch as the first pick for WWE Raw.
Friday Night SmackDown gets the second pick and drafts SmackDown Tag Team Champions The Usos. The Usos are shown celebrating backstage while Paul Heyman thanks god.
WWE Raw picks "The All Mighty" Bobby Lashley.
With the final pick of the first round, Friday Night SmackDown selects Sasha Banks.
---
WWE United States Championship
Damian Priest (c) vs. Jeff Hardy
They lock up, and Priest applies a hammerlock. Priest hooks a side headlock, but Hardy whips him off. Priest shoulder blocks him down and hits the ropes. Hardy shoulder blocks him back into the ropes, and Priest rebounds with a shoulder block for a two count. Priest gets Hardy to his feet, but Hardy stuns him with a sit-out jawbreaker. Priest fights back with a kick to the side of the head that knocks Hardy out of the ring. Priest backs Hardy into the apron, but Hardy fights away. Hardy dives off the apron and crashes and burns on the floor! Priest leaps off the steel steps with a somersault senton.
We come back from the break to see Hardy elbow Priest off the ropes and connect with Whisper in the Wind for a near fall. Hardy tries to send him to the ropes, but Priest hits a wheel kick. Priest goes for The Reckoning, but Hardy fights out. Priest gets out of the Twist of Fate, but Hardy bounces back with a spinning clothesline. Hardy hits a Twist of Fate and takes his shirt off. Hardy hits the Swanton Bomb and clutches his lower back for a moment. Hardy covers, but Priest kicks out and pins Hardy with a crucifix.
Winner by Pinfall and still WWE United States Champion: Damian Priest
In-Ring: Jeff Hardy, Austin Theory
Sarah Schreiber gets in the ring and asks Jeff Hardy if he has anything to say to the WWE Universe. Hardy says he loves the crowd. He's been through the highest of highs in WWE and crashed back to reality from time to time. With that said, going to SmackDown might be the perfect opportunity to see a different side of Jeff Hardy… a different ego. For the next few weeks, he'll be on Monday Night Raw.
Austin Theory's music hits, and he runs down to the ring. Theory was drafted from NXT to Raw this past Friday on SmackDown. Theory says he means no disrespect, but his dream has come true. Theory says he's been drafted to Monday Night Raw and is standing in the ring with the legendary Jeff Hardy. Theory grew up watching Hardy. Hardy inspired him. Look where it's gotten him. Theory doesn't mean to fanboy, but he wants to take a selfie. Hardy looks incredulous. Theory takes out his iPhone and takes a selfie with Hardy. Theory then clotheslines him down before lifting him and hitting a cutter. Theory takes a selfie with the fallen Hardy.
---
Backstage: RK-Bro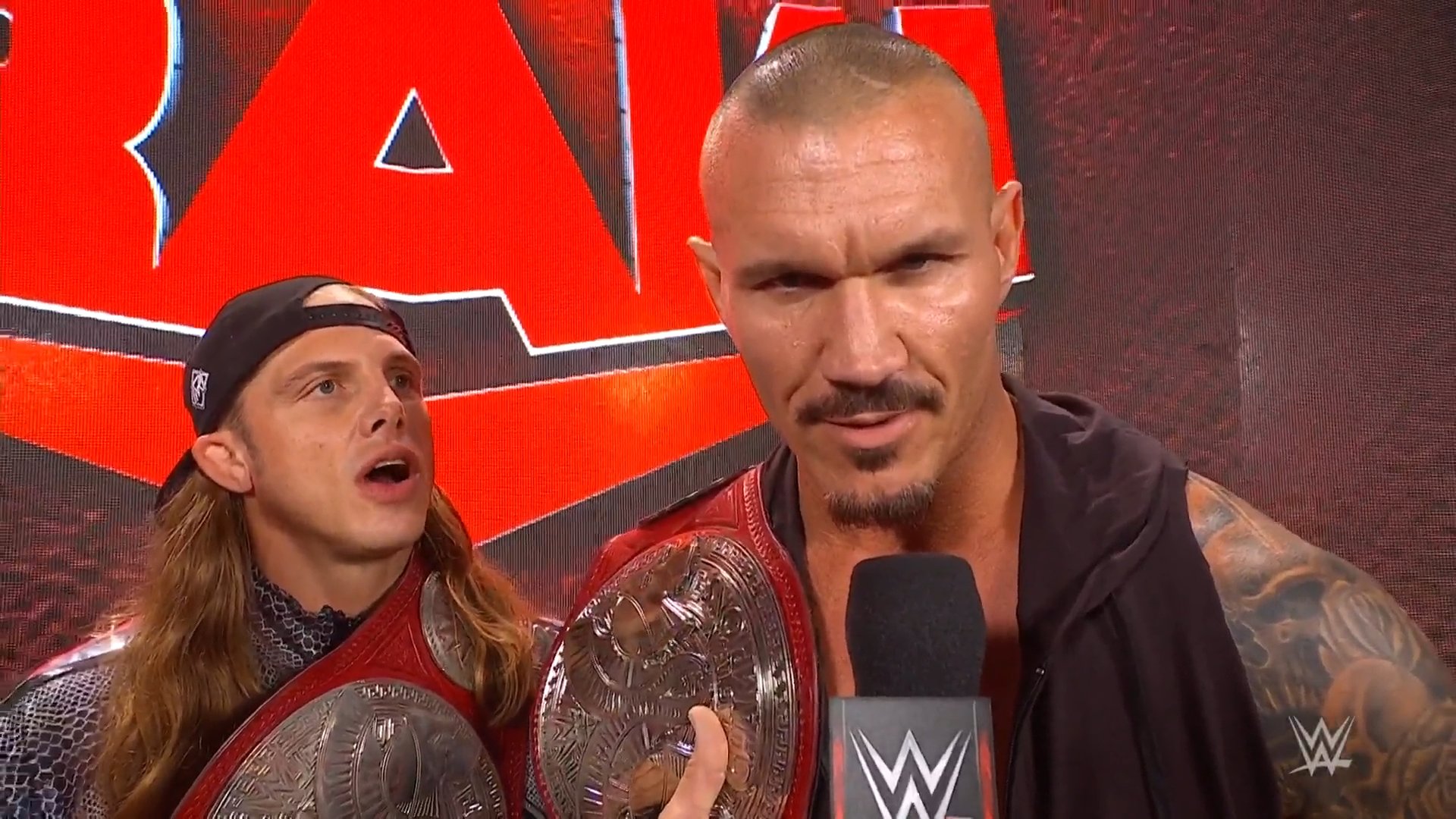 Kevin Patrick is backstage with Raw Tag Team Champions RK-Bro. Riddle does all the talking and says it sucked not having Randy Orton last week. Riddle keeps talking and says Orton looks like a snake that sheds its skin and sits in the sun. Orton asks if he's done. Riddle says he is. Orton says they have the opportunity to defend the Raw Tag Team Titles and shut up AJ Styles and Omos, but they have to wait for Crown Jewel. Orton has a proposition tonight in Nashville. Orton says it's time for Omos to go one-on-one with The Legend Killer. Riddle looks stunned.
---
Draft Round 2
WWE Officials Adam Pearce and Sonya Deville are back at the podium.
Seth Rollins is the first pick of the second round for WWE Raw.
With the second pick of the second round, SmackDown picks WWE Intercontinental Champion Shinsuke Nakamura and Rick Boogs. They're shown celebrating backstage.
Monday Night Raw next selects WWE United States Champion Damian Priest. Priest looks pleased backstage.
SmackDown selects Sheamus with the final pick of the second round.
---
Shayna Baszler vs. Dana Brooke
Brooke takes it to Baszler for the first few moments of the match, but Baszler quickly overtakes her and taps her out with the Kirifuda Clutch.
Winner by Submission: Shayna Baszler
Baszler attacks Brooke's arm outside the ring and goes to break it on the steps, but Doudrop skips down to the ring and then stares at Baszler. Baszler walks by her but clubs her in the back before she leaves. Doudrop doesn't go down and sneers at her.
---
Backstage: The Usos, Paul Heyman
Kevin Patrick catches up with SmackDown Tag Team Champions, The Usos, and Paul Heyman. Patrick says Heyman used his influence to keep The Usos in the Bloodline. Heyman says of course he used his influence because he advises the Tribal Chief and is also the Warden of the Uso Penitentiary. Patrick asks if Heyman used his influence to make Brock Lesnar a free agent. The Usos look Heyman up and down and walk off on him. Heyman looks upset.
---
Mustafa Ali & Mansoor vs. Angel Garza & Humberto Carrillo
Humberto Carrillo starts against Mansoor. Carrillo takes it to Mansoor, but Mansoor fights back. Garza and Ali tag in. Ali takes him down and slams him, but Carrillo breaks it up. Carrillo takes out Mansoor. Carrillo gets a cheap shot in on Ali, slamming his head against the post and Garza picks up the win.
Winners by Pinfall: Angel Garza and Humberto Carrillo
---
Draft Round 3
WWE Officials Adam Pearce and Sonya Deville are back on the stage.
AJ Styles and Omos drafted by Raw
Shayna Baszler drafted by SmackDown
Kevin Owens drafted by Raw
Xia Li drafted by SmackDown
---
In-Ring: Big E, Drew McIntyre, Dolph Ziggler & Robert Roode
WWE Champion Big E says it's great to be on his show, Monday Night Raw. For the second consecutive year, Kofi Kingston and Xavier Woods have been drafted to a brand that he is not on. A "New Day rocks" chant picks up. Big E says he was also in the most physically grueling match of his career, but he made sure the All Mighty Bobby Lashley fell down to his knees. Big E came to show the world that he is the rightful WWE Champion. Before he could breathe for a minute, his next challenger came down to declare himself. This man is no joke. He's a 2-time WWE Champion and a literal swordsman, Drew McIntyre. Before he wastes any more time, Big E calls out McIntyre to the ring.
Drew McIntyre makes his way to the ring with his sword. McIntyre says, "It's a Drew Day, yes it is!" McIntyre says he's been drafted to SmackDown. McIntyre hasn't had a chance since Bobby Lashley and has been waiting for a hero. Big E vanquished Lashley to become the WWE Champion. This is the part where people would try to antagonize Big E to get a title match, but the truth is Big E deserves the WWE Championship. A "You deserve it" chant lightly picks up. McIntyre says people love Big E and have said so on social media, but not him. McIntyre does things the old-fashioned way and shakes hands with him. An "E" chant picks up. McIntyre says the "but" was coming because Big E technically cashed in on an injured Lashley. Technically, Lashley injured McIntyre when he was cashed in on. Technically, no one likes Bobby Lashley, so Big E did the world a favor. McIntyre challenges Big E to a match for the WWE Championship.
Dolph Ziggler and Robert Roode make their way to the ring. Roode says they've been sitting in the back waiting to see where they're going, but they had to come out here. Ziggler says he loves Big E, but when Big E debuted, it was alongside Ziggler. As for McIntyre, he came back to WWE alongside Ziggler. Ziggler just wants a "thank you." They rode his coattails, and he just wants a simple acknowledgment. Big E and McIntyre huddle. McIntyre jokingly says Ziggler has upgraded from them. Roode says he is twice the friend and tag partner McIntyre was. Roode makes fun of Big E for being a bodyguard, but Roode puts the "body" in bodyguard. They call him "Big Bob." Big E says literally no one calls him that. Ziggler says this is about him and what he did for them. Ziggler wants a thank you for being a perfect gentleman. McIntyre asks Nashville if they should thank Ziggler. Nashville doesn't like them. Big E says they owe them an ass whooping. Big E and Big D will take on the Dirty Dawgs next.
Big E & Drew McIntyre vs. Dolph Ziggler & Robert Roode
Drew McIntyre starts against Dolph Ziggler. Ziggler knocks McIntyre back, so McIntyre punches him down and connects with a release front suplex. Big E tags in and drags Ziggler over the apron. Big E hits a big splash on the apron. Robert Roode tags in. Big E takes it to him and tags McIntyre in. Roode kicks McIntyre in the face. Big E tags in, as does Ziggler. Ziggler hits a dropkick for a one count. Ziggler applies a chin lock. Big E fights out, so Ziggler tags Roode in. Roode takes Big E down and goes for a flying knee, but Big E moves. McIntyre tags in and big boots Roode down before hitting an overhead belly-to-belly suplex. McIntyre hits a second overhead belly-to-belly suplex. Ziggler runs in, and McIntyre gives him an overhead belly-to-belly suplex out of the ring. McIntyre charges Roode in the corner, but he hits the ring post shoulder first when Roode moves. Ziggler superkicks McIntyre at ringside.
We come back from the break to see Roode applying a chin lock to McIntyre. McIntyre fights up and punches out. McIntyre elbows Roode before elbowing Ziggler. McIntyre then stuns Roode with a Glasgow Kiss.
Big E and Ziggler tag in. Big E hits Ziggler with a pair of overhead belly-to-belly suplexes followed by a belly-to-belly side suplex. Big E gyrates before hitting the ropes and crushing Ziggler with a big splash. Big E hits a uranage, but Roode breaks it up. Big E puts Roode on the apron and goes for a spear, but Roode knees him in the face. Ziggler hits Big E with a Zig-Zag, but McIntyre breaks up the pin. McIntyre knocks Ziggler out of the ring and catches Roode with an overhead belly-to-belly suplex on the floor. Ziggler rolls Big E up for a two count. Big E sidesteps a superkick from Ziggler and clotheslines him. McIntyre tags himself in and hits Ziggler with a Claymore for the win.
Winners by Pinfall: WWE Champion Big E and Drew McIntyre
After the match, Big E hits Roode with a Big Ending. McIntyre picks up the WWE Championship, and Big E takes it from him. Big E says if McIntyre wants it so bad, he can try at WWE Crown Jewel.
---
Backstage: Reggie, Adam Pearce, R-Truth, Apollo Crews
WWE 24/7 Champion Reggie is backstage when he finds WWE Official Adam Pearce. Reggie says he heard Pearce wanted to talk to him about the Draft, but Pearce denies it. Reggie turns and sees The Viking Raiders in his way. Reggie backs up, and R-Truth grabs him. Reggie gets out of his suit jacket and does some wild flips and balancing all over the place to get away from them. Reggie winds up in front of Apollo Crews and Commander Azeez. Crews says it's good to see Reggie again. Reggie runs off to escape. Crews says it's exciting to be on Raw.
---
In-Ring: Kevin Owens, Akira Tozawa
Kevin Owens has a microphone and goes to speak, but Akira Tozawa cuts him off before he even says a word. Replays are shown of Keith "Bearcat" Lee destroying Tozawa last week. Tozawa takes the microphone from Owens. Tozawa apologizes for interrupting and welcomes Owens back to Monday Night Raw. Owens gives Tozawa a Stunner.
---
Draft Round 4
WWE Officials Adam Pearce and Sonya Deville are back. It's the 4th Round of the WWE Draft.
The Street Profits drafted by Raw
The Viking Raiders drafted by SmackDown
Finn Bálor drafted by Raw
Ricochet drafted by SmackDown
---
WWE Women's Tag Team Championship
Nikki A.S.H. & Rhea Ripley (c) vs. Natalya & Tamina
Natalya starts against Nikki A.S.H. and bounces her off the turnbuckles. Natalya knees away at her before whipping her to the corner. Nikki slingshots over her and dropkicks her in the knee before knocking her out of the ring. Nikki goes outside and punches Natalya. Natalya gets in the ring. Tamina tags in and boots Nikki down. Tamina throws Nikki across the ring and avalanches her. Tamina throws her down and taunts the crowd. Nikki jumps on her back with a sleeper hold, but Tamina slams her off. Tamina superkicks her, but Ripley breaks up the pin. Natalya tags in and goes for a Sharpshooter, but Nikki rolls her up for a two count.
Rhea Ripley tags in and brawls with Natalya before dropkicking Tamina off the apron. Ripley hits a pair of short-arm clotheslines and a ripcord head-butt. Ripley dropkicks Natalya in the head and gets fired up. Natalya fights back, but Ripley comes back with a northern lights suplex. Tamina breaks up the pin. Ripley kicks Tamina off the apron. Nikki then hits a cross-body block off the top rope to the floor on Natalya and Tamina. Ripley gets Tamina in the ring and hits the Riptide. Nikki tags in and sits on Ripley's shoulders. Ripley slams Nikki onto Tamina for the win.
Winners by Pinfall and still WWE Women's Tag Team Champions: Nikki A.S.H. and Rhea Ripley
---
Draft Round 5
WWE Officials Adam Pearce and Sonya Deville are back for the 5th Round of the WWE Draft:
Karrion Kross drafted by Raw
Humberto Carrillo and Angel Garza drafted by SmackDown
Alexa Bliss drafted by Raw
Cesaro drafted by SmackDown
---
In-Ring: Goldberg, Bobby Lashley
Goldberg makes his way to the ring. The crowd gives him a nice ovation. Goldberg says Bobby Lashley has the audacity to say what he did to his son was a misunderstanding. It wasn't. It was intentional. Tonight, he's inviting Bobby Lashley to this ring so he can intentionally break his freaking neck.
Bobby Lashley comes out to the stage. Lashley says it was a misunderstanding with his son. Lashley isn't getting in the ring and jeopardizing his custom suit kicking Goldberg's ass again. Not everyone dresses like it's still 1998. Goldberg owes him an apology for perpetuating the myth that he purposefully hurt his son. Lashley will give Goldberg a match at Crown Jewel under one condition: No Holds Barred. Goldberg can bring his son. Goldberg gets on his knees and thanks him. Goldberg says No Holds Barred gives him a license to kill. Goldberg says Lashley thinks he's crazy and it's true. Goldberg will give Lashley's kids an apology when he leaves his lifeless body in the ring gasping for air. One thing is for sure: Lashley is next AND he's dead!
Lashley shouts over Goldberg's music and says Goldberg cannot kill the All Mighty. Lashley says Goldberg can let his son know that if he gets the balls to do what he did last time, it won't be a misunderstanding. What would Goldberg do if someone jumped on his back? Cedric Alexander jumps on Goldberg's back, but Goldberg knocks him off. Goldberg then spears Shelton Benjamin down.
---
Backstage: Seth Rollins
Kevin Patrick is backstage with Seth Rollins, who is wearing a ridiculous fur coat. Rollins celebrates being back and better than ever. Rollins stops him before he says Edge was also drafted. Rollins says he'll take care of that business on SmackDown. Rollins doesn't give a shit who steps up to him because he is a visionary and a revolutionary. He is Seth Rollins. Rollins cackles.
---
The New Day (Kofi Kingston & Xavier Woods) vs. Shelton Benjamin & Cedric Alexander
Shelton Benjamin starts against Kofi Kingston. Kingston fights him off and hits a tornado DDT. Cedric Alexander and Xavier Woods tag in. Woods hits a wild side leg sweep and goes to drop on the apron, but he falls to the floor. Kingston comes off the steps and hits Benjamin with a double stomp to the chest. Woods hits a springboard elbow drop on Alexander for the win.
Winners by Pinfall: The New Day
The Street Profits make their way to the ring. They congratulate The New Day on their Netflix movie and asks how they defeated The Undertaker. Montez Ford says they're here to let the WWE Universe and Nashville that the Street Profits are back on Monday Night Raw and they want the smoke. They embrace The New Day and give them some red solo cups. Kingston takes a sip and gets excited.
---
In-Ring: RK-Bro, AJ Styles & Omos
Raw Tag Team Champions RK-Bro make their way to the ring. Randy Orton says he's waiting for the response from Omos. Orton wants to know if Omos is a personal colossus for a big bitch. AJ Styles and Omos make their way to the ring. Styles says they were celebrating his win over Riddle last week. Styles is glad they're all on Raw so they can rub it in their faces when they beat them for the Raw Tag Team Titles. Omos begins to speak, but Orton attacks Styles. Riddle goes after Omos, but he's slammed down. Orton hits Styles with an RKO and runs away. Omos is furious.
---
Draft Round 6
WWE Officials Adam Pearce and Sonya Deville are back for the 6th and final round of the 2021 WWE Draft:
Carmella drafted by Raw
Ridge Holland drafted by SmackDown
Gable Steveson drafted by Raw
Sami Zayn drafted by SmackDown
A reaction video is shown of Gable Steveson hearing about the news of his drafting with his parents.
---
Bianca Belair vs. Charlotte Flair
SmackDown Women's Champion Becky Lynch is on commentary for this match.
They lock up, and Flair applies a side headlock before taking her down. Belair applies a head-scissor, but Flair kips out of it. Belair takes her down, but Flair gets out with a head-scissor. Belair kips out of it, and they trade takedowns. Flair quickly attacks and takes her down by the hair. Flair hits the ropes and does a cartwheel. Belair does the same. Flair hits the ropes and dropkicks Belair as she drops down. Flair kips up and smiles. Flair puts Belair in the corner and whips her across the ring. Belair slingshots over her, does a cartwheel, and smacks her backside. Flair is not happy. Belair dropkicks and taunts her again. Flair rolls her up for a one count. Belair bounces her in the corner and puts her in the opposite corner. Belair charges into a big boot. Belair reverses a whip to the corner, but Flair rolls up the turnbuckles and lands on the apron before forearming her. Flair pulls Belair to the apron and goes for a suplex, but Belair fights it. Flair comes back with a slam and throws her over the barricade.
We come back from the break to see Belair flip out of a dragon sleeper, but Flair boots her. Belair avoids a big boot and dropkicks her down. Belair hits a delayed vertical suplex for a two count. Belair stomps away at her and goes for a handspring splash, but Flair gets the knees up. Flair chops the chest. Belair hits the ropes, but Flair clotheslines her down. Flair rolls her up for a two count before powering her up and hitting a big slam for a near fall. Flair goes for Natural Selection, but Belair gets out. Flair flips through a suplex, but Belair comes back with a KOD attempt. Flair lands on her feet and hits a spear for a near fall. Flair is shocked.
Belair comes back with a slam for a near fall. Belair goes to the top rope, but Flair hits the ropes to take her down. Flair big boots her down to the canvas. Flair comes off the top rope with a moonsault, but lands on her feet and hits a standing moonsault when Belair moves for a two count. Belair fights back and hits a KOD, but Becky Lynch pulls Belair out of the ring. Belair sends Belair into the ring steps.
Winner by Disqualification: Bianca Belair
Belair hits a Bexploder into the barricade and gets Belair in the ring for a Manhandle Slam. Sasha Banks attacks Lynch from behind and knees her in the head. Banks then knees Belair in the head. Lynch attacks Banks, but Banks connects with a Backstabber. Banks stands tall in the ring.