Results by Mike Hogan of Rajah.com
November 22, 2021
Brooklyn, NY – Barclays Center
Commentary: Jimmy Smith, Corey Graves, and Byron Saxton
---
Quick Match Results
Riddle defeated Dolph Ziggler via RKO
Bianca Belair defeated Tamina via KOD
Seth Rollins vs. Finn Bálor never started because Rollins attacked Balor before the match
AJ Styles & Omos defeated Street Profits by disqualification when Dawkins sprayed Omos with a fire extinguisher
Women's Tag Team Championship: Queen Zelina & Carmella defeated Rhea Ripley & Nikki A.S.H. (c) via Code Red by Zelina on Nikki – NEW Champions
24/7 Championship Match: Cedric Alexander defeated Reggie (c) via Lumbar Check – NEW Champion. Dana Brooke then pinned Cedric after the match to become the new champion.
2-on-1 Handicap Match: Bobby Lashley defeated The Mysterios via Hurt Lock on Dominik
United States Championship: Damian Priest (c) defeated Sami Zayn via the Reckoning
WWE Championship: Big E (c) defeated Austin Theory via the Big Ending. (Austin Theory was the person who took Vince McMahon's egg, and McMahon gave him a title shot for returning it.)
---
Backstage: Vince McMahon, Sonya Deville, Adam Pearce
We get a recap of Survivor Series last night–but only about the $100 million egg that was stolen from Mr. McMahon after being given it as a gift by the Rock. Vince fears that the Rock will be upset, and ordered WWE officials Adam Pearce and Sonya Deville to help find it and are told Vince will be here to deal with it.
Vince is seated with both officials. He's upset about the missing egg and demands they get to the truth. He informs them that if he doesn't have the egg on his desk, they'll be let go. He tells Adam, "You know those two words, don't you?" (Hinting at "you're fired"). They postulate as to who it could possibly be. Vince McMahon tells the officials that whomever finds the egg will be rewarded and whomever finds the egg can get a title shot at WWE Champion Big E later tonight. The Barclays Center pops.
---
Riddle vs. Dolph Ziggler
Orton is interviewed backstage. Riddle is missing, and Orton's upset. He claims he last saw Riddle last night–and during the match, Riddle made him proud in the ring by finally focusing and listening to Orton. Up walks Riddle wearing a fake mustache and goatee. He does his best to look like Orton, dressing like him. Orton explains that he wanted Riddle to be like him, not be him. He also indicates he'll handle the "bleach-blonde" Dolph Ziggler. He calls for Orton's music and we're off!
Riddle, dressed like Orton and wearing the same clothes, makes his way out to Orton's music and poses like Orton in the corner. We head to break. Afterwards, Dolph Ziggler is out. Riddle "Orton" (using that because he's cosplaying as Orton) starts off with an early suplex attempt. Ziggler and Riddle grapple, jockeying for position. Riddle quickly takes Ziggler down and looks for a submission. Orton watches from ringside as does Roode. Ziggler focuses his offense on Ziggler's arm, looking to weaken it up. Ziggler takes control with a standing dropkick to the face. Corey Graves claims Ziggler dropkicked the mustache off Orton. After another strike, Riddle loses his bear. Riddle puts his sheer strength on display by gut-wrench lifting Ziggler and spinning around in circles before suplexing him out of the ring. Ziggler heads outside and when Riddle follows, Ziggler catches him with a Superkick! We head to break.
Back from the break. Riddle uses an Orton-style Powerslam to lay out Dolph. Riddle looks like he's working on bulking up muscle. Riddle sets Ziggler up for the Spike DDT but takes a little too long and Ziggler counters. Ziggler hits a Famouser but Riddle kicks out at two. Jimmy Smith, Byron Saxton and Corey Graves–our commentary team–both praise and question Riddle's "cosplay exploits." Ziggler and Riddle are both knelt and fight to their feet, exchanging fists as the crowd enthusiastically cheers them on. Ziggler gets the upper hand and positions in the corner. Ziggler looks for his version of Sweet Chin Music but Riddle counters. Riddle drops and slaps the canvas like Orton and, as soon as Ziggler rises, Riddle hits an RKO outta nowhere! Orton approves as Riddle picks up the win.
Winner: Riddle
After the match, Orton hits a Bro Derek (Riddle's move) on Roode when Robert attempts to attack.
---
Backstage: Search for the Egg
Rhea Ripley, R-Truth and many others are tearing apart the catering area, looking for Vince's egg. They tear up the room and search every nook and cranny.
---
In-Ring: Becky Lynch
The Lasskicker comes out to a decent pop. As she poses in the ring, we're treated to a video package highlighting her win over Charlotte Flair last night in the opening match of Survivor Series. We head to break. Afterwards, the fans welcome Becky with a big chant. Lynch reminds us that it's been three years since Lynch slapped Flair and became "the Man." Lynch speaks about the match last night, stating both she and Flair wanted to injure and maim each other. She accuses the crowd of taking entertainment pleasure in the fact that they could destroy each other. Lynch tells us that since the WWE Universe wants something fresh and new, she asks the audience who do they want to see Lynch fight. She name-drops Rhea Ripley, who gets a minor pop. She then drops Bianca Belair, who gets a better pop.
Finally she names Liv Morgan and the crowd pops loud.
Lynch continues to work her heel gimmick, accusing the crowd of doing their "stupid little chants…stupid little waves…you and your stupid little songs, didn't ya?" She continues to work up the crowd, telling the fans that she doesn't give a damn what they like. Great job in trying to establish herself as a heel with a pro-Lynch crowd. She runs down the competitors she named and ends the segment stating no one will take her title. Her music plays her out.
---
Bianca Belair vs. Tamina
Belair addresses last night's Women's Survivor Series match, which saw Belair come back from a 4-to-1 deficit and pick up the win as the sole survivor. She pivots to talk about Doudrop and hopes that Doudrop is over her jealousy of Belair's spot on the team.
Bianca is out first, followed by Tamina and Nattie. We head to break. When we return we get the bell and we're off. Belair uses her athleticism to dodge a Tamina rush, flip across the ring and up the turnbuckle to spank her butt and tease Tamina. Tamina and Belair clash in the ring and Belair hits a suplex followed by a kip-up. Belair does her unnamed signature move, in which she flips against the ropes then back to crash on her opponent. Tamina takes the lead after ripping the legs out from Belair as she stood on the turnbuckle. Tamina nails Belair with a Superkick followed immediately with a Samoan Drop, picking up two. Tamina works Belair over in the corner as the ref counts his warning.
Tamina maintains control with working holds, slowing down the agile Belair and cranking the neck wickedly to the left. Belair struggles for several long moments in the hold. Tamina hits a clubbing blow to Belair's chest and immediately wrenches the neck back to the left. Tamina fails to capitalize on her lead and Belair rallies, hitting the KOD to pick up the win.
Winner: Bianca Belair
After the match, Natalya looked to attack Belair and lock in a Sharpshooter. Belair kicks Nattie out of the ring and yells "what are you doing?" Doudrop attacks from behind, laying out Belair with a running splash before leaving.
---
Seth Rollins vs. Finn Bálor
Rollins is out first to a decent reaction from the crowd. The digital, piped-in audience boo loudly while the actual real crowd cheer for Rollins. We get this match up next–after this commercial break. When we return, Rollins works the crowd up, telling Brooklyn to give it up for the sole survivor. He reminds us that last night, right there in that ring, Rollins did what he was "born to do" and he led team Raw to victory. Graves thanks Rollins as Rollins bows to the crowd. The crowd begins singing Rollins new theme as he dances to it. He tells the crowd he loves it and the best part is he did it (win the SS match) all by himself. He tells the WWE Universe that KO was the liar, snake and coward that Rollins warned us about. KO walked out before the match. Bobby Lashley "got himself counted out. And Austin Theory, bless his sweet soul, he tried so hard–but he just wasn't good enough. And Finn Bálor," he pauses to cackle, "he got Brogue Kicked by Sheamus and got pinned here on this mat 1-2-3, no help (from) Finn Bálor. But in a few moments, Finn Bálor is going to walk down that ramp, he's going to get in this ring and I'm going to lead by example when I show Finn Bálor a thing or two about what it means to be the best because I am a revolutionary, I am a visionary, I am Seth Freak–" He's interrupted as his opponent, Finn Bálor, makes his way out.
Finn Bálor heads straight to the ring. Our first-ever Universal Champion climbs the apron and does his usual play-up to the crowd. Rollins attacks Bálor, knocking him off the apron. Rollins takes it inside and Bálor hits a ground-and-pound on Rollins before sending Seth outside. Bálor with a tope to Rollins, wiping him out at ringside. Bálor sends Rollins into the ring but Rollins rolls out the other side. Bálor charges and looks for perhaps a Sling Blade, but Rollins catches him midair and slams Bálor down. Rollins beats the hell out of Bálor at the ringside areal. Seth picks up steel steps and rams them into Bálor's face as the crowd changes from singing Rollins theme and turns to a "holy shit" chant. Rollins sends Bálor into the ring and hits the Stomp! Rollins hits a second stomp and this match never takes place. Afterwards, a fan jumped the barricade but was taken down on the ramp by Seth Rollins, I believe (they immediately turned cameras away).
Match never started
---
Backstage: Vince McMahon, Sami Zayn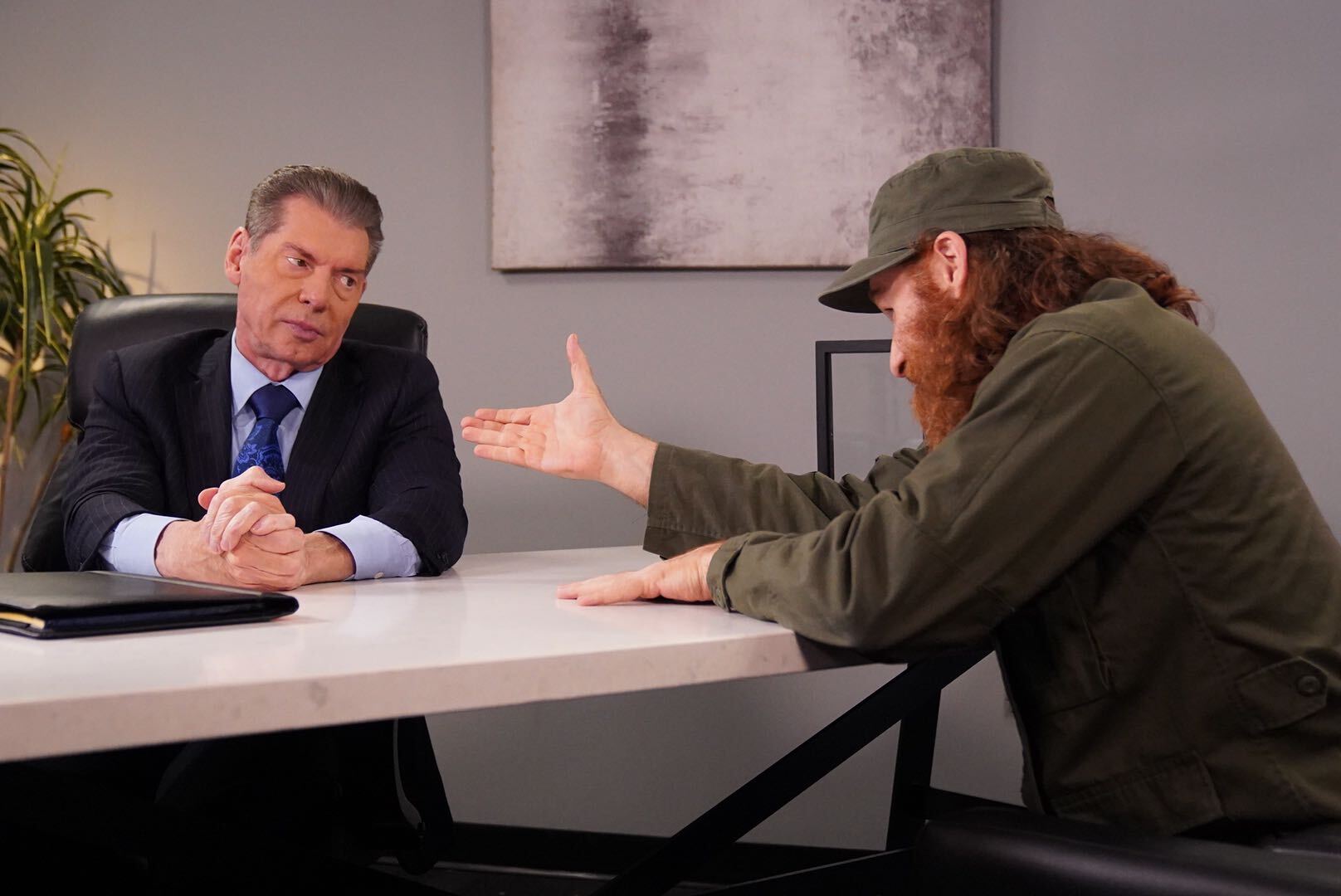 VKM speaks with Zayn, who claims to know who took the egg. Much of both Raw and SD rosters search and rampage backstage, looking for the egg that comes with a title match.
---
Backstage: Kevin Owens
JUST KEEP SEARCHING.@FightOwensFight#WWERaw pic.twitter.com/u7SF70HXhI

— WWE (@WWE) November 23, 2021
Owens is interviewed and asked about abandoning his team last night. Owens says he's focused on finding the egg and getting a title shot, or challenging whoever ends up champion after tonight.
---
Street Profits vs. AJ Styles & Omos
The Profits come out first. Ford gives a red solo cup to Graves despite Saxton begging for one, haha. Future Hall of Famer Angelo Dawkins comes out with a huge, heavy bag and we go to break as commentary speculates on what's in the bag. When we return, Styles & Omos make their way out. Omos eliminated 12 of the 24 other Superstars in the Rock 25th Anniversary 25-Man Battle Royal. We start with Styles and Ford. Ford takes an early lead and tags in Dawkins. The two unite for tandem offense multiple times as Dawkins and Ford use quick tags. Finally, Styles escapes and tags in Omos. The giant Omos steps over the ropes and both Profits flee the ring. They stand at the top of the ramp to "game plan against Omos" according to Smith. We head to commercial.
Back from the break. Styles and Dawkins clash in the ring. Omos, presumably, tagged in Styles during the break and the Profits re-entered the ring. Dawkins hits the Silencer on Styles and both men are down. Ford and Omos both look for the hot tag as their partners crawl over. Ford gets the tag first and comes in, attacking Styles before he can tag Omos. Ford strikes Omos then takes Styles down with a diving cross-body. Ford taunt Omos again. Styles attempts to use the distraction to fire off a combination of kicks and strikes but Ford shuts him down. Styles looks for a back suplex but Ford floats over. Styles immediately counters with a Penalty Kick and sets up for the Styles Clash. Ford counters and Styles tags in Omos. Dawkins retrieves a fire extinguisher and uses it to spray Omos, causing a DQ.
Winners by Disqualification: AJ Styles & Omos
---
Video: Veer Mahaan
Another vignette for Veer Mahaan airs. He's coming soon to Raw.
---
Women's Tag Team Championship
Rhea Ripley & Nikki A.S.H. (c) vs. Queen Zelina & Carmella
Vega rocks the accent perfectly as our Queen and her partner threaten to defeat Ripley & A.S.H. to take their titles.
Super Brutality–Rhea Ripley & Nikki A.S.H.–make their way out, belts in hand and playing it up to the crowd. After a brief word from their sponsors and a Veer Mahaan promo, the challengers finally make their way out. Ripley and Nikki are both angry and fired-up in the ring. Carmella and Vega are out to gloating words from Graves. Carmella sports new ring wear–black with metallic accents, looks sharp. Zelina is out with her partner, waving to her subjects. After the bell, Carmella exits and puts on a red face mask. Ripley gets tired of Carmella dragging it out and takes Mella into the ring. Ripley immediately begins to work over the former Women's Champion. Ripley with a modified snapmare. Zelina is tagged in and looks like a child when compared to Ripley. Zelina attempts to pick the leg but lacks the power. Ripley with a body lock and a toss. Ripley blocks Zelina in the Super Brutality corner. Zelina tries multiple times to get past Ripley and make the tag. Zelina slags Ripley who snaps back with a headbutt. Ripley pulls Zelina up for a Powerbomb. Zelina looks to counter into a Hurricanrana but Ripley blocks it. Zelina won't give up, however, and in an impressive move she counters the hold into a Tornado DDT! Vega hops on the back of Ripley, looking for a sleeper. Ripley moves to her corner and Nikki comes in on a hot tag. Nikki streaks across the ring to attack Carmella then takes it to Vega. After Ripley comes back in on a tag and scuffles with Carmella. Nikki is in next. After Carmella rams Ripley into the ring post, Carmella hits a Superkick to Nikki, Zelina hits Code Red, the champs are pinned and we've got new champs.
Winners and NEW Women's Tag Team Champions: Carmella & Queen Zelina Vega
---
Backstage: Vince McMahon, Austin Theory, Sami Zayn
Sonya Deville tells McMahon that they know who took the egg and Adam Pearce is going to bring him in now. After commercials, Theory comes in with the egg. He and Zayn talk about the egg, with Zayn snitching on Theory and stating Theory took it. When asked by Vince about it, Theory says he just wanted to take a selfie with the egg, but was scared by the level of security so he went to the hotel with the egg. He shows selfies he took with the egg–proving he stole it. Vince says Theory took a huge risk coming in here and he'll drop the charges because he reminds him of himself. Theory is happy and asks for a selfie. Vince poses with the egg for a selfie for Theory. Zayn angrily has words with McMahon, upset that Theory gets a title shot tonight instead of him. Vince tells Zayn to shut up, says "nobody likes a snitch" and snarls at him.
---
24/7 Championship Match
Reggie (c) vs. Cedric Alexander
Reggie is out first, as agile and athletic as ever. Cedric is out next and aggressively takes control. Cedric counters a suplex with a Hurricanrana attempt. Reggie looks to use his agility for a spinning dragon kick but Cedric counters it. Cedric hits the Lumbar Check on Reggie and picks up the win!
Winner and NEW 24/7 Champion: Cedric Alexander
All of the usual 24/7 candidates rush the ring. Dana Brooke attacks Cedric and pins him, picking up the win. The 24/7 mob pause, unsure about attacking a woman. Brooke poses with the title and a ring full of thirsty mid-carders.
NEW 24/7 Champion: Dana Brooke
After commercials, Dana Brooke is interviewed backstage and says this is her moment and she'll show the world who Dana Brooke is.
---
2-on-1 Handicap Match
The Mysterios vs. Bobby Lashley
Dominik apologies to Rey for not stepping in when Lashley used the Hurt Lock on him. Rey tells Dom not to worry, and points out that he's fought legends such as the Undertaker and he's the original "giant killer." He tells his son not to worry about it because tonight they're fighting together. He tells Dom "let's go out there and give them the Mysterio welcome. Viva la raza!"
The Mysterios are out first, followed by the Almighty one, accompanied by MVP. MVP taunts the Mysterios, giving them a verbal glimpse of their future. A tag format is being used. Rey starts in against Lashley. Rey takes Lashley into the Mysterio corner. Both father and son utilize quick tags, seconds apart, and double-team Lashley in the corner. Finally Lashley fires up his comeback. Lashley catches Rey in mid-air and hits a modified side slam. Lashley looks for the Hurt Lock but Dominik dives in, sending Lashley to the outside. Lashley lands on his feet and catches Dom as the younger Mysterio attempts a cross body dive over the top. Rey flies out the ring, saving his son and sending Lashley crashing into the barricade as we go to break.
Back from the break. Lashley uses the middle rope to choke Dom as the ref counts a warning. When Lashley releases, MVP hits Dom wit a cheap shot behind the ref's back. Lashley with a big slam before throwing Dominik over the top rope and to the outside. We get clips from during the commercial break, when Dom and Rey set up MVP for a 619 but MVP tripped Dominik. Outside the ring, Lashley rams Dominik's head into the ring post. We get replays as Rey checks on his son and the ref begins his count-out. At the count of eight, Lashley exits to reset the count and rams Dom into the barricade. The ref begins to count again as Lashley rolls Dom into the ring. Graves accuses Lashley of being a "predator (who) enjoys playing with his prey." In the ring, Dom is on a knee before Lashley. Lashley yells "hit me, kid" over and over. Dom throws a few weak punches that do nothing. Dom manages to escape a Powerslam attempt and makes the tag to his dad. Rey comes in hot and ducks under a swing. Mysterio with a barrage of strikes. Rey looks for a middle-rope Moonsault but Lashley catches him in midair. Rey escapes and in comes Dominik. The Mysterios start using fast tags to work in tandem, hitting a stereo 619! Lashley is down from the double-attack. Dominik and Rey Mysterio both hit Frog Splashes and both cover Lashley! Lashley kicks out! Both men are sent flying. Rey whips Dominik at Lashley; Lashley pops Dom over the rope and onto the apron. Lashley hits Rey with a Spear then locks Dom in the Hurt Lock. Dom taps fast.
Winner: Bobby Lashley
---
Backstage: Big E
Big E is asked about the title match. Big E addresses his loss to Reigns last night, apologizing for letting others down. He's excited for a match against Austin Theory, whom he states "the kid is young, the kid is brash, but the kid is talented." He pledges to win and retain later tonight.
---
Backstage: Liv Morgan, Becky Lynch
Morgan is interviewed about last night. She's excited that she won and is excited for her future. Raw Women's Champion Becky Lynch shows up and runs down Liv Morgan. Lynch tears into Morgan, causing her to cry, then begins to mock her and call her a cry baby. Morgan snaps and attacks Lynch then walks off.
---
United States Championship
Damian Priest (c) vs. Sami Zayn
Damian Priest comes out to new music and a decent pop. The US champ poses at the top of the ramp and makes his way down. We're told this is an open challenge and, after a break, our opponent is revealed! Commander Azeez and Apollo Crews make their way out. Azeez actually gets on the mic, and speaks, telling everyone to respect Crews. He claims Crews will be a savior of the US Championship. He then announces Apollo Crews before handing the mic to his friend. Crews acclaims that Priest doesn't have a grasp on who he (Priest) is but Crews has fully embraced his Nigerian heritage. He cackles and states he's a Nigerian Warrior and plans to show the world that Priest doesn't deserve to be champ. Priest cuts him off, reminding Crews they're in New York. Big, long pop from Priest's hometown crowd. Priest tells Crews that if he has all this crap to talk about, he can either start a podcast or "shut your damn mouth and fight." He tells Crews to throw down right now for the US title. Crews tells Priest he's a funny guy and points out that they're in Priest's hometown of NYC. Crews then decline to accept the open challenge. Enter Sami Zayn. Zayn comes out ont he mic, upset that Vince denied Zayn the title shot he "deserves." He states that one door closes but another opens. He tells Crews and Azeez, no offense, but if they don't want the match Zayn will happily accept. Zayn declares he's not leaving Brooklyn without a title.
The ref presents the belt and calls for the bell. Zayn immediately heads outside for a moment to plan his strategy, and Priest follows. Zayn attacks Priest at ringside and we head to break! When we return, Priest unleashes a flurry of kicks on Zayn. Priest sends Zayn into the corner and hits a splash followed by a bell clap. Zayn immediately hits a Blue Thunder Bomb outta nowhere! Priest barely kicks out. Zayn starts to climb the turnbuckles bu Priest catches him with a jumping kick. Priest climbs up and attempts a middle-rope Superplex. Zayn rakes the eyes and hits a Sunset Flip bomb into a pin for a close two!
Brooklyn chants "Sami Sucks" as they get behind the hometown champ. Priest counters a Zayn suplex and look for a Reckoning. Zayn counters that with a roll-up for a close two. Priest with a dragon kick that sends Zayn against the ropes. Priest whips Zayn into the ropes. Zayn grabs the ropes and slides outside. Priest looks to grab Zayn's hair over the top rope and Zayn hits a rope-assisted neck breaker. Zayn chokes Priest on the middle rope and grabs the US title. He taunt Priest then tosses the belt aside. Priest becomes incensed and rage fills his face. Priest takes Zayn int the corner and unleashes on him before hitting Zayn with a side Urinage. Priest hits the Reckoning and picks up the win!
Winner and STILL United States Champion: Damian Priest
---
WWE Championship
Big E (c) vs. Austin Theory
Before the match, Austin Theory is interviewed backstage and says that Big E is a big loser and tonight he'll become the youngest WWE Champion in history and will take a selfie with Big E.
Big E comes out and Graves promotes the next Raw event, at Long Island, with tickets on sale for next Monday's show. We head to break. Austin Theory is out next as our champ is ready for the competition. Theory comes out to digital boos and a mostly-indifferent in-house crowd are mostly dead. Seth Rollins comes out to join commentary. We get our official announcements and Big E, as expected, gets a hot pop. Austin Theory gets almost no reaction from the crowd but the piped-in digital audience are full of boos.
The crowd sings Rollins theme at various times in this match. Big E takes it to the challenger, using several pull-back elbow strikes to rock the youngster. Big E whips Theory into the ropes and drops him with a back elbow. Big E drags Theory to the apron and hits clubbing blows to Theory's chest in time with a crowd "New…Day Rocks!" chant. Big E hits a Big Splash on the apron! Out comes Kevin Owens! The distraction gives Theory a chance to get in some offense. Owens watches from ringside, yelling at the champ, as Theory uses a hip attack and a snap suplex to take down the champ. We head to break!
Back from the break. Theory throws lefts at a knelt champion, battering him with fists and a snap DDT. Cover but only garners a one-count. Owens and Rollins are both at commentary, seated on opposite sides of the table. The champ takes control back with a belly-to-belly suplex. Big E continues the trifecta, planting Theory with a trio of suplexes. Big E runs off the ropes and hits his Big Splash. The crowd wakes up for Big E. Big E looks for a Big Ending but Theory escapes. Big E charges Theory who trips Big E and sends him into the turnbuckle. Theory with a dropkick and a cover for a close two! Theory's offense comes to an end when Big E hits a modified Uranage, covering for two. Theory rolls out of the ring and Big E follows. The duo head back inside. Theory takes out the champ's knee and attempts a cover. Owens throws Rollins in the ring and the ref yells at Rollins and the two threaten to fight. The distraction leads to Big E taking out Theory with a Big Ending and covers for the win.
Winner and STILL WWE Champion: Big E
Big E immediately leaves the ring and attacks both Rollins and Owens. Rollins is left rolling in pain at ringside as Owens retreats up the ramp. Big E jaws at Owens, off mic, and we get replays. We end our program with Owens and Big E yelling, with Owens threatening to not be far behind Big E wherever he goes. Owens yells that Rollins is a scumbag and our final two mites of the show are dedicated to smack talk.