Results by Mike Tedesco of Wrestleview.com
January 17, 2022
Tulsa, Oklahoma (BOK Center)
Commentary: Jimmy Smith, Corey Graves, and Byron Saxton
---
Quick Match Results
Becky Lynch & Doudrop defeated Bianca Belair & Liv Morgan via splash by Doudrop on Morgan
Kevin Owens defeated Damian Priest via Stunner after Owens faked an injury for a distraction
Austin Theory defeated Finn Bálor via the ATL
Omos defeated Reggie via tree slam
8-Man Tag Team Match: Street Profits & The Mysterios defeated Dolph Ziggler,Robert Roode, Apollo Crews & Commander Azeez via frog splash by Ford on Crews
Bobby Lashley defeated Seth "Freakin" Rollins by disqualification when Cedric Alexander & Shelton Benjamin attacked Lashley
---
In-Ring: Becky Lynch, Doudrop, Bianca Belair, Liv Morgan
We go live into the BOK Center, and the commentators welcome us to the show. Raw Women's Champion Becky Lynch makes her way to the ring.
Tonight's main event will see Bobby Lashley take on Seth "Freakin" Rollins. Lashley will face Brock Lesnar for the WWE Championship at the WWE Royal Rumble. We'll have career retrospectives of Lashley and Lesnar later tonight.
Footage is shown of Alpha Academy beating RK-Bro to win the Raw Tag Team Titles last week. Chad Gable will hold a graduation ceremony for Otis, who he determines has graduated from the Alpha Academy.
We then see footage of Becky Lynch costing Bianca Belair a title match and giving Doudrop the win last week on Raw. Lynch tried to attack Doudrop after, but Doudrop fought her off.
Becky Lynch is in the ring with a microphone in her hand. Lynch seems confused by the booing, but then the "Becky" chants breakthrough. Lynch welcomes everyone to the "Big Time." We're less than two weeks from the Royal Rumble and the Raw Women's Division has never been hotter. There's only one person responsible for that: Becky Lynch. It is so hot that they have stars from generations past coming back. We've got Lita, Mickie James, and The Bella Twins, all hoping they'll win the Royal Rumble to face the "Van G.O.A.T." at WrestleMania. Lynch makes stars. Look at Doudrop. She gave Doudrop a taste of the big time at one of the biggest events of the year. No one was clamoring to see Doudrop get a title match. Doudrop didn't get herself a title match. Lynch did it. That's what she does. She makes people better… and then she beats them.
Lynch does give Doudrop props for coming from Scotland and making a name for herself. Oh wait, someone else made the name for her. Lynch calls her "Dou-Dou" and says she will never be a champion while she's around.
Doudrop makes her way to the ring, and Lynch stares at her as she circles the ring. Doudrop wants to tell Lynch something. Lynch didn't get her anything. Doudrop got herself the title match at the Royal Rumble. If it was really Lynch's plan to face her instead of Bianca Belair, then it's the biggest mistake Lynch has ever made. Lynch better stay well out of her way tonight. Lynch says she DID get Doudrop a victory last week, and if Doudrop follows her lead she'll have another one tonight.
Bianca Belair's music cuts them off, and she comes down to the ring. Belair says Lynch thinks she's the greatest, but you can't spell "greatest" without "EST." Belair gets in the ring, and an "EST" chant picks up. Belair says she's the EST of WWE. As for Doudrop, the only reason Doudrop is facing Lynch at the Rumble is that Lynch is so scared of her that she interfered. Lynch is just buying time because Belair is officially entering the Royal Rumble match. It'll be every woman for herself. If she has to throw 29 other women over the top rope like she did last year then that's what she'll do and she'll main event WrestleMania again. Then she'll pick whoever she wants to face for the title, which might be one of the two women in the ring.
Liv Morgan comes out. Morgan says to Belair that they may be teaming up tonight, but she's officially entering in the Royal Rumble. In two weeks, she'll also be the one winning it. For that to happen, that means Belair will be one of the 29 women she's outlasting on her way to WrestleMania. Now that they're all on the same page…
Doudrop starts to snore into the microphone. Doudrop wants the referee to get out there so she can shut them up herself. They all start to brawl, but the referee runs down and stops it.
Becky Lynch & Doudrop vs. Bianca Belair & Liv Morgan
Doudrop starts against Bianca Belair. Belair quickly taunts her, backflips over her, and goes for a suplex. Doudrop won't leave her feet and tries to suplex Belair. Belair flips through and lands on her feet before going to the apron. Belair knocks Doudrop back, but Doudrop quickly runs her over with a shoulder block. Doudrop hits the ropes, but Becky Lynch forcibly blind tags in. Lynch says she'll lead them to victory. Belair dropkicks Lynch and tags Liv Morgan in. Morgan runs wild on Lynch and hits a high knee in the corner. Lynch reverses a whip to the corner, but she runs into a back elbow. Morgan comes off the ropes with a missile dropkick. Morgan covers, but Doudrop breaks it up. Belair runs in and goes for a KOD on Doudrop, but Doudrop gets out of it and sends Belair out of the ring. Morgan pulls the middle rope down to get Doudrop out of the ring. Lynch fights back at Morgan and hits her with a Manhandle Slam. Lynch covers, but Doudrop breaks it up!
Doudrop drags Lynch over to her corner and tags herself in. Doudrop hits Morgan with a big splash and picks up the victory.
Winners by Pinfall: Becky Lynch and Doudrop
After the match, Doudrop quickly goes over to her corner and squashes Becky Lynch with a Banzai Drop!
---
Backstage: Edge, Beth Phoenix, Reggie, Dana Brooke, Damian Priest, Kevin Owens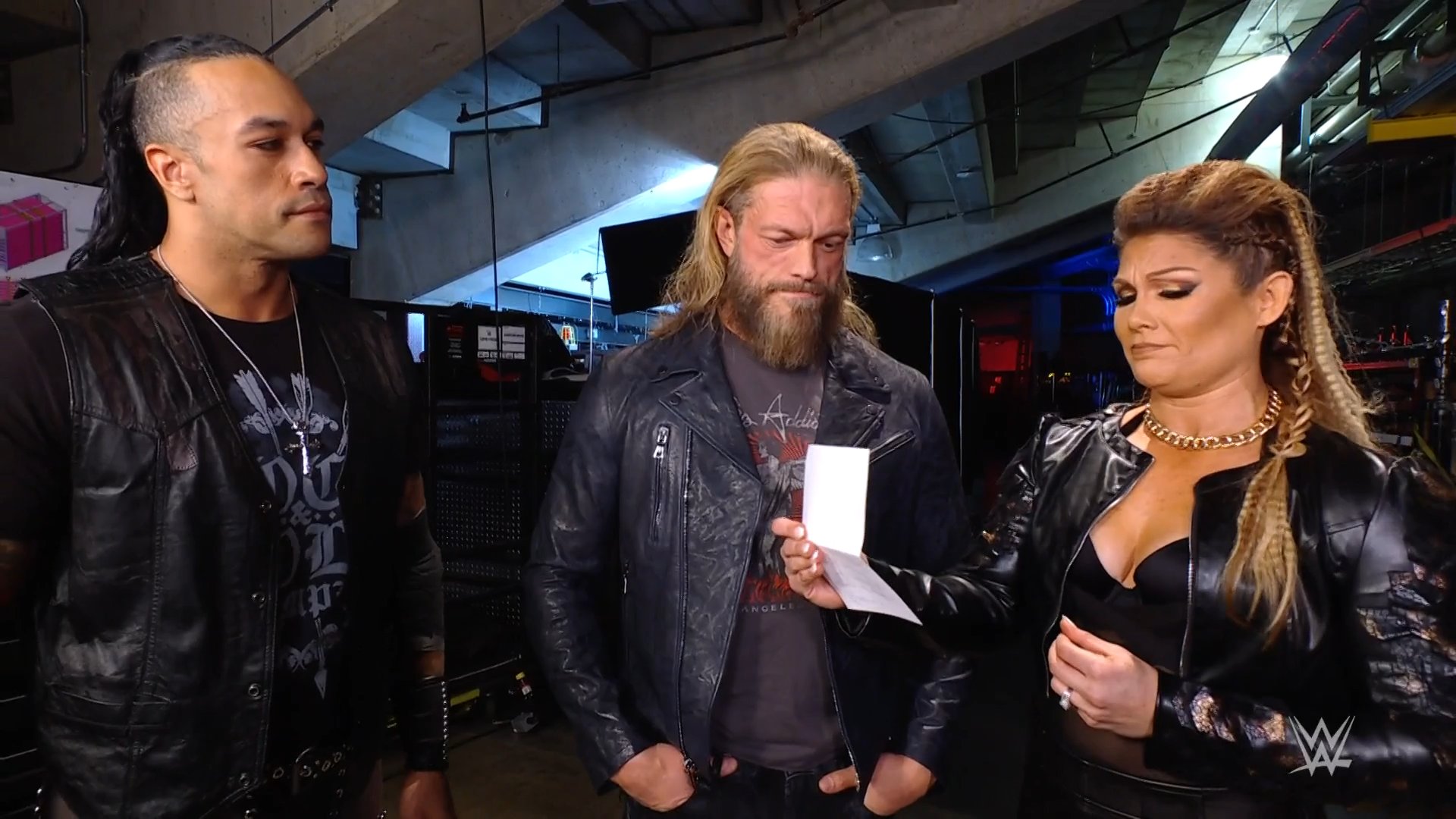 Edge and Beth Phoenix are backstage with Reggie and WWE 24/7 Champion Dana Brooke. Reggie asks for advice on facing Omos. Edge doesn't think he has a chance but wishes him luck. Reggie walks off. Phoenix puts over Dana Brooke for busting her butt through the years. Brooke thanks her and runs off.
WWE United States Champion Damian Priest comes up to them and embraces them. Edge says he loves this different side he's seeing from Priest. Priest says he has a raging side that makes him "edgy." Priest asks for advice on the Royal Rumble since Edge has won two of them. Edge tells him to keep doing what he does. Phoenix receives a letter from Maryse to meet her in the ring woman-to-woman. Edge says that sounds fishy, and they walk off.
Kevin Owens walks up to Damian Priest. Owens is wearing a tie over his t-shirt. Owens says he's looking forward to their match later tonight. Priest cannot believe he's looking forward to facing him. Owens says he's looking forward to having a good, clean match. Owens says he doesn't want the rage side to come out. Owens wants a good, clean match. Owens says he has an announcement to make and walks off.
---
WWE Elimination Chamber is coming to Jeddah, Saudi Arabia on Saturday, February 19.
---
In-Ring: The KO Show with Special Guest Seth "Freakin" Rollins
Kevin Owens welcomes the crowd to The Kevin Owens Show. He wishes he could say it was good to be here in Tulsa, Oklahoma, but that would be a vile lie. Owens tells them not to get mad at him because he's an honest man that tells the truth. Owens has a very special guest on the show tonight. Owens is proud to call this man his best friend. After this man beats someone he has beaten in a plethora of matches, Owens will be proud to call him Universal Champion. Owens introduces Seth "Freakin" Rollins to the ring.
Seth "Freakin" Rollins comes out in a wild suit. Footage is shown of WWE Universal Champion Roman Reigns having a face-off with Seth "Freakin" Rollins this past Friday on SmackDown. Owens says they should stand up. Owens puts over how good Rollins always looks in his suits. Owens says Rollins has a ton of courage. People don't realize how much guts it took to go into the lion's den of SmackDown to confront Roman Reigns. Reigns thinks he's the head of the table, but Rollins set the table for him.
Rollins loves what he's hearing. Owens hit the nail on the head. This past Friday, it got a little testy with him and The Tribal Chief. Reigns is shook and scared of Rollins. Reigns took the low road and went after his family before sending his cousins after him, but The Usos couldn't get the job done. Reigns is playing checkers while Rollins is playing chess. If Reigns keeps this up, beating him at the Royal Rumble will be like taking candy from a baby. When he takes that title, it'll turn from blue to red when he brings it back to their show, Monday Night Raw. Owens wants confirmation on if Rollins will stay on Raw if he wins the Universal Championship. Rollins says that is true. Rollins says they'll get rid of Brock Lesnar and maybe they'll get rid of Bobby Lashley tonight.
Owens also has an announcement that will change the face of this industry. Owens officially declares himself as a participant in this year's Royal Rumble match. The crowd boos and Rollins celebrates. When he wins the Royal Rumble and Rollins beats Reigns for the title, they'll give the world the biggest main event of all time with Seth "Freakin" Rollins vs. Kevin "Freakin" Owens. Rollins likes where his head is at.
WWE United States Champion Damian Priest interrupts them. Rollins says if he comes any closer to the ring, Owens will kick his ass. Priest tells them to shut up and calls them delusional. No one believes Rollins will beat Roman Reigns at the Royal Rumble. Owens is a liar and won't win the Royal Rumble match. If they don't want to see the "Damian" in him, he better not wake him up. Priest just spoke with Adam Pearce and Sonya Deville. His match against Owens is right now.
---
Vignette: Veer Mahaan
Veer Mahaan is coming to Raw… sometime… no clue when.
---
Kevin Owens vs. Damian Priest
They lock up, and Owens immediately applies a waistlock. Priest breaks out of it and wrenches the arm. Owens rolls out and applies a side headlock. Priest whips him off, and Owens shoulder blocks him back. Owens sends him into the ropes, and Priest turns him inside out with a shoulder block. Priest charges, but Owens drops him on the apron. Priest kicks him back, but as he gets in the ring Owens dropkicks the knee. Owens attacks and hits a senton splash. Owens applies a chin lock. Priest fights up, but Owens chops the chest. Priest reverses a whip, but he lowers his head and eats a kick. Owens chops away at him, and Priest starts to get fired up. Owens tells him to calm down since they're having a clean match. Priest punches back at him and hits a spin kick. Priest charges, but Owens rolls out of the ring to recover. Priest goes outside and leaps off the steps into a superkick from Owens! Owens gets in the ring and then goes to the apron before hitting a frog splash to the floor!
We come back from the break to see Priest making a comeback. Priest kicks away at him and hits a spinning forearm. Priest connects with a flapjack before hitting a leaping back elbow in the corner. Owens gets out of a Broken Arrow and sends him into the ropes. Priest rebounds with a clothesline that turns Owens inside out. Priest connects with a Broken Arrow for a near fall.
Priest gets Owens to his feet and punches him to the corner. Priest puts him on the top rope, but Owens fights him. Priest attempts a superplex, but Owens blocks it. Owens head-butts him a few times to knock him to the canvas. Owens connects with a Swanton Bomb for a near fall. Owens goes for a Stunner, but Priest fights it and goes for the Reckoning. Owens gets out of it and hits a Pop-up Powerbomb for a near fall. Owens goes for a Stunner, but Priest blocks it and hits South of Heaven for a near fall.
Owens is holding his left hamstring in pain. Priest goes to whip him, but Owens collapses. The referee checks on Owens and calls for a trainer to come over. A trainer checks on Owens, but Owens surprises Priest with a Stunner for the victory! Priest has not been pinned since the Raw after WrestleMania!
Winner by Pinfall: Kevin Owens
---
Backstage: Nikki A.S.H.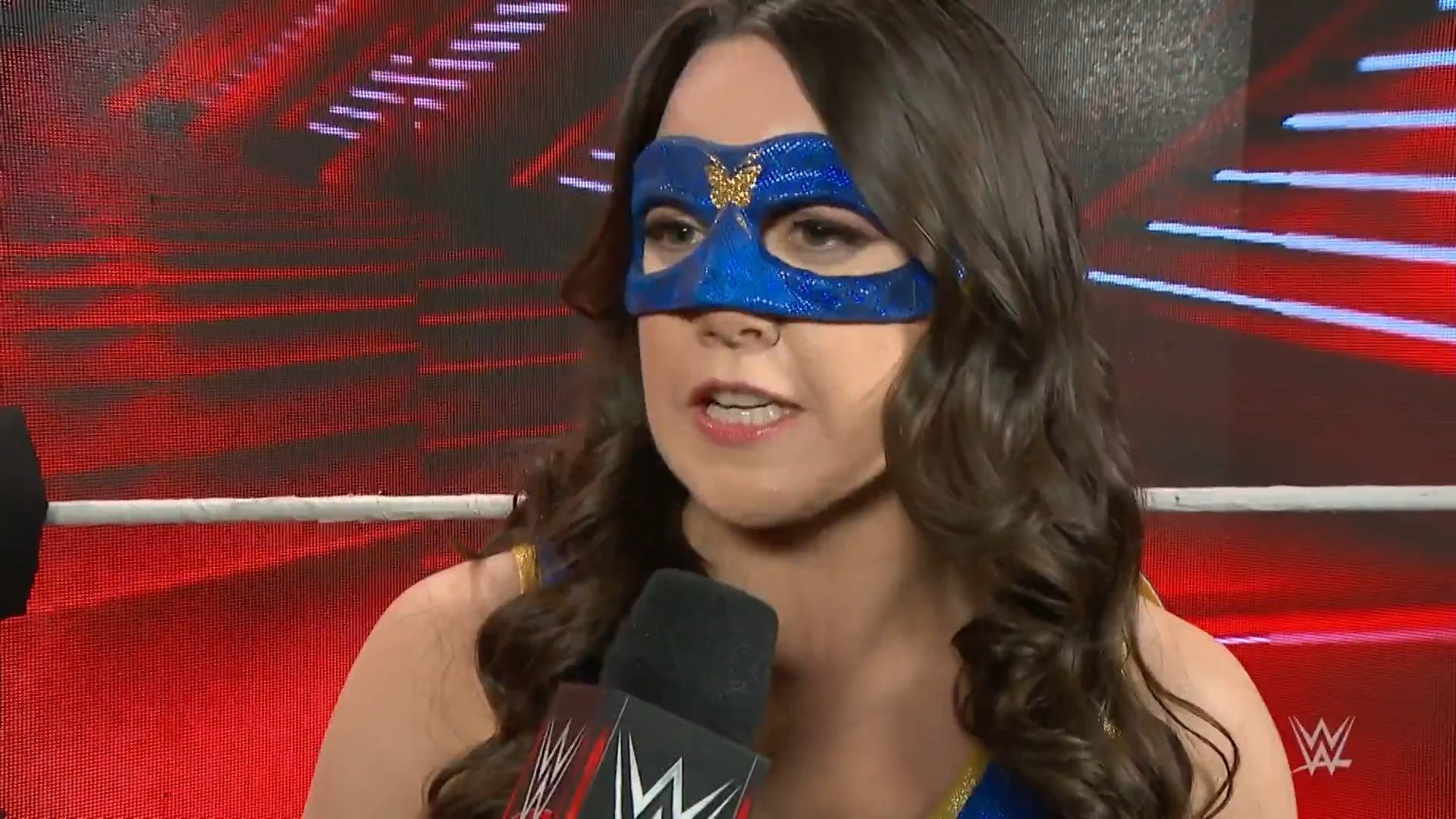 Replays are shown of Nikki A.S.H. attacking Rhea Ripley last week on Raw.
Sarah Schreiber is backstage with Nikki A.S.H. and asks about attacking Rhea Ripley last week. Nikki says she's doing well, but Ripley should be mortified over breaking up their team. Schreiber says Nikki is the one that viciously attacked her, but Nikki says Ripley is the one that broke up the team. Nikki says Tulsa can look at her as a hero. Sometimes, heroes need to do things people don't understand. Ripley will understand she needs a superhero whether she likes it or not.
---
In-Ring: Alpha Academy's Graduation Ceremony
Replays are shown of Alpha Academy defeating RK-Bro for the Raw Tag Team Championship last week.
"Pomp and Circumstance" plays and Raw Tag Team Champions Alpha Academy make their way to the ring in graduation gowns.
Raw Tag Team Champions Chad Gable and Otis are in the ring. Gable greets the crowd but says he has no colleagues here since he's an Olympian with a Master's Degree and a 4.0 GPA. Gable tells them not to boo education. The odds of people in Oklahoma having a Master's Degree, let alone a High School Diploma, are slim to none.
Tonight, they're celebrating an individual. Gable could go on and on talking about himself since his list is so long, but tonight is not about him. Tonight is about a man who overcame the odds. This man is a tree trunk in the ring and a great student. Gable is talking about his prized student and protege, Otis. Last week, Otis applied the master's lessons and passed his final exam. Otis decimated the morons of RK-Bro and made them Raw Tag Team Champions. Tonight, it's his extreme honor to present to the people… an "RK-Bro" chant breaks out. Gable shouts that this is about Otis. Gable says he's giving Otis, who has no last name that they know of, a diploma.
Gable and Otis embrace in the ring. Otis says Gable has helped him reach his full potential. They can expect pure carnage if anyone messes with their titles or Alpha Academy.
RK-Bro interrupts them. Riddle comes out in graduation regalia and flip-flops. Riddle says he knew he had to come out and make a very special speech. Riddle says he wrote this speech this morning at the breakfast buffet. Riddle addresses the fellow graduates and Tulsinians. It feels like last week that he and Randy Orton were the Raw Tag Team Champions. They were just a couple of young, wild stallions running free. Today is graduation day and their lives will change forever. Orton always says that life comes at you fast.
Gable asks what he's talking about since Riddle wasn't invited here. The people of Tulsa cannot afford to lose another brain cell, so Riddle needs to go away. Riddle says he is proud of these two men with their astronomical necks. Gable asks if he wants a rematch. Gable doesn't think Riddle can define the word "rematch." Riddle tries and says it's like when you light something up twice… like a candle! Gable says it's no wonder Orton left him high and dry. Where is Orton? Gable says they'll give them a rematch, but Riddle has to prove his mental aptitude in an Alpha Academy Academic Challenge. Otis looks worried. Gable says Riddle and Orton will face them in mental tests of superiority. Riddle asks if this is like Billy Madison and insults Otis.
Otis rips off his gown and goes outside the ring. Randy Orton all of a sudden gets in the ring and gives Gable an RKO! Riddle attacks Otis as he tries to get back to the ring. Orton puts on Otis's gown and says they accept Gable's challenge. RK-Bro moves their tassels over and celebrates in the ring.
---
Backstage: Vince McMahon, Austin Theory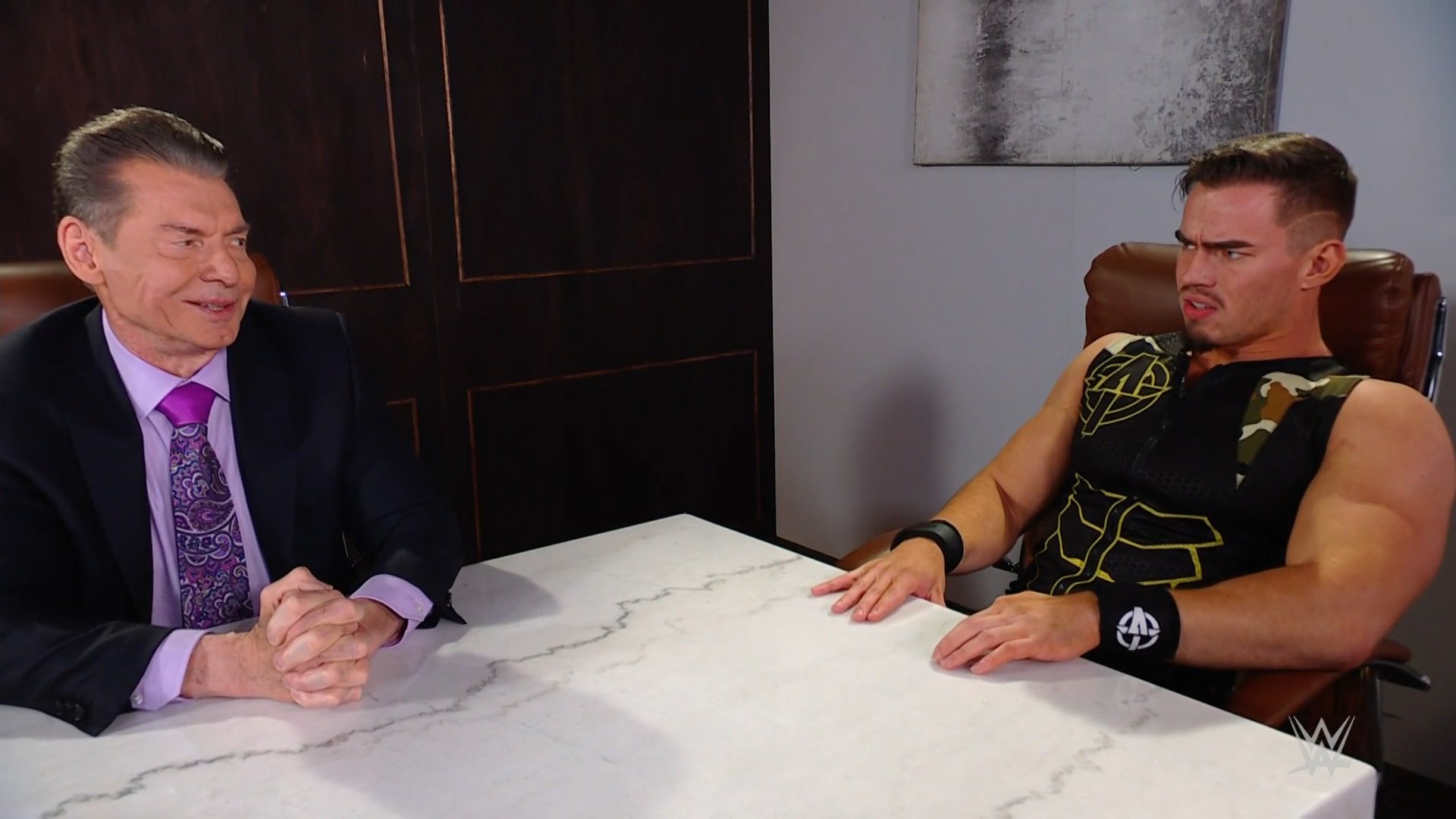 Footage is shown of Finn Bálor beating Austin Theory last month. Mr. McMahon is watching the match backstage. Austin Theory walks in and thanks him for the rematch. Theory says he beat Bálor and almost ended his career after the match, which is almost like a half-victory. McMahon says Theory better beat Bálor or he'll beat Theory up. He'll have Theory dragged back to his office and leave him in a pool of blood, sweat, and snot. Then McMahon will take a selfie with him. Theory looks worried.
---
Video: Martin Luther King's Legacy
Video Package: WWE honors the legacy of Dr. Martin Luther King, Jr.
---
Finn Bálor vs. Austin Theory
They lock up, and Bálor blocks a kick from Theory. Bálor applies a side headlock to Theory, but Theory whips him off. Theory wipes him out with a nasty back elbow that knocks Bálor out of the ring. Theory bounces Bálor's face off the apron and sends him ribs-first into the barricade. Theory shouts for the cameraman to get out of the way, but Bálor reverses a whip into the barricade. Bálor then wipes out Theory with a Sling Blade on the floor.
We come back from the break to see Bálor taking it to Theory. Bálor chops the chest and hits a falling elbow drop for a two count. Theory tries to fight back, but Bálor flattens him with a Sling Blade. Theory quickly fights back and snaps him off the ropes. Theory tries for an ATL, but Bálor counters into a roll-up for a near fall. Bálor hits a snap kick that takes Theory down. Bálor goes to the top rope and tries for a Coup de Gras, but Theory moves. Theory connects with the ATL for the win.
Winner by Pinfall: Austin Theory
Austin Theory takes a selfie with the fallen Finn Bálor after the match.
---
Rhea Ripley vs. Nikki A.S.H.
Sarah Schreiber is with Rhea Ripley backstage and says Nikki A.S.H. is accusing her of breaking up their tag team. Ripley wonders what kind of hero attacks their friend.
WWE Women's Tag Team Champions Queen Zelina and Carmella come out to the stage before the match begins. Zelina and Carmella run down Nikki A.S.H. before ripping on Rhea Ripley. Ripley doesn't have the guts to be a champion all on her own.
Nikki attacks Ripley from behind and clubs away at her. The referee tries to regain order since the match has not started yet. Ripley takes her down, but Nikki pulls her out of the ring. Nikki goes outside and drives her into the ring steps. Nikki smiles broadly and walks off. This match never started.
---
Backstage: Reggie, Dana Brooke, R-Truth, Akira Tozawa, Tamina
👀@WWE_Reggie@DanaBrookeWWE #WWERaw pic.twitter.com/zzoDAt5hfj

— WWE (@WWE) January 18, 2022
Replays are shown of Reggie running into Omos last week.
WWE 24/7 Champion Dana Brooke is giving Reggie a pep talk backstage. A referee, Akira Tozawa, R-Truth, and Tamina are seated in the background eating popcorn and watching all of this happen. R-Truth says Dana must hate Reggie because she just told him to "go get got."
---
Omos vs. Reggie
Reggie gets in the ring with Omos and the height disparity is wild. Before they lock horns, Dana Brooke runs into the ring chased by Akira Tozawa and R-Truth. Omos takes out Tazawa and R-Truth before staring Tamina down. Reggie jumps at Omos, but Omos catches him and hits a tree slam. Omos steps on his chest for the win.
Winner by Pinfall: Omos
---
In-Ring: Maryse, Beth Phoenix, Edge, The Miz
Replays are shown of Maryse walking off on The Miz last week after she was afraid of Edge and Beth Phoenix.
Maryse is in the ring. She says her husband isn't here tonight, but he agrees to things he shouldn't. She asks Beth Phoenix to come out here to have a woman-to-woman conversation.
Beth Phoenix comes out with her husband, Edge. They don't trust Maryse. Maryse makes an impassioned plea to call off this match. Maryse says they've come such a long way and built the Women's Division. Women could main event WrestleMania because of what they did. They shouldn't be fighting. They should be teaming. Their kids should be playing together. They should have a coffee after this. They shouldn't be fighting.
Phoenix says she's speaking on behalf of the people of Tulsa when she asks Maryse to shut up. Phoenix says Maryse must have taken acting classes from her husband because she doesn't believe anything she's saying. The Mixed Tag Team Match is still on. Phoenix doesn't want to miss an opportunity to Glam Slam Maryse through the canvas. Phoenix says it's time to give Tulsa a preview of what's to come. Phoenix gets in the ring, and Maryse looks nervous.
Outside the ring, The Miz attacks Edge and takes him out. Phoenix turns around and sees her husband down. Maryse then hits her in the back of the head with her purse, and Phoenix goes down hard. Miz and Maryse run off and kiss on the ramp. Maryse takes a brick out from her purse.
---
Backstage: Street Profits, The Mysterios
The Street Profits are backstage talking about the Royal Rumble. Angelo Dawkins asks if Montez Ford will through him over the top rope. The Mysterios come up to them and say they're excited to team with them. They're not worried about the Royal Rumble, but they're going to win it and take the Mysterio name back to the main event of WrestleMania.
---
8-Man Tag Team Match
Street Profits & The Mysterios vs. Dolph Ziggler,Robert Roode, Apollo Crews & Commander Azeez
Dominik Mysterio starts against Dolph Ziggler. Ziggler knocks him back, but Dominik comes back with a running hurricanrana. Ziggler quickly clotheslines him down and tags Robert Roode in. Roode stomps Dominik and goes for a suplex, but Dominik knees out. Rey Mysterio tags in and hits Roode with a hurricanrana. Rey hits the ropes and hits a head-scissor takeover. Roode quickly drops Rey on the apron, but Rey knocks him back and goes to the top rope for a diving hurricanrana. Roode catches him (and nearly drops him), but Rey comes back with a hurricanrana over the top rope. Ziggler sends Dominik out of the ring. The Street Profits dropkick Crews and Commander Azeez out of the ring.
We come back from the break to see The Dirty Dawgz take Rey down. Apollo Crews tags in and hits a standing moonsault for a two count. Crews signals for the end. No one is on the apron for Rey. Crews presses Rey up, but Rey counters into a tornado DDT. Angelo Dawkins gets on the apron, and Rey tags him in.
Dawkins clotheslines Crews and knocks Azeez and Roode off the apron. Dawkins hits a diving elbow on Crews. Dawkins hits Roode and Ziggler with pair of exploders. Dawkins hits Crews with a twisting neckbreaker, but Azeez gets in the ring. The Mysterios knock him away and dropkick Roode and Ziggler into the ropes. They hit stereo 619s. Dominik goes for a dive on Azeez outside the ring, but Azeez catches him. Rey then takes Azeez out with a seated senton. Rey took a hard bump on the floor.
In the ring, Dawkins hits Crews with the Sky High. Ford tags in and hits a RIDICULOUS Frog Splash for the win.
Winners by Pinfall: The Street Profits and The Mysterios
The Street Profits and The Mysterios celebrate in the ring. The Mysterios then dump them over the top rope and smile. Rey then sends Dominik over the top rope and tells him to have eyes in the back of his head at all times.
---
Video Package: Brock Lesnar, Bobby Lashley
Video Package: Brock Lesnar and Bobby Lashley career retrospectives
---
Backstage: The Miz & Maryse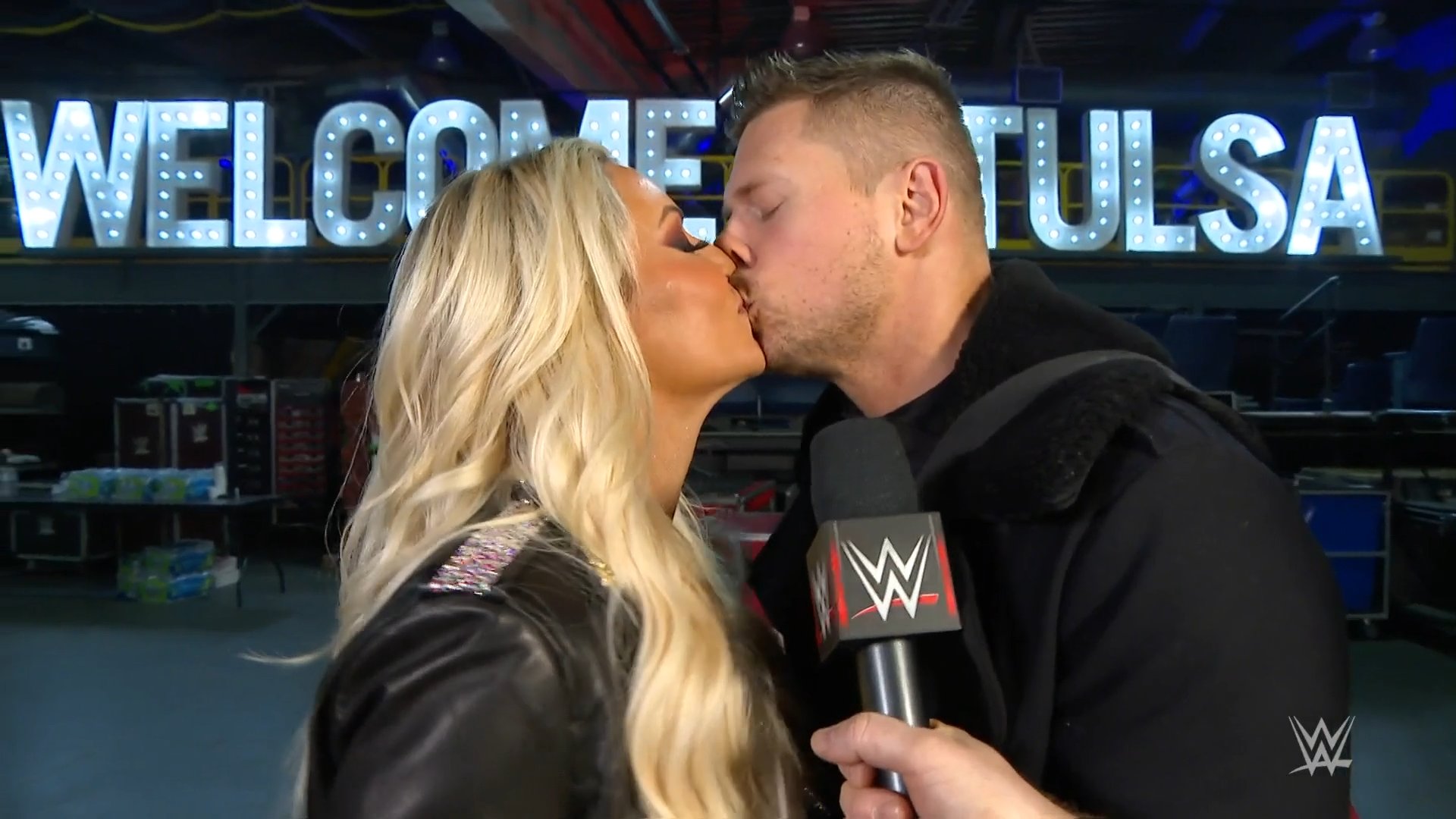 Replays are shown of Maryse hitting Beth Phoenix in the neck with a purse loaded with a brick.
The Miz and Maryse are walking backstage. They're celebrating what they did to Beth Phoenix tonight. Miz says next week is Maryse's birthday. Miz is going to throw her a huge birthday bash. They kiss passionately.
---
Segment: Alexa Bliss
Alexa Bliss is back in the psychiatrist's office. He says there are a lot fewer breakable things in the office this week. Bliss isn't sure about that. He apologizes for triggering her last week, but he had to see where she was at. He wants to play a word association game. Trust, friend, home, and doll are all answered with "Lilly." He says, "Imaginary," and she angrily stands to her feet. The doctor says their time is up and quickly trots off. Bliss composes herself and sits down.
---
Next Week
Next week on Raw, RK-Bro will have an Academic Challenge against Alpha Academy. The Miz will also throw a birthday party for Maryse. Finally, WWE Champion Brock Lesnar and Bobby Lashley will have a weigh-in.
---
Bobby Lashley vs. Seth "Freakin" Rollins
The bell rings, and Rollins applies a side headlock. Lashley whips him off and leapfrogs him before hitting a shoulder block. Lashley poses in the ring. Rollins applies a waistlock, but Lashley holds the ropes and pulls him off. Rollins leapfrogs him and hits a Sling Blade. Rollins sets up for a Pedigree. Lashley counters with a back body drop and goes for the Hurt Lock, but Rollins slides down and kicks him in the head. Rollins holds the top rope down to get Lashley out of the ring. Rollins connects with a suicide dive before running into the ring. Lashley catches Rollins trying for a second suicide dive and hits an overhead belly-to-belly suplex on the floor!
We come back from the break to see Rollins snapping Lashley's legs off the ring post. Rollins attacks the knees in the ring and applies a single leg crab. Lashley won't give up, so Rollins attacks the knee again and reapplies the single leg crab. Rollins lets go and tries for a Stomp, but Lashley avoids it and hits a Flatliner.
Lashley fights back with some overhead belly-to-belly suplexes and a neckbreaker. Lashley goes for a delayed vertical suplex, but Rollins gets out. Lashley hits a modified Dominator for a near fall. Lashley holds his knee in pain. Rollins knees and kicks Lashley before sending him into the corner. Rollins gets out of a powerslam attempt and hits a Pedigree for a near fall. Rollins goes to the top rope, but Lashley cuts him off. Lashley hits a wild belly-to-belly superplex, and Rollins lands badly. Lashley sets up for the end, but Shelton Benjamin and Cedric Alexander pull Lashley out of the ring.
Winner by Disqualification: Bobby Lashley
The Hurt Business continues to attack Lashley outside the ring. Lashley fights back with a double suplex on them. Lashley hits Benjamin with a flatliner before driving Alexander's skull into the ring post. Lashley then spears Benjamin through the barricade. SmackDown Tag Team Champions The Usos come in through the crowd and hit Rollins with a double superkick to end the show.