Results by Mike Tedesco of Wrestleview.com
January 3, 2022
Greenville, South Carolina (Bon Scours Wellness Arena)
Commentary: Jimmy Smith, Corey Graves, and Byron Saxton
---
Quick Match Results
Alpha Academy defeated RK-Bro via World's Strongest Slam by Otis on Riddle
24/7 Championship Mixed Tag Match: Dana Brooke (c) & Reggie defeated Tamina & Akira Tozawa via standing somersault senton by Reggie on Tozawa
WWE Women's Tag Team Championship: Carmella & Queen Zelina (c) defeated Rhea Ripley & Nikki A.S.H. via roll up with a handful of tights by Zelina on Nikki
The Street Profits defeated Apollo Crews & Commander Azeez via frog splash by Ford on Crews
WWE United States Championship: Damian Priest (c) defeated Dolph Ziggler via the Reckoning
Omos defeated AJ Styles via tree slam
Fatal 4-Way #1 Contender's Match: Bobby Lashley defeated Big E, Kevin Owens and Seth Rollins via spear on Owens
---
In-Ring: Brock Lesnar, Paul Heyman
A video kicks off the show highlighting the shocking conclusion of WWE Day 1 that saw Brock Lesnar be entered into the title match and win the WWE Championship.
We go into the Bon Scours Wellness Arena to see a pyrotechnics display. It's the first Raw of 2022!
Tonight, we'll see Kevin Owens, Seth Rollins, Big E, and Bobby Lashley fight in a Fatal 4-Way with the winner facing Brock Lesnar for the WWE Championship at the Royal Rumble.
The lights go out, and when they come back on, Paul Heyman is standing in the ring! Heyman gets a negative reaction. Heyman says, "Ladies and gentlemen, my name is Paul Heyman, and tonight as an advocate I'd like to introduce you to my client… and NEW WWE reigning, defending, undisputed WWE Heavyweight Champion of the World, Brock Lesnar!"
WWE Champion Brock Lesnar makes his way to the ring to a HUGE ovation. Lesnar takes the top half of the steel steps and throws them into the ring. Lesnar sets them up in the ring and stands on them as a podium. Heyman hands him the microphone. Lesnar says it's time to get the party started tonight. Lesnar gives a big shoutout to his good buddy, Roman Reigns. The crowd boos the name. Lesnar says Reigns is probably sitting at home tuned into Monday Night Raw and the reigning WWE Heavyweight Champion – the REAL champion – Brock Lesnar!
Lesnar gives a shoutout to South Carolina and poses with the belt. Lesnar tells them to acknowledge him before laughing. Lesnar also wants to acknowledge his advocate for advocating his free agency, advocating all the strings he pulled on Saturday to help make him the WWE Champion. Lesnar thanks Heyman and shakes his hand. Heyman looks emotional.
Heyman says if they think it's interesting out here, they should see what happens backstage in WWE. When he negotiated (allegedly in advance) Lesnar's free agency, when he negotiated a title-hungry Lesnar to get a title shot… one champion couldn't show up, but the other could. What's better than a Fatal 4-Way? A Fatal 5-Way. Lesnar went into the match and won the title. Lesnar will concentrate not only on reigning but defending. Lesnar will defend the title at the Royal Rumble against the winner of the originally scheduled Fatal 4-Way, which takes place tonight. Let's talk about the competitors. Seth Rollins and Kevin Owens were smart going after the lions in the match. Rollins is an idiot who isn't a visionary. Rollins knows his wife will leave him if he doesn't win the WWE Championship from Lesnar. She won't leave him for Owens. Maybe they should ask to be traded to SmackDown where there's a vulnerable champion without his special counsel. One week without Heyman and Reigns already has COVID. Heyman says, "You can get over the 'rona,' but karma is really bitchy."
Speaking of bitchy, there's MVP and Bobby Lashley. Lesnar and Lashley have never met in person or in the ring. The first time they met, Lashley speared Lesnar through the barricade. The second time they met in that match 48 hours ago, Lesnar hit everyone but Lashley with an F5. Lashley speared him and almost beat him. 48 hours ago, Lashley put Lesnar in the Hurt Lock. It didn't look like Lesnar would get out. It's a testament to how good Lashley is, but every time was a blindside. If Lashley wins and faces Lesnar at the Royal Rumble, he'll have to face Lesnar face-to-face. That's a whole different story. It's the difference between hitting someone from behind and going down in history as a Brock Lesnar wannabe.
There's one final man and he's the odds on favorite, Big E. Big E is a great champion. Big E did WWE justice and is a credit to World Wrestling Entertainment. He would still be WWE Champion if he didn't have to step into the ring with Lesnar. They have nothing but respect and admiration for Big E. If Big E wins tonight and gets the rematch at the Royal Rumble, it would be an honor to witness that match. Big E will lose, but it would still be an honor to watch him lose to the greatest WWE Champion of all time, the winner of the Fatal 5-Way, and the new reigning, defending, undisputed WWE Heavyweight Champion of the World, Brock Lesnar! Lesnar puts his arm around Heyman, and they walk off.
---
Backstage: RK-Bro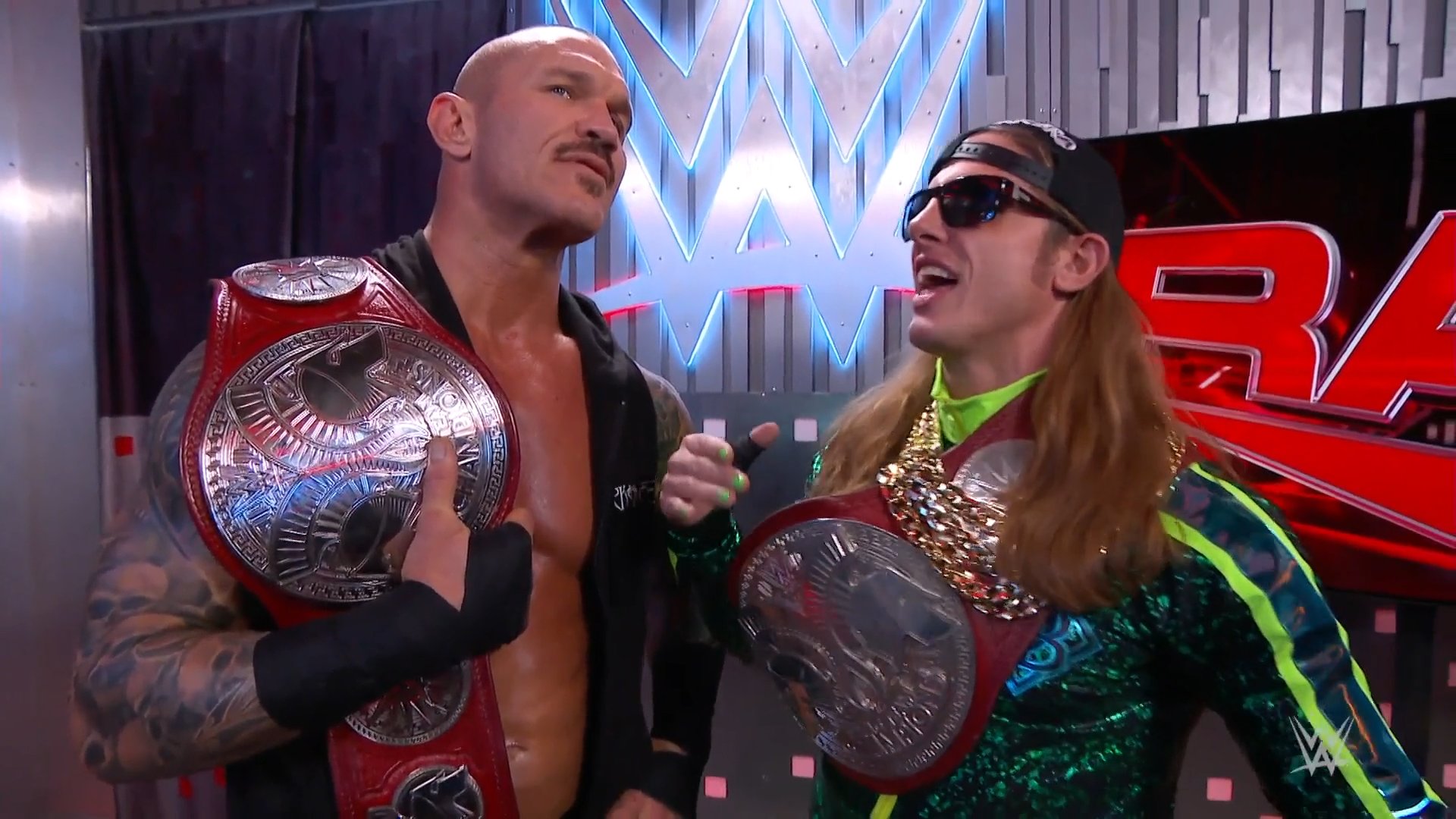 Randy Orton is still backstage when Riddle walks up to him. Orton asks where the hell he's been. Riddle is wearing a lot of bling. Riddle says it was awesome hanging out with Migos at WWE Day 1. They should start their own rap group. Orton can be "Little Ran-dawg." Orton makes Riddle give him the sunglasses and big chain. Orton doesn't know how Riddle has all these connections with celebrities, but Orton wants to know about the New Years Resolutions they talked about. Riddle says they talked about going to the Grand Canyon and other things, but he also has to listen to Orton more. Orton says when Riddle listens, he beat Chad Gable and Orton beat Otis. Then they retained their titles at Day 1. Orton has Riddle say they are RK-Bro.
Video Package: RK-Bro defeated The Street Profits to retain the Raw Tag Team Championship at WWE Day 1
---
RK-Bro vs. Alpha Academy
Alpha Academy makes their way to the ring. Chad Gable says they will learn acceptance when they accept that their title reign is soon coming to an end at the hands of Alpha Academy. It'll be courtesy of Master Gable and the four most dangerous letters in sports entertainment: O-T-I-S.
Alpha Academy attacks RK-Bro in the ring. Otis throws Riddle over the top rope. Otis goes outside, grabs Riddle, and absolutely LAUNCHES him with an exploder on the floor!
We join this match in progress. Riddle fights back at Gable, but Gable soon takes him down. Otis tags in. Gable lifts Riddle into Otis' grip for a press slam. Otis picks up a near fall. Otis whips Riddle into Gable for a forearm. Gable tagged in. Gable punches away at Riddle and tags Otis back in. Gable hits a scoop slam, and Otis drops an elbow. A "Randy" chant picks up. Otis applies a neck vice. Riddle gets out and leapfrogs Otis. Otis hits the turnbuckles hard. Otis stops Riddle from making a tag, but Riddle hits an enzuigiri. Riddle goes for a tag, but Gable pulls Orton off the apron. Orton and Gable brawl until Otis runs him over with a clothesline. Getting back in the ring, Otis is met with some strikes from Riddle. Riddle goes for an RKO, but Otis counters into a front slam for the win!
Winners by Pinfall: Alpha Academy
---
Backstage: Bobby Lashley, MVP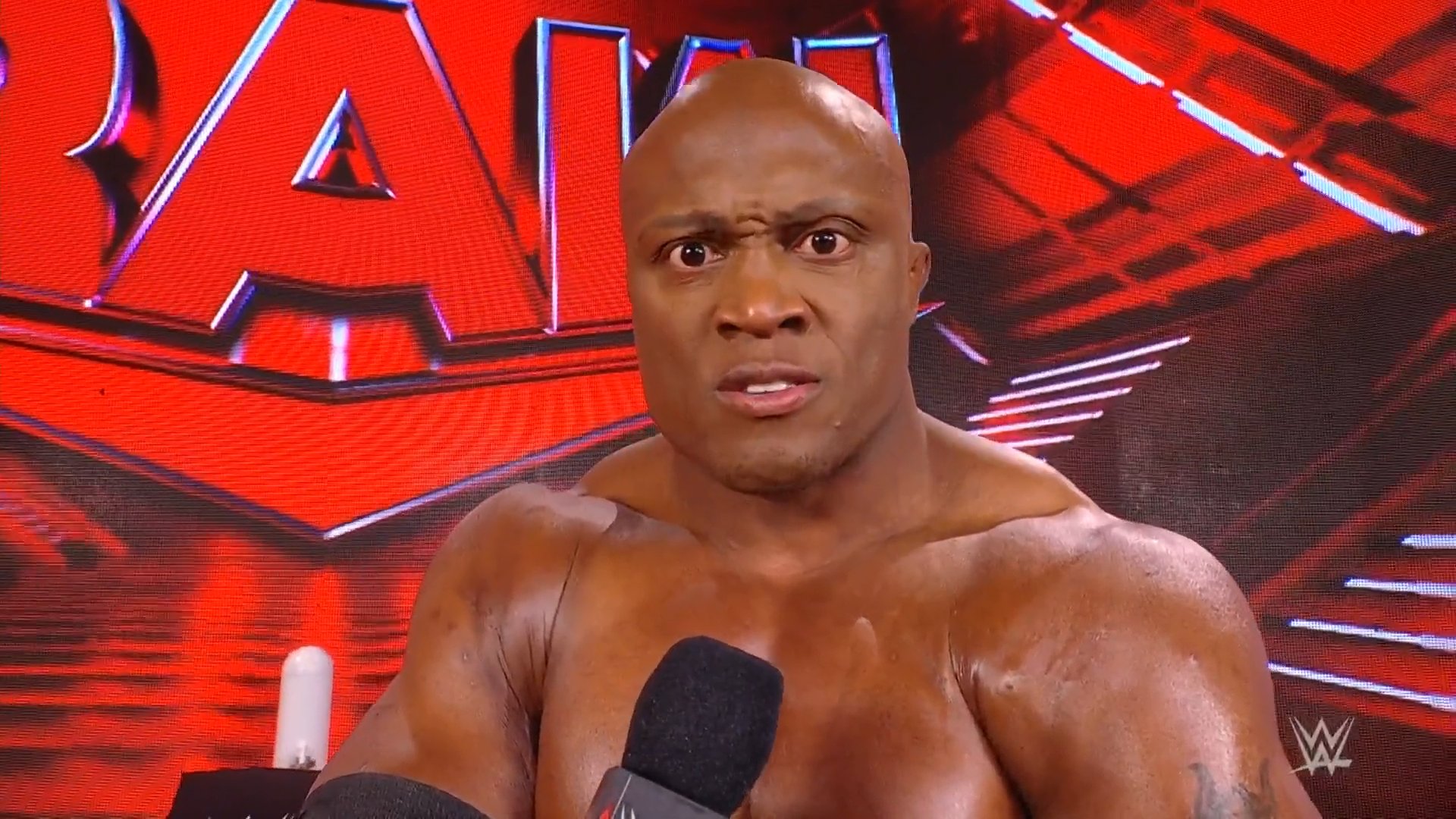 Sarah Schreiber is backstage with Bobby Lashley and MVP. MVP says it's going to take a herculean feat to beat Kevin Owens, Seth Rollins, and Big E tonight to go on to face Brock Lesnar. MVP walks off. A seething Lashley says, "Brock Lesnar fears me!"
---
Backstage: Omos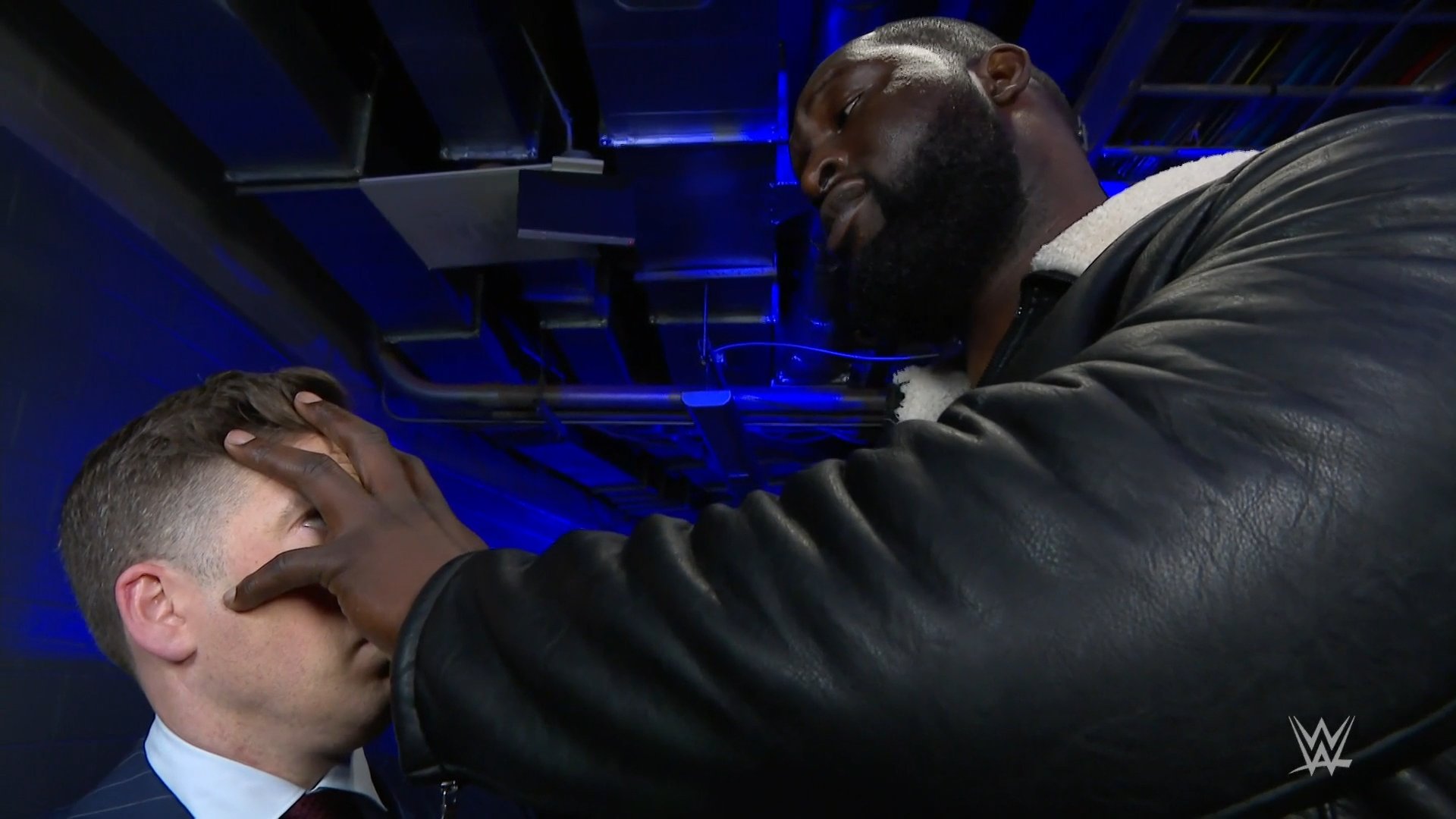 Omos is shown backstage with an arm around an uncomfortable Kevin Patrick. We'll hear from him next.
Video Package: The breakup of AJ Styles and Omos
Kevin Patrick begins to ask Omos a question, but Omos puts his giant hand over his face. Omos says that's how he reacts.
---
24/7 Championship Mixed Tag Match
Dana Brooke (c) & Reggie vs. Tamina & Akira Tozawa
Akira Tozawa and Reggie start the match. Tozawa rolls him up for a two count. Tozawa kicks and chops him before trying for a suplex, but Reggie lands on his feet and hits a dropkick. Tozawa punches back and whips Reggie to the corner. Tozawa goes for a big boot, but Reggie moves and he hits Tamina! Tamina doesn't go down and looks furious. Tamina slaps Tozawa in the face. Reggie hits Tozawa with a whoopie cushion (standing somersault senton) for the win.
Winners by Pinfall and still WWE 24/7 Champion: Dana Brooke (c) and Reggie
---
In-Ring: Becky Lynch, Liv Morgan, Bianca Belair
Raw Women's Champion Becky Lynch says it's 2022. There's something about the New Year. It doesn't matter if you failed in 2021 or the past 5 years or your whole life, when the clock strikes 12 it's a new year and a new you. There are many women in the locker room that have resolved to be the new champion, but Lynch will stay the champion. Lynch is consistent. They cannot beat her. Lynch compares herself to a Vincent Van Gogh painting. You may not understand the nuances or complexities, but it makes you feel. Lynch makes you feel because that's what good art does. The other thing about fine art is it reveals the truth. She's Vincent Van G.O.A.T. They're not going to finally lose those last 10 pounds, get the job promotion they're looking for, or get the hell out of South Carolina. All those girls back there won't win the Raw Women's Champion. Look no further than Liv Morgan. Morgan swore she'd win the title, but on the first day of the year, she broke her promise to herself and to the people.
Liv Morgan's music hits, and she comes out to the stage. Morgan calls Lynch delusional. Morgan heard Lynch say she came up short at Day 1, but no one is harder on her than she is. Morgan was thinking… she knows and Lynch knows that she knows how close she was to winning the title on Saturday. Lynch did get one thing wrong. The only thing Morgan promised herself from the moment she was old enough to want to be in a WWE ring, she always wanted to leave it all in the ring. That's what she did at Day 1. Lynch says that's lovely. Maybe one day she'll win the title, but that's when she retires. There's only one Big Time Becks and it isn't Morgan.
Bianca Belair's music hits. Belair says she's the EST in WWE and is right at the front of the line to face Lynch. Lynch says they fell for her shtick of Beat, Sleep, Repeat. Morgan tells Belair to go to the back since she has a thing going on with Lynch. Belair says she has a score to settle with Lynch that goes back way further than Morgan's issue does. Lynch says she's shared her spotlight long enough. They need to leave the ring and let her know who wants to face her later.
Lynch tells them to get out of the ring, so Morgan and Belair attack her. They throw Lynch out of the ring before staring at each other. Belair and Morgan begin to brawl in the ring. Belair tackles her to the corner, but Morgan fights back and hits an enzuigiri. Belair soon gets up and forearms her. Belair goes for a KOD, but Lynch attacks her from behind. Lynch hits Belair with a Manhandle Slam and leaves the ring with the title.
---
Backstage: Seth Rollins, Kevin Owens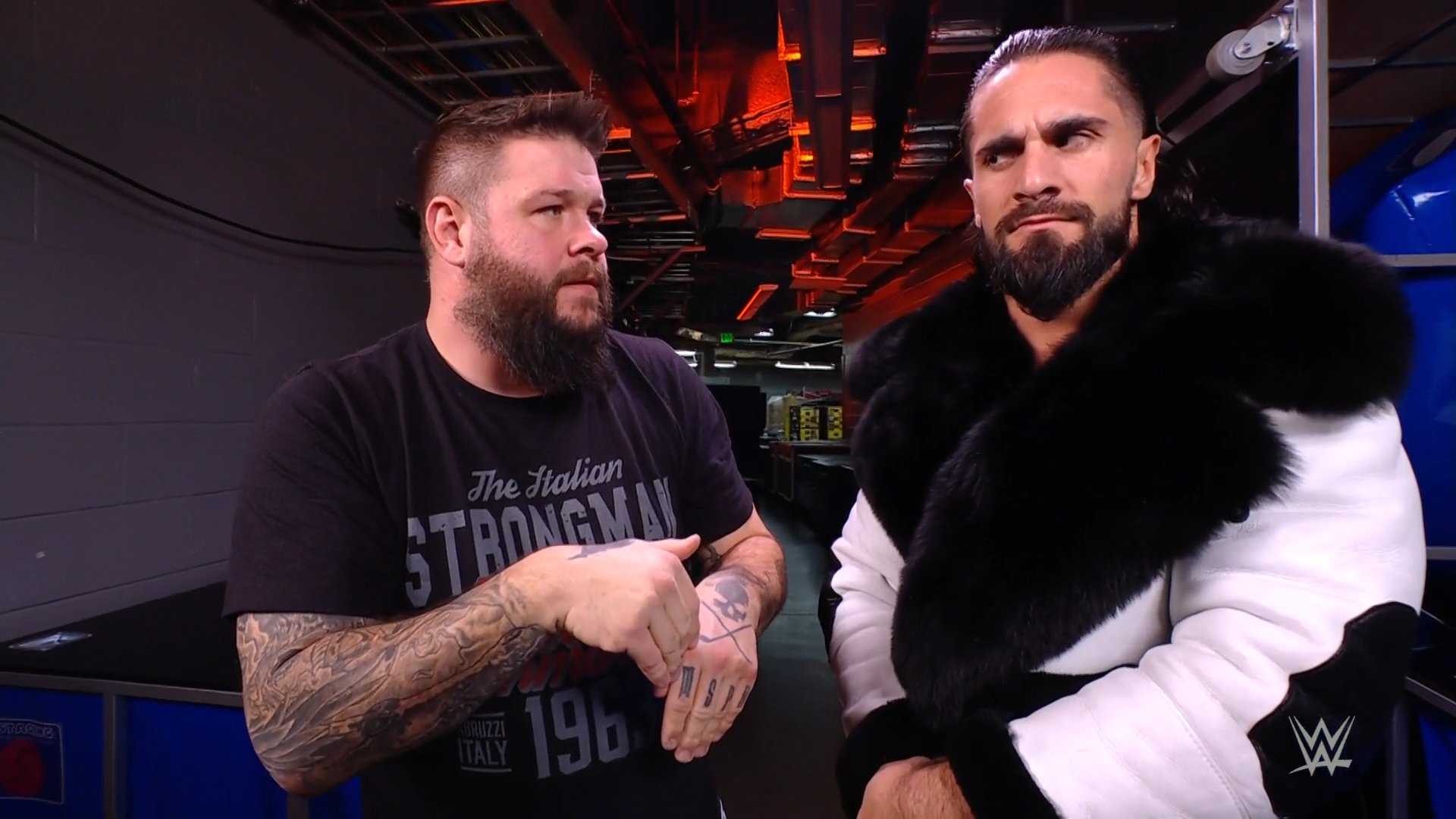 Seth Rollins is backstage when Kevin Owens walks up to him. Owens says they should keep to their plan. One of them can win. The other can help the one person win at the Royal Rumble. Then the WrestleMania match will be between them. Rollins asks if he can trust him. Owens says he can. Rollins says it's a great plan and walks off. Owens wonders if Rollins is lying.
---
WWE Women's Tag Team Championship
Carmella & Queen Zelina (c) vs. Rhea Ripley & Nikki A.S.H.
Rhea Ripley starts against Queen Zelina. Zelina slaps her in the face, so Ripley rocks her with a slap. Ripley counters a DDT attempt into a delayed vertical suplex for a two count. Nikki A.S.H. tags in. Nikki attacks Zelina and slips going into the ropes before fumbling into a clothesline. Zelina soon takes her down and applies a chin lock. Nikki fights up, but Zelina takes her down. Zelina then knocks Ripley off the apron. Zelina rolls Nikki up with a handful of tights for the win.
Winners by Pinfall and still WWE Women's Tag Team Champions: Carmella and Queen Zelina
---
Backstage: Rey & Dominik Mysterio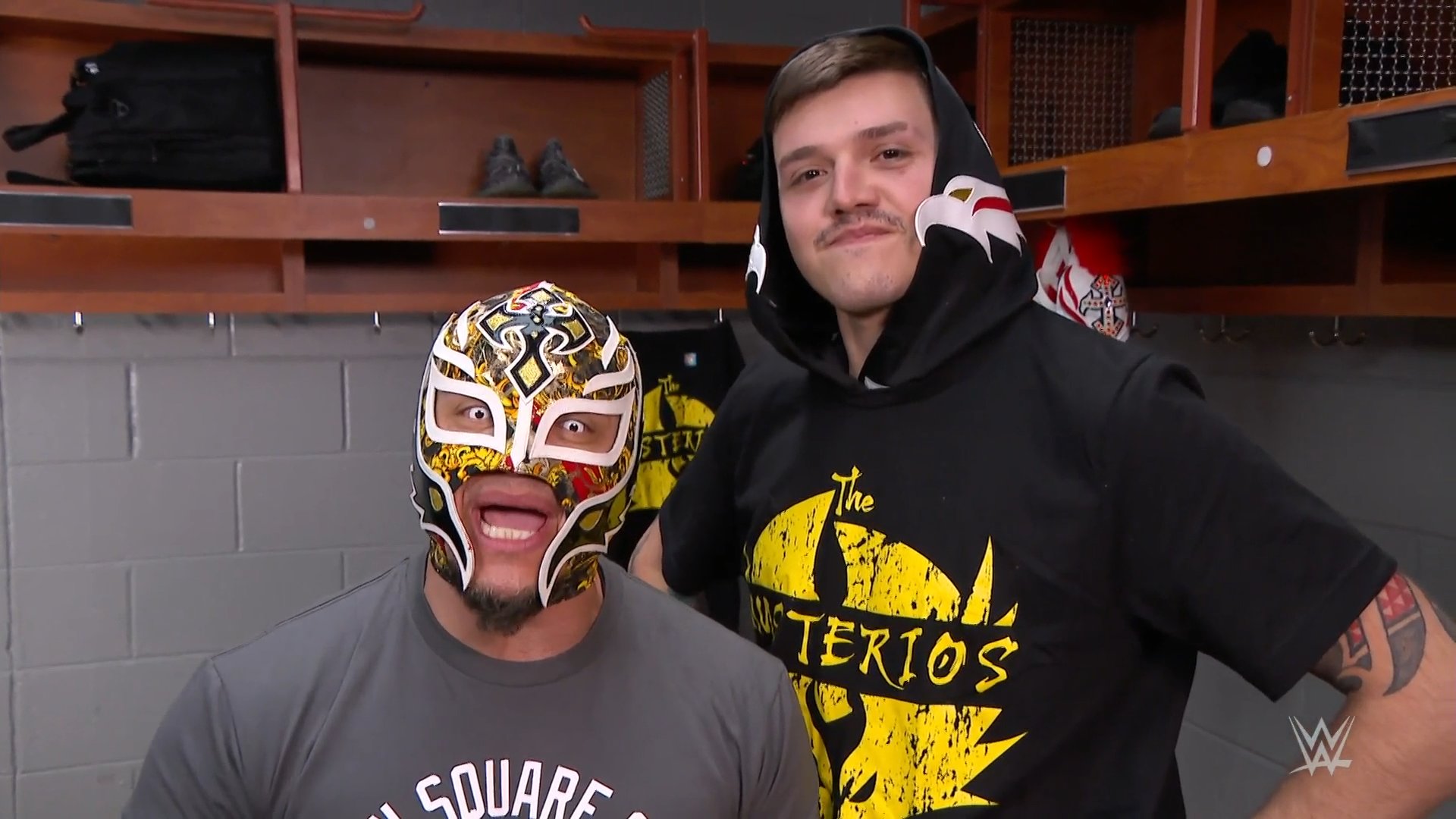 The Mysterios are backstage. Rey Mysterio says he and his son, Dominik, will be in the Royal Rumble match.
---
The Street Profits vs. Apollo Crews & Commander Azeez
It'll be Montez Ford starting against Commander Azeez. Azeez throws him to the corner, but Ford fights out and hits some strikes. Azeez whips him to the corner but misses an avalanche. Ford hits the ropes for a shoulder block, but Azeez takes him down. Azeez connects with a scoop slam and drops a head-butt. Ford flips through a back suplex and hits an enzuigiri.
Angelo Dawkins and Apollo Crews tag in. Dawkins runs him over and hits Azeez. Dawkins shoulder blocks Crews and hits a Silencer. Azeez breaks up the pin, but Dawkins gets him out of the ring. Azeez pulls him out of the ring, but Dawkins sends him into the ring post. Crews hits Dawkins with an enzuigiri getting in the ring. Ford blind tags in. Dawkins hits a spinebuster on Crews, and Ford hits a big frog splash for the win.
Winners by Pinfall: The Street Profits
---
Backstage: Damian Priest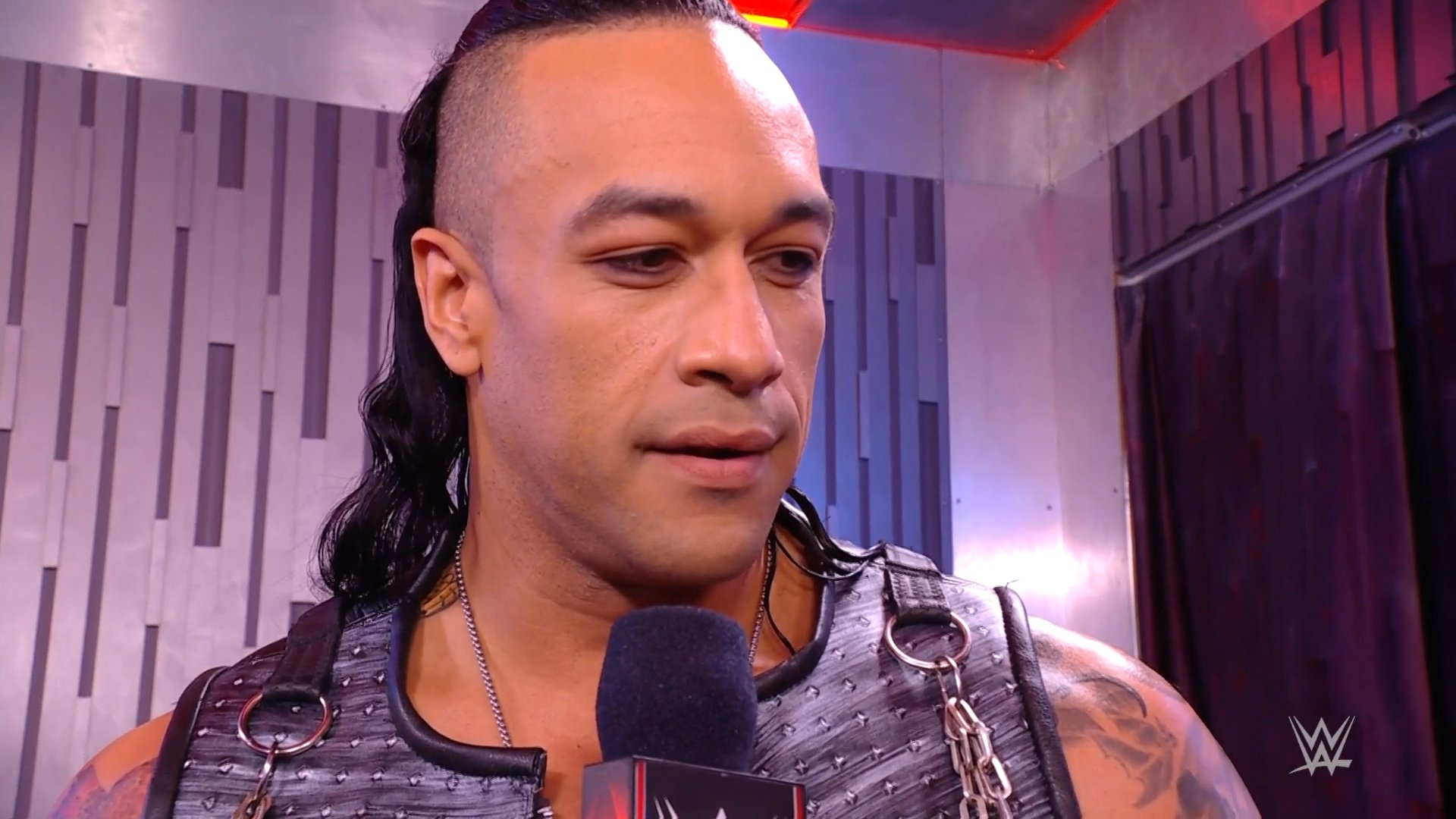 Footage is shown of Damian Priest going wild last week.
Damian Priest says the champion's advantage is gone tonight. Dolph Ziggler brought out his bad side, but no matter what side comes out, he's staying the United States Champion.
---
Backstage: Doudrop, Adam Pearce & Sonya Deville
WWE Officials Adam Pearce and Sonya Deville are backstage when Doudrop comes up. Doudrop demands a title match against Becky Lynch. They state Bianca Belair, Liv Morgan, and Doudrop will compete next week on Raw with the winner facing Becky Lynch for the title at the Royal Rumble.
---
WWE United States Championship
Damian Priest (c) vs. Dolph Ziggler
The title can change hands by disqualification or count-out.
The match begins, and Priest quickly takes Ziggler down and knocks him out of the ring. Ziggler goes for a DDT on the floor, but Priest fights it. Ziggler manages to take him down with a tornado DDT on the floor.
We come back from the break to see Priest and Ziggler slugging it out in the ring. Priest takes Ziggler down before hitting a leaping back elbow in the corner. Priest goes for a Broken Arrow, but Ziggler sends him shoulder-first into the ring post. Ziggler floors him with a Busaiku Knee Kick for a near fall. Priest fights back with some big kicks and a slam for a two count. Priest goes to the top rope, but Ziggler scales the ropes. Priest fights him off and kicks him in the face. Roode knocks Priest off the top rope. Ziggler hits a famouser for a near fall.
Priest angrily looks at Roode. A furious Priest knocks Ziggler down and attacks Roode. Priest attacks Roode and goes to hit him with a chair, but he stops. Priest gets in the ring before being counted out and losing his title. Priest gets in the ring with the chair. Ziggler begs Priest to hit him with the chair. Priest instead throws it at Roode and hits Ziggler with the Reckoning for the win.
Winner by Pinfall and still WWE United States Champion: Damian Priest
---
Backstage: Vince McMahon, Austin Theory
Austin Theory walks into Mr. McMahon's office and apologizes for interrupting. McMahon tells him never to apologize because that's weak and he meant to interrupt him. Theory says he lost, but McMahon says he can find other ways to beat a man down. McMahon puts Theory in the Royal Rumble. Theory is speechless.
---
In-Ring: The Miz, Maryse, Beth Phoenix, Edge
The Miz and Maryse make their way to the ring.
Video Package: Edge defeats The Miz at WWE Day 1 after Beth Phoenix chased Maryse away
The Miz says he and Maryse stand before the crowd outraged by the result from Day 1. Miz was one Skull Crushing Finale away from proving his all-time greatness. Miz can't believe he still has to prove himself. Miz is the only 2-time Grand Slam Champion in WWE history. Edge is only a one-time Grand Slam Champion. Miz had Edge on the ropes crying for his mommy or in this case his wife. She's WWE Hall of Famer Beth Phoenix, but she's just the woman who cost him his match. Edge deserved to lose. Everyone knows it. Edge deserves it after what he did to them last week.
A replay is shown of Miz and Maryse getting a Brood bath last week on Raw.
Miz says the crowd likes to see bad things happen to good people. Their disgusting aura doesn't affect them because true love always wins. After the wedding vow, Miz vowed he would end Edge's career. When he got in the ring at WWE Day 1, it wasn't Edge the Hall of Famer and legend. It was a man hiding behind his wife. What kind of man does that? A "YOU" chant picks up. Miz says Edge doesn't have his respect. What kind of man relies on his wife to fight his own battles? Who would do that? Maryse says Miz would never do that because he is strong, brave, courageous, and handsome. That's why she married him. She kisses him. Beth Phoenix took his moment. If she was here, she'd punch her in the face.
Beth Phoenix's music hits, and she comes out to the stage. Edge then makes his entrance to a big reception. Edge and Phoenix walk down to the ring together. Phoenix asks Maryse what she just said. Edge says most people would take the L and move on, but unfortunately, he knows Miz better than that. Edge knew Miz would make every excuse in the book for why he lost. Maybe it's because the Brown lost or he dropped a deuce in his pants when he heard Beth Phoenix's music. Edge doesn't need his wife to fight his battles. Phoenix says that was all her idea.
Edge says he has an idea and will give Miz and Maryse what they want. Imagine The IT Couple vs. The Rated R and The Glamazon… The Grit Couple… at the Royal Rumble. A "YES" chant picks up. Miz asks if they're serious. Maryse is beautiful and an entrepreneur, as well as a star and the mother of his children. Phoenix says a simple yes or no would suffice. Miz says they accept, but Maryse doesn't look like she's on board with that. Phoenix pretends to punch Maryse, and she crumples to the mat in fear.
---
Backstage: Big E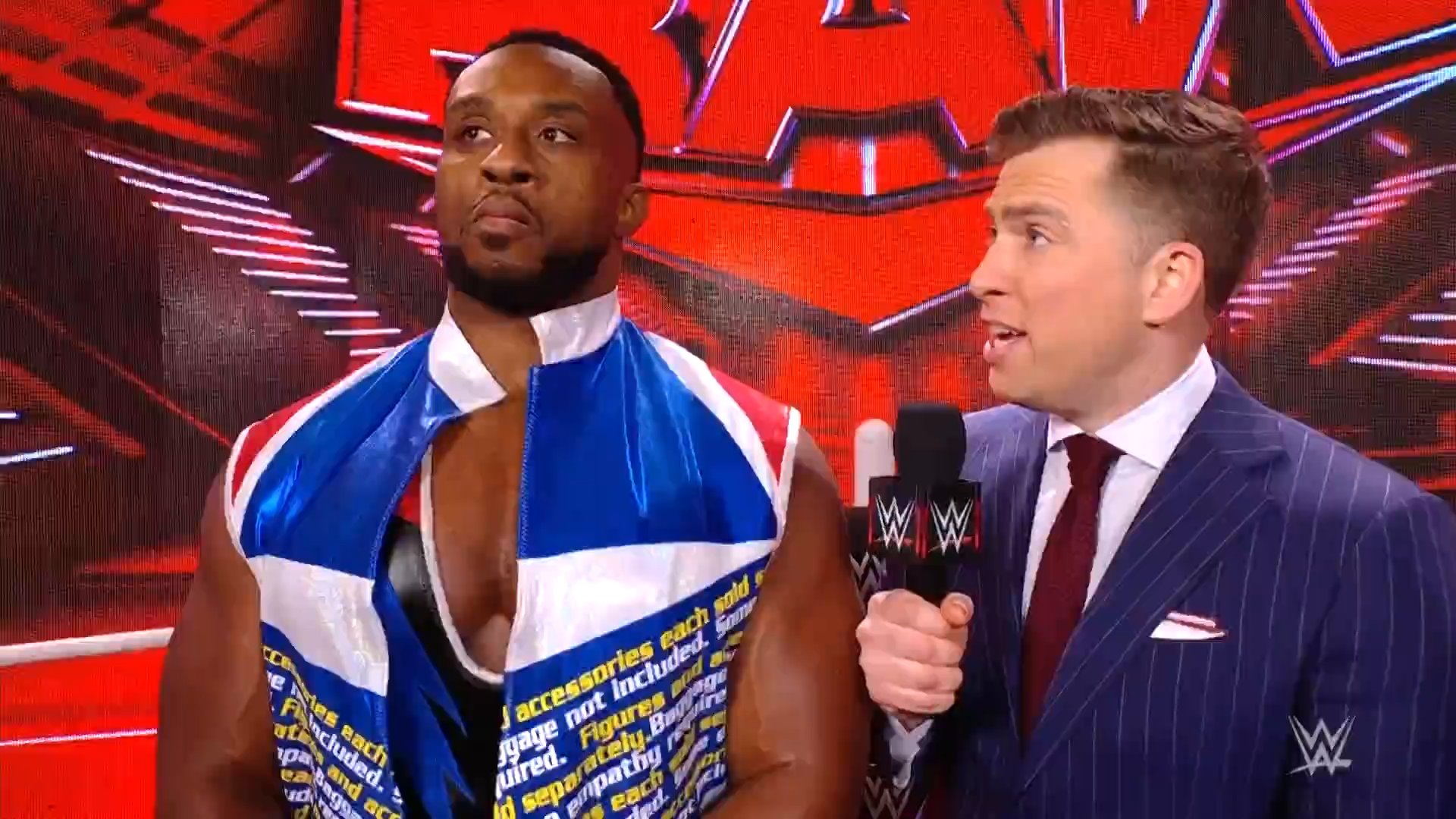 Big E is backstage with Kevin Patrick. Big E says he won't stay down and wallow in self-pity. The next chapter will be the best chapter. Tonight, he has the opportunity to right all the wrongs. Tonight, Big E starts the path back to reclaiming what is his. There's not a soul on earth that can stop him.
---
AJ Styles vs. Omos
Styles tries to goad Omos out of the ring and kicks him in the knee. Omos big boots him down in the ring. Omos avalanches Styles before talking trash and whipping him so hard he rolls into the ring post. Styles falls out of the ring in pain. Omos puts Styles back in the ring, but Styles begins to fight back with a strike combo. Omos lifts him, but Styles slides off. Styles boots him back twice. Styles goes for a Phenomenal Forearm, but Omos stops him. Styles snaps him off the top rope and goes for a Phenomenal Forearm, but Omos chops him out of midair. Omos puts him in the corner and talks trash before slamming him down. Omos lifts him up for a tree slam to pick up the win.
Winner by Pinfall: Omos
---
Next Week: Alexa Bliss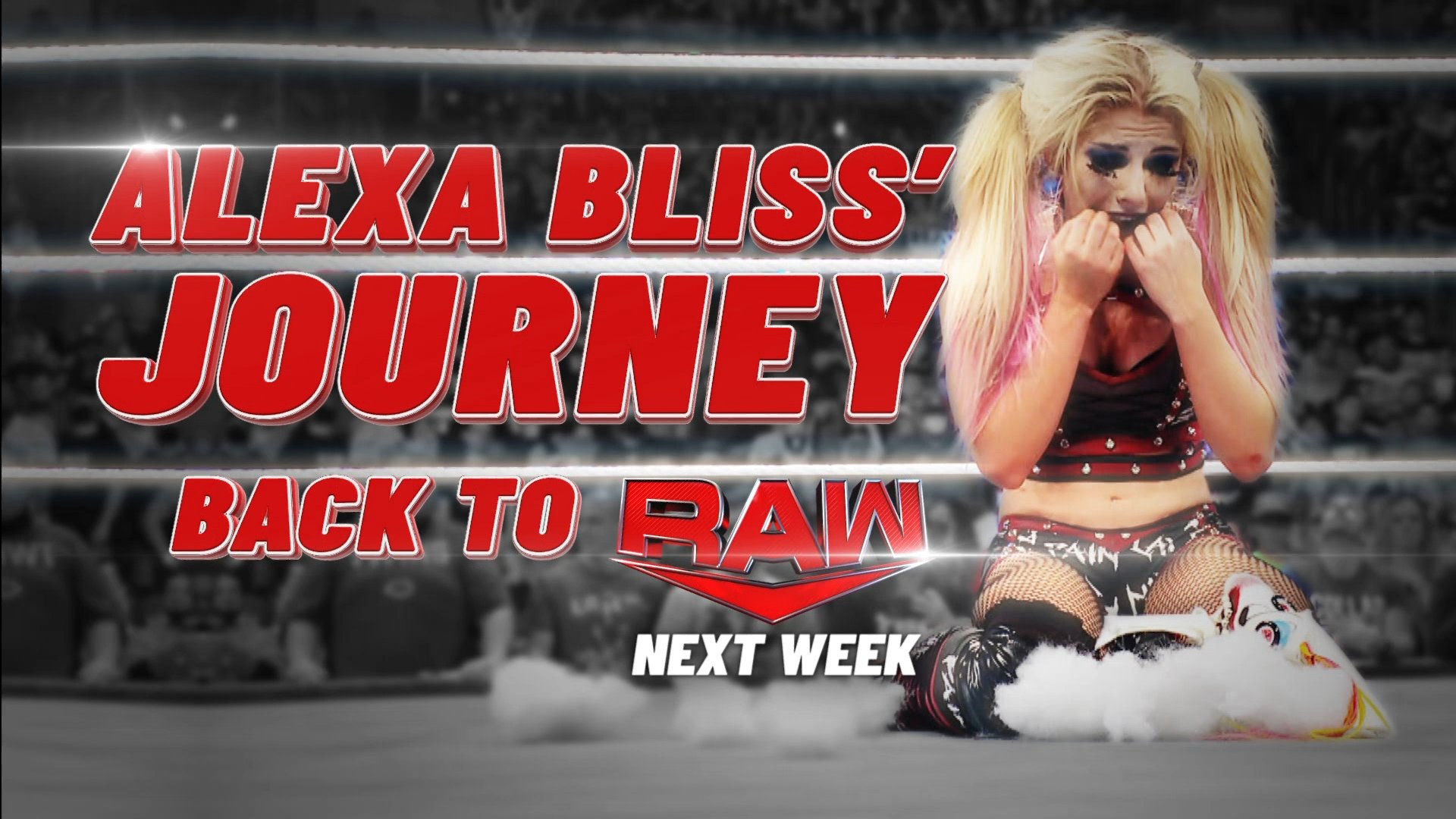 Alexa Bliss' journey back to WWE Raw begins next week. Footage is shown of Charlotte Flair destroying the Lilly doll.
---
Fatal 4-Way #1 Contender's Match
Big E vs. Kevin Owens vs. Seth Rollins vs. Bobby Lashley
The winner will face Brock Lesnar for the WWE Championship at the Royal Rumble.
The bell rings, and Lashley clotheslines Rollins out of the ring before driving him into the LED apron a few times. In the ring, Big E and Kevin Owens brawl. Lashley lifts Rollins and drives him headfirst into the ring post. Big E knocks Owens to the apron and hits that spear through the apron to the floor.
Big E and Lashley face off in the ring. They exchange punches before Lashley knees and clubs him. Lashley hits the ropes, but Big E leapfrogs him and elbows him. Lashley responds with a clothesline. Lashley hits Big E with a textbook vertical suplex. Owens tries to attack Lashley, but Lashley hits a neckbreaker. Lashley hits Owens with a delayed vertical suplex. Lashley goes outside for a spear on Rollins and Owens, but they move and he crashes through the barricade!
Big E grabs Rollins and hits an overhead belly-to-belly suplex on the floor. Big E knocks Owens away and clears off the commentary table. Big E goes for a uranage on Rollins through the table, but Owens stops him. Owens sends Big E into the ring steps. They then send Big E into the ring post. Rollins and Owens bury Lashley under the rubble of the barricade. Rollins yells at Owens for help. They hit Big E with a double powerbomb through the commentary table!
We come back from the break to see Rollins and Owens double-teaming Lashley at ringside. They put him in the ring. Big E is down in the corner in the ring as well. During the break, they hit Lashley with the steel steps before Owens hit him with a frog splash off the apron. Big E fights back with slams on Owens and Rollins, but Lashley soon takes him down. MVP shouts to Lashley. Owens and Rollins pull each other up in the ring. Lashley and Big E turn to them, and Owens and Rollins run away. Big E and Lashley chase them into the crowd.
They fight into the concession stand area. Lashley applies a Hurt Lock to Rollins, but Owens hits him with a garbage can lid. Big E attacks Owens and slams him through a merchandise table!
We return from the final break of the evening to see Big E and Lashley brawling in the crowd. They brawl to an entrance area for the arena, and Rollins joins in the fray. All of a sudden, Owens wipes everyone out with a senton bomb off the top of the entrance! Wow!
Rollins and Owens send Big E back to ringside. A "This is awesome" chant picks up. Owens gets in the ring and hits a Swanton Bomb on Big E. Rollins hits a frog splash, but Big E kicks out. Owens was celebrating what he thought was Rollins' sure victory. They superkick Big E. Owens sets Big E up for a Stomp, but Big E fights back. They quickly cut Big E off, and Owens hits a Pop-up Powerbomb on Big E. Lashley knocks Rollins into Owens to break up the pin.
Lashley tosses Owens and Rollins with an overhead belly-to-belly suplex. Lashley goes outside and runs over Owens with a shoulder tackle. Rollins forearms Lashley getting back in the ring. Lashley goes for a Spear, but he hits Big E. Lashley then spears Rollins. Owens gets in the ring and superkicks Lashley. Owens hits the ropes, but Lashley spears him down for the win!
Winner by Pinfall: Bobby Lashley
Bobby Lashley will face Brock Lesnar for the WWE Championship in a first-ever meeting between the two gargantuan men. Lashley celebrates with MVP in the ring.
Backstage: Brock Lesnar
WWE Champion Brock Lesnar is shown watching backstage. Kevin Patrick asks him for a comment. Lesnar says he does have a comment. Lesnar tells Patrick to tell Roman Reigns he'll see him this Friday on SmackDown. Lesnar does not acknowledge Lashley.