Results by Roy Nemer of Wrestleview.com
January 14, 2022
Omaha, Nebraska – CHI Health Center Omaha
Commentary: Michael Cole and Pat McAfee
---
Quick Match Results
Fatal Four Way Tag Team Match: The Viking Raiders defeated Los Lothario, Cesaro & Mansoor, Jinder Mahal & Shanky via the Viking Experience on Humberto
Aliyah defeated Natalya via roll up in 3.1 seconds
Sheamus defeated Ricochet via Brogue Kick
Madcap Moss defeated Kofi Kingston via the Punchline
---
In-Ring: The Usos
Live in the arena, out come The Usos to the ring. Jey says last week they went to war with the New Day and beat them. But they respect the New Day. Because the only team to ever push them hard is the New Day. Jimmy says but they let everyone know who runs the show, who the bloodline is, who the best tag team in the world is and they let everyone know that they are the ones.
Jey says they should be celebrating or they should be helping the tribal chief with Seth Rollins. Jimmy says it doesn't matter because management is already lining them up and they are about to knock them down like this. Jey says there's a big fatal four way tag team match to determine who will one day challenge for their titles.
Jimmy introduces Los Lotharios. They introduce Cesaro and Mansoor. They introduce Jinder Mahal and Shanky. They introduce The Viking Raiders.
Fatal Four Way Tag Team Match
Los Lothario vs. Cesaro & Mansoor vs. Jinder Mahal & Shanky vs. The Viking Raiders
Back from commercial and the match is already under way with The Usos on commentary. Cesaro and Mansoor double team Garza as Erik tags himself in. Shanky is tagged in for Garza. He hits Erik with a clothesline. Jinder is tagged in as they double team Erik. Jinder with a clothesline. He goes for the cover but Erik kicks out. Shanky is tagged back in. He hits Erik with elbows in the corner and Jinder is tagged back in. Erik with an elbow and Ivar is tagged in. Ivar knocks the Lotharios off the ring apron. He knocks Cesaro and Mansoor down. Shanky with right hands in the corner.
Shanky goes for a clothesline but Ivar moves out of the way and Erik is tagged in. They double team Shanky. Ivar is tagged back in. In comes Jinder who throws Erik out of the ring. Ivar on the top rope and Jinder slows him down. Jinder is tagged in. Jinder climbs the second rope, in comes Cesaro. He climbs the second rope. They try to suplex Ivar but Erik is under Cesaro and Jinder as he drops them down and Ivar is suplexed off the second rope.
Back from commercial, Cesaro clotheslines Carrillo in the corner. Right hands by Cesaro. He knocks Garza off the ring apron. Cesaro lifts Humberto and hits him with the Samoan drop. Ivar is tagged in and Cesaro trips him up. He swings Ivar but Jinder attacks Cesaro from behind. Mansoor knocks Jinder down. Shanky throws Mansoor to the outside. Erik throws Shanky to the outside. Los Lotharios knock Erik down and they land a suicide dive on the outside. Ivar runs to the ropes but Los Lotharios hit him with a double dropkick.
In comes Erik as they double team Los Lotharios. They hit Carrillo with the Viking Experience. Ivar goes for the cover and gets the pin.
Winners: The Viking Raiders
The Usos get on the microphone and announce them as the number one contenders. They tell them that they are vikings but they have never been to Samoa.
---
Backstage: Sonya Deville, Naomi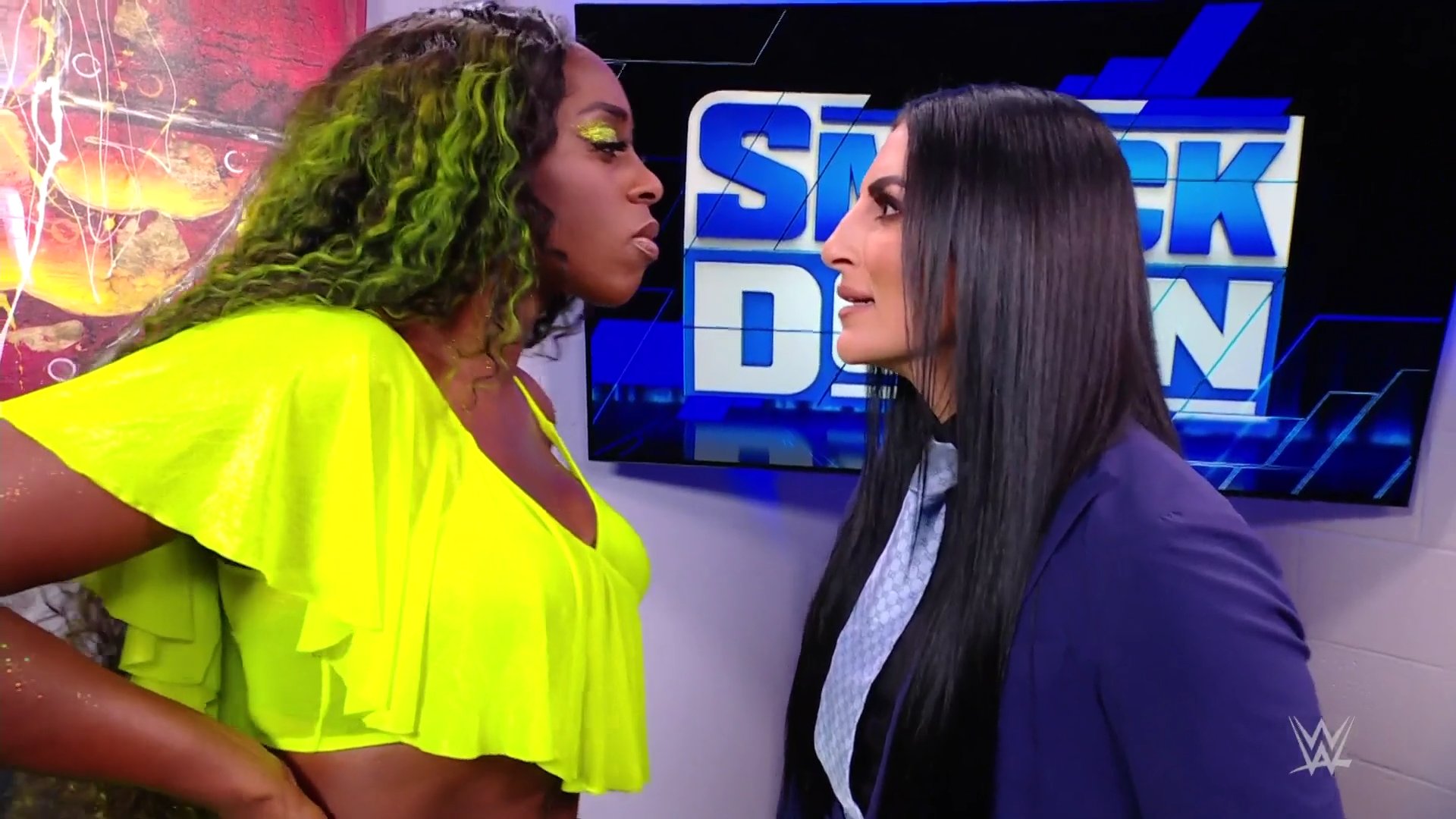 We cut backstage to Sonya and in comes Naomi. She tells Sonya that it's cold, just like Sonya's heart. She says everything Sonya says is a lie. Her messing with her career, she won't let that slide. She hasn't heard one reason why Sonya has been hating on her this hard. Sonya tells her when she has the jacket on, she cannot be touched. She tells Naomi she is her boss. And the reason why Naomi annoys her so bad is because she waltz in her office with her main character vibes when everyone knows she is an extra. In comes Adam Pearce who tells her it's cold in the office.
---
In-Ring: Sami Zayn, Rick Boogs, Shinsuke Nakamura
Sami says this conspiracy that has targeted him has gone on for too long. And it started when he was robbed of his Intercontinental championship. And after all this time, he is finally the number one contender. But they have to talk about last week where a new actor in the conspiracy theory came into his life. And that is Johnny Knoxville.
We see a clip of last week's SmackDown where Johnny threw Sami over the top rope. Sami says that's great, Johnny is in the Royal Rumble. And it's great because Sami is in the Royal Rumble match. Sami says Johnny thinks he can do what Sami does but he can't. But on the other hand, he can do what Johnny does. And he will show the world, that when it comes to being a jackass, no one is better than Sami Zayn. He says everyone knows jackass but to get ready for the debut of the most spectacular stunt show, In Zayn.
Sami walks backstage and comes out in a shopping cart wearing a helmet. Two men push him down and there's a ramp leading up to the ring. Sami says this is dangerous and to give him a second. He says the ramp is looking small. Sami tells them to push him and as they do, he tells them to wait. He counts to three and tells them to push him. As they get to the ramp, he tells them to stop. Sami gets out of the shopping cart and gets in the ring.
Zayn says he wants to make sure that it's safe. Sami says he is tougher than Johnny Knoxville but he is not prepared to get hurt over nothing.
Rick Boogs gets on the ring apron. Sami tells him he can give a message to Nakamura. Sami turns around and Nakamura hits him with a kick to the face. Boogs lifts Sami up and throws him over the top rope onto the outside on a stack of mats.
---
Backstage: Aliyah, Natalya
Can @NatbyNature set a new world record for fastest win TONIGHT on #SmackDown?@WWE_Aliyah pic.twitter.com/R8BO8AIiPa

— WWE (@WWE) January 15, 2022
Aliyah is backstage and she is asked about her match against Natalya. She tells Meagan she is all nerves but ever since she was a little girl, she has dreamed about getting in the ring. And she hopes she puts on a good showing and hopes not to embarrass herself.
In comes Natalya. She tells her there is no shame in losing to her. After all, she is the most winning woman in WWE history. And that's just one of her three Guinness World Book of records as she holds up one of the books. Aliyah says she didn't know that was still a thing.
---
Aliyah vs. Natalya
Natalya is backstage and she says she holds three Guinness Book of World Records. The first is the woman with the most matches in WWE. The second is the woman with the most PPV matches and the third is the woman with the most wins. She says she will set another record when she wins in less than 3.8 seconds.
Natalya makes her way down to the ring. She stomps on Aliyah before the start of the match. Right hands and kicks by Natalya as Aliyah is in the corner. The referee says she is not able to compete as Aliyah says she can compete.
The bell rings and Aliyah rolls Natalya up and gets the pin.
Winner: Aliyah
It is announced that she has set a new WWE record for the fastest win of 3.1 seconds.
---
Backstage: Sonya Deville & Adam Pearce
Adam Pearce and Sonya are backstage. Sonya says it's hot in the room now as Adam plays with the thermostat.
---
In-Ring: Lita, Charlotte Flair
Michael Cole is in the ring as he introduce Lita to the ring. She says she is home. Cole says she will participate in the Royal Rumble match. Lita says she has more career highlights than she can count. She was one of the first women to main event Raw with Trish Stratus. she was involved in TLC and steel cages matches and is in the WWE Hall of Fame.
Lita says most says she is fully satisfied with her career until recently. She says she did not compete in a Royal Rumble match before but now there is. She says she feels like she has one run left in her. Lita says she is going to enter the Royal Rumble, win it and main event WrestleMania.
Out comes Charlotte Flair to the ring. Flair says she didn't know it was Flashback Friday. She says this is extreme, that's what Lita used to say. She says she is entering the Royal Rumble as champion and when she wins, she will pick the opponent. Flair says when she eliminates Lita, this run she is talking about is going to be over.
Flair says she is dying to know how Lita is going to handle humiliation when she ends her short come back and WrestleMania dreams. Lita says she heard about this Charlotte. She is curious how Charlotte will eliminate anyone with that giant head. Lita asks how she doesn't just tip over. The fans chant giant head. Flair says she can't hear them.
Lita calls her a giant head. Flair says back at SummerSlam 2019, back when Trish wanted to be relevant, she begged her for a match and Flair said yes. She says Trish put up a fight but she lost, she broke her. She was broken to the point where she retired. And at the Royal Rumble, that's what she is going to do to her. Lita goes to slam Charlotte as Charlotte ducks and Lita moves away. Lita kicks her and hits her with a Twist of Fate.
---
Sheamus vs. Ricochet
The bell rings and we are under way. Ricochet with a head lock as Sheamus sends him to the ropes and a shoulder tackle by Sheamus knocks Ricochet down. An uppercut by Sheamus. He lifts Ricochet up but Ricochet throws Sheamus to the outside. Ricochet runs to the ropes and he jumps over the top rope onto Sheamus on the outside. He throws Sheamus back into the ring. Ricochet gets in the ring and Sheamus rolls to the outside. Sheamus grabs Ricochet by the leg and trips him off the ring apron. Sheamus places Ricochet under the ring and catapults him onto the steel.
Back from commercial, a jaw breaker by Ricochet. Right hands by Ricochet as he runs to the ropes and kicks Sheamus in the face. Sheamus runs to the ropes, he goes for the Brogue kick but Ricochet moves out of the way. Ricochet with a kick. Ricochet with a lionsault. He goes for the cover but Sheamus kicks out. Ricochet climbs the top rope. He goes for the 460, Sheamus moves out of the way and hits him with an Irish Curse backbreaker.
Sheamus lifts Ricochet up on his shoulders and climbs the second rope. Ricochet with right hands and he kicks Sheamus. Ricochet with a sunset flip powerbomb on Sheamus. Ricochet goes for the cover but Sheamus kicks out. Ricochet runs to the ropes and Sheamus hits him with the Brogue Kick. He goes for the cover and gets the pin.
Winner: Sheamus
---
Backstage: Adam Pearce, Sonya Deville, Naomi
Adam and Sonya are backstage and Adam has his blazer off. Adam says it's hot and Sonya says she is sweating. Adam says he will check with maintenance. Sonya takes off her jacket and in comes Naomi. She tells Sonya she doesn't have her jacket on. Naomi says no jacket, no boss. In comes Adam and Naomi asks him to step aside. Naomi says all she does is abuse her power. She says she almost had Charlotte beat last week but Sonya changed the rules of the match. Adam says next week she will get a rematch.
---
Madcap Moss vs. Kofi Kingston
Kofi Kingston is in the ring. He reads a message from King Woods where he mentions that Woods has suffered an injury. And because of that, he will miss the Royal Rumble. However, a Royal Rumble cannot be a Royal Rumble without a royal representation from the kingdom. He says the hand of the king Kofi Kingston will enter the Royal Rumble match.
Out comes Happy Corbin with Madcap Moss. Corbin says he is happy and he made $50,000 off NFT this week that he bought himself a new watch. He says he will eliminate Kofi at the Royal Rumble.
Corbin says they haven't been this happy since he and Madcap destroyed Drew McIntyre's neck.
The bell rings and we are under way. Madcap grabs Kofi but Kofi throws Madcap to the outside of the ring. Kofi jumps over the top rope onto Corbin and Madcap.
Back from commercial, Madcap with a throw away slam. Right hands and kicks by Madcap but Kofi with right hands. Kofi with a drop kick. A kick to the face by Kofi. Corbin on the ring apron distracts Kofi and Madcap with a right hand. Kofi with a kick to the face.
Kofi climbs the top rope but Madcap catches him. Kofi lands on his feet. Kofi goes for the SOS but Madcap grabs Kofi by the face and hits him with the Punchline. He goes for the cover and gets the pin.
Winner: Madcap Moss
---
In-Ring: Seth Rollins, Roman Reigns
Seth Rollins is in the ring and out comes Roman Reigns. Seth stands in the ring as Roman grabs a microphone. Roman tells Seth before he says anything, he tells Omaha to acknowledge him. Seth says we have to acknowledge the fact that this is a moment. Seth says for old times sake as he extends his fist like they used to do as members of the Shield.
Roman says that's beneath him now. Seth says let's acknowledge the look on Roman's face when he entered his office last week. And he was the last person on earth he wanted to see. Seth says their track record in singles matches for championships is one sided. Seth says he won them all. Roman laughs and says Seth is talking about the past. He tells Seth eh must be sleeping under a rock, he is in God mode these days. He is the tribal chief, the head of Seth's table, the greatest of this generation, the greatest Universal champion of all time which makes him the greatest to ever do this.
Seth says he didn't come out to rain on his parade. He came out here to acknowledge Roman, to acknowledge his success. Seth asks Roman if he can look at himself in the mirror at night and say that he has done that all by himself. Because that is the difference between them. Without Roman Reigns, Seth Rollins is just fine. Seth was climbing the ladder while Roman was in the CFL. Seth says he was holding Roman's hand in the shield and after that, Roman needed his bloodline to hold everything up. Seth asks him if he truly understand who the greatest is. Because Seth created Roman and he can destroy him.
Roman says this is a waste of his time, Seth is a waste of his time. Roman says Seth looks and sounds like a clown because he is a clown. Seth doesn't have the star power that he has, he won't reach Roman's levels and if he was looking for a mega star, he wouldn't have chosen Seth from Raw. Seth wouldn't have been the one he would have chosen from his own household. If he wanted to main event the Royal Rumble with a mega star, he would have chosen his wife.
In come The Usos from behind as Seth moves out of the way and goes to the outside. They go after Seth as he escapes. He goes face to face with Roman and leaves the ring.