Results by Mike Tedesco of Wrestleview.com
March 21, 2022
Rosemont, Illinois – Allstate Arena
Commentary: Jimmy Smith, Corey Graves and Byron Saxton
---
Quick Match Results
The Mysterios defeated Dolph Ziggler & Robert Roode via frog splash by Dominik on Roode
2-on-1 Handicap Match: Omos defeated Apollo Crews & Commander Azeez via choke bomb on Crews
Natalya & Shayna Baszler defeated Liv Morgan & Rhea Ripley via Hart Attack on Morgan
Finn Balor defeated Austin Theory via small package
RK-Bro defeated Alpha Academy via Bro Derek by Riddle on Gable
Intergender Tornado Tag Match: Dana Brooke & Reggie defeated Akira Tozawa & Tamina via pinfall by Reggie on Tozawa after Tamina fell on Tozawa's crotch
AJ Styles defeated Seth "Freakin" Rollins by disqualification when Edge hit Styles with a chair
---
In-Ring: Kevin Owens
We go live into the Allstate Arena to hear the glass shatter for "Stone Cold" Steve Austin's music! The crowd goes absolutely wild. Out comes Austin to a big pop… only it's not him! It's Kevin Owens dressed as Steve Austin. The crowd loudly boos as Owens, complete with a bald cap, jean shorts, and knee braces, completes Austin's entrance.
The crowd is absolutely livid. Owens asks Chicago if they're ready to see him open up a can of whoop ass on "Stone Cold" at WrestleMania? If they are, give him a "Hell Yeah!" The crowd boos, but some do it. Owens says he didn't hear them. If they're ready to see him open up a can of whoop ass on that sorry son-of-a-bitch "Stone Cold" Steve Austin, then give him a "Hell Yeah!" They boo louder. Owens says, "What?!"
"Austin" says he's heard all of the things that Kevin Owens has said about his home state of Texas, but they're all true. It got his attention. When he was invited to be on the biggest KO Show of all time, he got in his golf cart to respond. "Austin" is going to WrestleMania and The Kevin Owens Show. A loud "We Want Austin" chant picks up. "Austin" goes to insult them…
…until "Stone Cold" Steve Austin's music hits. The place goes wild, but Austin doesn't come out. Owens laughs and says they're so stupid. "Austin" says he needs to start drinking to get some liquid courage to face Owens at WrestleMania. "Austin" asks for some beer. A few beers are tossed to him, but he drops all of them. The crowd laughs. Owens shouts at the stagehand and tells him to get in the ring and hand him the beer. The stagehand does. As he goes to leave, Owens hits him with a Stunner. Owens cracks open the beers and pours them on the stagehand. Owens won't drink the beer and throws it away before posing.
---
Backstage: Seth Rollins
Seth Freakin' Rollins wants a match at #WrestleMania by any means necessary!@WWERollins #WWERaw pic.twitter.com/wWpSuiTKVk

— WWE (@WWE) March 22, 2022
Video: Replays are shown of Kevin Owens defeating Seth "Freakin" Rollins in the main event of Raw to keep his interview with "Stone Cold" Steve Austin.
Kevin Patrick is backstage with Seth "Freakin" Rollins. Patrick asks what his state of mind is now that he's not going to WrestleMania. A "Cody" chant picks up. Rollins looks stoic before beginning to laugh. Rollins takes the microphone and says he's going to borrow it.
---
The Mysterios vs. Dolph Ziggler & Robert Roode
Replays are shown of The Mysterios defeating Cedric Alexander and Shelton Benjamin last week on Raw. The Miz and Logan Paul attacked them after the match, but The Mysterios got the better of them. They nearly hit Paul with a double 619. The Mysterios will face Miz and Logan Paul at WrestleMania Night 1.
As The Dirty Dawgz make their way to the ring, The Miz follows behind them. The Miz will be on commentary for this next match.
Dominik Mysterio starts against NXT Champion Dolph Ziggler. Dominik hooks a side headlock, but Ziggler whips him off. Dominik comes back with an arm drag before hitting the NXT Champion with a rope-aided arm drag. Ziggler flies out of the ring. Dominik follows him out, but Ziggler drives him into the apron. Robert Roode tags in, and The Dirty Dawgz hit a double-team neckbreaker/powerbomb combo. Rey Mysterio breaks up the pin. Rey gets Ziggler out of the ring. Dominik dropkicks Roode out of the ring. The Mysterios then hit The Dirty Dawgz with stereo suicide dives!
Seth "Freakin" Rollins's music hits, and he comes out to the stage. Rollins says the show won't move another inch until the world hears what he has to say. Rollins wants a WrestleMania spot and will get a WrestleMania spot because he is Seth "Freakin" Rollins. Rollins doesn't want just any spot. Rollins wants a spot on WrestleMania that will live forever. The microphone cuts out a few times, frustrating Rollins. Rollins came for "Stone Cold" Steve Austin last week, but this week he's going for even bigger. The microphone shuts off, so Rollins flips out.
We come back from the break to see Rey knock Ziggler off the middle rope and hit a flying seated senton. Ziggler tries to stop Rey from making a tag, but Rey hits an enzuigiri. Roode quickly tags in and knocks Dominik off the apron. Roode goes after Rey, but Rey hits him with a tornado DDT.
Dominik tags in, and he floors Roode with a high cross-body block. Dominik hits a hurricanrana and snaps him off the ropes. Dominik hits a beautiful Eddie Guerrero-style slingshot senton. Dominik covers, but Ziggler immediately breaks it up. Dominik quickly slams Ziggler to get him out of the ring. Rey dives at Ziggler, but Ziggler moves. Roode hits a Double R Spinebuster on Dominik for a near fall. Roode goes for a Glorious DDT, but Dominik counters into a roll-up for a near fall. Dominik hits a drop-toe-hold into the ropes and connects with a 619. Dominik goes to the top rope and hits Roode with a Frog Splash for the win!
Winners by Pinfall: The Mysterios
Ziggler immediately hits Dominik with a superkick and runs off. Rey chases after him, but Miz cuts him off and hits a Skull Crushing Finale on the floor. Miz then rips Rey Mysterio's mask off! Miz holds it up in triumph, as Dominik covers his father's face and shouts for a towel. Dominik puts a towel over his father's face. Miz holds up the mask, takes a sign from a fan celebrating The Mysterios, and tears it up. Miz goes up the ramp and stares at the mask while smiling.
---
Backstage: Seth Rollins, Adam Pearce, Sonya Deville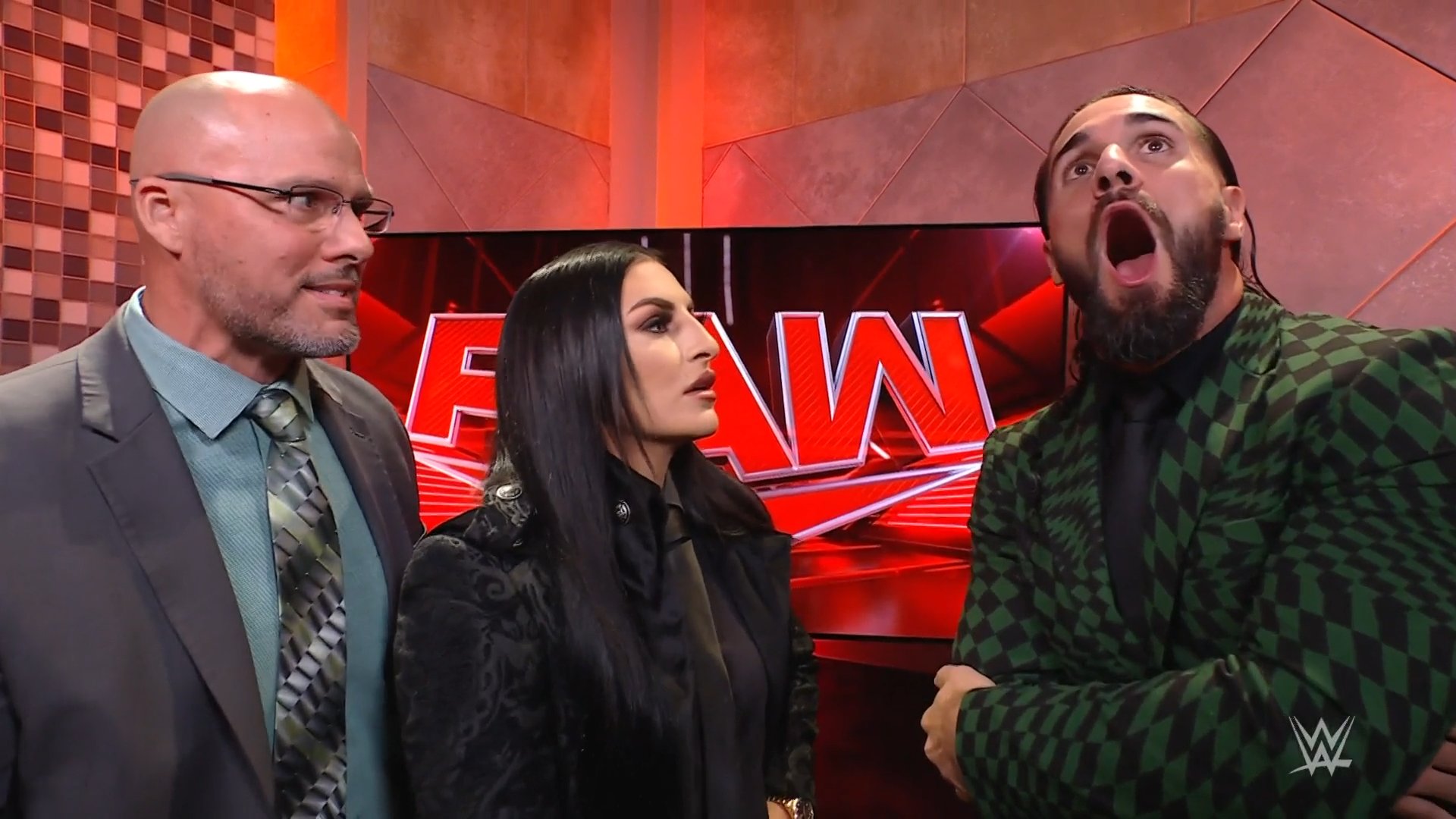 Seth "Freakin" Rollins is backstage with WWE Officials Adam Pearce and Sonya Deville. Rollins says they can shut him up, but he wants the biggest spot on WrestleMania. Pearce says disrupting the show and acting like a lunatic won't work. Deville says they gave him an opportunity last week, but Rollins failed. Pearce says they need to calm down because maybe there's something they can do.
---
Backstage: The Miz
Replays are shown of The Miz ripping Rey Mysterio's mask off moments ago.
The Miz is backstage talking to Maryse on the phone and holding the mask. Kevin Patrick asks why he stole the mask. The Miz says Logan Paul grew up as a fan of Rey Mysterio, but Rey and his son have done nothing but try to humiliate them. Miz says they will humiliate The Mysterios at WrestleMania. Miz says this mask is for Logan Paul and he dares him to wear it next week.
---
2-on-1 Handicap Match
Omos vs. Apollo Crews & Commander Azeez
Before the match starts, Crews and Azeez try to surround Omos and take him down. They get him to ringside, but Omos grabs them by the throat. They fight out, and Azeez shoves Omos into the ring post. They get in the ring, and the match begins. Omos crushes both men, including hitting Azeez with a big scoop slam. Omos holds Crews up and says this is all his fault. Omos hits him with a two-handed choke bomb before covering both men for the win.
Winner by Pinfall: Omos
Omos says it doesn't matter how big they are or how many there are. Omos is undefeated and won't stop. Anybody that has the balls to step up to him on Monday Night Raw or WrestleMania will all be dominated.
---
In-Ring: AJ Styles, Seth Rollins
AJ Styles stands in the ring, and the crowd gives him a nice ovation. Styles says, "Chicago," and the crowd pops loud for him. An "AJ Styles" chant picks up. Styles says for the last two weeks, he's missed out on this nursing an injury. While recovering from that injury, he had a lot of time on his hands. Extra time is a dangerous thing. Styles watched that clip of Edge hitting him with the chair over and over again. Styles went crazy and didn't want to be around anyone, including his wife and kids. Styles just wanted to be alone. Lo and behold, who pops up on the television but Edge with his mood lighting and spewing nonsense. Styles doesn't care. Styles isn't here to ask "why" or get answers. Styles is here to kick Edge's teeth down his throat. Edge wanted the pitbull, and he's getting him at WrestleMania. They don't have to wait that long. Edge can come out and get what's coming to him. Edge won't come out, so Styles says Edge is a coward.
Seth "Freakin" Rollins's music hits, and he dances out to the stage. Rollins gets in the ring, and a "Cody" chant picks up. Rollins tells them to simmer down because rumors don't make moments. Rollins is living for his WrestleMania moment. Styles tells him to cut the crap and wants to know what he wants. Rollins says he's concerned about Styles' health and safety. After what Edge did to him, is Styles emotionally and physically capable of fighting him at WrestleMania? Rollins tells Styles to go home to his wife and kids, hug them close, and get to 100% before coming back AFTER WrestleMania. Then Styles can let him do what he should have done inside Hell in a Cell and end Edge's career on the Grandest Stage of Them All.
Styles says as long as he's able to walk, he'll be facing Edge at WrestleMania. Rollins says if for some unfortunate reason Styles gets taken out, then he can have his spot at WrestleMania. Styles says he knows Rollins tried to do this to Kevin Owens last week and asks if that's the plan this week. Rollins says desperate times call for desperate measures. Styles says Rollins comes out dressed like an idiot and is delusional. Styles isn't just giving up his opportunity at WrestleMania. Styles is going to do what Rollins couldn't: he's going to destroy Edge and then go back to Rollins.
WWE Officials Adam Pearce and Sonya Deville come out to the stage. Pearce says Rollins has been wanting a WrestleMania moment. They decided Rollins will get one last chance. If Seth Rollins can defeat AJ Styles tonight, he'll replace Styles at WrestleMania. Rollins celebrates, and Styles is speechless. Styles then attacks Rollins, so Rollins runs off.
---
Backstage: Carmella, Queen Zelina
WWE Women's Tag Team Champions Queen Zelina and Carmella are backstage. Carmella has her head in her phone. Zelina says Carmella is not focused two weeks out of WrestleMania. Carmella says she is focused. Zelina says all she cares about is her wedding and show. Zelina takes the phone and tosses it. Carmella calls her a Hobbit and slaps her. The Women's Tag Team Champions brawl backstage.
---
Backstage: AJ Styles
AJ Styles is backstage with WWE Officials Adam Pearce and Sonya Deville. Styles is furious over possibly losing his WrestleMania spot, but says he'll be victorious.
---
Liv Morgan & Rhea Ripley vs. Natalya & Shayna Baszler
Rhea Ripley starts against Shayna Baszler. Ripley takes her down with some waistlocks. Liv Morgan and Natalya tag in. Morgan takes it to Natalya before Natalya takes her down. Carmella runs down and comes up to Corey Graves to check on her face. Baszler and Natalya eventually hit Morgan with a Hart Attack for the win.
Winners by Pinfall: Natalya and Shayna Baszler
Queen Zelina and Carmella attack the two tag teams and reconcile in the ring.
---
In-Ring: Becky Lynch
Raw Women's Champion Becky Lynch is sitting on the chair in the ring. Lynch asks what does it profit a man to get the world and lose his soul? Lynch talks about first facing Bianca Belair at SummerSlam, but it was 15 long months that she went without holding the title. It's not because anyone beat her for it; she was forced to give it up. Nothing could be more painful or agonizing. She knew she'd have to do whatever it took to get back her precious. What does it profit a man? It profits him this title. It's the only thing that matters inside these ropes. Lynch is power and glory. She is the prize at the top of the mountain.
This is her world. When she came back and they chose Bianca Belair over her, that's when she knew she'd sell her soul to keep this. Belair doesn't have what it takes to beat her. Belair can whip her with her hair and crush her throat, but she'll crush hers worse. Belair didn't mean to damage her, but she meant it. Lynch says it's a throat for a throat. This week she said she'd come for Belair's hair, but Belair isn't here. If Lynch takes the thing that means the most to her, she'll take Belair's soul. Belair doesn't want to lose her soul. Lynch already sold her soul and would do it every day and twice on Mondays to keep the title on her shoulder. Lynch has a question for Belair: What does it profit a man to gain the world and lose his soul? She'll show Belair and the rest of the world at WrestleMania if Belair makes it.
---
Backstage: Austin Theory
Did @austintheory1 just call @PatMcAfeeShow a "dumb jock"?!#WWERaw pic.twitter.com/VcKUWLHNG1

— WWE (@WWE) March 22, 2022
Replays are shown of Austin Theory attacking Pat McAfee on SmackDown and then McAfee having to apologize to him.
Austin Theory is taking selfies backstage when Sarah Schreiber asks for a reaction to McAfee's insincere apology. Theory says McAfee is a dumb jock, but he apologized and didn't lose his job. McAfee had a great NFL career, but he has no business stepping into the ring with him. Theory will beat McAfee at WrestleMania. If he talks to his mentor, Mr. McMahon, McAfee won't even have a job as a commentator. She asks about his upcoming match. Theory says he's beaten Bálor so much that he's running out of storage for the selfies. He'll take him down again.
---
Coming Soon: Veer Mahaan
Veer Mahaan is coming to Raw on April 4.
---
Austin Theory vs. Finn Balor
Before the match begins, Pat McAfee comes out to be the guest commentator. Theory is infuriated. Bálor quickly takes it to Theory and knocks him out of the ring. McAfee motions that Theory sucks, and Bálor dropkicks Theory into the barricade.
We come back from the break to see Theory applying a waistlock to Bálor. McAfee gets up from commentary and roots Bálor on. Bálor fights up, but Theory sends him to the corner. Bálor boots him back and hits a Sling Blade. Bálor hits a flying forearm and a double stomp. Bálor chops the chest and tries to whip him, but Theory throws him out of the ring. Theory bounces Bálor off the commentary table, but Bálor fights back and bounces him off the table. Bálor gets Theory in the ring and hits a Sling Blade. Bálor dropkicks Theory into the corner and goes for the Coup de Grace, but Theory moves. Theory rolls him up for a near fall. Theory elbows Bálor down and punches away at him.
McAfee gets on the apron and shouts at Theory. Theory shakes it off and goes for an ATL on Bálor, but Bálor blocks it. Theory fights back and hits a fisherman's buster on his knee for a near fall. Theory gets on the apron, so McAfee distracts him a few times. Theory goes for a rolling thunder clothesline, but Bálor counters with a small package for the win.
Winner by Pinfall: WWE United States Champion Finn Bálor
Bálor and McAfee celebrate on the ramp, as Theory seethes in the ring.
---
RK-Bro vs. Alpha Academy
Alpha Academy comes out. Chad Gable shushes the crowd and talks about the crime rate in Chicago. RK-Bro committed criminal activity when they accepted a tag team match against a team that wasn't them. Luckily, justice was served. Gable puts Otis over and kisses him on the cheek. Gable says they will prevail tonight and make WrestleMania stupendous when they leave as the Raw Tag Team Champions. "A-thank youuu!"
Chad Gable starts against Randy Orton. They lock up, and Gable wrenches the arm. Orton takes Gable down and tags Riddle in before flipping Riddle onto Gable. Gable fights back and tags Otis in. Otis attacks Riddle and tags Gable back in. Riddle fights back at Gable and hits an exploder. Riddle goes to the apron, but Gable sweeps his feet. Otis then crushes Riddle with a shoulder block at ringside.
We come back from the break to see Riddle take Gable down and knock Otis off the apron before tagging Orton in. Orton runs wild on Gable and hits a snap powerslam. Orton goes for a hanging DDT, but Otis breaks it up. Orton knocks Otis away, so Gable snaps him off the top rope. Orton fights back and hits a hanging DDT on Gable. Orton goes for an RKO, but Gable shoves him off. Riddle blind tags in. Gable hits Orton with a German Suplex and clotheslines him over the top rope.
Riddle runs in and attacks Gable before hitting Bro Derek for the win.
Winners by Pinfall: Raw Tag Team Champions RK-Bro
Otis immediately attacks Riddle after the match, and Orton is sent into the barricade. Otis goes to avalanche Riddle, but The Street Profits push him over the top rope. They then hit Gable with a scary lifting DDT. The Street Profits then attack Riddle and celebrate.
---
Intergender Tornado Tag Match
Dana Brooke & Reggie vs. Akira Tozawa & Tamina
Reggie puts Dana Brooke on his shoulders, and Tamina puts Tozawa on hers. They get into a chicken fight. Tamina and Tozawa are eventually sandwiched in the corner, and Tamina falls face-first into his crotch. Dana Brooke and Reggie get the win.
Winners by Pinfall: WWE 24/7 Champion Dana Brooke and Reggie
---
Next Week
The final #WWERaw before #WrestleMania next Monday is going to be MASSIVE!!! pic.twitter.com/GVf1OLuU6t

— WWE (@WWE) March 22, 2022
WWE Champion Brock Lesnar and WWE Universal Champion Roman Reigns will be on Raw next week, days before their WrestleMania encounter. The Street Profits will battle Alpha Academy. We'll also see Rhea Ripley, Liv Morgan, Sasha Banks, and Naomi team to face WWE Women's Tag Team Champions Queen Zelina and Carmella with Natalya and Shayna Baszler. Finally, Rey Mysterio will battle The Miz.
---
AJ Styles vs. Seth "Freakin" Rollins
If Seth "Freakin" Rollins wins, he will face Edge at WrestleMania instead of AJ Styles.
They take their time approaching each other. Eventually, they hit the ropes, and Rollins takes him down with a Sling Blade. Rollins goes for a Pedigree, but Styles counters with a back body drop. Styles goes for an avalanche, but Rollins moves. Rollins charges, but Styles gives him a back body drop out of the ring. Rollins' face smacks off the apron on the way down. Styles then hits a forearm plancha.
We come back from the break to see Rollins applying a neck vice to Styles. During the break, Rollins snapped the barely recovered neck of Styles off the ropes. Styles fights out of the neck vice and attacks Rollins' leg. Styles connects with a dragon screw, and Rollins writhes around in pain. Styles attacks him in the corner and backs up. Styles charges, but Rollins moves and Styles viciously whiplashes off the turnbuckles! Styles rolls out of the ring, and the referee begins to count him out. Styles gets back in at the count of nine.
Rollins hits a neckbreaker for a near fall. Rollins is looking desperate. Rollins puts Styles in the tree of woe and hits a dropkick to the face for a near fall. The WrestleMania sign hangs ominously in the rafters as Rollins looks at it. Styles fights back at Rollins and goes for a Phenomenal Forearm, but Rollins hits the ropes to knock him to the floor. Rollins hits Styles with a suicide dive that drives Styles into the commentary table.
Back from the final break of the evening, Rollins takes Styles down and tells him to go home to be with his family. Rollins slaps him a few times and screams that he needs this match. Styles slaps back at him before laying in some punches. Rollins forearms back at him, but Styles crushes him with a strike combo. Styles hits a low forearm to the face, and Rollins gets up in the corner. Styles hits a corner clothesline followed by an ushigoroshi for a near fall.
Rollins fights back with a jackknife pin for a two-count. Styles hits a sit-out facebuster for a near fall. Styles sets up for a Styles Clash, but Rollins impressively escapes it. Rollins hits a rolling elbow followed by a falcon arrow for a near fall. Rollins goes for a Stomp, but Styles counters into a powerbomb attempt. Rollins counters into a roll-up for a two-count. They trade pins before Rollins goes for a Buckle Bomb. Styles gets out of it and hits a suplex on Rollins into the corner!
Styles heads to the top rope, but Rollins cuts him off. Rollins goes for a superplex, but Styles punches him off. Rollins scales the ropes, but Styles slides out before hitting a torture rack bomb for a near fall! Styles takes a moment to recover before going for a Phenomenal Forearm. Rollins superkicks him out of midair and hits a Buckle Bomb! Rollins goes to the top rope for a Frog Splash, but Styles gets the knees up!
Styles goes for a Phenomenal Forearm once again, but Edge hits him in the spine with a chair! The referee calls for the bell.
Winner by Disqualification: AJ Styles
Edge hits Styles with the chair a second time. Rollins flips out as yet another road to WrestleMania has been shut down.
Rollins flips out and clears the commentary table. Rollins says, "This is bullshit!" Next week, Monday Night Raw will not happen unless he gets his WrestleMania moment. A "Cody" chant fires up as Rollins continues to rip the ringside area apart. Rollins tips over the commentary table and rips apart an LED ring post. Rollins looks desperately at the WrestleMania sign as the show comes to an end.