Results by Mike Tedesco of Wrestleview.com
June 27, 2022
Laredo, Texas – Sames Auto Arena
Commentary: Jimmy Smith, Corey Graves and Byron Saxton
---
Quick Match Results
Money in the Bank Qualifier Last Chance Battle Royal: Riddle won, last eliminating The Miz
Montez Ford defeated Jey Uso via frog splash
AJ Styles defeated The Miz by count out when Miz ran out of the ring and intentionally got counted out
Liv Morgan defeated Alexa Bliss via roll up
2-on-1 Handicap Match: Bobby Lashley defeated Alpha Academy via Hurt Lock on Gable
Money in the Bank Qualifier Last Chance Elimination Match: Becky Lynch defeated Doudrop, Nikki A.S.H., Xia Li, Shayna Baszler, Tamina Snuka, last eliminating Doudrop via Manhandle Slam
---
Earlier: John Cena Arrives
Footage is shown of John Cena entering the Sames Auto Arena earlier today. Many WWE performers, referees, and stagehands clap for him as he enters the arena. Many SmackDown superstars are there as well. Becky Lynch looks disinterested and gives a golf clap.
---
Money in the Bank Qualifier Last Chance Battle Royal
Mustafa Ali vs. T-Bar vs. Veer Mahaan vs. R-Truth vs. Dolph Ziggler vs. Akira Tozawa vs. Jinder Mahal vs. Shanky vs. Reggie vs. AJ Styles vs. Ciampa vs. Shelton Benjamin vs. Ricochet vs. Rey Mysterio vs. Dominik Mysterio vs. Shinsuke Nakamura vs. Riddle
The winner will be entered into the Men's Money in the Bank Ladder Match this Saturday.
The bell rings, and a massive brawl breaks out. Veer goes after Nakamura in the corner and kicks away at him. Perpetual battle royal stuntman Dolph Ziggler is already hanging on the bottom rope trying to prevent elimination. Riddle goes after Veer, but Veer turns him around and stomps him. Mahal and Ciampa have Nakamura on the apron but cannot get rid of him. Veer eliminates Tozawa and then clotheslines Benjamin out of the ring. Ali jumps on Veer's back, but he quickly throws him off. Veer grabs The Mysterios by the throats, but Ali attacks him. Ali holds Veer down, and The Mysterios hit him with dual 619s before eliminating Veer!
It looks like R-Truth and Shanky are preparing for a dance-off in the middle of the battle royal. Shanky obliges until Mahal attacks R-Truth. Mahal and Shanky eliminate R-Truth. Mahal then tries to eliminate Shanky and is successful. Shanky is shocked. AJ Styles then clotheslines Mahal out of the ring to eliminate him. T-Bar presses Reggie over his head and throws him out of the ring onto Mahal and Shanky!
We come back from the break to see The Mysterios nearly eliminate Riddle, but he hangs on. During the break, Ciampa eliminated Ali. Miz almost has Styles out of the ring, but he holds on. Ciampa hits a backpack stunner on Riddle. Rey kicks Ciampa in the face and tries to eliminate him, but Ciampa blocks it. Ziggler and Dominik get into a slugfest. Styles knees Ciampa in the face and pulls him to the apron. Styles pushes Ciampa into the ring post and eliminates him. Miz attacks Styles getting in the ring. Rey puts Miz into the ropes and goes for a 619, but Miz avoids it. Miz hits a kneeling DDT and goes for the elimination, but Rey holds on. Dominik charges Ziggler, and they go over the top rope. It looks like both were supposed to hang on, but Dominik slips and goes to the floor. Ziggler takes a moment to think about what's next.
In the ring, Ziggler goes to powerbomb Rey, but Rey counters into a hurricanrana onto the apron. Rey hits Miz with a head-scissor to pull him to the apron as well. Miz and Ziggler team up to eliminate Rey. Miz throws Riddle over the top rope, but he hangs on. Ziggler bites Riddle's fingers, but he still holds on. Styles and Nakamura go at it. At one point, this was a WrestleMania dream match. Ricochet gets T-Bar onto the apron and goes for a springboard missile dropkick, but T-Bar grabs him. T-Bar throws him off the apron, but Ricochet lands on a ladder at ringside. Ricochet jumps back to the apron and hits an INSANE head-scissor off the apron to the floor on T-Bar! T-Bar is eliminated, and Ricochet hangs on!
We come back from the break to see Miz hit Riddle with a diving ax handle. Miz tweaks his knee. Ziggler attacks Nakamura and goes to the top rope. Nakamura quickly kicks him and eliminates him! Nakamura and Riddle go at it. Nakamura hits a big kick, but Riddle soon eliminates him with a kick to the head. Miz rolls out of the ring to recover. Riddle and Ricochet go at it. Ricochet takes it to him and goes to the second rope for a springboard cross-body, but Styles dropkicks him out of midair! Styles then eliminates Ricochet.
It's down to Styles and Riddle, but Miz is still in this as well as he went under the bottom rope. Styles goes to the apron for a Phenomenal Forearm, but Miz pulls him off the apron to eliminate him. Riddle stuns Miz with a kick to the face. Miz goes for a Skull Crushing Finale, but Riddle gets out. Riddle hits a Randy Orton-style hanging DDT and drops down for the RKO. Miz counters the RKO into a Skull Crushing Finale! Miz charges Riddle against the ropes, but Riddle catches him with a hurricanrana onto the apron. They're both on the apron having gone over the top rope. Miz charges, but Riddle hits him with an RKO to eliminate him and win the match!
Winner: Riddle
---
The commentators say that Kevin Owens vs. a member of the Ezekiel family has been rescheduled.
---
Backstage: John Cena, The Street Profits
The Street Profits are backstage and are psyched to have John Cena back. John Cena appears in the segment with them. They're worried about facing The Usos. Cena tells them to never give up. Cena says they want the smoke. The Street Profits are pumped up.
---
Video: Wrestlers Talk About John Cena
Video Package: Shawn Michaels, The Big Show (now with AEW), Booker T, Daniel Bryan (also with AEW), Trish Stratus, and Triple H all pay tribute to 20 years of John Cena.
---
Backstage: Riddle
When you realize you're going to VEGAS this Saturday for #MITB!@SuperKingofBros #WWERaw pic.twitter.com/U0FJLq4W0m

— WWE (@WWE) June 28, 2022
Kevin Patrick is interviewing Riddle. Riddle dedicates the win to Randy Orton. John Cena gave him a good pep talk beforehand. Now, this bro is going to Vegas!
---
Jey Uso vs. Montez Ford
The bell rings, and they circle the ring before locking up. Uso powers Ford to the corner, but Ford ducks a right hand. Ford applies a side headlock, but Uso whips him off. Ford shoulder blocks him down and taunts Jimmy Uso at ringside. Ford hits the ropes, but Jey back elbows him in the jaw. Jey clubs him before whipping him to the corner. Ford slingshots over him and hits an arm drag. Jey gets to his feet and hits the ropes, but Ford leapfrogs him twice and hits another arm drag. Jey fights out of an armbar, but Ford quickly turns it back onto him. Ford taunts Jimmy, but Jey soon pulls him off. Ford immediately dropkicks Jey out of the ring. Jey rolls out of the ring to recover. Ford gets on the apron to kick him, but Jey sweeps the feet before sending him headfirst into the steel steps.
We come back from the break to see Jey punching away at Ford. Jey sends him to the corner, but Ford pops out with a big clothesline. Ford follows Jey into the ropes and hits another clothesline. Ford kicks and punches away at Jey, but Jey responds with a kick to the midsection and an uppercut. Ford comes back with a diving clothesline, a kip-up, and a standing moonsault for a near fall.
Jey sends Ford into the corner sternum-first and hits a back suplex into a neckbreaker for a near fall. Jey cannot believe it. Jey gets fired up and charges, but Ford superkicks him and hits a standing blockbuster for a near fall! Jimmy Uso distracts Ford, so Dawkins wipes him out. Jey hits Dawkins with a suicide dive, and Ford hits him with a suicide dive! Ford is fired up as he puts Jey in the ring. Ford hits a frog splash for the win!
Winner by Pinfall: Montez Ford
---
Backstage: Finn Balor, Damian Priest, The Mysterios
The #JudgmentDay has a message for The Mysterios! #WWERaw@reymysterio @DomMysterio35 @FinnBalor @ArcherOfInfamy pic.twitter.com/VY7vtKe3wh

— WWE (@WWE) June 28, 2022
Finn Bálor and Damian Priest approach Rey and Dominik Mysterio. Bálor and Priest talk about how they're taking over this company. Rey is coming up on 20 years, but his son is disappointing. Maybe it's not that Dominik is bad. Maybe he has a bad father. They quickly walk off. Rey Mysterio challenges them to a tag team match next week on Raw in San Diego. San Diego is the hometown of The Mysterio Family.
---
Video: John Cena Retrospective
What's your favorite @JohnCena moment?#CenaMonth #WWERaw pic.twitter.com/YLokpAZBAP

— WWE (@WWE) June 28, 2022
Video Package: A retrospective on the Hall of Fame career of John Cena
---
In-Ring: The Miz, AJ Styles
Kevin Patrick is in the ring and puts over John Cena. Patrick then introduces The Miz to the ring. Patrick mentions that Logan Paul is plotting a return to the ring. Miz says that he and Logan Paul will return as a tag team at SummerSlam. Patrick asks about their relationship and shows footage from WrestleMania of Miz giving Paul a Skull Crushing Finale after they beat The Mysterios. Miz says he's a major star. He'll be on The Today Show this Friday, and he has a hit TV show after Raw. Miz says he went up to Paul after WrestleMania and said that was a teaching moment. They will one day become the Tag Team Champions.
Patrick asks if Paul is disappointed that Miz didn't win the Battle Royal earlier tonight. Miz says AJ Styles is the disappointment. Patrick mentions that Styles accused Miz of having tiny balls. Miz flips out and tries to stop an extremely light "tiny balls" chant.
AJ Styles comes out to the ring and floors Miz with a right hand. Miz backs up in fear.
The Miz vs. AJ Styles
The bell rings, and Styles immediately goes after The Miz. Styles punches and kicks him around the ring. Styles sends him into the ropes, leapfrogs him, and hits a huge dropkick. Styles hits a backbreaker, and Miz starts to beg him off. Styles kicks him in the midsection. Miz reverses a whip and turns him inside out with a knee to the midsection. Miz hits a running boot to the head and sneers at the crowd. Miz chokes Styles on the ropes and rips at his face. Styles punches back at him, but Miz reverses a whip to the corner. Miz quickly follows up with his patented corner clothesline. Miz comes off the top rope with a diving ax handle for a two-count.
Miz goes to a chin lock. Styles quickly fights up and chops him. They fumble through an Irish whip spot, and Miz kicks him in the face. Styles sends him out of the ring and goes for a plancha, but Miz avoids it. Styles lands on the apron. Miz quickly pulls him away, bounces him off the apron, and flips him into the barricade.
We come back from the break to see Miz hit a kneeling DDT for a near fall. Miz kicks away at the chest, but Styles blocks it and makes a comeback. Styles takes him down and hits a grounded forearm. Styles slams Miz down and covers for a two-count. Styles sets up for a Styles Clash, but Miz counters out. Styles quickly hits an ushigoroshi for a near fall.
Miz chops the throat of Styles, but Styles quickly comes back with a punch. Miz avoids a Phenomenal Forearm and hits double knees to the face for a near fall. Miz has Styles on the top rope, but Styles slides out. Miz quickly kicks him in the knees and hits a Busaiku Knee Kick for a near fall. Miz goes for a Skull Crushing Finale, but Styles counters with a roll-up for a near fall. Styles hits a Pele Kick followed by a brainbuster. At some point in this exchange, Styles' nose and cheek got busted open. Styles sets up for a Phenomenal Forearm, but Miz gets out of the ring and intentionally gets counted out! Styles is furious.
Winner by Count-Out: AJ Styles
---
Backstage: John Cena, Ezekiel, Theory
Ezekiel is backstage with John Cena. Cena is excited to meet him and asks about Elias. Ezekiel says Elias is somewhere with Elrod. Ezekiel wants to Walk With Elias and Trod with Elrod, but he wants the world to Speak with Zeke. Cena tells him to not forget who he is. Ezekiel is excited and walks off.
United States Champion Theory walks up to Cena and gets in his face. Theory says Cena should already know who he is. He's here every week holding it down. He's the youngest United States Champion in WWE history at 24. At 24, Cena wasn't even in WWE. Theory says he's one-upped Cena and goes for a selfie, but Cena walks off.
---
Video: Wrestlers Talk About John Cena
Video Package: Kurt Angle, Randy Orton, John "Bradshaw" Layfield, Chris Jericho (with AEW), WWE Chairwoman and CEO Stephanie McMahon, and "Stone Cold" Steve Austin pay tribute to John Cena.
---
In-Ring: Bianca Belair, Carmella
Replays are shown of Carmella becoming the #1 Contender for the Raw Women's Championship last week.
Kevin Patrick is in the ring with Raw Women's Champion Bianca Belair. He asks about facing Carmella on Saturday. Belair wishes Carmella was out here because she'll say what she wants to say to her face, unlike how Carmella acts. Belair isn't happy that Carmella gave her a cheapshot last week. No one respects Carmella. It's not because she's not good. Carmella doesn't respect herself. She's been in the ring with Carmella and knows she has the potential to be great. She better bring it at Money in the Bank. Belair doesn't want to wait until Vegas. Belair wants to fight in Texas.
Carmella comes out to the stage and says Belair is wrong. She's not insecure at all. She's smart. She's got it all – beauty and brains. The WWE Universe doesn't respect her because of how she looks. She's the total package and won't apologize for that. Carmella gets in the ring and says her resume speaks for itself. She's going to take the respect like she'll take Belair's title on Saturday. Mella is Money. Belair holds the title up, but Carmella walks off.
Kevin Patrick asks Belair if she respects Carmella. Belair turns and blocks a kick from Carmella before knocking her out of the ring.
---
Backstage: Liv Morgan, Alexa Bliss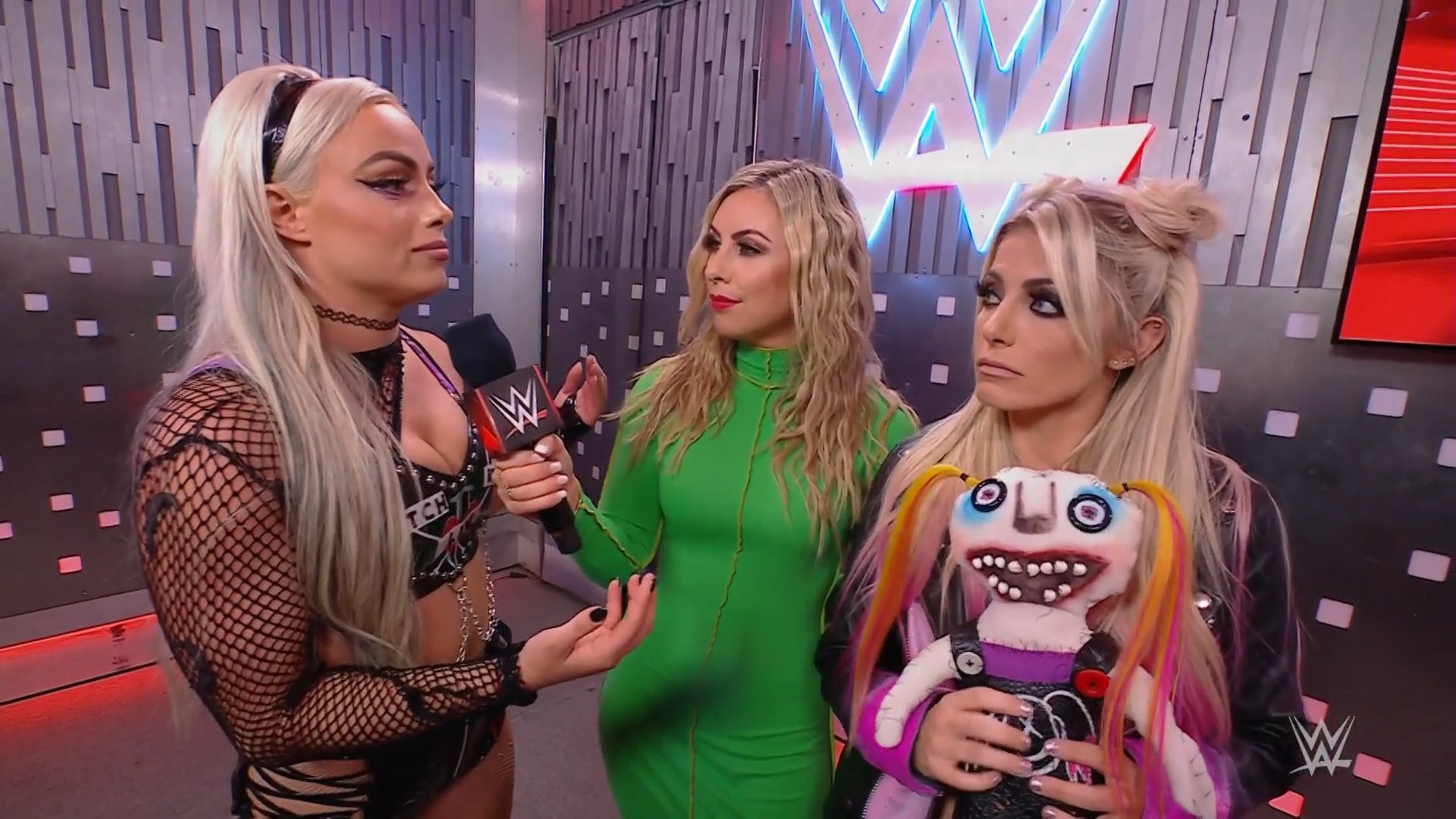 Sarah Schreiber is backstage with Liv Morgan and Alexa Bliss. Bliss says she's friendly with Morgan, but she doesn't have friends here. Morgan is athletic and resilient. She'll be a champion one day, but not this Saturday. Bliss wants to win Money in the Bank and get Lilly a little matching briefcase. Morgan says they're not friends. Friends lift each other up. Morgan is going to win the contract and change her life forever. If she's learned something from John Cena over the last 20 years, you have to let someone know their time is up. Morgan says her time is now. Morgan says she'll beat Bliss tonight as well. Bliss says that's not going to happen and puts Lilly in her face. Morgan tells Bliss to watch her.
Liv Morgan vs. Alexa Bliss
Asuka will be on commentary for this match.
They exchange some wrestling holds to start the match. Soon, Morgan hits a running back elbow in the corner. Morgan tries again, but Bliss knocks her back. Bliss goes for Insult to Injury, but Morgan avoids the standing moonsault. They then take each other out. Morgan elbows Bliss back and goes for a missile dropkick, but Bliss avoids it. Bliss hits a low dropkick for a one-count. Morgan soon surprises Bliss with a roll-up for the win.
Winner by Pinfall: Liv Morgan
---
In-Ring: Vince McMahon, John Cena
Mr. McMahon makes his way to the ring. He'll introduce John Cena and celebrate his 20 years with WWE next.
Vince McMahon welcomes John Cena to the ring. The WWE roster lines the ramp and claps for the legend as he makes his entrance. The crowd loudly cheers as Cena gets in the ring. McMahon is gone.
Cena stands in the ring, and the crowd chants his name. Cena says it's a raucous group here tonight. Today is his WWE birthday. You can feel the energy and hear the noise. There's no better place to have his birthday. Cena gets a kick out of a sign that says, "20 years of jorts." Cena points out a 6-year-old and says he's been doing this 14 years longer than he's been alive.
Cena doesn't celebrate milestones because he loves looking forward. Tonight is for the crowd. This 20th anniversary is so important for him. It means they've allowed him to do this for two decades. It's never lost on him that every time he stands in the ring is because they allow it. Over the years, they've created an environment for him to be his true self. They're also brave enough to tell him when he sucks and kind enough to tell him when he doesn't. A "Thank you, Cena" chant picks up. Cena says his heart is beating out of his chest. Cena thanks the crowd for making him who he is. WWE has prepared him for anything. Cena isn't talking about Fast and Furious or Peacemaker. Cena means it's the crowd and their reactions. They have made him a better human being. Cena is a better professional, husband, and person. Being in WWE has taught him empathy, caring, kindness, humility, and perseverance. Every time you step in this ring, you give nothing less than all you have. Every time they come into the arena, they shower them with everything they've got.
It's been 20 years and he's 45 years old. Cena doesn't know when they'll see him in the ring again. He's not saying they won't, but he doesn't know when that will be. Cena needs to say this now. It won't just be one more match. Anything he does outside of WWE is never just him. It's about us coming together. It's all about "we." Whether you're watching at home or in Texas (Cena stops to get Laredo fired up). They never give up. We're just getting started. If you want some, come get some. Cena goes up the ramp and gives away his hat and t-shirt. The 45-year-old is starting to sport a bald spot, but his physique is 20 years behind his age still.
---
2-on-1 Handicap Match
Bobby Lashley vs. Alpha Academy
Special Enforcer: Theory
Bobby Lashley starts against Otis. Lashley cannot shoulder block Otis down, so he kicks him in the knees. Lashley signals for a suplex, but Theory jumps on the apron. Lashley shoves Otis away and swings at Theory. Theory avoids him. Lashley walks into a somersault bomb off the apron from Gable. Otis then hits a big splash.
We come back from the break to see Lashley make a comeback against Gable. Lashley goes for a superplex, but Otis blind tags in and powerbombs him. Gable hits a top rope moonsault, and Otis covers for a near fall. Otis avalanches Lashley and sets up for a Vader Bomb, but Lashley attacks. Lashley has Otis up in the electric chair and hits an electric chair drop! Unreal! Gable jumps into a Hurt Lock and submits!
Winner by Submission: Bobby Lashley
Theory immediately chop blocks Lashley. Theory attacks him, but Lashley makes a comeback. Lashley hits Otis with a flatliner and gives Gable a Spear. Theory escapes before Lashley can attack. The crowd was chanting for John Cena.
---
Segment: Cody Rhodes
Photos are shown of the nasty bruised chest of Cody Rhodes from Hell in a Cell. Replays are shown of Rollins attacking him the next night on Raw with a sledgehammer.
Cody Rhodes is shown at his gym. Rehab isn't fun, but it pales in comparison to his status three weeks ago. Rhodes was at the height of his career having won at Hell in a Cell, he wanted to parlay that into a Money in the Bank victory. However, that sledgehammer took him out for nine months. Rhodes wants to be in the match and says it's the most talented group in the history of the match. Rhodes talks about the people in the match, including Rollins. Rollins had the biggest cash-in ever. If Rollins wins and cashes in to get the title. He's not rooting for anyone, but if Rollins wins and cashes in, he'll be the first to congratulate him.
---
Backstage: John Cena, Seth Rollins, Omos, MVP
John Cena is talking to a stagehand when Seth "Freakin" Rollins comes up laughing to the tune of Cena's music. Rollins reminds Cena of when he broke his nose. Rollins says Cena looks great and gave an incredible speech. They've had a lot of ups and downs through the years, but they have a lot in common. They're both international megastars, fashion icons, and winners of the Money in the Bank contract. Rollins says Cena failed miserably on his cash-in. When Rollins cashed in his, even Cody Rhodes knows it was the best cash-in of all time. History will repeat itself on Saturday.
Rollins turns and sees Omos and MVP. MVP says he's also a visionary. He has a vision of The Nigerian Giant standing in the ring amidst a sea of broken ladders and bodies raising the Money in the Bank briefcase up above his head. Omos is inevitable. No one can stop him. The camera zooms out and Cena looks stunned by Omos. Cena sarcastically wishes Rollins luck.
---
Money in the Bank Qualifier Last Chance Elimination Match
Becky Lynch vs. Doudrop vs. Nikki A.S.H. vs. Xia Li vs. Shayna Baszler vs. Tamina Snuka
The bell rings, and they all go after Becky Lynch. Doudrop and Nikki do a double-team. They then attack Tamina. Tamina puts Nikki on the apron and forearms her off. Tamina kicks Doudrop back and head-butts her. Doudrop and Tamina trade right hands. Tamina head-butts her twice. Doudrop quickly puts her on the apron and punches her to the floor. Lynch knees Doudrop in the face and hits a somersault seated senton for a two-count. Li rolls Lynch up for a two-count. Li knees Lynch, but Nikki rolls her up. Li rolls through and kicks her. Lynch hits Li with a Manhandle Slam for the elimination.
Xia Li has been eliminated by Becky Lynch.
Nikki hits a running cross-body block on Lynch. Nikki drops some elbows for a two-count. Nikki hits the ropes, but Baszler pulls her out of the ring. Lynch rolls Baszler up for a two-count. Doudrop attacks Baszler from behind. Doudrop powers Baszler into Lynch and slams her down. Doudrop hits a cannonball on Baszler. Lynch sidesteps an avalanche from Doudrop. Tamina runs in and knocks Lynch away. Nikki pushes Tamina into a Missile Dropkick. Lynch quickly applies a Dis-Arm-Her to Nikki for the submission.
Nikki A.S.H. has been eliminated by Becky Lynch.
Lynch and Baszler are going at it as we return from the break. Lynch gets Baszler out of the ring. Baszler avoids a baseball slide and punches Lynch back. Lynch hits a Bexploder on Baszler into the barricade. Lynch goes for one on Tamina, but Doudrop avalanches them.
Doudrop gets Baszler in the ring. As she gets in, Baszler kicks her in the face for a near fall. Tamina goes to the top rope, but Baszler kicks her. Baszler goes for a superplex, but Lynch joins in. Doudrop then runs up, and we've got the Tower of Doom spot.
Baszler eventually gets up and goes for a Kirifuda Clutch on Doudrop. Tamina quickly boots Baszler. Baszler applies a heel hook to Tamina. Doudrop then splashes Baszler for the elimination.
Shayna Baszler has been eliminated by Doudrop.
Lynch runs in and attacks. She attacks Tamina, but Tamina hits a Samoan Drop. Tamina goes to the top rope, but she misses a Superfly Splash. Doudrop scoop slams Lynch on the floor at ringside and hits a senton splash. Doudrop gets in the ring and attacks Tamina. We're running out of time on Raw. Doudrop hits a diving elbow on Tamina for the elimination.
Tamina has been eliminated by Doudrop.
Doudrop quickly gets Lynch in the ring. The crowd chants, "Becky." Doudrop quickly slams her and goes for a Vader Bomb, but Lynch moves. Doudrop powers her to the corner to get out of a Manhandle Slam. Doudrop puts her on the ropes, but Lynch hits a Manhandle Slam off the second rope for the win.
Winner by Pinfall: Becky Lynch
Becky Lynch will be in the Women's Money in the Bank Ladder Match.