WWE SummerSlam
August 20, 2017
Brooklyn, NY – Barclays Center
---
Kickoff Show Match
Jason Jordan and The Hardy Boyz vs. The Miz, Bo Dallas and Curtis Axel
This match started at about 5:20 PM ET and the seats looked like they were still about 75% empty. Barely any crowd noise. Towards the end of the match, everyone took each other out. Jason Jordan was left in the ring with Curtis Axel and he hit him with a belly to belly suplex, then went for his finisher, but Miz had slapped Axel's back for the tag and came up from behind Jordan and hit him with the Skull Crushing Finale for the win. Extremely forgettable match.
Winners: The Miz, Bo Dallas and Curtis Axel (~11 minutes)
---
Kickoff Show Match
WWE Cruiserweight Championship
Akira Tozawa (c) vs. Neville
The crowd finally came in and was pretty full for this match. Tozawa eventually went for a top rope senton, but Neville got his knees up. Neville then hit the Red Arrow on Tozawa to recapture the Cruiserweight Championship. Decent match.
Winner and new Cruiserweight Champion: Neville (~12 minutes)
---
In-Ring: Elias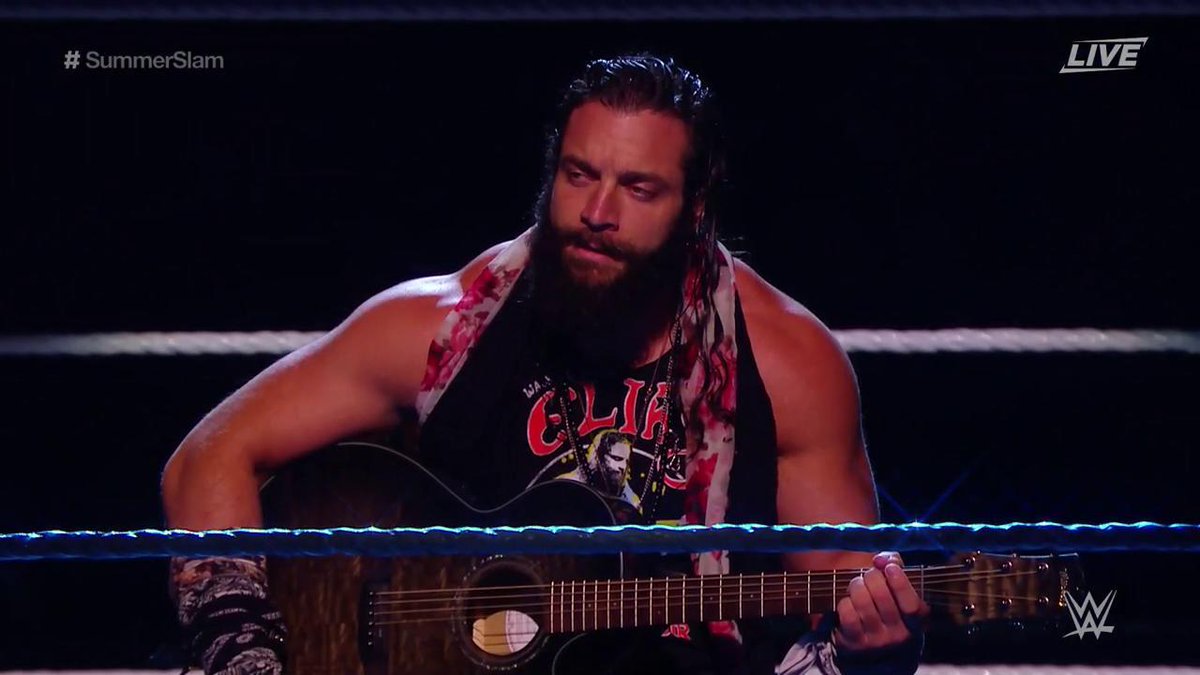 Elias was in the middle of the ring with his guitar and a spotlight and sang a song:
"The bright lights are so blinding / in the city that never sleeps / skies as grey as sidewalks / the people are dirtier than the streets / from the Bronx to Staten Island / to Queens / but worst of all is Brooklyn / on that we can all agree / Hey, hey, Elias / I've always got a plan / what it needs is / what I am"
The crowd chanted "one more time" and Elias said he had been working on another song. The crowd popped big.
"Brooklyn's had some characters / from Biggie to Jay Z / but they're just hip hop wannabees / they can't measure up to me / now this city's full of hipsters / with their t-shirts two sizes too small / hey Brooklyn one more question / when did you all lose your balls? / Hey, hey, Elias / I've said it once and I'll say it again / what it needs, Brooklyn / is what I am"
---
Segment: Carmella and James Ellsworth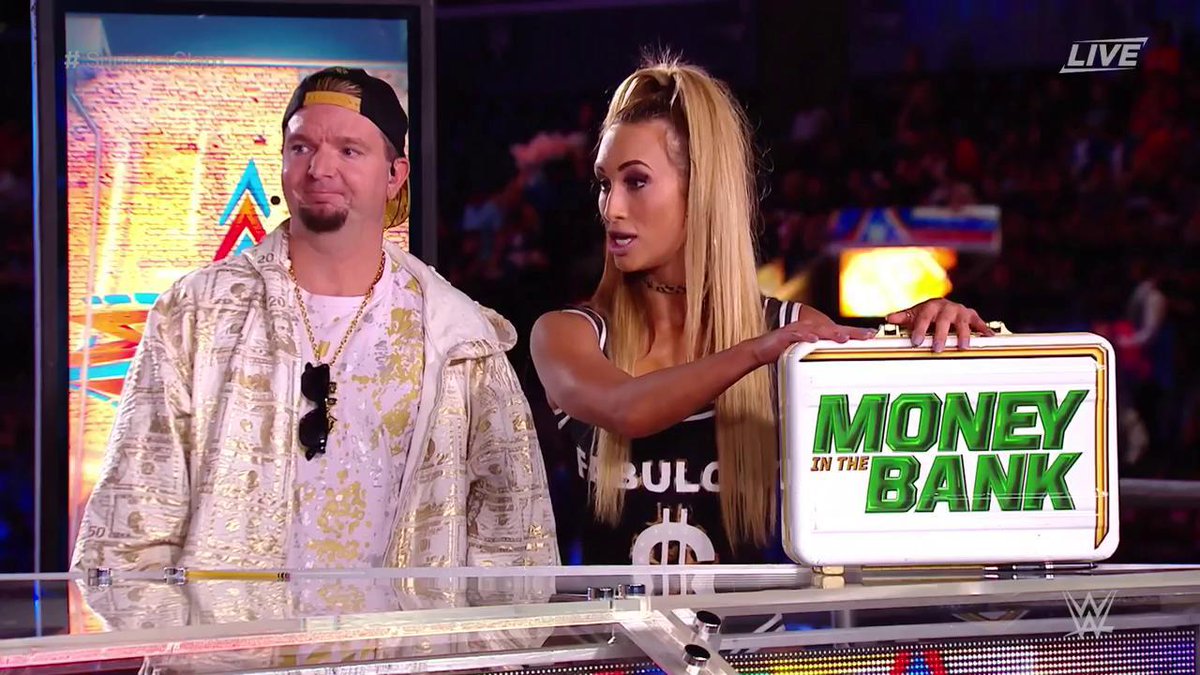 Carmella and James Ellsworth joined the Kickoff Show desk with Renee Young, Jerry Lawler and that other guy. Not the guy with the big hair, the one with the shaved head. Ellsworth and Carmella got a pop from the crowd.
---
Backstage Promo: Jinder Mahal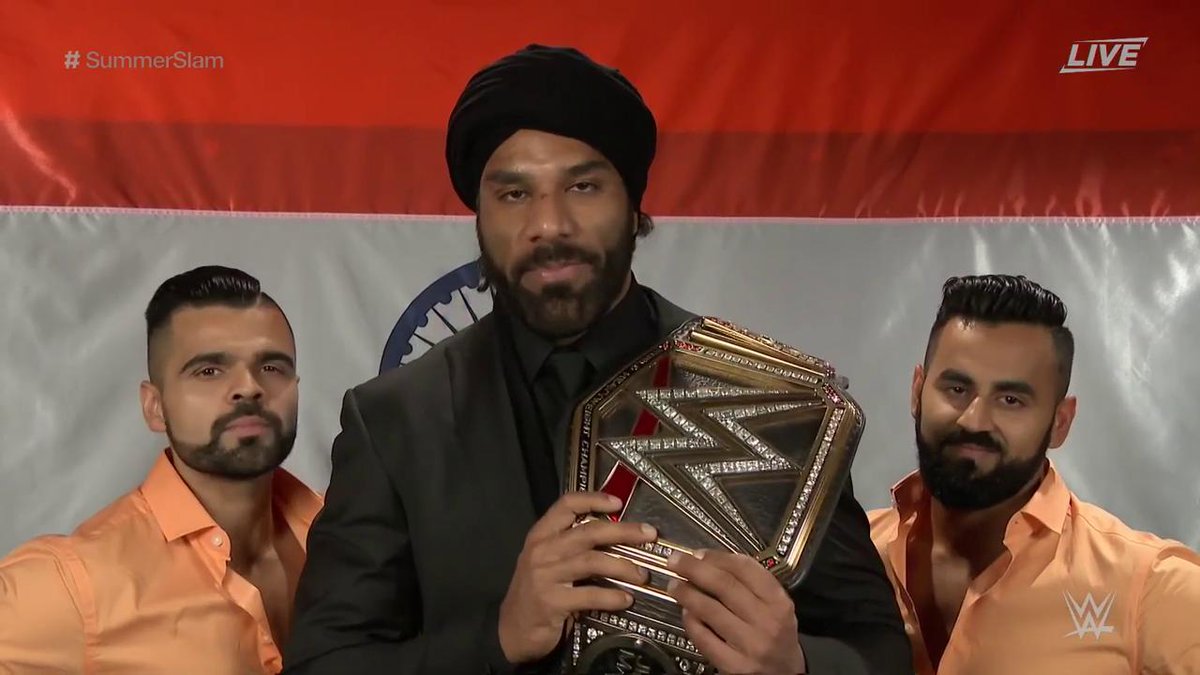 The Singh Brothers introduced Jinder Mahal, who cut a promo saying the usual things that he says. He said he would silence all the ignorant xenophobes tonight, then spoke to his people in his language, etc.
---
Kickoff Show Match
WWE SmackDown Tag Team Championship
The New Day (c) vs. The Usos
Kofi Kingston cut a long, unbearable promo before the match about why Brooklyn is important to The New Day. Big E and Xavier Woods wrestled. The Usos dominated Xavier Woods for a few minutes until Big E came in and "cleaned house," etc. They did a pretty cool spot where Xavier Woods lifted Big E on his shoulders and Big E hit a splash on one of the Usos. A couple of near falls got the crowd loud. Woods hit a tornado DDT on the outside on Jimmy Uso, then the New Day hit their finisher on Jey, but Jimmy broke it up at the last second. Xavier Woods was thrown over the top rope onto the other Uso who caught him and immediately hit him with a Samoan Drop on the outside. Kofi checked on Xavier, but was thrown into the steel steps.
Big E hit a spear onto Jey Uso, knocking him outside. He brought him back into the ring, but Jimmy Uso made a tag and they double teamed Big E, hitting him with a bunch of super kicks. They then hit a double top rope splash onto Big E for the win. Good match.
Winners and new WWE SmackDown Tag Team Champions: The Usos (~19 minutes)
---
Segment: KFC Commercial and Shawn Michaels
There's a new @KFC Colonel in town… and his name is @ShawnMichaels! #SummerSlam pic.twitter.com/TdMEMQLuU6

— WWE (@WWE) August 20, 2017
They did a KFC commercial with different wrestlers auditioning to be the new Colonel Sanders. Dolph Ziggler, Enzo Amore, Goldust, Big Show, Mojo Rawley, Becky Lynch, Heath Slater, R-Truth.
Suddenly, Shawn Michaels came out to the ring dressed as Colonel Sanders, with the KFC logo on the titantron. He made his entrance to his HBK music and did his pose in the ring… wtf… Jesus
---
Backstage: Paul Heyman and Braun Strowman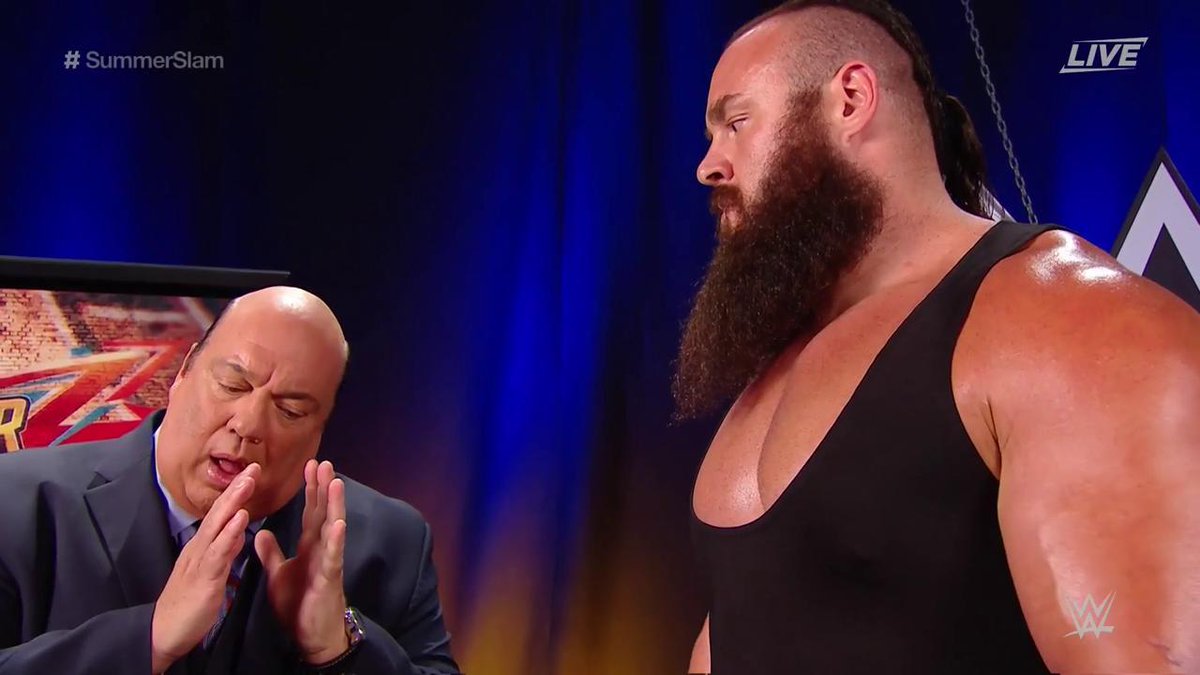 Backstage, Paul Heyman cut a promo hyping up Brock Lesnar, but Braun Strowman showed up and said Heyman talks to much. Heyman cowered and ran away.
---
John Cena vs. Baron Corbin
Corbin screamed at the crowd as he took control of the match. The crowd chanted "Where's your briefcase?" After a few minutes, Cena hit the five knuckle shuffle then bounced off the ropes, but Corbin hit him with a Deep Six for a near fall. Corbin took off his shirt and angrily pounded on Cena. Corbin ran at Cena, but Cena threw him aside. Corbin slid out of the ring and tried to quickly run in from the other side to blindside Cena, but Cena nailed him with a clothesline, then an AA for the win. Poor Corbin.
Winner: John Cena (~10 minutes)
---
WWE SmackDown Women's Championship
Naomi (c) vs. Natalya
Natalya controlled most of the match early on. Carmella and James Ellsworth were shown watching backstage. Naomi tried to lock on a submission hold, but Natalya reversed it and locked on the Sharpshooter. Naomi almost tapped but was able to break free and Natalya slammed her head on the turnbuckle. Naomi went for a split-legged moonsault, but Natalya got her knees up, then locked on the Sharpshooter again and Naomi tapped. Natalya won her second women's championship, with her first being six years ago.
Winner and new WWE SmackDown Women's Champion: Natalya (~11 minutes)
---
Enzo Amore Suspended in a Shark Cage
Big Cass vs. Big Show
Enzo Amore came out first and made a bunch of pandering Brooklyn references to the crowd, etc. The promo kept going on and on and on again for some reason, but Big Cass's music finally broke it up. By the time Cass got to the ring, Enzo was in the shark cage and it was raised up as he trash talked Cass. Big Show came out with a cast around his right arm, which was "broken" by Cass and Anderson and Gallows on Raw.
Enzo continued to taunt and scream things as Cass from inside the cage. Big Show dominated the match early, but eventually hit Cass with a side slam and landed on his "broken" hand. Cass then went to work on his hand, stomping at it, etc. The crowd was basically dead. Cass locked on an arm bar and the crowd started chanting "boring." Big Show finally fought back and hit a chokeslam, but Cass kicked out. Cass then regained control.
Enzo Amore tried to squeeze out of the cage, but couldn't make it. He then went down to his boxers and pulled out a bottle of grease or something, then greased himself up and squeezed out of the cage in a cartoon-like manner… lol. He landed in the ring, but was immediately hit with a big boot by Cass.
Cass hit a big boot on Big Show, but Show kicked out. Cass then hit the Empire Elbow for the win.
Winner: Big Cass (~8 minutes)
---
Backstage: Kurt Angle and Daniel Bryan
Backstage, Daniel Bryan and Kurt Angle had a friendly argument about which brand would steal the show tonight.
---
Randy Orton vs. Rusev
Rusev attacked Orton out of nowhere during Orton's entrance. Rusev then pounded away at Orton for a bit before the match officially started. Rusev rolled Orton into the ring and the referee called for the bell to start the match. Orton then hit an RKO immediately out of nowhere and pinned Rusev for the win in about 10 seconds. Didn't feel like watching an Orton match right now so whatever.
Winner: Randy Orton (~10 seconds)
---
Backstage: Sasha Banks and Bayley
Sasha Banks was shown walking backstage. She ran into Bayley, who got huge boos from the crowd. Damn. Bayley hugged Sasha and wished her good luck.
---
WWE Raw Women's Championship
Alexa Bliss (c) vs. Sasha Banks
Alexa dominated the first few minutes of the match. Alexa tried to do her sunset flip powerbomb in the corner, but Sasha blocked it and slammed Alexa's head into the turnbuckle, finally allowing her to take control. Sasha then hit the backstabber and locked on the Bank Statement, but Alexa grabbed the ropes and rolled out of the ring. Sasha went to the apron, but Alexa pulled the ring skirt, tripping up Sasha and sending her tumbling outside. Alexa threw Sasha outside again and Sasha sold an injured shoulder. Alexa then started to work on Sasha's hurt shoulder. She went to the top and hit Twisted Bliss, but Sasha kicked out.
Alexa went to pick Sasha up, but Sasha locked on the Bank Statement again. Alexa hit Sasha's shoulder to try to break free, but Sasha locked it on again and Alexa tapped… Damn.
Winner and new WWE Raw Women's Champion: Sasha Banks (~13 minutes)
---
"The Demon" Finn Bálor vs. Bray Wyatt
Finn Balor made his "Demon" entrance to a good reaction from the crowd. Very basic Bray Wyatt match. Wyatt controlled most of the match and did his upside down crab walk thing but Balor got up and hit him with the Sling Blade, then hit the Coup de Grace off the top for the win. The New Day vs. Usos match has probably been the only match that wasn't mediocre/bad so far imo.
Winner: Finn Bálor (~10 minutes)
---
WWE Raw Tag Team Championship
Cesaro and Sheamus (c) vs. Dean Ambrose and Seth Rollins
A few minutes into the match, Cesaro ran into the crowd and grabbed a beach ball and tore it up, which got a huge pop from the crowd. Cesaro and Sheamus beat down Seth Rollins for a few minutes until Ambrose got the hot tag, blah blah. Every match is the same. Ambrose and Rollins did a double suicide dive onto Cesaro and Sheamus on the outside. Ambrose hit a superplex onto Sheamus and Rollins hit a top rope splash for a near fall.
Ambrose went for Dirty Deeds, but Cesaro blocked it and did his swinging thing, then locked on the Sharpshooter, then turned it into a crossface, but Ambrose escaped. Cesaro lifted Ambrose up and Sheamus hit him with a clothesline off the ropes, but Ambrose kicked out again. Cesaro and Sheamus hit a double Razor's Edge on Ambrose, but Rollins broke it up.
Sheamus picked up Ambrose for White Noise and Cesaro went to the middle rope, but Rollins came out of nowhere and hit a top rope frankensteiner on Cesaro, sending him into Sheamus. Rollins then hit a superkick on Cesaro and Sheamus, then hit his rainmaker knee onto Sheamus, followed by Ambrose hitting the Dirty Deeds on Sheamus for the win. This ended up being a good match. All five title matches have had title changes so far.
Winners and new WWE Raw Tag Team Champions: Dean Ambrose and Seth Rollins (~18 minutes)
---
WWE United States Championship
Shane McMahon as Guest Referee
AJ Styles (c) vs. Kevin Owens
After a few minutes, AJ Styles went for the springboard 450 splash, but Kevin Owens pulled Shane McMahon onto him and Styles landed on Shane. Styles checked on Shane, which allowed Owens to hit Styles with a pop up powerbomb for a near fall. Kevin Owens got in Shane McMahon's face for not counting fast enough. Shane McMahon is really red and sweaty.
Owens kicked Styles into Shane McMahon, knocking Shane out of the ring. Styles put a leg lock on Owens, who tapped, but Shane was outside. Shane got back into the ring and Styles got in his face and yelled at him, leading Shane to shove Styles into a rollup by Owens. Shane did a quick count, but Styles kicked out.
Owens hit a big suplex off the middle rope, but Styles kicked out. After some quick reversals, Styles nailed Owens with a Styles Clash, but Owens kicked out. Styles went for a Phenomenal Forearm, but missed, and Owens hit him with a pop up powerbomb. He went for the pin and Shane counted to 3, but Styles's foot was on the bottom rope. Shane saw it and quickly called off the 3 count. Owens thought he won and demanded his belt, then started screaming at Shane. He got in his face again, but Shane shoved him down and Styles rolled him up, but only got a 2 count.
Styles nailed the Phenomenal Forearm followed by the Styles Clash for the win.
Winner: AJ Styles (~17 minutes)
---
WWE Championship
Jinder Mahal (c) vs. Shinsuke Nakamura
Shinsuke Nakamura got a cool live violinist entrance. The Singh Brothers then came out and introduced Jinder Mahal. Jinder is cool…
It was a pretty even match for the first few minutes. Jinder suddenly went for the Khallas, but Nakamura broke free and nailed Jinder with a knee strike. The Singh Bros ran into the ring but Nakamura took out both of them. Jinder then came up from behind and hit the Khallas for the 1-2-3… OK… Crowd looked stunned at that abrupt, shitty ending.
Winner: Jinder Mahal (~11 minutes)
---
WWE Universal Championship
Fatal 4-Way Match
Brock Lesnar (c) vs. Braun Strowman vs. Roman Reigns vs. Samoa Joe
Braun came out first, then Joe (big pop and "Joe" chant), then Reigns (loud boos), then Lesnar. About a minute in, Lesnar hit a German suplex on Roman Reigns, then one on Samoa Joe. Braun Strowman then came into the ring and faced off with Lesnar, but Reigns and Joe came back in and broke it up. Reigns and Joe were knocked out again and Strowman faced off with Lesnar again. Strowman picked Lesnar up and threw him into the corner, then knocked him out of the ring.
On the outside, Samoa Joe locked on the Coquina Clutch on Lesnar. Roman Reigns ran and went for a spear, but Joe moved and Reigns speared Lesnar through the barricade. Joe then picked Reigns up and threw him down onto the announce table. Strowman then clotheslined Joe over the announce table. Strowman picked Brock Lesnar up and powerslammed him through the announce table! Sweet. Crowd was on their feet and chanted "Strowman."
Roman Reigns then attacked Strowman, but Joe dived through the ropes and took out Reigns. Strowman then picked up an announcer's office chair and threw it at Joe and Reigns. Strowman picked Lesnar up and powerslammed him through the other announce table. So sweet… Crowd chanted "one more table."
Strowman picked up the third annnounce table and flipped it completely over right on top of Brock Lesnar. Crowd chanted "holy shit." Medical personnel, Paul Heyman, and referees ran down to check on Lesnar and picked the announce table off of him as Paul Heyman screamed. Crowd chanted "this is awesome."
Medics brought a stretcher down for Brock Lesnar and Lesnar was placed on top of it and carted off through the crowd and backstage. Crowd sang "na na na na, hey hey hey, goodbye."
Strowman picked up the steel steps over his head and nailed Samoa Joe and Roman Reigns. He threw the steps into the ring, but Reigns picked them up and nailed Strowman with them a few times, knocking him out of the ring. Joe came in and fought Reigns. Reigns went for a Superman Punch, but Joe moved and locked on the Coquina Clutch. Strowman came in and chokeslammed both men. Strowman was bleeding from near his ear, likely from behind hit in the head with the corner of the steps by Roman Reigns.
Suddenly, Brock Lesnar walked down the aisle to a big pop, swatting away officials and medical staff. He speared Strowman and clotheslined him out of the ring. German suplex on Reigns, then one on Joe. Strowman came in and went for another Powerslam, but Lesnar broke free and went for a German Suplex, but Strowman broke free. Roman Reigns hit a superman punch on Strowman, Lesnar, and Joe, then nailed Lesnar with a spear, but he kicked out…
Roman Reigns set up for another spear, but Joe came up from behind and locked on a Coquina Clutch. Strowman broke it up and hit Joe with a big powerslam, but Lesnar dragged the referee out of the ring. Superman punch on Lesnar on the outside. Superman punch onto Strowman, but Strowman kicked out. Spear attempt by Reigns, but Strowman hit him with a big boot, then a running powerslam, but Lesnar broke up the pin.
Lesnar went for an F5 on Strowman, but Strowman broke free and went for a Powerslam, but Reigns hit a spear onto Strowman. Lesnar went for an F5 on Reigns, but Joe broke it up, throwing Reigns out of the ring. Coquina Clutch on Lesnar, but Lesnar broke free and hit an F5 on Joe, but Reigns broke it up. Jesus.
Superman punch on Lesnar, then another, then a third. Reigns went for a spear, but Lesnar picked him up and hit an F5. 1-2-3. Crazy match.
Winner: Brock Lesnar (~20 minutes)