TLC: Tables, Ladders & Chairs
October 22, 2017
Minneapolis, Minnesota – Target Center
Commentary: Michael Cole, Corey Graves, Booker T
---
Backstage: Kurt Angle, Jason Jordan, Elias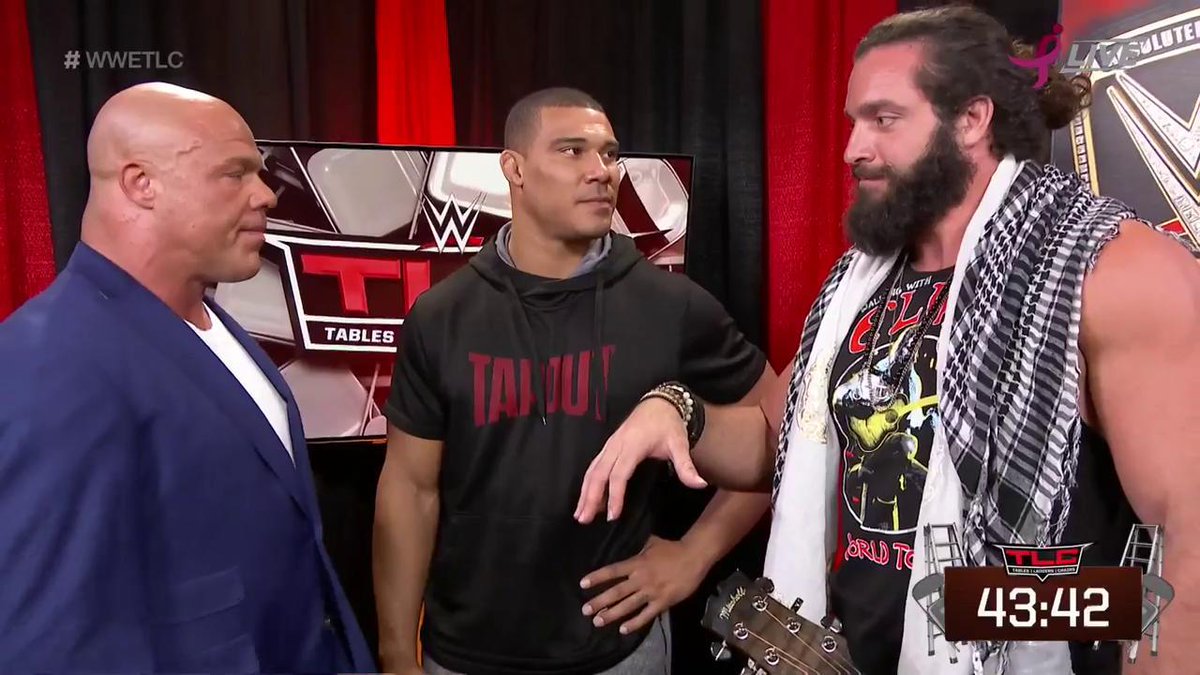 Backstage, Kurt Angle was talking to Jason Jordan and said that when he heard that Roman Reigns couldn't compete, he personally wanted to step in. Jason Jordan said that he was an inspiration. Elias walked in and said that he was going to put on an amazing performance tonight. Jason Jordan was annoyed and he and Elias got in each other's face before Elias left.
---
Kickoff Panel: Drew Gulak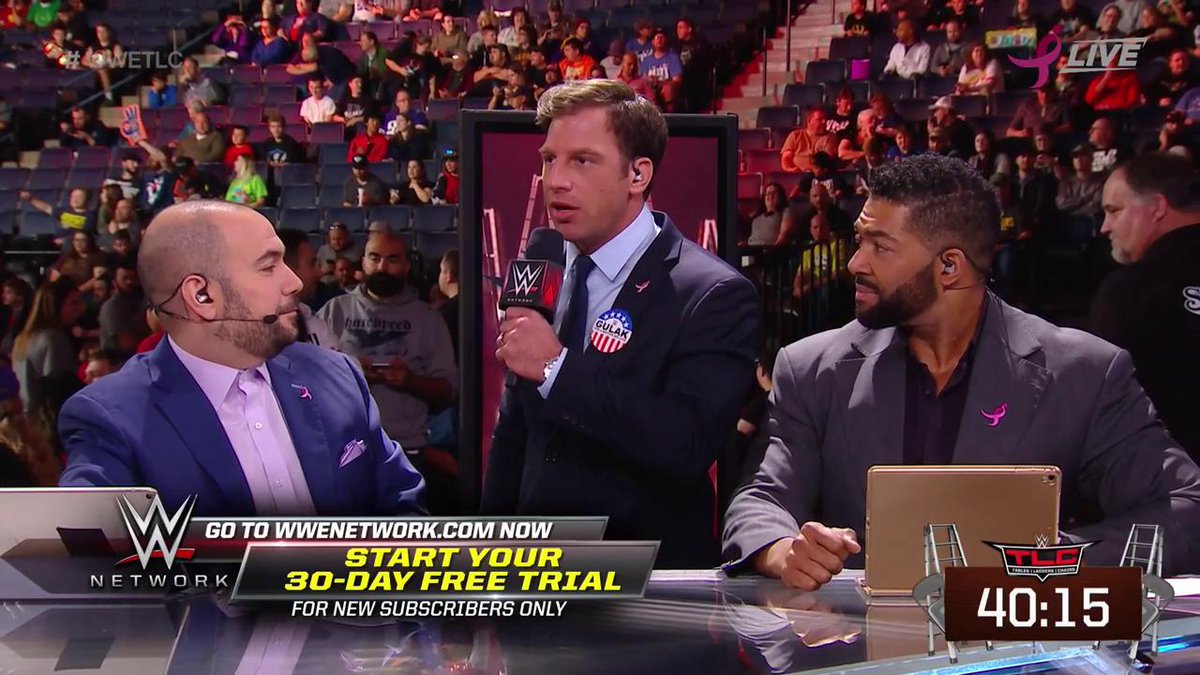 Drew Gulak came to the Kickoff Show panel with a megaphone and said that his Powerpoint presentation was cut for time by the powers that be. He began giving a speech about wanting a better 205 Live, but Renee Young cut him off because they were short on time.
---
Kickoff Match
Sasha Banks vs. Alicia Fox
Alicia Fox did a lot of trash talking, taunting and screaming in this match. Her character is actually pretty good imo. Alicia controlled most of the match, but Sasha hit her with a Backstabber and Bank Statement and Alicia tapped.
Winner: Sasha Banks (~11 minutes)
---
Asuka vs. Emma
Pretty big pop for Asuka's entrance and the crowd was way behind her throughout the match. Emma got in a decent amount of offense and it was about 50/50 in terms of control, but Asuka finally nailed her with a kick to the head then locked on the Asuka Lock and forced Emma to tap.
Winner: Asuka (~9 minutes)
---
Backstage: The Miz, Cesaro, Sheamus, Braun Strowman, Kane
Looks like EVERYONE wants a piece of @WWERollins, @TheDeanAmbrose, and @RealKurtAngle in tonight's #WWETLC #HandicapMatch! pic.twitter.com/pDLP38a5NF

— WWE (@WWE) October 23, 2017
The Miz, Cesaro and Sheamus were annoyed that Kurt Angle put himself in the match and said that their old GM, Mick Foley would have never let that happen. Braun Strowman showed up and said nobody better get in his way. Kane then showed up and said that he'll do whatever he wants.
---
In-Ring: Elias and Jason Jordan
It's raining 🍌🥕🌽🥔 all over @IAmEliasWWE's performance, courtesy of @JasonJordanJJ! #WWETLC pic.twitter.com/GBdMxuo0zu

— WWE Universe (@WWEUniverse) October 23, 2017
Elias was in the ring and did his usual schtick. He started to play the guitar, but was suddenly hit in the face with some celery. Elias said "not cool, guys" and continued to play, but he was hit with a barrage of other vegetables. The lights turned on and it was Jason Jordan with a shopping cart full of vegetables, tossing them at Elias. Jordan grabbed a banana and ate it, then walked off as Elias looked upset in the ring.
---
Cedric Alexander & Rich Swann vs. Gentleman Jack Gallagher & The Brian Kendrick
Vic Joseph and Nigel McGuinness were on commentary for this Cruiserweight match. Jack Gallagher is wearing his full outfit, including dress shoes that he has to wrestle in for some reason. Alexander and Swann did a bunch of cool flippy stuff early in the match, but Swann was eventually beaten down and the heels went to work on him for a while until he tagged in the hot man, Alexander. Swann nailed a nice Phoenix splash onto Kendrick, but Gallagher headbutted him, knocking himself down in the process. Cedric Alexander then hit the "Lumbar Check" on Kendrick (dropped him back-first onto his knees) for the win. Good match, with WWE allowing them to do a lot of high flying instead of having it just be a basic WWE match.
Winners: Cedric Alexander and Rich Swann (~8 minutes)
---
WWE Raw Women's Championship
Alexa Bliss (c) vs. Mickie James
Before the match, Alexa was interviewed backstage and cut a promo on Mickie James, saying she had a lot of great career moments in WWE, but those were the good old days and now her days weren't good, they were just old. Early in the match, Mickie James slapped Alexa's ass, angering her. After a few minutes of back and forth, Mickie went to the top rope, but Alexa knocked her down, sending Mickie crashing down on her shoulder. Alexa went to the top for Twisted Bliss, but missed. Mickie went to the top and hit a dropkick, but only got a 2 count. The crowd, which had been pretty into the match, suddenly started chanting "we want tables." Mickie went to grab Alexa in the corner, but Alexa pulled her arm down and slammed Mickie's face into the middle turnbuckle. Alexa then hit a DDT for the win.
Winner: Alexa Bliss (~11 minutes)
After the match, Mickie James was interviewed in the ring. She said she was disappointed, but she gave her heart and soul tonight and it won't be her last time in a women's championship match or as the women's champion.
---
Backstage: Kurt Angle, Dean Ambrose, Seth Rollins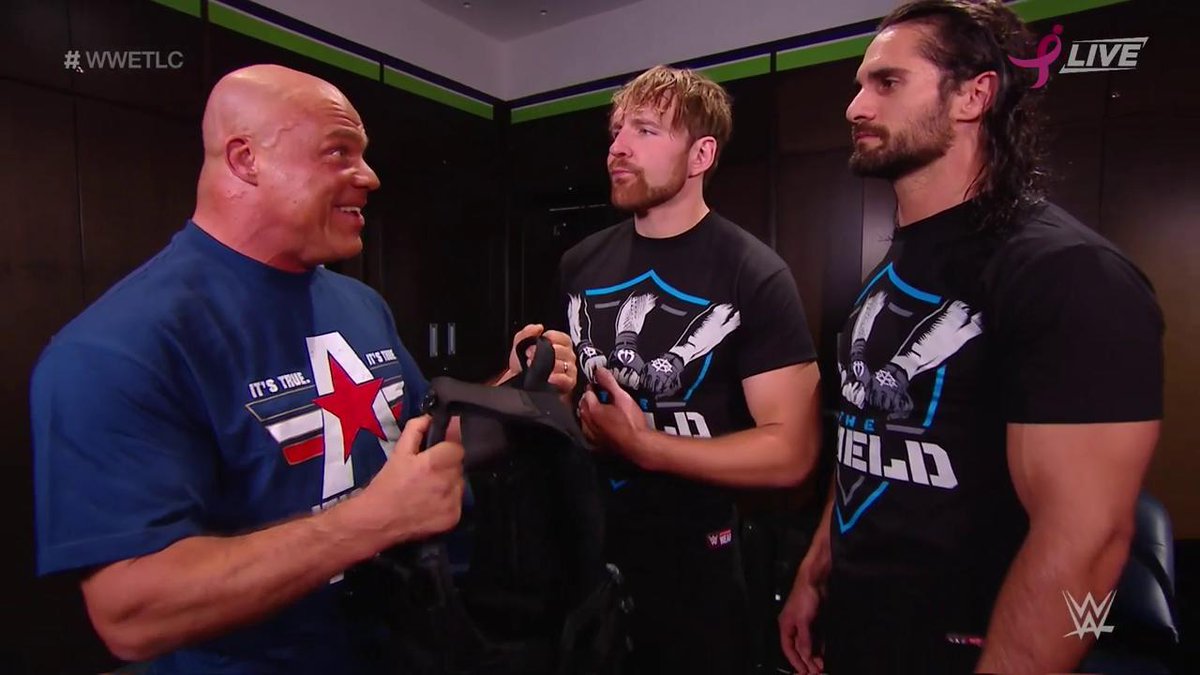 Backstage, Kurt Angle said that he knew Ambrose and Rollins wanted to fight 2-on-5, but he couldn't let them do that, and he didn't know how much he had left in him, but he was going to give it his best. Rollins stopped him and handed him a Shield vest, making him an honorary Shield member. Angle said "Oh, you can believe that" and Ambrose rolled his eyes.
---
In-Ring: Elias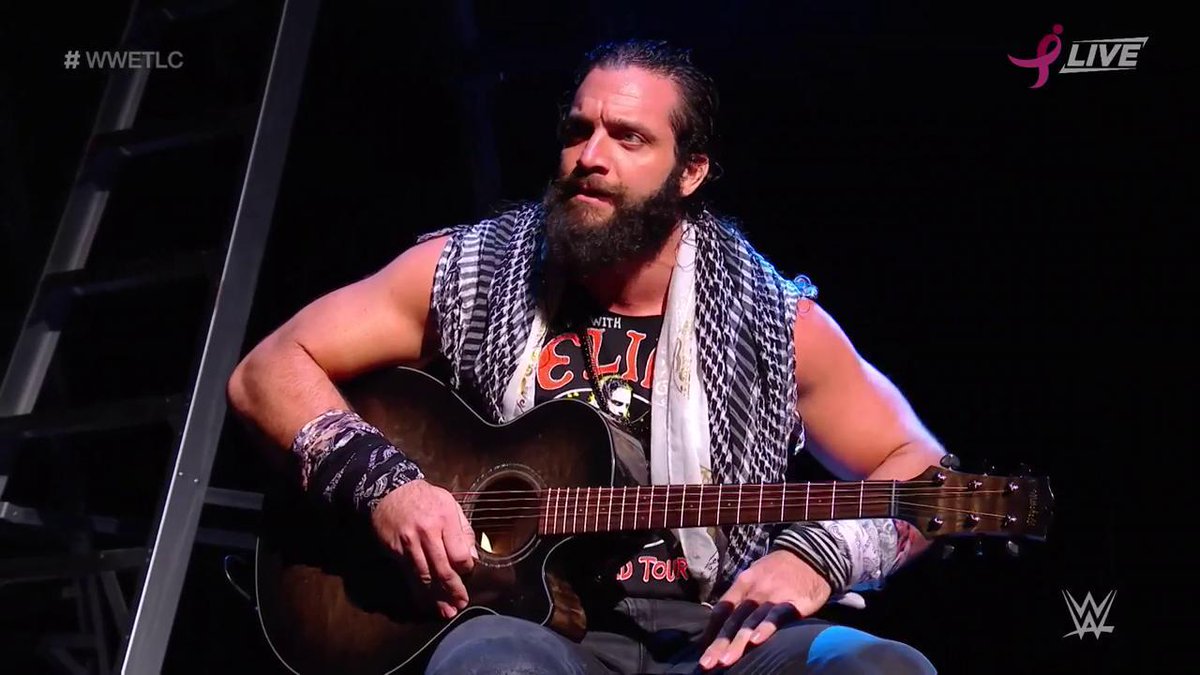 Elias was back in the ring to perform again and said that he was interrupted last time, but nothing was going to stop him from singing a song that was going to change their lives. He began singing and the crowd booed, so he stopped and said "Now I'm gonna have to start over." He tried a few more times and the crowd loudly booed each time. Again, he was suddenly hit with vegetables by Jason Jordan. Elias grabbed his guitar and ran backstage as Jason Jordan stood there smiling.
---
WWE Cruiserweight Championship
Kalisto (c) vs. Enzo Amore
Enzo cut a promo in the ring and said he lost his voice because he was partying too hard last night, but that was the only thing he was losing. He then called the crowd a bunch of losers and called Kalisto "sawft." Enzo controlled most of the match, with Kalisto barely getting in any offense for some reason. Kalisto finally started to take control and Enzo tried to escape the ring, but Kalisto pulled him back in. Enzo grabbed the ring apron skirt while being dragged in, pulling it into the ring. The referee went to put the skirt back outside the ring and Enzo gave Kalisto a thumb to the eye, then hit him with his new finisher, the "JawdonZO" (grabbed his arm then fell back, slamming his boot into Kalisto's face) for the win.
Winner and New Cruiserweight Champion: Enzo Amore (~9 minutes)
After the match, Enzo was interviewed in the ring and said that he wanted to thank himself and to the crowd, "no thank you."
---
The Demon Finn Bálor vs. AJ Styles
Styles and Balor made their entrances and the crowd started chanting "This is Awesome" before the match even started, followed by a "too sweet" chant. After a few minutes, Balor nailed AJ with the Sling Blade, then ran at Styles but Styles hit him with an "ushigoroshi." Styles went for a Phenomenal Forearm, but Balor knocked Styles out of the ring, then kicked him in the face while standing on the apron. Styles suddenly picked up Balor and tackled him onto the German announce table, then both men rolled into the ring before the ref's 10 count. Balor dropkicked Styles into the corner, then went to the top rope, but Styles hit him with a Pele kick, then springboarded off the top rope and hit Balor with a hurricanrana. Styles missed a springboard 450 splash, which allowed Balor to hit him with a dropkick into the corner, then the Coup de Grace off the top for the win. Good match.
Winner: Finn Bálor (~18 minutes)
After the match, Balor and Styles stood face to face in the ring, then did a "too sweet" gesture with each other.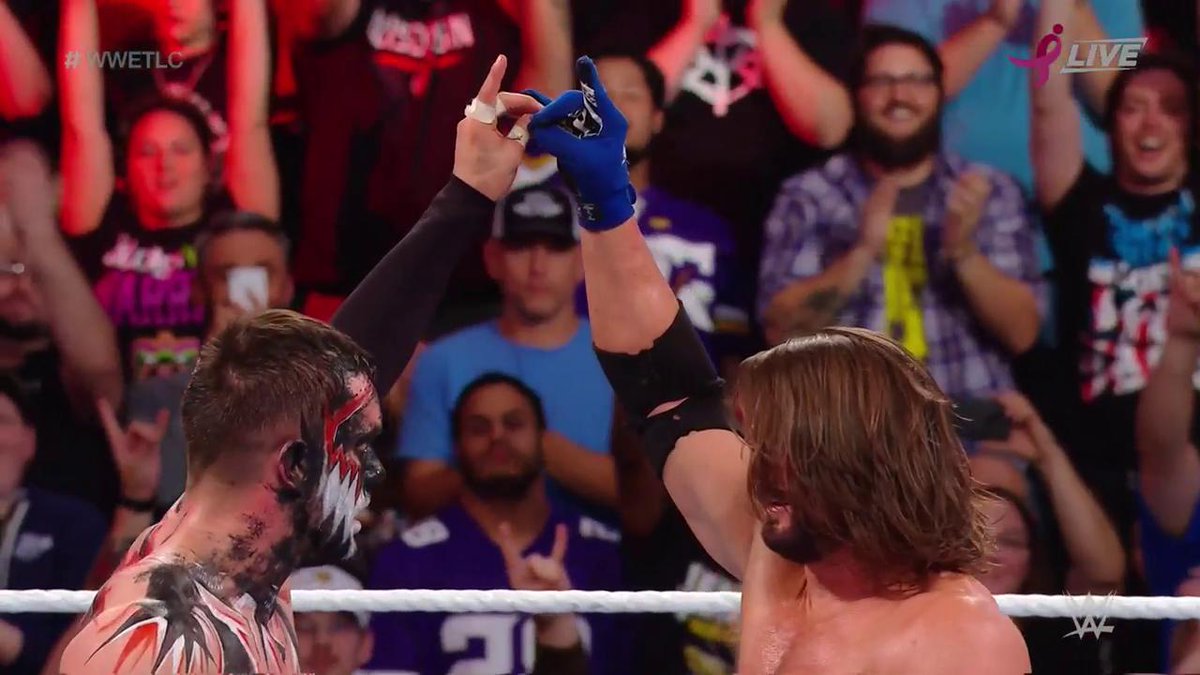 ---
Elias vs. Jason Jordan
Impromptu match to fill time I guess. Elias was in the ring again and said he was going to sing a song for Jason Jordan because he didn't have a dad around to teach him right. Jordan's theme interrupted him about 2 seconds in though. Lots of rest holds by Elias… Really slow, killing the crowd. Finally, Jason Jordan got "amped up" and hit Elias with a belly to belly, a spear in the corner, and another belly to belly, but Elias kicked out. Jordan ran at him again but Elias kneed him in the head, then tossed him into the corner. Elias went for a vertical suplex, but Jordan countered it into a small package. Elias seemed like he kicked out at 2, but the referee said it was 3, leading to an awkward finish. After the match, the commentators showed replays and played up that it looked like Elias kicked out at 2, so it seems like we're in for a rematch / extended feud.
Winner: Jason Jordan (~9 minutes)
---
Tables, Ladders & Chairs 5-on-3 Handicap Match
Kurt Angle, Dean Ambrose & Seth Rollins vs. Braun Strowman, The Miz, Kane, Cesaro & Sheamus
The heels entered first, then The Shield's Roman Reigns theme hit and Ambrose and Rollins appeared in the crowd. Kurt Angle then walked up wearing a Shield vest, which got a pop from the crowd. The match started and The Shield (including Angle) grabbed steel chairs and cleared out the heels. They then grabbed ladders and nailed the heels on the outside. Angle looks weird with the vest… Braun Strowman grabbed Kurt Angle and was going to powerbomb him through an announce table, but Rollins and Ambrose nailed Strowman with chairs.
Braun Strowman was set up on one announce table and Kane was set up on the other, then two ladders were set up next to them. Rollins and Ambrose each went up a ladder (not all the way to the top) and put Strowman and Kane through the tables with a splash and elbow drop.
In the ring, Angle hit The Miz with three straight German suplexes. Sheamus ran in and was hit with a German suplex, then Cesaro… nice. Kane then came in, but Angle couldn't suplex him. Kane went for a chokeslam, but Angle reversed it into an Angle lock until Strowman took out Angle and made the save. On the outside, Strowman hit Angle with a huge running powerslam through a "wooden" table. "Medics" and referees went to check on Angle, who sold the table spot. They eventually helped Angle backstage as Angle struggled to stay on his feet.
Meanwhile, the heels pounded on Rollins and Ambrose in the ring for a few minutes, since the match was now 2 on 5. Braun Strowman then missed a running shoulder block in the corner, slamming into the post instead. Has he ever hit that move… Kane tried to hit Rollins with a chair, but accidentally Strowman in the head. Strowman stared him down, but Rollins and Ambrose attacked them before anything could happen. Cesaro and Sheamus powerbombed Ambrose onto a table into the ring, but it didn't break. Strowman set it up in the corner, then threw Ambrose through it.
The Miz walked down the entrance ramp and a garbage truck suddenly started backing into the arena. The heels then threw Ambrose and Rollins into the back of the garbage truck, but then got up and fought back and briefly regained control until Braun Strowman took them out.
Suddenly, KANE nailed Braun Strowman then chokeslammed him off the entrance ramp through the stage… After a minute, Braun Strowman tried to get up, but Kane looked up and there were a bunch of steel chairs connected to each other hanging from the ceiling as decoration. Kane grabbed the chairs and pulled them all down, sending them crashing down on Strowman. Kane then chokeslammed Rollins and Ambrose simultaneously through tables. Braun Strowman suddenly rose up… The Miz pleaded with him but he shoved him aside, then shoved Sheamus and Cesaro aside and went for Kane. He picked Kane up and was going to throw him into the back of the garbage truck, but the other heels stopped him and pounded away at him, then threw Strowman into the garbage truck. They then pulled the lever for the trash compactor and it closed on / crushed Braun Strowman… brutally murdering him I guess… The truck drove away with Strowman's trapped / crushed body.
Back in the ring, Miz, Kane, Cesaro and Sheamus prepared to finish Rollins and Ambrose but suddenly, Kurt Angle's theme hit. Sheamus ran at Angle on the ramp, but Angle hit him with an Angle Slam on the ramp. Then an Angle Slam on Cesaro through a table. In the ring, Kane grabbed Angle, though, and tried to hit him with a Tombstone, but Ambrose and Rollins made the save with steel chairs. They then took Kane out on the outside, sending him through the barricade.
In the ring, The Miz hit the Skull Crushing Finale on Angle, but Angle kicked out in a super near fall. Miz was shocked and tried again, but Angle locked on the Angle Lock, but Miz was able to escape. Rollins, Ambrose and Angle then each climbed on the apron, surrounding Miz. Rollins hit his knee finisher, Ambrose hit Dirty Deeds, and Angle hit the Angle Slam. They then hit the Shield powerbomb, with Angle taking Roman Reigns' role. 1, 2, 3. Crazy, surreal match… And very entertaining.
Winners: Dean Ambrose, Seth Rollins, Kurt Angle (~41 minutes)
After the match, they celebrated in the ring, with Rollins and Ambrose raising Angle's arms in victory.