November 18, 2018
Los Angeles, CA – Staples Center
---
Quick Match Results
Tag Team Elimination Match (Kickoff): Team SmackDown defeated Team Raw (The Usos eliminated The Revival last) (22:20)
Women's Elimination Match: Team Raw defeated Team SmackDown (Nia Jax eliminated Asuka last) (18:50)
Seth Rollins defeated Shinsuke Nakamura via the Stomp (21:50)
AOP defeated The Bar via powerbomb/neckbreaker double team on Sheamus (9:00)
Cruiserweight Championship: Buddy Murphy (c) defeated Mustafa Ali via Murphy's Law (12:20)
Men's Elimination Match: Team Raw defeated Team SmackDown (Strowman eliminated McMahon last) (24:00)
Ronda Rousey defeated Charlotte Flair via disqualification when Charlotte hit Rousey with a kendo stick (14:40)
Brock Lesnar defeated Daniel Bryan via F5 (18:50)
Raw defeated SmackDown 6-0 (not including the Kickoff match).
---
Survivor Series Tag Team Elimination Match (Kickoff Show)
Team Raw (Bobby Roode & Chad Gable, The Ascension, The B-Team, Lucha House Party, The Revival) vs. Team SmackDown (The New Day, The Usos, SAnitY, Gallows & Anderson, The Colons)
The New Day came out and introduced each member of their team. Team Raw then came out and were booed by the crowd.
A couple of minutes in, the Revival hit Shatter Machine on one of the Colons and they were out. The Colons were eliminated by Dash Wilder.
A minute later, Karl Anderson rolled up Bo Dallas and eliminated him… The B-Team was eliminated by Karl Anderson.
Roode hit a "Roode Awakening" as Chad Gable hit a top rope moonsault on Eric Young and SAnitY was out. SAnitY was eliminated by Bobby Roode.
Xavier Woods lifted Big E on his shoulders and Big E hit a splash on Viktor to eliminate the Ascension. The Ascension was eliminated by Big E.
Kalisto appeared to injure his knee early in the match and was replaced by Gran Metalik. Metalik hit a springboard swanton on Karl Anderson for the pinfall. Anderson and Gallows were eliminated by Gran Metalik.
Usos hit a double team Samoan Drop on Lince Dorado for an elimination. Lucha House Party was eliminated by the Usos.
Two teams left for each team: Usos and New Day for SmackDown, and the Revival and Roode & Gable for Raw. Big E hit a pretty crazy spear through the middle rope to the outside on Wilder and landed badly on his shoulder, but seemed to be OK. Gable hit a German suplex off the top rope on Jey Uso onto everyone else on the outside. Nice… New Day hit "Up Up Down Down" on Chad Gable and he was out. Gable & Roode were eliminated by The New Day.
Xavier Woods tried to springboard off the top but the Revival caught him and hit Shatter Machine to eliminate them. New Day was eliminated by The Revival.
The Revival and the Usos were the last two teams. Jimmy Uso hit a top rope splash on Dawson and did Roman Reigns' Superman punch taunt on the way down for the win. The Revival was eliminated by The Usos.
Winners: Team SmackDown (22:20)
---
Backstage: Team Raw Women's Team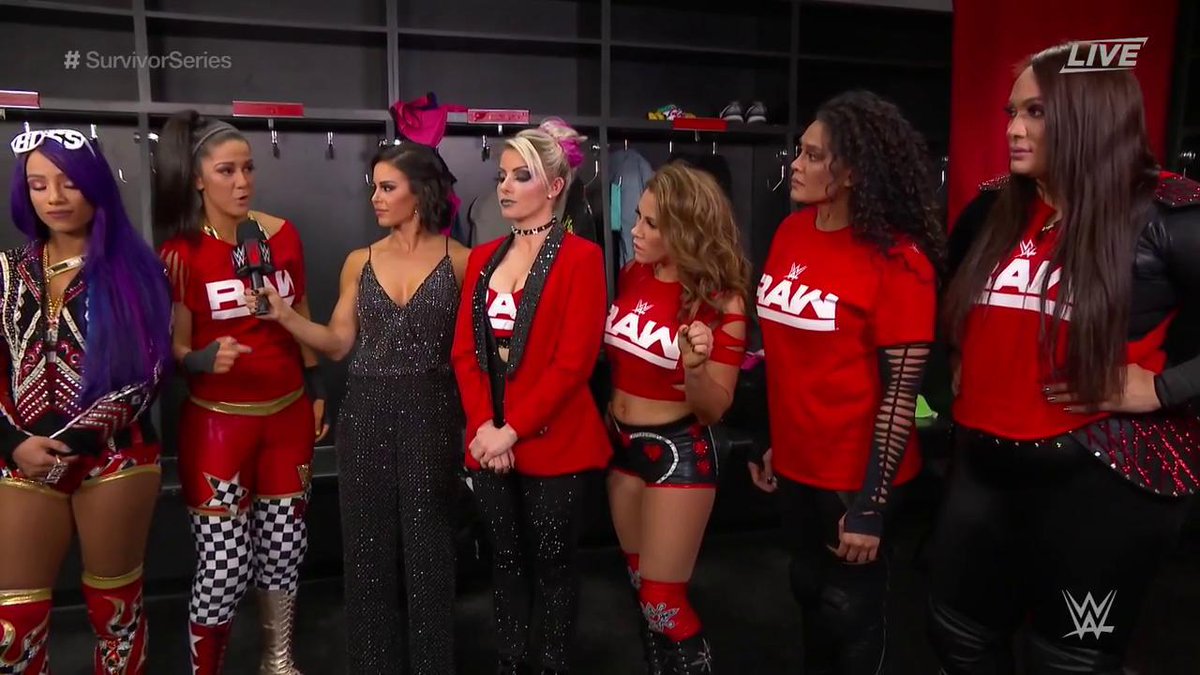 Earlier in the night, Natalya and Ruby Riott got into a fight with each other, so Alexa Bliss kicked them off of Team Raw since they couldn't get along. Backstage, she said that she was choosing Bayley and Sasha Banks to replace them.
Sasha said that after they help Team Raw win tonight, they're coming for each and every one of them (their heel team mates).
Also earlier in the night, Naomi picked Mandy Rose as the fifth member of Team SmackDown.
---
Survivor Series Elimination Match
Team Raw (Bayley, Mickie James, Nia Jax, Sasha Banks, Tamina) vs. Team SmackDown (Asuka, Carmella, Mandy Rose, Naomi, Sonya Deville)
Nia Jax's music hit and she got huge boos from the crowd. Nia came out smiling and taunted the crowd, showing her fist. Alexa Bliss was with Team Raw at ringside.
About a minute into the match, as everyone was brawling, Tamina hit a superkick on Naomi and she was out. Naomi was eliminated by Tamina.
Suddenly, Carmella ran up from behind and rolled up Tamina to eliminate her. Tamina was eliminated by Carmella.
Carmella got a big pop, then started doing her "dance break." Sonya Deville hit a running knee on Mickie James, but Mandy Rose tagged herself in. Sonya went for the pin, but Mandy shoved her off and pinned Mickie herself. Mickie James was eliminated by Mandy Rose.
Bayley hit a Bayley to Belly on Carmella and she was out. Carmella was eliminated by Bayley.
Bank Statement by Sasha into a Crossface and Mandy tapped. Mandy Rose was eliminated by Sasha Banks.
Nia Jax broke up a pinfall and was heavily booed. Asuka kicked her in the face and it got a huge pop. The crowd was pretty dead for about five minutes until that. Bayley and Sonya Deville wrestled on the outside, then the ref counted to 10 and they were counted out… Bayley and Sonya Deville were eliminated via count out.
It was down to Asuka vs. Sasha Banks & Nia Jax. Sasha went to the top rope, but Nia Jax shoved her off for some reason, to huge boos. Asuka then locked on the Asuka Lock and Sasha was out. Sasha Banks was eliminated by Asuka.
Jax and Asuka were the final two. Jax ran in and hit two leg drops on Asuka, then a Samoan Drop. 1-2-3… The crowd booed her heavily as she smiled in the ring and showcased her fist. Asuka was eliminated by Nia Jax.
Winners: Team Raw (18:50)
---
Intercontinental Champion vs. United States Champion
Seth Rollins vs. Shinsuke Nakamura
This match was really slow at the start and it seemed like nothing happened for like the first ten minutes. But it picked up towards the end, like most Nakamura WWE matches. The crowd was not very into it until the last few minutes. Rollins went for a frog splash, but Nakamura moved, then hit a Kinshasa, but only got a near fall and the crowd came to life. Nakamura went for another, but Rollins caught him with a superkick. He went for the Stomp, but Nakamura moved. Another Kinshasa attempt, but Rollins moved and hit the Stomp… 1-2-3. Not a good match.
Winner: Seth Rollins (21:50)
---
Backstage: Team Raw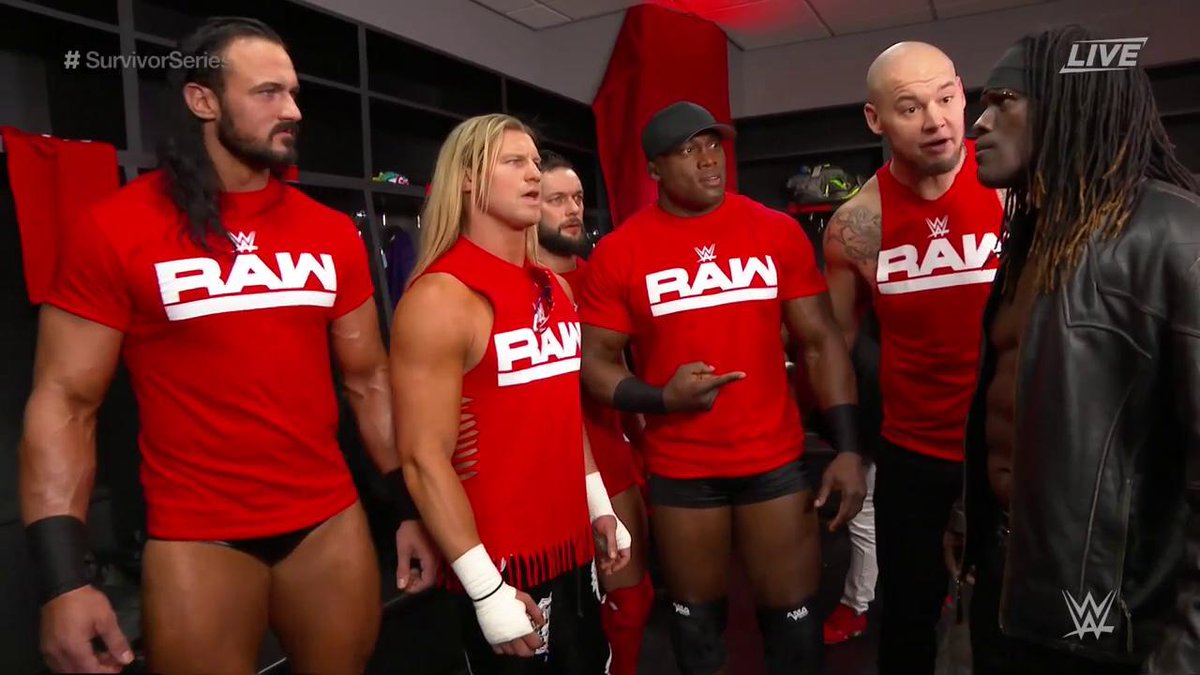 Backstage, Braun Strowman told everyone that they better carry their weight. Drew McIntyre got in his face and told him that he better stay out of his way. Baron Corbin came in to break it up and reminded Strowman that he's not allowed to touch him, so Strowman grabbed Lio Rush and threw him into Corbin. R-Truth ran in and told everyone to calm down and that "we need to be on the same page." Team Raw reminded him that he's not even on their team and he's not even on Raw.
---
Raw Tag Team Champions vs. SmackDown Tag Team Champions
AOP vs. The Bar
This was a total "nothing" match for like the first ten minutes and the crowd was basically dead. After a few minutes, Sheamus hit a Brogue kick on Rezar, but Drake Maverick put Rezar's foot on the bottom rope to break up the pin. Big Show then grabbed Drake Maverick by the throat and lifted him up onto the apron… and Maverick pissed his pants… Piss went down his pant leg… The Bar and Big Show started laughing at him and AOP nailed them, then hit a double team move (neck breaker and powerbomb combo) on Sheamus for the win.
Winners: AOP (9:00)
---
Backstage: Team SmackDown Men's Team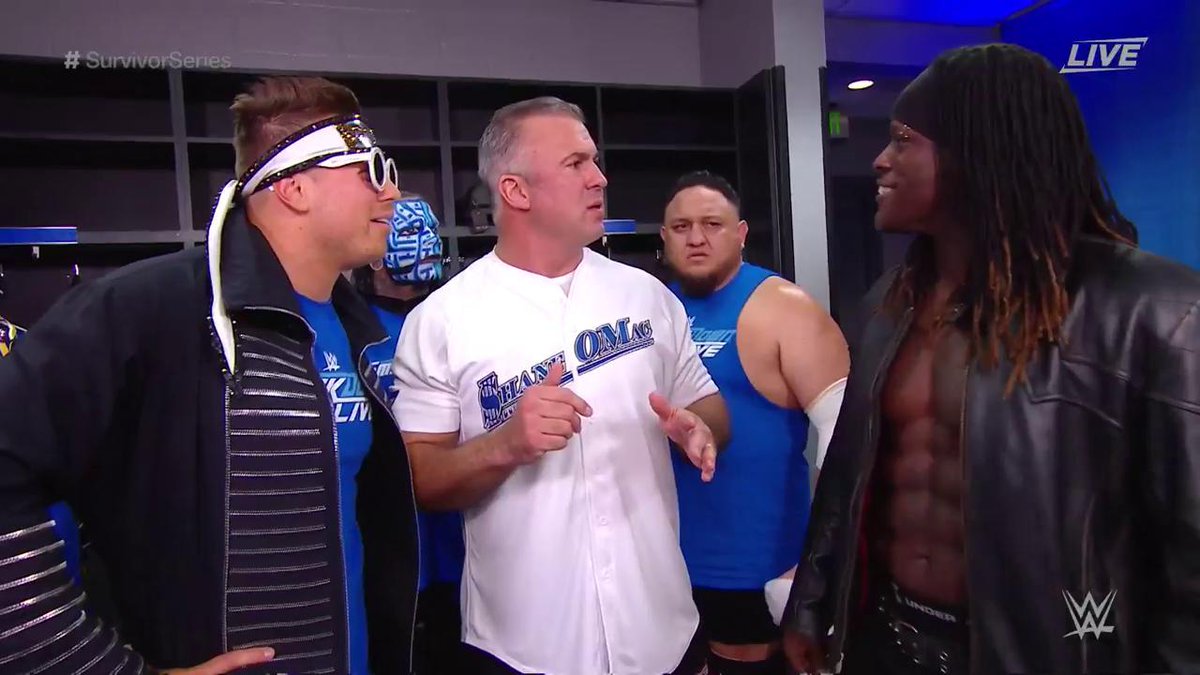 Backstage, Shane McMahon and The Miz tried to hype up Team SmackDown. R-Truth came in and asked Shane McMahon if he can join the SmackDown roster. Shane said that he's already on the SmackDown roster. R-Truth said that that's good because it's a mess over there on Raw.
---
Cruiserweight Championship
Buddy Murphy (c) vs. Mustafa Ali
Unfortunately I was distracted at the beginning of this match because of Enzo Amore getting kicked out of the arena during the previous match.
After a few minutes of really good back and forth action, Murphy brought Ali to the announce table, but Ali hit him with a spanish fly off the table down to the floor. The crowd chanted "this is awesome." Ali went to the top rope and was caught with a big knee to the head by Murphy, who then hit "Murphy's Law" on him for the pinfall. Really good match (easily the best of the night so far) that did a good job of capturing the crowd's attention.
Winner: Buddy Murphy (12:20)
---
Survivor Series Elimination Match
Team Raw (Braun Strowman, Dolph Ziggler, Drew McIntyre, Finn Balor, Bobby Lashley) vs. Team SmackDown (The Miz, Jeff Hardy, Rey Mysterio, Samoa Joe, Shane McMahon)
Immediately after the bell, Samoa Joe locked on a Coquina Clutch on Drew McIntyre, but he broke free and nailed Joe with a Claymore! 1-2-3. Nice. Samoa Joe was eliminated by Drew McIntyre.
The crowd chanted "bullshit" at Joe's elimination. Drew McIntyre rules… Later, Ziggler was in the match and Braun Strowman tagged himself in, but then McIntyre tagged himself in. Strowman got in McIntyre's face then slapped him and the two teammates started to brawl. The unified SmackDown team then took out the Raw team, including Strowman. They set Strowman up on the announce table and Shane McMahon hit an elbow drop off of the top rope through the announce table….
Later, Finn Balor tagged himself in and kicked his partner Drew McIntyre in the head. Balor hit a flurry of offense on Team SmackDown, but Rey Mysterio eventually hit him with 619 and a springboard frog splash. Finn Balor was eliminated by Rey Mysterio.
After a few minutes, coast to coast by Shane McMahon on Dolph Ziggler. Dolph Ziggler was eliminated by Shane McMahon.
Shane then tried to hit coast to coast on Lashley, but Braun Strowman clotheslined him in mid air. Powerslam by Braun Strowman on Jeff Hardy. Jeff Hardy was eliminated by Braun Strowman.
Rey Mysterio tried to hit 619 on Strowman, but Strowman blocked it and hit him with a powerslam. Rey Mysterio was eliminated by Braun Strowman.
Powerslam by Strowman on The Miz. The Miz was eliminated by Braun Strowman.
Shane McMahon was the last person left on Team SmackDown. Strowman, McIntyre and Lashley were left on Team Raw. Shane McMahon looked at his opponents. Dropkick by Strowman, then a running powerslam… Shane McMahon was eliminated by Braun Strowman.
Winners: Team Raw (24:00)
After the match, as Strowman celebrated, Baron Corbin attacked him from behind, then ran outside, flanked by McIntyre and Lashley. Strowman angrily stared him down from the ring.
---
Backstage: Seth Rollins
A bit of BREAKING NEWS at #SurvivorSeries as @WWERollins learns he'll be defending his #ICTitle against @TheDeanAmbrose at #WWETLC! pic.twitter.com/AYDjzWr0b9

— WWE (@WWE) November 19, 2018
Backstage, Seth Rollins was told some "breaking news" that he'll be defending the Intercontinental Championship against Dean Ambrose at the TLC PPV next month.
---
Ronda Rousey vs. Charlotte Flair
A couple of minutes in, Charlotte slammed Ronda's face into the bottom turnbuckle, which allowed her to take control for a bit. She then started to work on her leg to set her up for the Figure Eight. Charlotte hit an inadvertent elbow on Rousey, which busted her mouth open, giving her a mouth full of blood.
A few minutes in, Charlotte went for a top rope moonsault, but Ronda got her feet up and nailed her in the face. She hit her fireman's carry drop, then tried to fire up the crowd, but Charlotte nailed her with a spear.
Figure four by Charlotte, but Rousey reversed it. Later, she hit her fireman's carry drop, which she calls "the Piper's Pit." She tried to lock on the armbar, but Charlotte was able to escape and roll out of the ring.
Ronda ran outside at Charlotte, but Charlotte grabbed a kendo stick from somewhere and nailed Rousey in the stomach… and that's a DQ.
Winner: Ronda Rousey by disqualification (14:40)
Charlotte continued to brutally attack Rousey with a kendo stick, hitting her over and over. She then grabbed a chair, but the referee pulled it away from her. Charlotte had a "demented" look on her face, then nailed Rousey with Natural Selection on the chair. Rousey had welts on her arm and chest from the kendo stick shots. Charlotte picked up the chair again, but four other referees ran down to stop her, but she attacked them all. The crowd was popping for Charlotte the entire time. Charlotte put Rousey's head inside of the steel chair, then stomped on it! More officials and medical staff ran down to finally stop Charlotte. The crowd seemed to be chanting "Thank you Charlotte." Huge pop for her. Similar response to Becky's heel turn, with the crowd loving it. Definitely a good idea, since Charlotte was not getting over well as a face. Rousey was bloodied and bruised in the ring as medics checked on her and Charlotte walked backstage with a maniacal look on her face. Rousey was able to stand on her feet on her own and walk off under her own power as the crowd gave her a sporadic applause. They then started chanting "Becky" and then booed Rousey for some reason. Big welts all over her body from the kendo stick, damn.
The whole match / segment was really great other than the weird crowd reactions.
What just happened?@RondaRousey may never be the same after this brutal assault from @MsCharlotteWWE. #SurvivorSeries pic.twitter.com/9VlQOaaIxr

— WWE (@WWE) November 19, 2018
---
Universal Champion vs. WWE Champion
Brock Lesnar vs. Daniel Bryan
Bryan mostly got cheers and Lesnar got a mixed loud reaction as Heyman introduced him. Bryan kicked Lesnar's leg, then started dancing and jumping around in the ring in a carefree way. Bryan tried to kick Lesnar again but Lesnar caught his leg and nailed him with a lariat. He then gave him a huge German suplex and dropped him right on his fucking head… Jesus…
Lesnar picked him up again and gave him another German suplex, but he landed on his back this time. Overhead belly to belly by Lesnar. Lesnar taunted Bryan, saying "I can do this all night long." Another belly to belly suplex. And another. Lesnar was toying with Bryan. He grabbed his Universal title and raised it up as the crowd booed.
Bear hug by Lesnar, then he threw him down hard. Another big German suplex. Brutal. Bear hug into another belly to belly. "All night long," Lesnar said. Bryan looked completely dazed.
F5 by Lesnar. He went for the pin, but then picked him up. Lesnar then threw him down. He tried to pick him up, but Bryan gave him two kicks to the head.
Lesnar picked him up and tried to give him an F5, but Bryan fell into the referee and landed on his feet. As the ref was down, Bryan kicked Lesnar in the balls! Lesnar writhed in pain. Running knee… 1-2-NO! Nice…
Bryan gave Lesnar a flurry of kicks, then stomped down on his face. On the outside, Bryan sent Lesnar into the post, then nailed him with a flying knee off the apron. Bryan tried a suicide dive, but Lesnar caught him and slammed him into the post, and again. Lesnar picked up the ring steps and tried to hit Bryan, but he moved and Lesnar bounced off the post and hit himself with the steps. Another running knee by Bryan off the apron. In the ring, Bryan hit a running knee for a near fall. This rules.
Bryan grabbed Lesnar's leg and smashed it into the ring post. Bryan hit a running drop kick, and another, then went for a third, but Lesnar picked him up for an F5! But his knee gave out and Bryan locked on the Yes Lock! Lesnar looked like he was about to tap… he tried to break free but Bryan gave him clubbing shots to the head and locked it on again… about to tap… but he broke free… then lifted him up on his shoulders and nailed an F5! 1-2-3.
Winner: Brock Lesnar (18:50)
Incredibly awesome match. Very intense and great.
---
Raw won 6-0 over SmackDown for the night, since they didn't count the Kickoff Show match that SmackDown won. This was a really good PPV, I thought, after a pretty cold spell of some bad ones.