February 25, 2019
Atlanta, Georgia
Commentary: Michael Cole, Corey Graves and Renee Young
Results by: Mike Tedesco of Wrestleview.com
---
Quick Match Results
Aleister Black & Ricochet defeated The Revival via Black Mass by Black on Dawson
Natalya & Ronda Rousey defeated Ruby Riott & Sarah Logan by DQ when Becky Lynch attacked Natalya
Kurt Angle defeated Jinder Mahal via Angle Lock
WWE Intercontinental Championship: Finn Balor (c) defeated Lio Rush via Coup de Grace
Bobby Lashley vs. Braun Strowman never started. Lashley attacked Strowman during his entrance, but Strowman got the upperhand in the end.
No Disqualifications Match: Drew McIntyre defeated Dean Ambrose via Claymore after Elias hit Ambrose with a guitar
Bayley defeated Nia Jax via top rope elbow
---
In-Ring: Roman Reigns
The show kicks off with a video from October 2018 of Roman Reigns announcing that his leukemia is back and will be relinquishing the WWE Universal Championship. Reigns promised to comeback.
Roman Reigns' music hits, and he comes out to a huge ovation. Reigns has tears in his eyes while he soaks in the reaction. Reigns high fives people coming down the ramp. A loud "Roman" chant picks up, and he looks to the sky and takes a deep breath. Reigns now high fives and fist bumps fans around ringside. Reigns finds his wife and hugs her. Reigns then moves to his mother and embraces her. Finally, he embraces The Rock's mother. Reigns climbs the ring steps and listens to another "Roman" chant. The crowd erupts when he looks at them. Reigns thanks them. Reigns looks at the WrestleMania sign and poses on the turnbuckles.
Reigns stands in the ring and the music stops. Now the volume in the crowd really picks up. They chant his name and applaud him. Reigns just stands and looks around. A loud "Welcome back" chant fires up. Reigns grabs a microphone. Reigns says, "I'm probably going to say this a lot, but I'm going to start out by saying, 'Thank you.'" The crowd chants, "You are welcome."
Reigns says, "I miss y'all. I'm serious — I missed y'all. There is no other job like this. There's no other fanbase like you guys." Reigns looks at the sky and looks down. The crowd chants, "This is your yard." Reigns continues by saying, "I'm ad libbing a little here, but I used to say this is my yard but this is OUR yard!" The crowd cheers. "I said this before: I'm a man of faith. I've always believed in God. I've always believed that he's favored me and looked out for me, but… but I'm not going to lie. Before my announcement in October, I was terrified y'all. I was scared and insecure and I didn't know if I wanted to share that secret with the world." Some boos pick up, and then Reigns smiles when he realizes they were booing cancer. A "Roman" chant picks up. "I was scared to tell everybody because I didn't know how you would react. Thank you. By the time I got home, the outreach — I mean between people texting me, calling me, tweeting me, Instagramming me, Facebooking me — if there was a way to get to me, y'all figured out how to do it. The amount of thoughts, the amount of blessings, the amount of prayers that you sent my way is completely overwhelming and god-sent. Thank you so much!
"I'm telling you — it wasn't just WWE fans. It was everyone. It felt like everyone who liked me, people who didn't like me, everyone was at my aid. Everyone was surrounding me with love and support. I'm telling you so many people prayed for me, God's voicemail was full to the max. I truly think he was in his head thinking, 'What is going on down there? All for this one guy — all these people?' That was the magnitude. That is how strong it was to be surrounded by y'all's love and y'all's grace. And to be able to feel that, the strength you gave me, I can do anything with that strength and love." Reigns pauses and leans on the ropes while the crowd cheers him. "That overwhelming support that you gave me, it gave me strength, it gave me new life, it gave me a new opportunity, and it gave me a new purpose. In WWE, a lot of your purpose as a young superstar is to win titles, climb that mountain, to achieve the top and put your flag in. That's still very important. For me, the only thing that is important is that I have the ability to step into this ring every single night. If I can do that, I'm going to use this platform — this giant WWE platform that is global and everyone can see — I'm going to use it to raise awareness and support those that are in need just like I was." Another "Roman" chant fires up.
Reigns continues, "Well we advertised it as an update, so should we give the update?" A "YES" chant fires up. "So when I made my announcement, I said that I was going to swing for the fences. We did better than that y'all. We didn't just swing for the fences — we hit a home run. So when I tell you this, I am so grateful, I am so humbled, I am so honored to announce this…" The crowd is buzzing. "We'll get to that later. Let's crawl before we walk and walk before we can run. The good news is I'm in remission y'all!" The crowd ERUPTS with glee. Reigns looks visibly moved by the reaction. Reigns says, "So with that being said, THE BIG DOG IS BACK!" The crowd erupts for him and starts to bark. "And just one last time –" A "Welcome back" chant cuts him off. Reigns says, "Before I go, I'm going to say it probably a whole bunch more times, but I'm going to say it one more time: thank you so much, y'all. I love y'all." Reigns salutes the crowd and his music plays. Reigns walks off high fiving the fans.
While Reigns is walking up the ramp, Seth Rollins' music plays and they embrace on the ramp. Rollins is smiling with tears in his eyes.
---
Non-Title Match
The Revival vs. Aleister Black and Ricochet
The Revival attacks them from behind and knock Ricochet out of the ring. Black backflips over them, and Ricochet connects with a springboard cross-body block on them. Ricochet hits Scott Dawson with a neckbreaker before hitting Dash Wilder with a hurricanrana and a dropkick. The Revival are outside the ring. Black feigns a dive to the floor. Ricochet then hits a suicide dive on Wilder. Black then hits Dawson with a summersault senton.
We come back from the break to see Wilder applying a wristlock to Ricochet. Ricochet flips through a back suplex and tags in Black. Black hits Wilder with some elbows and takes him down with a leg sweep. Black connects with a sliding knee and big boots Dawson. Black catches Wilder with a springboard moonsault block for a two count. Bobby Roode and Chad Gable are seen watching backstage. Dawson tags in, and they try to double-team Black. Black gives Wilder a German Suplex while Dawson hits a sunset flip. Dawson catches Black with a big DDT for a near fall. Dawson lifts Black up in the electric chair, but Ricochet knocks Wilder off the top rope. Ricochet then hits Wilder with a moonsault off the apron. Dawson rolls Black up, but he kicks out. Black connects with the Black Mass for the win.
Winners by Pinfall: Aleister Black and Ricochet
---
Backstage: Baron Corbin
Charly Caruso is backstage and mentions that The Revival have lost another match. She then brings in Baron Corbin. She mentions that Corbin made light of Reigns' leukemia. Is he concerned what will happen when he sees Reigns next? Corbin says everyone lives in the past. Corbin claims that he never said those things. She mentions she has footage. Corbin says some things sound bad out of context. At the time, he was stressed being General Manager and an active competitor. She asks if his responsibilities were more difficult than Reigns' fight against leukemia. Corbin says for Reigns' sake, he hopes their paths don't cross.
---
Backstage: Shawn Michaels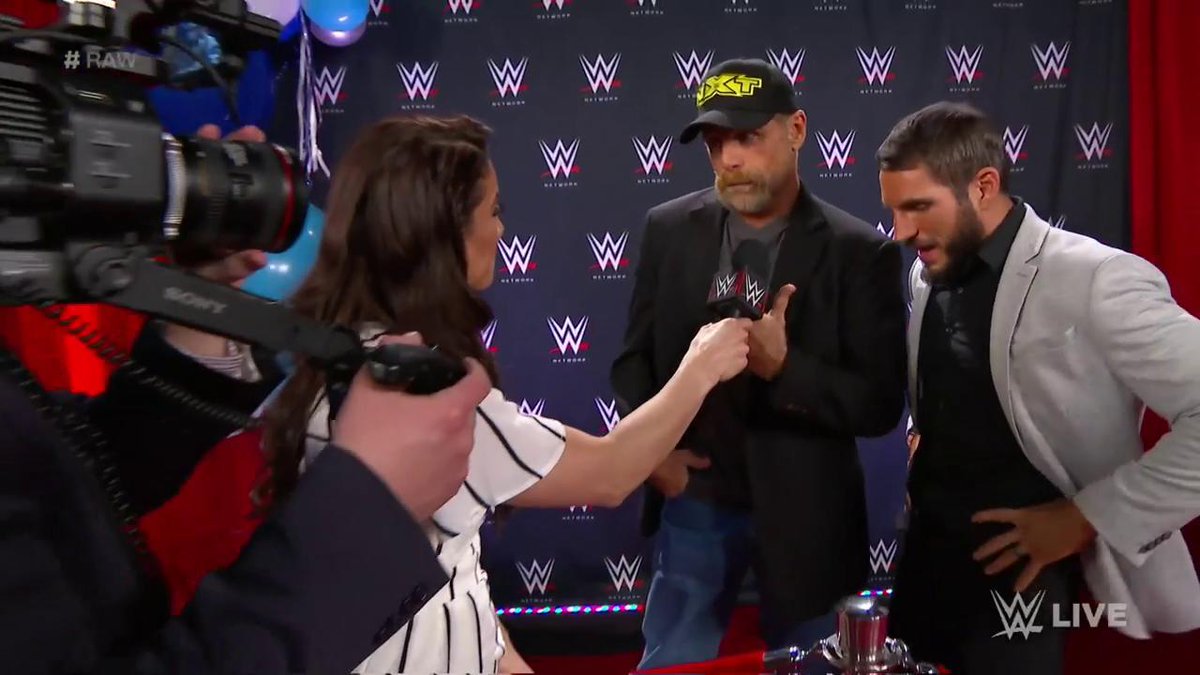 Shawn Michaels is seen backstage, and he embraces Johnny Gargano.
---
Video: Snoop Dogg
WWE Hall of Famer Snoop Dogg sends a special birthday greeting to Ric Flair for his 70th birthday.
---
In-Ring: Elias, Dean Ambrose
"Ladies and gentlemen… Elias."
Elias goes to strum the guitar, but Lacey Evans' music immediately cuts him off. She struts down the ramp before walking back up and to the back. Dean Ambrose's music then hits. All this celebrating has Ambrose in a festive mood. It has Ambrose reminiscing about the past. Ambrose feels good, so that means he's dangerous. Ambrose wants a rematch with Drew McIntyre… only this time he wants a No Disqualifications match.
Elias begins to strum his guitar, so Ambrose gets in the ring and asks if he's being played off like the Academy Awards. Elias says if it was the Academy Awards, he'd be on his second standing ovation now. Elias says he was about to sing a song about how much he loves Atlanta. It's fully capable of hosting the Super Bowl. Winning it is a different story. The crowd boos. Ambrose doesn't know why Elias is in a bad mood. He's here to request a song. Does he know Yankee Doodle or Thunderstruck? Or is it time for Dirty Deeds? A "Dirty Deeds" chant picks up. Elias says he could play anything. Elias goes to hit him with the guitar, but Ambrose ducks and hits Elias with Dirty Deeds! Ambrose then walks off to his music.
---
Backstage: Ricky Steamboat
WWE Hall of Famer Ricky "The Dragon" Steamboat is backstage for Ric Flair's 70th birthday party.
---
The Riott Squad (Ruby Riott & Sarah Logan) vs. Natalya and Ronda Rousey
Natalya starts against Sarah Logan. Logan quickly hits a spinebuster and powers her into the ropes. Logan punches away at her before elbowing her in the back. Ruby Riott tags in, and she stomps Natalya in the corner. Riott hits a snapmare and kicks Natalya in the back for a two count. Natalya powers Riott into the corner and tags in Ronda Rousey. The crowd boos while she gets in the ring. They hit a double-team suplex before Rousey knocks Liv Morgan off the apron. Riott quickly slams Rousey down with an STO before stomping her. Logan tags in and stomps before tagging Riott back in. Riott stops Rousey from making a tag, but she fights her off. Natalya tags in and hits a clothesline on Riott. Riott reverses a whip to the corner, but Natalya comes back with a slam onto the tailbone. Natalya hits the ropes, but Morgan sweeps the feet. Natalya and Rousey hit the Hart Attack on the floor. Logan dropkicks Natalya while Rousey puts Riott in the ring.
We come back from the break to see Riott applying a chin lock to Natalya. Natalya fights up, but Riott slams her down for a two count. Riott powers Natalya to the corner and tags Logan in. Riott whips Logan into Natalya. Natalya elbows Riott before kicking Logan. Logan stops her from making a tag and drops an elbow. Logan then applies a modified cloverleaf. Logan lets go, and Rousey avoids a cheap shot. Rousey tags in and clotheslines Logan before hitting a pair of judo throws. Rousey punches away at her in the corner, but Riott attacks from behind. Rousey punches away at Riott too before knocking Morgan off the apron. Rousey hits a flying leg drop, but Riott breaks it up. Natalya gets Riott out of the ring and hits a Discus Clothesline on the floor. Rousey hits Piper's Pit on Logan…
… and Becky Lynch runs down to ringside. A security guard stops her, but she motions that she's part of the show and is let through. Lynch attacks Natalya with the crutch to cause a disqualification.
Winners by Disqualification: Natalya and "Rowdy" Ronda Rousey
Rousey runs over and hits Lynch with the crutch before they begin brawling. Agents, security, and referees break it up. Rousey attacks the security guards in the ring. Rousey tries to get out of the ring and attack, but Atlanta Police restrain Lynch and escort her to the back. The crowd is buzzing for this. Near the ring, agents tackle Rousey to keep her from attacking. The police handcuff Lynch and escort her to the back.
---
In-Ring: Ronda Rousey, Stephanie McMahon
Ronda Rousey marches down to the ring and shouts that it's time to end this. She calls out Vince McMahon!
Stephanie McMahon's music hits instead, and she comes out looking none too pleased. Rousey says she knows Stephanie is out to do her father's bidding. She demands that Becky Lynch be reinstated. Stephanie says reinstating her is the least of Lynch's problems. Becky Lynch has been arrested. Rousey tells Stephanie to have her family drop the charges and reinstate Lynch. Stephanie says it is not that easy. Rousey's opponent at WrestleMania is Charlotte Flair. The crowd loudly boos. Stephanie says it is not how she wanted it, but Lynch is a loose cannon and unprofessional. Becky Lynch did this to Becky Lynch. Instead of being on the Road to WrestleMania, Lynch is on the road to jail.
Rousey says Stephanie always claims to do what's best for business. Everyone wants this, even the ginger douche. It could be the first ever women's main event in WrestleMania history. This means a lot to Stephanie's legacy and her daughters. A light "Triple Threat" chant picks up. Stephanie apologizes and says it is a hard no. Rousey says that is not good enough. She demands that Lynch be reinstated. Stephanie is furious about Rousey's demand. Her father had it right. Rousey and Lynch both have bad attitudes. Nobody is bigger than the WWE. Rousey says Stephanie doesn't control her. Rousey says she's bled enough to be set for life. She's not Stephanie's worker. She's Ronda Rousey and is the RAW Women's Champion. She'll carry the title as long as she defends it against the best of the best. Instead she's defending against the chosen one. Now the title is a gaudy accessory. Vince claims to make the tough decisions. Now he has to make the right decision. Rousey lays the title at Stephanie's feet and walks off. Stephanie looks stunned.
---
Video: Stone Cold Steve Austin
Stone Cold Steve Austin sends a message to Ric Flair, wishing him a happy birthday.
---
Backstage: Triple H, Stephanie McMahon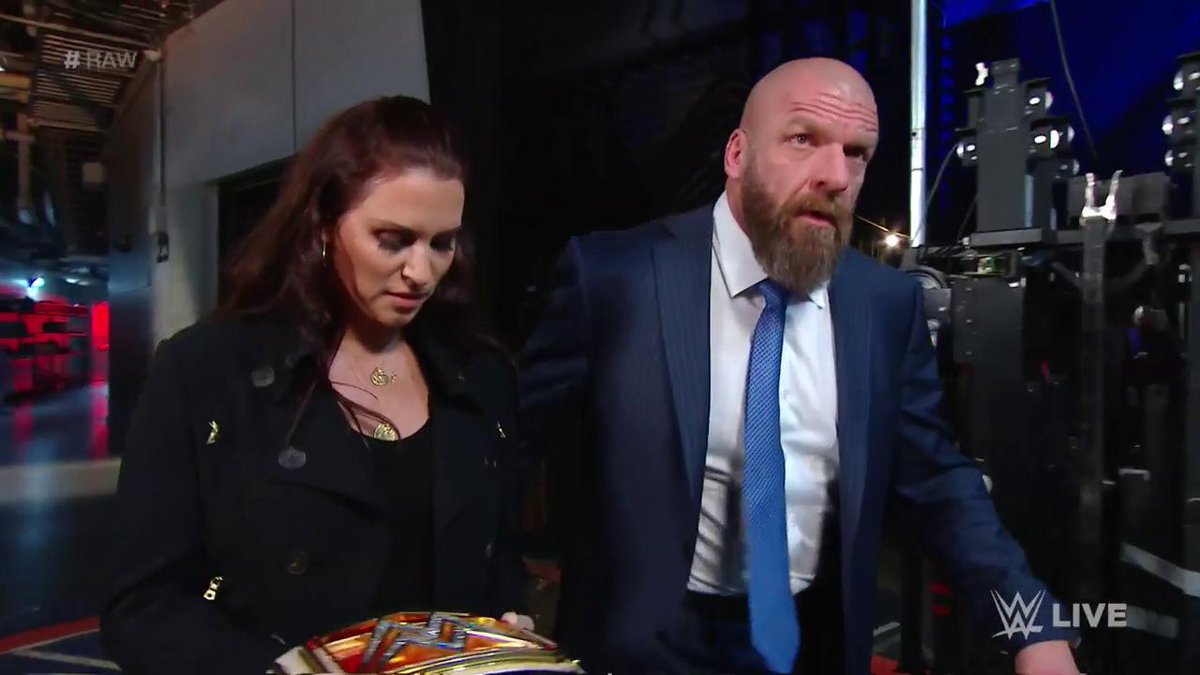 Stephanie McMahon is holding the RAW Women's Championship when Triple H walks up to her.
---
Jinder Mahal vs. Kurt Angle
Jinder Mahal is in the ring with the Singh Brothers. Mahal says there is so much talk about Ric Flair's birthday, but what has he ever done? The biggest travesty is Mahal wasn't invited. You cannot have a celebration without the Modern Day Maharaja. That's why he was backstage and challenged any WWE superstar that was invited to Ric Flair's birthday party. This party is over.
Kurt Angle's music hits, and the WWE Hall of Famer makes his way to the ring to a great ovation!
The bell rings, and The Singh Brothers distract Angle. Mahal big boots Angle down for a two count. Mahal knees Angle in the back and stomps him. Mahal punches him to the corner before calming himself down. Mahal hits a snapmare and applies a chin lock. Angle has not connected with a move yet. Angle fights up, but Mahal powers him down for a two count. Mahal then reapplies a chin lock. Angle fights up, blocks a punch, and punches back. Angle then hits a German Suplex. Angle takes a moment to recover before hitting three rolling German Suplexes. Angle then knocks The Singh Brothers off the apron. Angle gets out of the Khallas and applies the Angle Lock for the win.
Winner by Submission: Kurt Angle
Samir Singh runs in, and Angle kills him with a German Suplex. Sunil Singh receives the same result.
---
A Moment of Bliss: Alexa Bliss, Finn Balor, Lio Rush
Alexa Bliss starts off the segment by saying, "Bye, Ronda." She says to not let the red carpet WWE rolled out for her hit her in the butt. She then says tonight's show will be extraordinary because she's interviewing the new WWE Intercontinental Champion.
Finn Balor comes out and shakes hands with Bliss. She mentions that he looks great with the title, but it covers his abs. She says if he shows her his abs, she'll show him…
Lio Rush interrupts. Rush says this show is a sham. Rush wants the title back, even if he has to pry it out of Balor's hands. Balor asks if Rush is here to challenge him for the Intercontinental Championship to prove to Bobby Lashley that he's better than him. Rush says that's not what he meant. Balor accepts Rush's challenge. Rush is confused. Balor says he beat him for the title, so Rush should challenge to win it back. Balor asks the crowd how they feel about the match, and they like it. Bliss asks if Rush is man enough to do the job himself. Rush says he can beat him and is going to the back to prepare. Bliss says he doesn't have time because his match is right now.
---
Backstage: Maria Menounos, Titus O'Neil, Sting
.@TitusONeilWWE is EXTRA ready to party tonight, because @Sting just showed up! #RAW pic.twitter.com/HJdPJg8EPR

— WWE (@WWE) February 26, 2019
More tributes to Ric Flair are shown, this one coming from Maria Menounos. Titus O'Neil is backstage and hugs WWE Hall of Famer Sting.
---
WWE Intercontinental Championship
Finn Balor (c) vs. Lio Rush
Balor powers him to the corner, but Rush avoids him. Rush hits a head-scissor takeover and a dropkick for a no count. Rush talks trash, and Balor smiles. They lock up again, and Balor applies a side headlock. Rush tries to whip him off, but Balor keeps it hooked. Rush gets out and connects with a step-up enzuigiri. Rush dropkicks him out of the ring and teases a dive, but Balor gets in the ring and elbows him down. Balor stomps him out of the ring and hits a baseball slide. Balor goes for a running kick from the apron, but Rush kicks the feet. Rush hits an Asai Moonsault before connecting with a pair of suicide dives. Rush gets him in the ring and goes for a frog splash, but Balor gets the knees up.
Balor is shaking feeling into his knee. Balor chops the chest and grabs his knee. Balor whips him to the corner and chops him again. Rush slingshots over him, but Balor takes him down with a Sling Blade. Balor goes for a running dropkick, but Rush dropkicks him in the hurt knee. Rush kicks away at the knee and applies a hold. Rush attacks the knee, but Balor takes him down with a step-up enzuigiri. Balor blocks a kick and clubs him before hitting a falling elbow drop. Rush flips through a reverse DDT and kicks him in the head for a near fall. Balor avoids a moonsault and turns him inside out with a clothesline. Balor goes to the apron and climbs the ropes, but Rush cuts him off. Rush goes for a super hurricanrana, but Balor counters. Rush quickly kicks away at the knee to keep Balor down. Balor counters a stunner attempt into the 1916. Balor goes to the top rope and hits the Coup de Grace for the win.
Winner and still WWE Intercontinental Champion: Finn Balor
---
Backstage: The Ascension, Heavy Machinery
The Ascension makes fun of Tucker of Heavy Machinery, who is walking alone backstage. They make fat jokes about Otis, and Tucker warns them that Otis will be upset about it. Otis walks up, and Tucker snitches on The Ascension. Otis then runs them over. Otis says, "That's what you get for messing with Heavy Machinery!"
---
Backstage: Bobby Lashley, Lio Rush
Bobby Lashley is furious with Lio Rush backstage. Lashley says Rush can't do anything right. Rush was supposed to get a title shot for Lashley, but instead got one for himself. Lashley says he can't be worrying about Rush when he faces Strowman. Lashley asks if he can trust Rush, and Rush says he can.
---
Bobby Lashley vs. Braun Strowman
Lashley attacks Strowman while he's making his entrance. Lashley kicks him in the knee and elbows him. Lashley punches him down and attacks the back. Lashley then applies a neck vice. Lashley sends Strowman into the corner and signals for a suplex, but he can't get him up. Strowman then hits a release suplex. Strowman charges, but Lashley elbows him. Strowman comes back with a big boot and clubs him down. This match has not started yet.
Strowman goes outside and runs Lashley over with a shoulder block. Strowman then turns around and flattens Rush with a shoulder block. Strowman's music hits, and he walks to the back. This match never started.
---
Backstage: Seth Rollins
Charly Caruso is backstage with Seth Rollins. Rollins says he can't stop thinking about Brock Lesnar. WrestleMania is the biggest night of his career. Rollins promises to walk out as Universal Champion. Tonight everything is secondary because his brother is back. It's about celebrating. Reigns probably has an ice cold beverage waiting for him. It's time to burn it down in a different way.
---
Backstage: Ric Flair
WOOOOOOOOOOOOOOOOOOOOOOOOOOOOOOOOOOOOOOOOOOOOOOOOOOOOOOOOOOOOOOOOOOOOOOOOOOOOOOOOOOOOOOOOOOOOOOOOOOOOOOOOOOOOOOOOOOOOOOOOOOOOOOOOOOOOOOOOOOOOOOOOOOOOOOOOOOOOOOOOOOOOOOOOOOOOOOOOOOOOOOOOOOOOOOOOOOOOOOOOOOOOOOOOOOOOOOOOOOOOOOOOOOOOOOOOOOOOOOOOOO!!!!!!!!!!!!! #RAW @RicFlairNatrBoy pic.twitter.com/kqqud2AYbw

— WWE (@WWE) February 26, 2019
Elsewhere backstage, a limousine pulls up and Ric Flair steps out to a huge ovation. His wife Wendy is by his side. Flair is pumped up.
---
No Disqualifications Match
Dean Ambrose vs. Drew McIntyre
Ambrose attacks McIntyre while he's making his entrance and punches away at him. Ambrose chops the chest and throws him into the barricade. Ambrose then sends him into the ring post. McIntyre fights back and chops him. Ambrose quickly slams him off the LED apron and gets him in the ring. The match officially begins.
Ambrose punches him in the corner and kicks him. Ambrose chops the chest and dropkicks him in the knee. Ambrose removes a belt and is still wearing a second belt. McIntyre big boots him, picks up the belt, and smacks it off his back three times before hitting him on the chest. McIntyre gets him to his feet and hits a spinebuster for a two count. McIntyre picks up the belt and hits Ambrose again. Ambrose comes back with some chops, ducks a clothesline, and clotheslines him out of the ring. Ambrose goes for a suicide dive, but McIntyre catches him, slams him into the barricade, and hits a belly-to-belly overhead suplex on the floor.
We come back from the break to see Ambrose come off the top rope to the floor with an elbow drop. Ambrose sidesteps McIntyre and sends him into the ring steps. Ambrose gets him in the ring and rolls him up for a two count. Ambrose connects with a neckbreaker for a near fall. Ambrose picks up the belt and wildly assaults McIntyre with it. Ambrose turns for a moment to celebrate, and McIntyre levels him with a Glasgow Kiss. Ambrose rolls out of the ring to recover.
McIntyre picks up the steel steps and charges, but Ambrose gives him a drop-toe-hold. McIntyre hits the ring steps on the way down. Ambrose bounces him off the steps and sets up for Dirty Deeds, but Elias comes out of nowhere with a guitar shot to the back. Elias gets Ambrose in the ring and clears the way for McIntyre. McIntyre waits for Ambrose to get up, and he levels him with a Claymore Kick for the win.
Winner by Pinfall: Drew McIntyre
Baron Corbin's music hits, and he comes to the ring with Bobby Lashley. Elias joins them in the ring, and it's a 4-on-1 assault on Ambrose. Corbin hits a chokeslam backbreaker before Lashley connects with a spear.
Seth Rollins' music hits, and he comes to the stage with a chair. Then Roman Reigns' music hits, and he stands with Rollins to a huge ovation. They make their way down. Reigns hits Lashley with a Superman Punch before getting in the ring and giving one to McIntyre. Meanwhile, Rollins hits Elias with the chair. Reigns gives Lashley a Superman Punch to knock him off the apron. Rollins hits Elias with a Stomp. Reigns is setting up, and the crowd is buzzing. Reigns then spears McIntyre to a great ovation!
Reigns and Rollins walk up the ramp, but then turn to look at Ambrose. Ambrose stares back at them with appreciation.
---
Bayley vs. Nia Jax
Jax shoves Bayley before head-butting her down. Jax charges, but Bayley pulls the ropes down to get her out of the ring. Jax gets in and fends off an attack from Bayley. Bayley catches her with a hip toss for a two count. Bayley hits a running forearm, but Jax stays standing. Jax grabs her by the throat and powers her out of the ring.
We come back from the break to see Bayley making a comeback with a face-buster. Bayley gets a head of steam, but Jax runs her over with an avalanche. Jax throws her across the ring and chokes her on the bottom rope. Jax continues to dominate before Bayley hits a drop-toe-hold into the turnbuckle. Bayley stomps her out of the ring. Jax gets on the apron and snaps her off the middle rope before dropkicking her to the floor. Jax gets in the ring, and Bayley knees her. Bayley comes off the middle rope, but Jax catches her. Jax ties her in the tree of woe before avalanching her. Jax stomps her again. Jax then grabs Sasha Banks by the hair, so Bayley knees her. Tamina tries to attack, but Banks sends her into the steel steps. Bayley hits a top rope elbow drop for the win.
Winner by Pinfall: Bayley
---
Ric Flair's 70th Birthday Celebration
The ring is surrounded with balloons on all four corners. There is also a cake in the ring. WWE Superstars are on the stage to celebrate Ric Flair. Triple H and Stephanie McMahon make their entrance and head down to the ring. Triple H says on the Road to WrestleMania, things get a little more amped up. You get nights like tonight when "The Big Dog" Roman Reigns returns to reclaim his yard. You get nights like tonight when Ronda Rousey lays down the Women's Championship and makes an ultimatum. You get nights like tonight when Becky Lynch goes to jail.
All of that pales in comparison to the reason we're here right now. We are here to celebrate the 70th birthday of what he considers to be the greatest sports entertainer of all time, "The Nature Boy" Ric Flair! Stephanie McMahon asks what is a party without some invited guests. She first introduces Shawn Michaels to the ring. HBK makes his entrance in an NXT hat. HBK is growing his hair out. McMahon next introduces Ricky "The Dragon" Steamboat. Steamboat comes out to a nice ovation, and he chops Seth Rollins down, who sells it wonderfully. Next out is Kurt Angle. Finally, Sting is introduced to the ring, the man Ric Flair faced on the first and last episode of WCW Monday Night Nitro.
Triple H says a lot of things have been said about Ric Flair through the years. There's not a whole lot more to add. Flair really is a kiss stealin', wheelin', dealin', limousine ridin', jet flyin' son of a gun. Let's take a look at what's causing all of this.
Video Package: The unbelievable career of "The Nature Boy" Ric Flair
Stephanie McMahon says Ric Flair will always be a champion in their eyes. That's why they have created a custom made WWE World Heavyweight Championship belt. She unveils it. Triple H then introduces "The Nature Boy" Ric Flair.
Ric Flair's music plays, but he's nowhere to be seen. We go backstage to see Batista dragging a cameraman around. Batista enters Ric Flair's dressing room and slams the door shut. Batista then opens the door and drags an unconscious Flair out! Batista says, "Hey Hunter. Do I have you attention now? Huh?" Triple H gets out of the ring and runs to the back.
Triple H runs down the hallway to the injured Ric Flair. Agents and referees are around Flair. Triple H screams for a doctor. Flair is holding his midsection and in pain.