September 21, 2020
Orlando, Florida (Amway Center)
Commentary: Tom Phillips, Byron Saxton, and Jerry "The King" Lawler
Results by: Mike Tedesco of Wrestleview.com
---
Quick Match Results
#1 Contenders Triple Threat Tag Team Match: Andrade & Angel Garza defeated Seth Rollins & Murphy and Dominik Mysterio & Humberto Carrillo via Wing Clipper by Garza on Murphy
Non-Title Match: Drew McIntyre defeated Keith Lee by disqualification when Randy Orton attacked McIntyre
#1 Contender Match: Zelina Vega defeated Mickie James via backstabber
Apollo Crews defeated Cedric Alexander via roll up after a distraction from Ricochet
Non-Title Match: Nia Jax & Shayna Baszler defeated Natalya & Lana via Kirifuda Clutch by Baszler on Lana
Non-Title Match: Asuka defeated Peyton Royce by disqualification when Zelina Vega attacked Asuka
The Hurt Business (Bobby Lashley, Shelton Benjamin & Cedric Alexander) defeated RETRIBUTION (T-Bar, Mace & Slapjack) by disqualification because T-Bar punched Lashley while not being the legal man
---
In-Ring: RETRIBUTION, The Hurt Business
RETRIBUTION storms the ring with new attire and masks. They take down their hoods. The commentators say they have signed official contracts with WWE. Mia Yim under a mask asks WWE management if they thought they were safe because they gave them contracts then they should think again. The fighting continues because their superstars are motivated for money. They are done being stepped on looking for the imaginary brass ring. Dominik Dijakovic says they are here to destroy WWE and rebuild it in the image of RETRIBUTION. They'll drain the lifeblood of this company in the WWE Superstars. They are the sickness infesting this hellhole. Dijakovic says the superstars do this to collect their money and take their paydays like whores. RETRIBUTION will make them pay for their sins because they're the judge, jury, and executioners.
The Hurt Business' music hits, and they come out to the stage. They remove their jackets and get in the ring. RETRIBUTION quickly clears out of the ring. MVP says they have no heart or chainsaws. They're not so tough. MVP figured since they got contracts, they would stop running their mouths. MVP says if they want an opportunity, they have one tonight to be on the business end of some hurt. Bobby Lashley says they're not little kids hiding behind masks. They'll beat them down and look good doing it.
More RETRIBUTION members show up and surround the ring. A big brawl breaks out. It looks to be 15-on-4. They wipe out the Hurt Business. Dijakovic and Dio Maddin hit Lashley with a double chokeslam.
---
Backstage: The Mysterio Family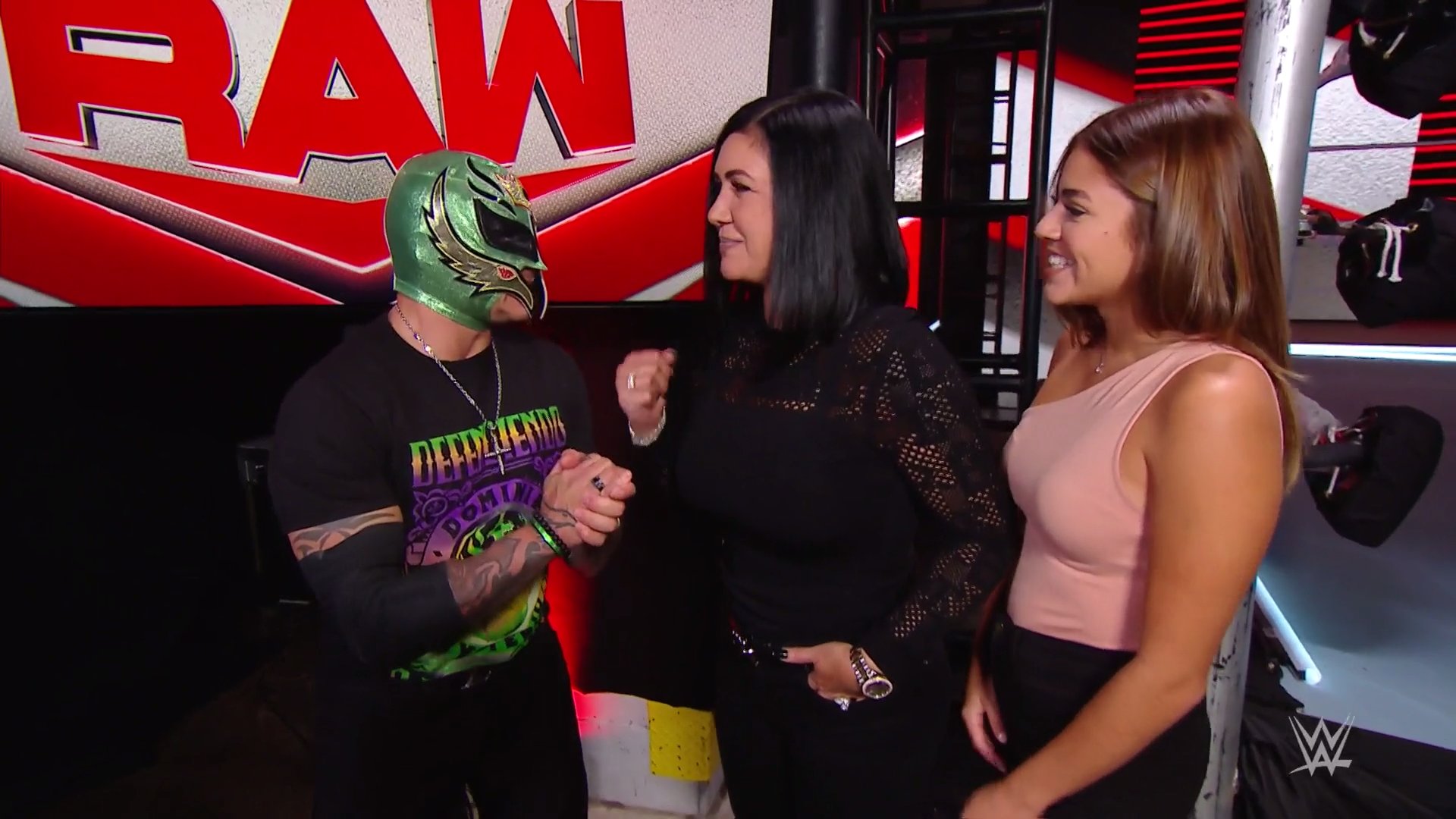 Sarah Schreiber is backstage with The Mysterio Family. Rey Mysterio says he started as a Tag Team Champion. It's an honor to watch his son follow in his footsteps.
---
#1 Contenders Triple Threat Tag Team Match
Andrade & Angel Garza vs. Seth Rollins & Murphy vs. Dominik Mysterio & Humberto Carrillo
Raw Tag Team Champions The Street Profits make their way to the ring. They'll be on commentary for this match.
Andrade gets out of the ring before the action begins. Murphy starts against Carrillo. Murphy takes him down and wrenches the arm. Carrillo twists out and sends him out of the ring. Andrade attacks him from behind and tags Garza in. Garza clubs at Carrillo before tagging Andrade back in. Carrillo sends Andrade into the ropes, but he flies in and poses. Murphy gets in the ring and double-teams Carrillo with Andrade. Carrillo hits Andrade with a big arm drag before sending Murphy to the apron and kicking him off.
Dominik Mysterio tags in and clubs Garza. Mysterio comes off the top rope with a cross-body on Murphy while Carrillo hits a suicide dive on Andrade. Mysterio gets Andrade in the ring for a two count. Andrade fights back, but Mysterio comes back with a sunset flip powerbomb, but the pin is broken up. Garza gets in the ring and punches Dominik. Garza tries to send him out of the ring, but Mysterio comes back with a (sort of) 619. Garza is then knocked out of the ring. Andrade and Murphy brawl. Andrade rocks Murphy with a back elbow, but Murphy responds with a big knee to the face.
Seth Rollins surveys the landscape before leaving the apron and grabbing his jacket. Rollins says he's got a lot on his mind and leaves Murphy. Rollins walks off to the back smiling. Andrade comes back with a wild back elbow on Murphy. Garza tags in and hits the Wing Clipper on Murphy for the win.
Winners by Pinfall: Andrade and Angel Garza
Andrade and Angel Garza will face The Street Profits for the Raw Tag Team Championship this Sunday at WWE Clash of Champions.
---
Backstage: Shane McMahon
A few surprises up @shanemcmahon's sleeve?

He joins @FightOwensFight on The #KOShow NEXT! #WWERaw pic.twitter.com/PNQiho2HDn

— WWE (@WWE) September 22, 2020
Footage is shown of Braun Strowman beating people down on Raw Underground last week. He'll face Dabba-Kato later tonight.
Shane McMahon walks out of Raw Underground and says he's going on The KO Show to promote it. The security guard tells him to be careful.
---
Backstage: RETRIBUTION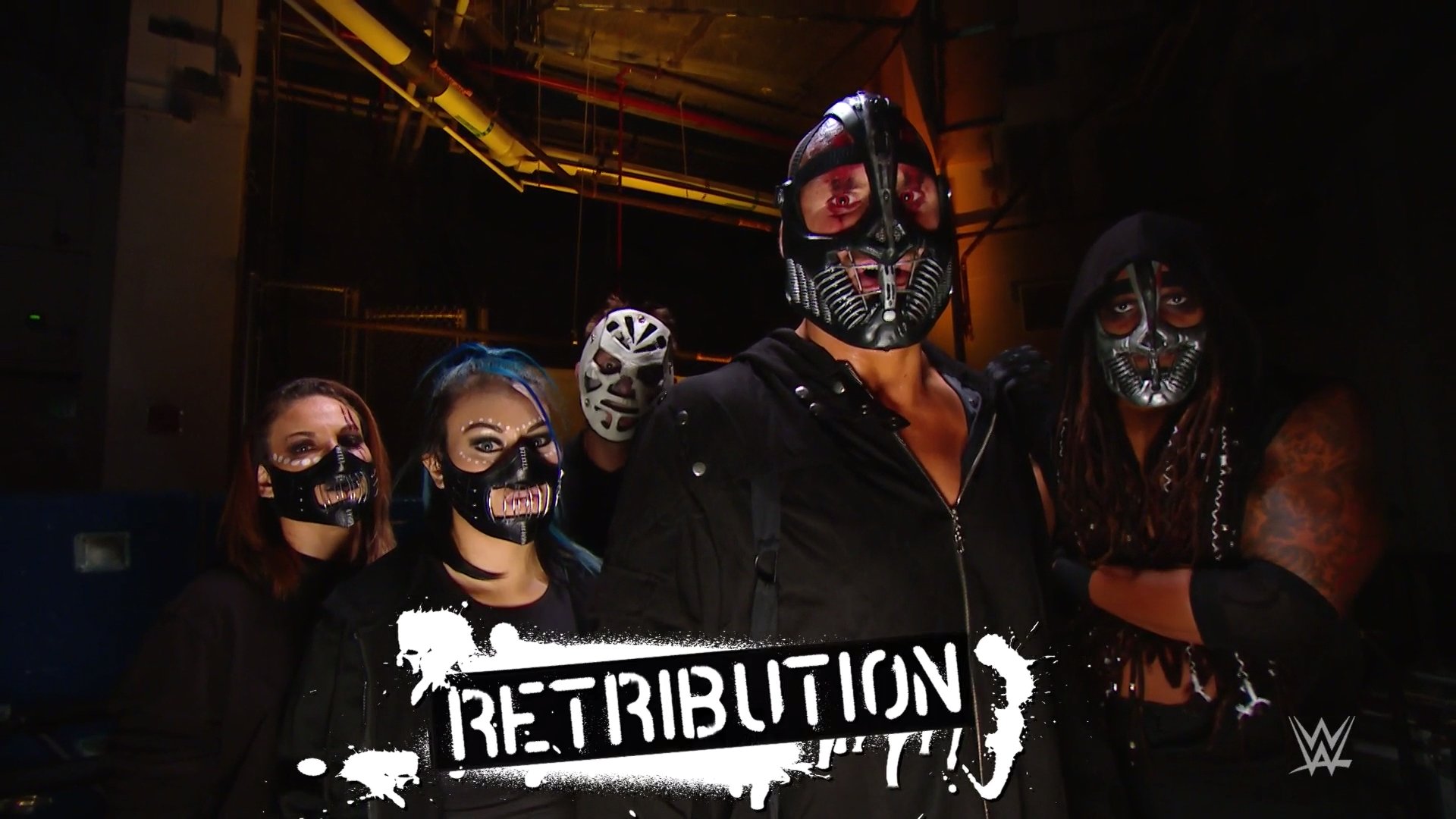 RETRIBUTION is backstage. Dominik Dijakovic says The Hurt Business could have been part of the solution, but they bent the knee to WWE. They line their pockets with WWE's money. They asked for this match in greed. The payment won't come in the form of money. It'll come in the form of a match against them and they'll pay in RETRIBUTION.
---
In-Ring: Kevin Owens, Shane McMahonn, Dabba Kato, Braun Strowman, Aleister Black
Kevin Owens is in the ring. Last time he hosted The Kevin Owens Show, he got attacked by Captain Hot Topic (Aleister Black), but he took care of him last week. His guest is someone he would have never thought would be on his show, but 2020 is weird. His guest is Shane McMahon.
Shane McMahon's music hits, and he walks out to the ring. McMahon thanks him for having him on the show. Owens mentions they fought for two years and he got Shane fired. But tonight they're going to showcase what McMahon does best: promote. Owens tells McMahon to promote away because he can't wait. McMahon puts over Dabba-Kato vs. Braun Strowman. McMahon says Owens knows Dabba-Kato well and brings him out.
Dabba-Kato makes his way to the ring. Owens gets up and says he doesn't care about Raw Underground for tonight. He cares about Raw Underground from two weeks ago. Owens knows Dabba-Kato has Strowman on his mind, but they are going to do this at some point. Until then, here's something for him to chew on. Owens viciously slaps him in the face. Owens then introduces his second guest, Braun Strowman.
Braun Strowman makes his way to the ring. Shane McMahon says if he wants this fight, it'll happen on Raw Underground or it won't happen at all.
Aleister Black shows up, sweeps Owens' feet, and pulls him three times crotch-first into the ring post. Dabba-Kato walks off on Strowman.
---
Backstage: Drew McIntyre
UP NEXT: #WWEChampion @DMcIntyreWWE will go one-on-one with @RealKeithLee on #WWERaw!

Can Keith Lee earn the right to meet the champ at #WWEClash of Champions? pic.twitter.com/vydBe5Oj1i

— WWE (@WWE) September 22, 2020
Charly Caruso is backstage with WWE Champion Drew McIntyre. He's asked about Keith Lee. McIntyre says things got heated, but they'll laugh over it one day over drinks. The drinks will be on McIntyre since he's beating Lee, next.
---
Backstage: RETRIBUTION, Titus O'Neil, Humberto Carrillo
We come back from the break to see RETRIBUTION beating on Titus O'Neil and Humberto Carrillo backstage. There are so many camera zooms and shakes that one would feel seasick after watching it. Dominik Dijakovic shouts about the WWE Superstars.
---
Non-Title Match
Keith Lee vs. Drew McIntyre
The bell rings, and Lee immediately sidesteps a Claymore Kick. Lee applies a side headlock, but McIntyre fights out and applies one of his own. McIntyre cinches it in, but Lee fights it. Lee lifts him up, but McIntyre wrenches the headlock in more to get back to the ground. Lee pushes him off, but McIntyre slingshots over him. They hit the ropes, but Lee ducks and hits McIntyre with a flying shoulder that sends him over the top rope. McIntyre gets in before being counted out. McIntyre rakes the eyes, and they go outside. McIntyre chops him, but Lee comes back with Grizzly Magnum. McIntyre then responds with a Randy Orton back suplex on the commentary table.
We come back from the break to see McIntyre chopping Lee. Lee fights back and clotheslines him before sending him to the corner. Lee avalanches him twice and tries for a clothesline, but McIntyre ducks. McIntyre lifts him up, but Lee is too heavy. McIntyre boots him and hits the ropes, but Lee forearms him down. Lee thinks about it for a long time before covering for a two count. Lee tries for a Spirit Bomb, but McIntyre counters into a hurricanrana. McIntyre follows up with a Double A Spinebuster before executing a jackknife pin for a near fall.
McIntyre clubs Lee and hits a neckbreaker for a near fall. McIntyre attempts a Future Shock DDT, but Lee powers him to the corner. Lee charges, but McIntyre knocks him back. McIntyre runs at him, but Lee hits a one-armed slam for a near fall. Lee gets McIntyre to his feet and punches him before clubbing the back. Lee hits the ropes and hits a clothesline for a near fall. McIntyre holds his jaw in pain. It is still broken. Lee goes for a Spirit Bomb, but McIntyre gets out and hits a Claymore Kick. Randy Orton then attacks McIntyre from behind with some chair shots.
Winner by Disqualification: WWE Champion Drew McIntyre
Orton takes the edge of the chair and digs it into the broken jaw of McIntyre. McIntyre screams in pain. Orton then turns to Lee and hits him with a Punt Kick. Orton looks down at the destruction he caused.
In-Ring: Randy Orton
Randy Orton shames everyone for thinking he wouldn't make it to Clash of Champions. Doesn't his track record speak for itself? 20 years on the roster and he's never walked away from a title match. He won't do that anytime soon… but the World Title match at Clash of Champions isn't exactly a normal match.
Orton gets out of the ring and walks up to the ambulance that is parked next to the stage. Orton opens the back doors and says he took a ride in this very ambulance a few weeks ago. He took not one, not two, not three… well actually three Claymore Kicks. As they were flying down the highway and the sirens were blaring, he was fading out of consciousness. The feeling came over him is the feeling of being taken out by The Legend Killer. That was what Edge, Christian, Big Show, Shawn Michaels, Ric Flair, and even Drew McIntyre felt like when he kicked them in the skull. When he came to in the back of the ambulance, he felt a smile. He wasn't smiling because of the pain. He was smiling because he remembered what he is capable of and remembered what it takes to become WWE Champion. This ambulance represents different things for different people. For some, it represents hope and healing. For others it represents pain, agony, and even death. This ambulance represents to him is his 14th World Championship. Orton tells McIntyre to listen up. At Clash of Champions, he'll make sure McIntyre takes one more ride in this ambulance. His World Title reign will flatline courtesy of the three most dangerous letters in sports entertainment: R-K-O. Orton slams the doors of the ambulance and stares into the camera.
---
Backstage: Asuka, Peyton Royce, Billie Kay
The champ's always ready.

Did @WWEAsuka just challenge @PeytonRoyceWWE to a match tonight?! #WWERaw pic.twitter.com/zUH8Dduy7O

— WWE Universe (@WWEUniverse) September 22, 2020
Sarah Schreiber is backstage with Raw Women's Champion Asuka. She asks Asuka if Mickie James is a bigger threat to Asuka's title or Zelina Vega. Billie Kay walks up and says she's here for a free match against Asuka. Maybe Sarah or Jen from catering can get a match. Peyton Royce walks up and says she could get a match. Asuka asks if they're still friends, but Billie says they're not a tag team but still friends. Royce says things change like Asuka being the champion after Sunday. Asuka says no one is ready for her on Sunday, but she's ready for Peyton Royce tonight.
---
#1 Contender Match
Zelina Vega vs. Mickie James
A replay is shown of the botched ending to Asuka vs. Mickie James last week. Mickie says she never gave up last week and will never give up on the title.
The bell rings, and Vega kicks Mickie down before talking trash. Mickie grabs her by the hair and whips her down. Mickie swings her around by the hair before backing up. Vega jumps on her back for a sleeper hold, but Mickie pulls her off and kicks her in the face for a two count. Mickie goes for a suplex, but Vega counters into a roll-up for a two count. Vega ducks a clothesline and applies an octopus stretch. Mickie drops down to a knee, but she powers her up and backs Vega into the corner to break the hold. Vega kicks Mickie in the face, but Mickie blocks it. Mickie goes for a powerbomb, but Vega comes back with a hurricanrana that nearly spikes Mickie on her head. The match slows down for a moment and there's some mistimed stuff. Mickie comes back with a clothesline and a kick that misses by a mile. Mickie takes her down and kips up. Mickie goes to the top rope and hits a flying Thesz Press for a near fall. Mickie goes for a Mick-DT, but Vega whips her into the ropes. Vega follows up with a backstabber for the win.
Winner by Pinfall: Zelina Vega
Zelina Vega will face Asuka for the Raw Women's Champion this Sunday on the Kickoff Show of WWE Clash of Champions.
---
Backstage: The Hurt Business, RETRIBUTION
The fight has been BROUGHT to #RETRIBUTION by The #HurtBusiness ahead of @CedricAlexander's showdown with @WWEApollo NEXT on #WWERaw! pic.twitter.com/eCQT6L9obB

— WWE (@WWE) September 22, 2020
We go backstage to see The Hurt Business taking out RETRIBUTION members backstage.
---
Video: Bianca Belair
Video Package: Bianca Belair absolutely smokes some guy in the gym with balance and weight lifting reps. She's the EST of WWE.
---
Segment: Akira Tozawa, R-Truth
We go to the beach earlier in the day. Akira Tozawa is hiding in the ocean. WWE 24/7 Champion R-Truth shows up. A great white shark fin shows up in the ocean. Tozawa and the ninja referee, still in the water, are terrified. R-Truth drops the 24/7 Title in the ocean. R-Truth comes back 20 minutes later with a snorkel and flippers on his feet. He's going to find his baby. The shark shows back up. R-Truth grabs the title in the water and "grabs" Little Jimmy. A ripped up ninja suit washes up, insinuating one of the ninjas was eaten by the shark.
---
Cedric Alexander vs. Apollo Crews
Cedric Alexander and MVP make their way to the ring. MVP says this is an announcement to RETRIBUTION. They'll be in a 6-Man Tag Match and will find out why they're the Hurt Business. They can claim to be judge and jury, but they're the executioners. Alexander says he learned the hard way when you send a message to the Hurt Business, you'll get it back tenfold just like he'll do to an old friend. He's going to get even with Apollo Crews for the months he used him for a championship opportunity. Alexander will show he doesn't give a damn about Crews or his kids.
Apollo Crews comes out with Ricochet. Crews never thought he'd see this side of Alexander. All they care about is punching Alexander in the face. If Lashley thought he forgot about the United States Championship, he hasn't. Lashley will get a feel for what will go down this Sunday when he becomes a 2-time United States Champion.
The bell rings, and Crews takes Alexander down. Alexander elbows out, but Crews hits an enzuigiri. MVP pulls Alexander out of the ring. Crews quickly comes back with a baseball slide on Alexander and gets in MVP's face.
We come back from the break to see Alexander knee Crews in the midsection and dropkick him in the back for a two count. MVP shouts at Crews while Alexander elbows him in the head. Alexander applies a waistlock, but Crews fights up. Crews gets him out of the ring and goes for a moonsault off the apron. Crews lands on his feet when Alexander moves. Alexander then crushes him with a suicide dive. Ricochet gets in Alexander's face. Crews then rolls Alexander up getting in the ring for the win.
Winner by Pinfall: Apollo Crews
The Hurt Business music hits, and Bobby Lashley and Shelton Benjamin walk out. Alexander attacks Crews from behind. They wipe out Crews and Ricochet. Lashley then applies the Hurt Lock to Crews.
---
Raw Underground: Dolph Ziggler, Arturo Ruas, Braun Strowman
We go to Raw Underground to see Dolph Ziggler taking on Arturo Ruas. Ruas takes Ziggler down and goes for an arm bar. Ziggler fights out and punches away at him. Ziggler then applies a sleeper hold, but Ruas fights it. Ruas slams out and punches him, but Ziggler kicks him back. Ruas takes him down, but Ziggler rakes the eyes and jabs him in the throat. Ziggler applies another sleeper hold, but Ruas fights up. Ruas then collapses and taps out to Ziggler. Ziggler stands tall over the broken Ruas.
Shane McMahon says that was amazing. McMahon goes to talk to Braun Strowman, but he doesn't want to talk to him. A new interviewer named Briana Brandy interviews Strowman. Strowman says he's sending everyone home to their mommies with a pocket full of teeth. If Shane wants some, he can get these hands too.
---
In-Ring: Seth Rollins, The Mysterio Family
Seth Rollins makes his way to the ring holding a manila envelope. Rollins says it is no secret that he's had the Mysterios' number for a while. After he beat Dominik last week in a Steel Cage, he thought it was all done. Rollins thought he was free of the torment the Mysterio family has put him through for months… but something has been bothering him about the Mysterio family for quite some time. Rollins should let it go, but he was inspired to look into it by the most unlikely of sources. WWE.com posted a series of photographs of the Mysterio family this week. A light bulb went off in his head. The world has to know the truth. It's hard to do it justice with words.
A photograph of the Mysterio family is shown on the big screen. Rollins tells the people to look at Rey Mysterio and Dominik Mysterio. It doesn't seem possible or fathomable. It's almost unbelievable. We deserve the truth, so he had some people do some digging. In this folder is the results of that investigation. Before he delivers the information to the WWE Universe, he'd like to extend a courtesy to the Mysterio family to come out and find out the truth from him in person. Rollins owes them that much.
The Mysterio family comes out to the stage. Rey says they are tired of the games and are going to give him a beating like they did to Murphy. Rollins says he's grown to respect this family and what they stand for. It might sound weird, but he's inspired by them. They stand together and cheer each other on. They fight together and overcome adversity. That's why they deserve the truth. In this envelope is the results of a DNA test. It's been done before, but times have changed. They need to get to the bottom of this once and for all. They need an answer to the question. Is Rey Mysterio really Dominik's father. Rollins takes out the paper and says the truth is… Rey Mysterio is not the father of Dominik. Rollins laughs.
Rey asks if he really brought them out here for this. They've been there before. It didn't work then and it won't work now. Rollins needs to stop running his family through the mud. Rollins says Rey might be onto something. Maybe he made a mistake. Maybe his guy got the wrong Mysterio kid. Maybe it's not Dominik… maybe it's Aalyah who is not his daughter. Aalyah laughs. Rollins has concrete evidence aside from the DNA test.
Footage is shown of Aalyah checking on Murphy before getting in the ring last week on Raw. Rollins asks if that's really his daughter. That doesn't seem like something a Mysterio would do. She was consoling his disciple, Murphy. What was going on? Aalyah… what was going on there, Rollins asks. Rey says they already spoke about it, but he raised his daughter to be caring and compassionate, something Rollins knows nothing about. Rey tells Rollins to keep his daughter's name out of his mouth. She's just 19-years-old. She's naive and knows nothing about their world. Aalyah looks insulted and walks off on him. Angie, Rey's wife, goes after her. Rey and Dominik look confused. Rey walks away, and Dominik angrily stares at Rollins before going to the back.
Rollins looks lost for words. Rollins apologizes and says he was out here to inform, not to drive a wedge in the Mysterio family. That happens sometimes. It can happen to the Mysterio family. It's probably even happened to some families in the crowd. Rollins apologizes and leaves.
---
Non-Title Match
Natalya & Lana vs. Nia Jax & Shayna Baszler
The Riott Squad is on commentary for this match.
Nia Jax runs over Lana before tagging Baszler in. Baszler slams Lana down and applies the Kirifuda Clutch for the submission.
Winners by Submission: WWE Women's Tag Team Champions Nia Jax and Shayna Baszler
Jax and Baszler attack Natalya and Lana after the match. For the second week in a row, Jax hits Lana with a Samoan Drop through the commentary table. The Riott Squad just watches.
---
Backstage: Drew McIntyre
"I'm gonna go pick a fight." 😯 😯 😯#WWERaw @DMcIntyreWWE pic.twitter.com/HroWnV1Nwb

— WWE Universe (@WWEUniverse) September 22, 2020
Replays are shown of Randy Orton attacking Drew McIntyre's broken jaw with a chair.
We go backstage to see WWE Champion Drew McIntyre with an icepack on his jaw. McIntyre says he's going to beat the piss out of Randy Orton. As for tonight, he's going to go pick a fight.
---
Backstage: The Mysterio Family
We go backstage to see Aalyah arguing with her father, saying she can speak for herself. She's here to support Dominik. Seth Rollins hurt Rey and Dominik. God knows what he'll do to her and her mother… but she's just a naive 19-year-old. She walks off.
---
Raw Underground: Erik, Riddick Moss, Dabba Kato
We go back to Raw Underground to see Erik facing Riddick Moss. Moss slams Erik down, but Erik comes back with a headlock takeover. Erik punches away at him, but Moss gets up. They exchange blows before Erik rocks him with a punch and a German Suplex. Moss quickly gets up and knocks Erik out with a punch. The referee calls it and Moss is the winner.
Shane McMahon says our main event is next. Briana Brandy goes to interview Dabba-Kato, but McMahon takes the microphone. Dabba-Kato says talk is cheap. Strowman will feel what he's all about.
---
Video: Mandy Rose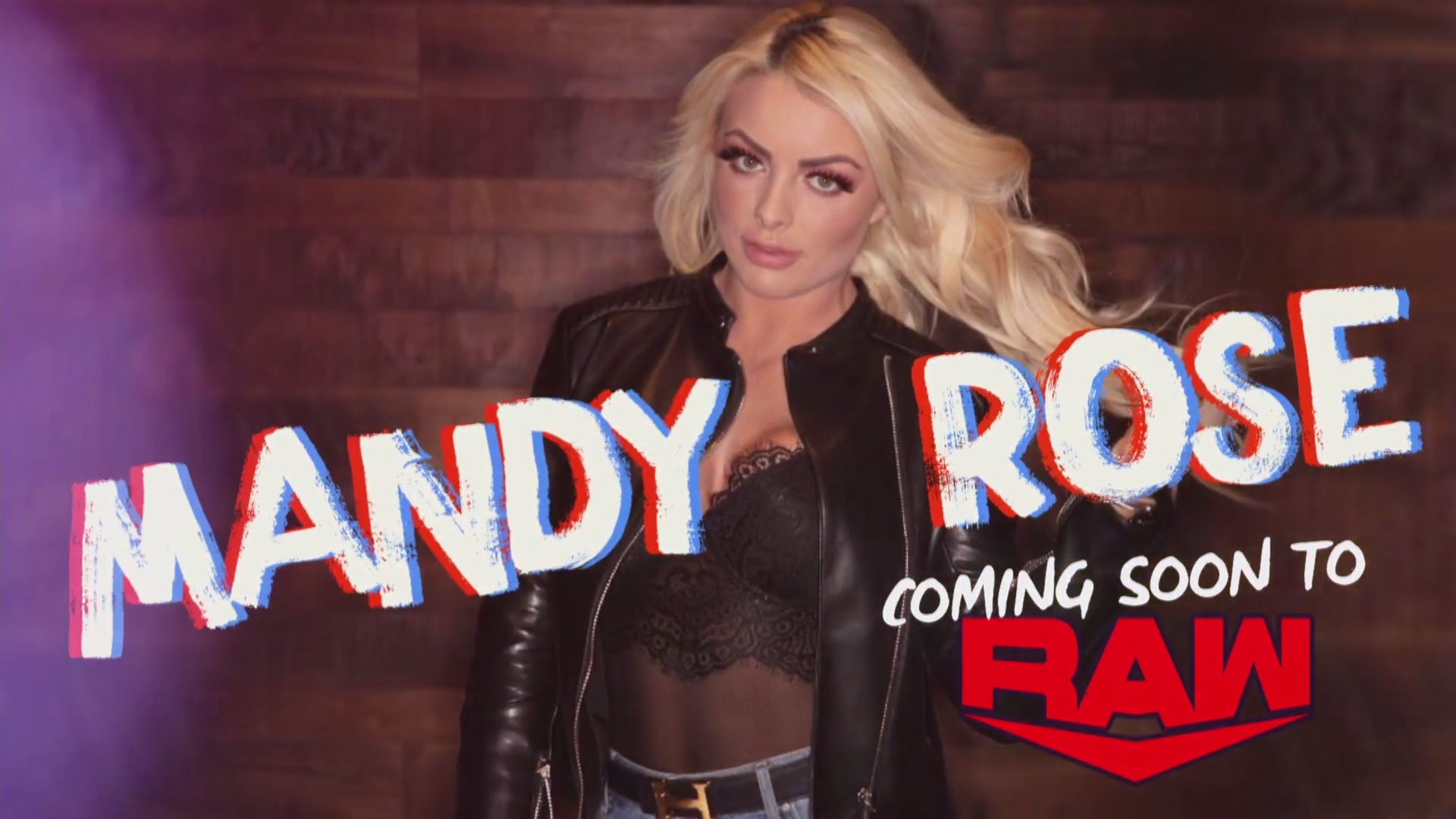 Mandy Rose is coming to Raw soon.
---
Non-Title Match
Asuka vs. Peyton Royce
Asuka starts off strong against Royce. Royce makes a mini-comeback with a Gory Special neckbreaker, but Asuka kicks out. They fumble into an Asuka Lock attempt before Zelina Vega attacks Asuka.
Winner by Disqualification: Raw Women's Champion Asuka
Vega beats on Asuka, but Asuka kicks her away. Vega shouts that the title belongs to her this Sunday.
---
Backstage: Aalyah Mysterio, Murphy
Murphy finds Aalyah Mysterio backstage and says if he's done anything to hurt her, he's sorry. Murphy walks off.
---
Raw Underground: Braun Strowman vs. Dabba Kato
It's the main event of Raw Underground: Braun Strowman vs. Dabba-Kato. They throw shots and lock up. Dabba-Kato connects with some punches, but Strowman takes him down with a front facelock before applying a chokehold. They brawl off the platform before getting back on. Strowman then knocks Dabba-Kato out.
---
RETRIBUTION (T-Bar, Mace & Slapjack) vs. The Hurt Business (Bobby Lashley, Shelton Benjamin & Cedric Alexander)
RETRIBUTION makes their way to the ring. It'll be Dominik Dijakovic, Shane Thorne, and Dio Maddin representing the team. They're announced as T-Bar, Slapjack, and Mace.
Lashley annihilates Shane Thorne to start off. Dio Maddin, now known as Mace, tags in and shoulder blocks Lashley down. T-Bar (Dijakovic) comes in and elbows at Lashley. Lashley takes him down and puts him in the corner. Cedric Alexander tags in and shoulders away at T-Bar's midsection. T-Bar soon takes him down and tags in Slapjack (Thorne). Thorne kicks away at Alexander and tags T-Bar back in. T-Bar clubs Alexander and throws him across the ring for a two count. Alexander stuns T-Bar with a Neuralyzer. Shelton Benjamin tags in and punches away at T-Bar. T-Bar takes him down and tags Mace in. Mace and T-Bar hit a double-team suplex for a two count. Benjamin soon comes back and hits Mace with a back suplex. Benjamin soon fights back and takes Slapjack down.
Lashley tags in and viciously wipes out Slapjack with a one-armed spinebuster. Lashley applies a Hurt Lock to Slapjack. T-Bar punches him and the referee inexplicably throws the match out.
Winners by Disqualification: The Hurt Business
The other members of RETRIBUTION hit the ring. The Raw roster runs down for the save headed by WWE Champion Drew McIntyre. They wipe out RETRIBUTION. Randy Orton then hits McIntyre with an RKO, which causes the entire Raw roster and RETRIBUTION to disappear.