April 5, 2021
St. Petersburg, Florida (Tropicana Field)
Commentary: Tom Phillips, Byron Saxton, and MVP
Results by: Mike Tedesco of Wrestleview.com
---
Quick Match Results
Xavier Woods defeated AJ Styles via inside cradle after a distraction by Kofi Kingston and Omos
2-on-1 Handicap Match: Braun Strowman defeated Elias & Jaxson Ryker via Running Powerslams on both
Non-Title Match: Nia Jax & Shayna Baszler defeated Asuka & Rhea Ripley via knee to the face by Baszler on Asuka after Ripley attacked Asuka
Non-Title Match: Bobby Lashley defeated Cedric Alexander via the Hurt Lock
Non-Title Match: Riddle defeated Mustafa Ali via Bro Derek
Drew McIntyre defeated King Corbin via Claymore
---
In-Ring: Drew McIntyre, Bobby Lashley, MVP, King Corbin
Drew McIntyre makes his way to the ring for the final Raw before WrestleMania. Footage is shown of King Corbin attacking Drew McIntyre last week on Raw.
McIntyre says we're five days away from WrestleMania. He can't help but think how unique WrestleMania was last year. Now we're back in business and once again he is fighting for the WWE Championship. So much is running through his head right now. Where does he begin? Corbin? The All Mighty WWE Champion Lashley? This match is happening whether he likes it or not. Lashley did all he could to take him out, but it's still going down as the biggest fight of their lives. McIntyre has thought a lot about this in the last week. 20 years each, so many roads traveled? What separates them? Sacrifice… how much McIntyre is willing to sacrifice. They both sacrificed putting time on the roads and missing weddings, birthdays, and Christmases. Lashley makes up for lost time when he returns home. McIntyre doesn't have that luxury. McIntyre left his family and home to become WWE Champion. Those times weren't easy. McIntyre wishes he had the luxury of going home. McIntyre remembers wrestling while his mother was taking chemotherapy. He remembers talking to her on Skype and her telling him that she'd kick his ass if he gave up his dream. McIntyre gave everything to this industry. McIntyre got fired, fought back, and come back. McIntyre became the champion pushing forward, falling off cells and ladders… how can you beat a man that will sacrifice everything? You can't. Lashley can't beat him. Tonight, he'll run through Corbin and then on Saturday he'll put his foot through Lashley's face to end the All Mighty Era.
WWE Champion Bobby Lashley makes his way to the stage with MVP. Lashley asks if he's done yet. It took them both a long time to get to the title. Lashley gets it. Only one of them can be on top. McIntyre was a great champion, but his time is over. It's the era of the All Mighty. Everyone is scared of the Scottish Warrior, but he saw fear in McIntyre's eyes last week. Lashley felt McIntyre go out to the Hurt Lock. It'll happen again at WrestleMania. McIntyre says Lashley put him out with the Hurt Lock, but it won't happen again. How about they fight now? MVP puts a stop to that really quick. On Saturday, McIntyre will lose his dignity, his consciousness, and he'll lose the match at WrestleMania. McIntyre says maybe he'll just give it up and become an Uber driver. McIntyre says he'll run him down at WrestleMania. MVP says that's a lot of tough talk considering he might not even make it to WrestleMania.
King Corbin's music hits, and he makes his way to the stage in a suit. Corbin says he agrees with MVP. McIntyre might not make it to WrestleMania. Last week, he started something. Tonight, he'll finish it. There is no WrestleMania for McIntyre and no WWE Championship. Tonight, he'll whoop McIntyre's punk ass.
---
Backstage: The New Day, Riddle
Raw Tag Team Champions the New Day are backstage when WWE United States Champion Riddle comes up on his scooter. Riddle says he didn't like the way Omos beat them up. Riddle has never seen someone get as high as Kingston got. Hopefully they don't get high on Saturday. Later, he'll grind him up and smoke them. The New Day look confused.
---
Xavier Woods vs. AJ Styles
The bell rings, and they circle the ring before Styles punches him. Styles knocks him to the corner and punches him down. Styles whips him into the ropes and connects with a hip toss. Styles gloats in the ring and mugs for Omos. Woods gets to his feet and punches back at Styles. Styles quickly takes him down and applies a Calf Crusher. Kofi Kingston gets on the microphone says Omos gave his best, but they're still standing. Kingston then throws the microphone at Omos and runs off. Omos doesn't feel it and chases Kingston into the ring. Styles lets go of the Calf Crusher and isn't happy. Woods then catches Styles with an inside cradle for the win.
Winner by Pinfall: Xavier Woods
---
Backstage: Bad Bunny, Damian Priest
.@sanbenito is HERE!#WWERaw pic.twitter.com/EPfHveJ3no

— WWE (@WWE) April 6, 2021
A Bugatti drives up in the garage. Out comes Bad Bunny with Damian Priest.
---
In-Ring: Braun Strowman, Shane McMahon
Video Package: Shane McMahon vs. Braun Strowman in a Steel Cage Match at WrestleMania 37
A Steel Cage is set up. Strowman will compete in a 2-on-1 Handicap Match.
Braun Strowman says he's going to show the world how to deal with a guy like Shane McMahon. McMahon doesn't know what he's gotten himself into. McMahon can run his mouth all he wants, but when the door closes, the running ends because he's locked inside the cage with him. Strowman won't whoop his ass just for himself. He'll whoop his ass for everyone on the planet who has ever been called "stupid." There's no hiding behind his goons in this match. McMahon is locked inside a steel cage with the Monster Among Men. At WrestleMania, at the end of their match on Saturday, while McMahon's corpse lays in the ring, the last thing he'll hear won't be "Here Comes the Money"… it'll be the ambulance coming for him because he just got these hands.
Shane McMahon comes out to the stage. McMahon asks what he did to Strowman. McMahon let Strowman pick the match to see how far his intellect grew from 5th grade. It's not that stupid to have picked a Steel Cage, but he's not just any man. He's a McMahon. McMahon will outwit him inside the steel cage at WrestleMania. The next day when Strowman wakes up, he'll think, "Oh boy, I am stupid."
Elias and Jaxson Ryker make their way to the ring. They'll face Braun Strowman, next.
2-on-1 Handicap Match
Braun Strowman vs. Elias & Jaxson Ryker
Elias and Jaxson Ryker double-team Strowman to start, but he quickly overpowers them. Strowman sends Ryker over the top rope with one hand before clubbing away at Elias. Ryker saves Strowman from a Running Powerslam. Elias hits a Sympho-Knee (high knee) to Strowman before they hit a double-team back suplex. Ryker hits a diving head-butt before Elias connects with a diving elbow drop. They both lay on Strowman to cover him, but he kicks out. Shane McMahon, who was standing on the stage, makes his way down the ramp, taking off his jacket as he goes. Strowman powers Elias and Ryker away. McMahon quickly scurries up the ramp. Strowman clubs Elias down and hits Ryker with a Running Powerslam. Strowman then hits Elias with a Running Powerslam and covers them both to pick up the win.
Winner by Pinfall: Braun Strowman
---
Backstage: The Miz, John Morrison, Bad Bunny
Kevin Patrick catches up with The Miz and John Morrison backstage. They're carrying paint cans. They say they have a masterpiece to create. They walk up to Bad Bunny's $3.6 million Bugatti. They paint all over it and sign their names.
After commercials, an infuriated Bad Bunny is walking backstage when he comes out to the garage and sees his defaced Bugatti. Bad Bunny is disgusted. The Miz then attacks him from behind. John Morrison holds Bad Bunny up while The Miz punches away at him before throwing him over a car. The Miz says he ruined his $3.6 million Bugatti and will ruin him at WrestleMania. Officials run up and get Miz and Morrison away. Medics and Damian Priest check on Bad Bunny.
---
Non-Title Match
Asuka & Rhea Ripley vs. Nia Jax & Shayna Baszler
A promo with Rhea Ripley is shown from earlier in the day saying Asuka will have to wait for revenge until Sunday.
Asuka starts against Shayna Baszler. Asuka takes her down and goes for a shoulder block, but Baszler absorbs it. Baszler mocks Asuka and mentions she knocked her tooth out. ASuka takes her down and goes to tag in Rhea Ripley, but Ripley won't tag in. Baszler blindsides Asuka, so Ripley tags in. Ripley grabs Baszler and body slams her. Nia Jax tags in. Ripley goes for a body slam, but Jax stays on her feet. Ripley tags Asuka in when she wasn't ready. Asuka applies an octopus stretch to Jax, but Jax gets out and avalanches her. Asuka hits a double knee facebuster and forces Ripley in. Ripley takes Baszler down and knocks Jax off the apron. Reginald gets in the ring, but Ripley grabs him. Baszler chop blocks Ripley. Jax then drives Ripley into the apron.
We come back from the break to see Jax and Baszler still dominating Ripley. Baszler applies a nasty heel hook to Ripley. Jax tags in and continues to attack the knee before going to a chin lock. Ripley gets out and dropkicks Jax in the head. Asuka tags in and dropkicks Baszler before kicking Jax in the head. Asuka hits running hip attacks on Baszler and Jax. Asuka hits Baszler with a kick to the head before connecting with a German Suplex. Asuka hits a sliding knee, but Baszler kicks out. Asuka goes to the top rope, but Ripley pushes her off to the floor. Ripley then hits a facebuster on the floor. Ripley throws her tag partner into the ring. Baszler knees Asuka in the face for the win.
Winners by Pinfall: WWE Women's Tag Team Champions Nia Jax and Shayna Baszler
---
Backstage: MVP, Cedric Alexander, Shelton Benjamin, Bobby Lashley
MVP is standing backstage when Cedric Alexander walks up and grabs him. Shelton Benjamin joins him. They're upset about being kicked out of the Hurt Business. MVP would be nothing without them. Alexander may not beat Bobby Lashley tonight, but he'll give him a scar to remember him by. They can't wait to see Drew McIntyre defeat Lashley at WrestleMania. They let go of him and leave.
Sarah Schreiber asks MVP about what just happened. MVP says he's disappointed in them. WWE Champion Bobby Lashley walks up. He's not happy about them touching MVP.
---
Backstage: Nia Jax, Shayna Baszler, Lana, Naomi, Mandy Rose, Dana Brooke, Natalya, Tamina, Riott Squad, Billie Kay
Nia Jax and Shayna Baszler are walking backstage when Sarah Schreiber asks them about WrestleMania. Lana and Naomi say they could be the ones facing them. Jax and Baszler laugh. Mandy Rose and Dana Brooke also come up, but Jax and Baszler correctly point out that they beat them already. Natalya and Tamina come up, as do the Riott Squad from SmackDown. Billie Kay also comes up, but she doesn't have a partner as Carmella is still reviewing the resume. Jax and Baszler aren't worried. They tell the teams to worry about the Tag Team Turmoil match at WrestleMania.
---
Non-Title Match
Bobby Lashley vs. Cedric Alexander
Before the match begins, Alexander and Benjamin double-team Lashley. They dominate him for a few moments, but MVP isn't worried on commentary. Lashley quickly fights out and takes Benjamin out.
The bell rings, and an angry Lashley attacks Alexander before hitting a body slam. Lashley throws Alexander across the ring twice. Lashley throws Alexander out of the ring. Benjamin checks on Alexander. Lashley gets out of the ring and chases Alexander back in. Alexander attacks Lashley getting in the ring, but Lashley casually tosses him away. Lashley hits a running shoulder on Alexander in the corner before hitting a vertical suplex. Lashley tosses Alexander out of the ring and drives him headfirst into the ring post.
We come back from the break to see Alexander make a mini-comeback before Lashley floors him with a flatliner. Lashley throws him out of the ring again. Benjamin distracts Lashley, so Alexander kicks him into the steel steps. Alexander connects with two vicious suicide dives. Alexander gets him in the ring and hits a Neuralyzer. Alexander hits a kick to the head and a missile dropkick for a near fall. Alexander boots Lashley back, but Lashley fights back with a slam. Lashley hits a torture rack slam and sizes Alexander up. Benjamin tells Lashley to stop. Lashley sends Alexander into the ropes for a vicious spinebuster. Lashley then applies the Hurt Lock for the win.
Winner by Submission: WWE Champion Bobby Lashley
Benjamin gets in the ring and attacks Lashley when he doesn't let go of Alexander. Lashley quickly floors Benjamin with a flatliner. Lashley then puts the Hurt Lock on Benjamin before throwing him down. Lashley and MVP stand tall in then ring.
---
In-Ring: Bad Bunny, Damian Priest, The Miz, John Morrison
Damian Priest and Bad Bunny make their way to the ring. Priest says Miz and Morrison are just jealous of Bad Bunny. Miz is so worried about Bad Bunny that he could only hold the WWE Championship for a week. Priest suggests they up the ante for WrestleMania and make it a tag match: Miz and Morrison vs. Bad Bunny and Damian Priest.
Bad Bunny likes the sound of that. Bad Bunny says he loves this business and respects it. He has a lot of good memories of watching wrestling with his father, family, and friends. He loves all the wrestling legends and made a song because he respects Booker T. Now he doesn't know how he feels about WWE and this experience with Miz and Morrison. The Miz doesn't respect him. Miz crossed the line destroying his DJ set, disrespecting his music and fans… this Saturday, he'll show Miz how to respect him. He'll shut his mouth and whip his ass.
The Miz and John Morrison cut him off on the big screen. They accept the challenge and drive off in a limo.
---
Backstage: Mustafa Ali, Sheamus, Riddle
On the Road to #WrestleMania like… pic.twitter.com/MMhvlMH3ik

— WWE Universe (@WWEUniverse) April 6, 2021
Mustafa Ali is walking backstage when Sheamus stops him. Sheamus talks about Ali's match against Riddle, who Sheamus will face at WrestleMania. Riddle drives by them on his scooter and infuriates them.
---
Non-Title Match
Riddle vs. Mustafa Ali
Sheamus will be the guest commentator on this match.
The bell rings, and Ali hooks a side headlock. Riddle fights out, but Ali takes him down. Ali is back to wearing his old pre-RETRIBUTION gear. Riddle fights back with a gutwrench suplex and gets out of the ring to put Sheamus' hat on. Ali then hits Riddle with a side leg sweep on the floor.
We come back from the break to see Ali punching and kicking Riddle in the corner. Ali chokes him with his boot. Riddle fights back, but Ali stomps the bare foot. Ali kicks him in the ribs for a near fall. Ali applies a sleeper hold, but Riddle falls back with Ali on his back. Riddle runs wild on Ali and hits some running forearms before connecting with an exploder. Riddle hits a Broton, but Ali comes back with a Koji Clutch. Riddle fights out with a fisherman's suplex. Riddle applies a triangle, but Ali gets a foot on the bottom rope. Ali quickly knocks him into the ropes and hits a front suplex into a gutbuster for a near fall. Riddle quickly counters out of a tornado DDT and hits Bro Derek for the win.
Winner by Pinfall: WWE United States Champion Riddle
---
Backstage: Drew McIntyre
Kevin Patrick asks Drew McIntyre about King Corbin. McIntyre says he'll run through him and then it's on to WrestleMania.
---
Backstage: Bobby Lashley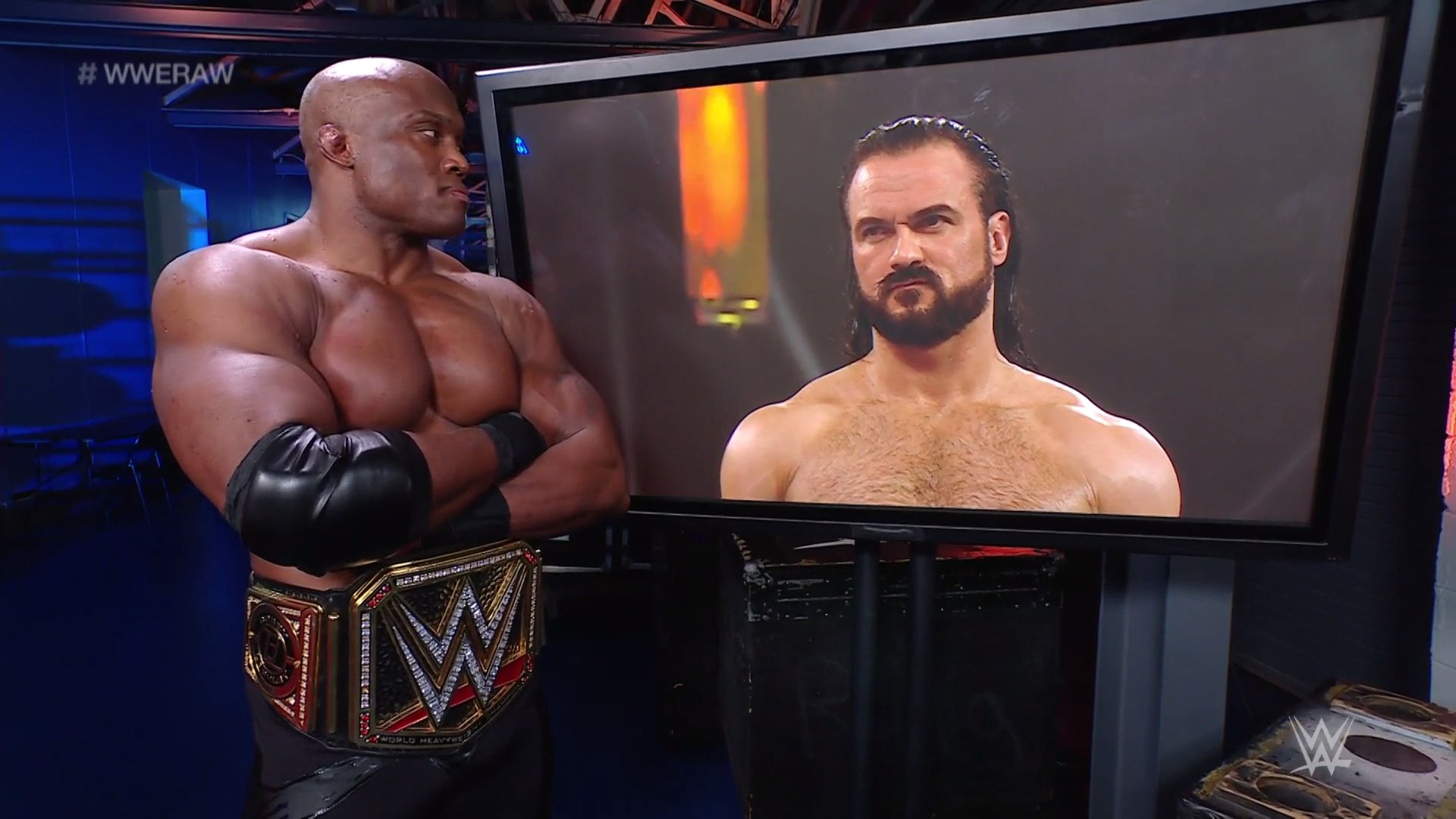 WWE Champion Bobby Lashley is watching McIntyre vs. Corbin backstage. Lashley says McIntyre won't have a chance to give him an ass kicking on Saturday at WrestleMania because he'll be out from the Hurt Lock.
---
Drew McIntyre vs. King Corbin
MVP will be on commentary for this match.
They lock up to start the match before giving a clean break when neither makes any advance. They lock up again, and Corbin applies a waistlock before transitioning to a side headlock. McIntyre backs him into the ropes and whips him off, but Corbin shoulder blocks him down. McIntyre gets to his feet, and MVP happily waves at him. McIntyre grabs Corbin and applies a neck vice. McIntyre puts him in a side headlock. Corbin tries to whip him off, but McIntyre holds onto the headlock. Corbin backs him into the ropes for a break and punches him in the ribs. McIntyre follows him into the ropes and shoulder blocks him down. Corbin quickly rolls out of the ring to recover. Corbin gets in the ring, and McIntyre punches away at him before sending him into the ropes for a back elbow. McIntyre stomps the hand and hits a snap suplex for a two count. McIntyre chops the chest, but Corbin reverses a whip to the corner. Corbin quickly hits him with an out-and-in clothesline for a one count. Corbin attacks McIntyre and whips him hard into the corner. Corbin does it again, but McIntyre pops out and hits a clothesline. McIntyre hits a pair of overhead belly-to-belly suplexes before taking Corbin down again. McIntyre kips up and goes for a Future Shock DDT, but Corbin gets out of the ring. Corbin sweeps the feet on the apron. McIntyre quickly sends Corbin into the ring post and the ring steps.
We come back from the break to see McIntyre hit Corbin with a northern lights suplex for a two count. McIntyre viciously punches Corbin down. WWE Champion Bobby Lashley is shown watching backstage. Corbin drops McIntyre on the apron and punches him before sending him into the ring post. McIntyre falls to the floor hard. Corbin gets him in the ring and attacks him. McIntyre fights back, but Corbin drops him with a suplex for a two count. McIntyre again tries to fight back, but Corbin connects with a chokeslam for a near fall. Corbin charges, but McIntyre hits a spinebuster for a near fall.
Corbin gets out of a Future Shock DDT and hits a sidewalk slam for a near fall. McIntyre hits a Glasgow Kiss and a Future Shock DDT for a near fall. Corbin catches McIntyre on the top rope and hits a superplex. Corbin connects with a Deep Six for a near fall. MVP gets up from commentary and says it's not about beating McIntyre. It's about taking him out. MVP hands him his cane. Corbin goes to swing it, but McIntyre ducks and hits the Claymore for the win.
Winner by Pinfall: Drew McIntyre
MVP backs up the ramp when WWE Champion Bobby Lashley comes out. Lashley stares at McIntyre. They'll face this Saturday at WrestleMania 37.