Results by Mike Hogan of Rajah.com
May 11, 2021
Orlando, FL – Capitol Wrestling Center
Commentary: Vic Joseph, Wade Barrett, Beth Phoenix
---
Quick Match Results
Non-Title Match: Karrion Kross defeated Austin Theory via choke hold
Non-Title Match: MSK defeated Fandango via Transmission (Doomsday Blockbuster) on Breeze
Pete Dunne defeated Leon Ruff via ref stoppage after a barrage of elbows
NXT Women's Championship: Raquel Gonzalez (c) defeated Mercedes Martinez via one arm chokeslam
Kyle O'Reilly defeated Oney Lorcan via top rope knee drop
NXT Cruiserweight Championship 2-out-of-3 Falls Match: Kushida (c) defeated Santos Escobar 2 falls to 1, winning the last fall via bridging hammerlock suplex
---
Non-Title Match
Karrion Kross vs. Austin Theory
We're not wasting any time and start the night off with NXT Champion Karrion Kross taking on Austin Theory. Gargano and Theory are already in the ring. Kross' black-and-white entrance goes off as usual, and Scarlett does her bit. The ref calls for the bell and we're off. Theory backs up as Kross closes in, luring Kross into the corner. Theory with an attempt at offense; Kross shrugs off a dropkick from Theory. Kross choke tosses Theory across the ring, then posts up in the corner. Kross charges, Theory dodges, and Kross hits the brakes. Theory attempts a clothesline but Kross laughs it off and slams Theory down hard. Kross continues to dominate, bullying Theory around. Theory rises to his knees just in time to catch a running boot from Kross that levels him. Kross wants Theory to suffer and toys with his prey, laughing at Gargano ringside. Kross sends Theory into the corner. Theory comes out but is immediately hit with a Doomsday Saito! Gargano gets on the apron, distracting the ref, and Austin Theory gouges the eyes of the champ!
Theory gets some offense in outside, ducking under a big roundhouse. Theory drops Kross at ringside and slides into the ring. The ref keeps counting, and hits nine before Theory slides outside to break the count (and save Kross' unbeaten streak). Theory takes it back into the ring and unleashes on Kross with his entire arsenal. He attempts a pin but Kross kicks out at one. Austin Theory then hits a very impressive Fallaway Slam on Kross! Theory decides to celebrate; Kross is up fast and hits the Doomsday Saito, and then another! Kross lines up Theory, yells "time's up!" and clubs Theory in the back of the head with a running forearm. Theory may be out. Kross mounts Theory and rains fists down on him, over and over, all while the ref begs him off and Kross locks eyes with Gargano. Kross finally slaps on a submission and the match is over.
Your Winner by Submission, NXT Champion Karrion Kross!
When Kross turns around, Finn Bálor stands behind him in the ring. Bálor tells Kross that he wants his rematch; Kross says he wants it, too. Bálor smiles, says "done" then exits the ring and we're off to our first commercial break.
---
Backstage: Leon Ruff, William Regal
We see competitors arriving in the parking lot, then get a clip from earlier tonight when Leon Ruff asked GM William Regal to clear him to fight for tonight. Ruff argues that he's cleared, and Regal tells Ruff that after the beating he had last week, he's not going to let it happen. They both argue their points, with it getting so heated that Ruff throws some office furniture aside and stands toe-to-toe with a pissed-off Regal.
---
Non-Title Match
MSK vs. Fandango
MSK comes out to a loud pop from the crowd. They definitely have that young Hardy Boys energy going on. Fandango is already in the ring. We start with Wes Lee and Tyler Breeze. Both men spend a good minute and a half putting on an incredibly impressive sequence of move and counter-move, culminating into both men going for a superkick at the same time and kicking each other's feet. You gotta see that sequence. Lee and Tyler back off to their corners, tagging in their partners. Nash Carter locks Fandango in a arm hold. Fandango drops Carter and dances over him; Carter drops Fandango moments later and dances over him! And in yet another impressive sequence, Carter whips Fandango into the ropes; the ref is in the way on the rebound, so both Carter and the ref drop to the ground. Fandango, on the rebound back, is next leap frogged by the ref and runs right into a perfectly-timed dropkick! We go to break!
When we return, we cut in on Fandango in control of Wes Lee. Fandango whips Lee into the opposite corner and charges. Lee shows off his athleticism, springboarding and avoiding it. Fandango counters another aerial attempt and drops Lee, getting a close two–Carter had to make the save. Fandango tags in Tyler Breeze before spilling to the outside; Carter and Lee tag, then work together with their creative and innovative double-team moves. Carter performs a standing flip and Lee shoves him mid-air to crash onto Fandango. The ref is giving our competitors a lot of lateral. All four men stand toe-to-toe and begin slugging it out. Breeze with a superkick to Carter; Breeze with another to Lee! MSK is down. Breeze tags in Fandango. Fandango climbs the ropes but is too slow, and Carter intercepts him on the turnbuckles. They struggle up top until Carter hits a jumping kick that sings Fandango down to the floor. Carter runs up top and dives again, this time wiping out Breezango! Lee is legal as is Breeze. MSK work together to hit what Vic Joseph called Transmission, and pick up the win in a great match.
You Winners, NXT Tag Team Champions MSK!
---
Backstage: Johnny Gargano, William Regal
Gargano is freaking out and tries to talk Regal into canceling his title defense next week against Bronson Reed. Regal tells him that he's going to have the match no matter what. Gargano is angry and looks for something on the desk to break, then settles for breaking a pencil "over his leg." We go to break.
---
Pete Dunne vs. Leon Ruff
Dunne is in the ring on the mic. "So Karrion Kross has chosen Finn Balor. Well know what? I don't blame him, we both know I'm the toughest natural (there is)." Dunne calls himself the baddest man in NXT and issues an open challenge to anyone who thinks they can prove him wrong. Pete continues to look up the ramp for an opponent and says "exactly!"…and he is then promptly dropkicked by Leon Ruff! Ruff lays into Dunne, pounding around the ring and out. Dunne readies up outside, nodding, and this is now a match.
Dunne attacks Ruff as soon as the bell rings. Dunne uses his technical skills to ground Ruff, and wrenches Ruff's left arm backward. Dunne then begins to manipulate the wrist and fingers, twisting and snapping them. Dunne controls the pace, keeping it slow with working holds. Ruff attempts to break out, streaking off the ropes only to rebound into a clothesline from Dunne. Dunne again wrenches the left arm, twisting it before kicking Ruff in the side. Dunne wraps Ruff's left arm around the middle rope and uses the ropes for leverage. Ruff finally starts to fight back, connecting with speedy fists and kicks. Ruff off the top with a missile dropkick that drops Dunne! Ruff isn't as fast to his feet as Dunne is. Dunne with clothesline; Ruff pops up and returns the favor. Ruff goes up top and dives off but Dunne catches him and rolls it through into a rear ground-and-pound. Dunne rains elbows down on Ruff's unprotected head and the ref stops the match. After the match, Dunne again manipulates the arm and fingers for a few moments before we cut to the back.
Your Winner by Technical Knockout, Pete Dunne!
---
Backstage: Legado Del Fantasma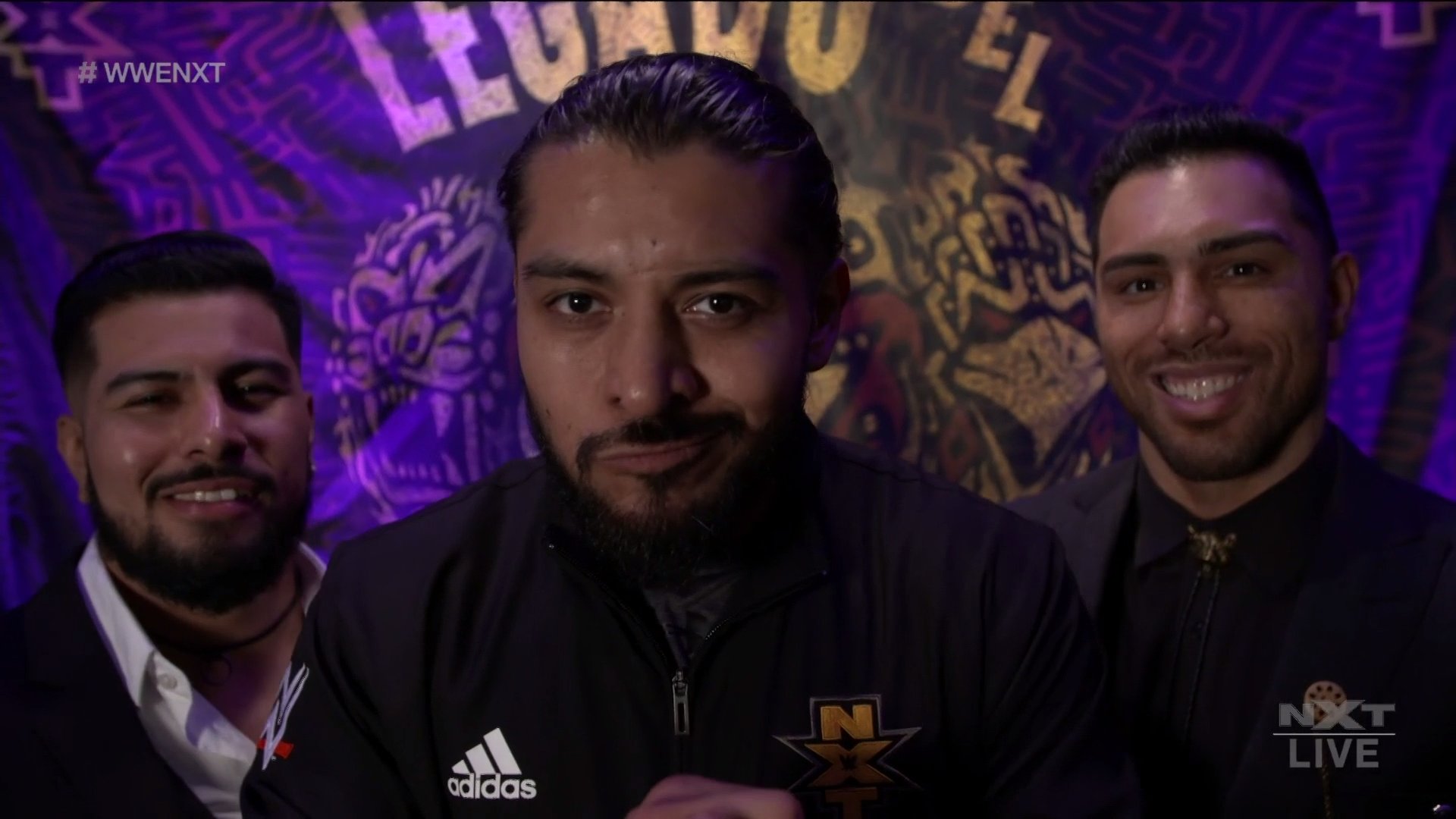 All three members of Legado are present. Santos claims he let Kushida have the title, but he's bringing it home tonight as he's the King/Emperor/Prince/Whatever of Lucha. We go to break.
---
In Two Weeks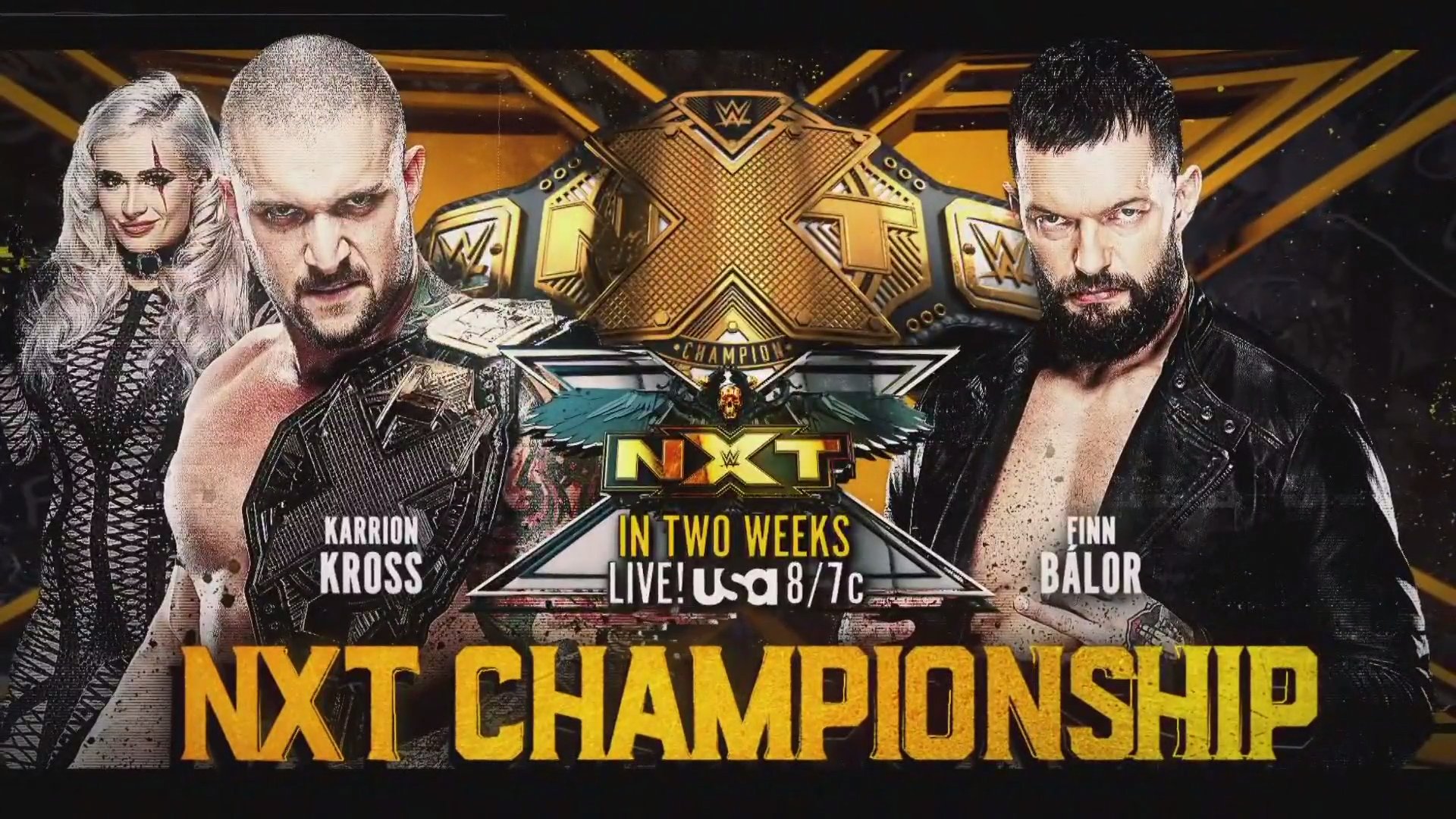 Karrion Kross will defend his NXT Championship against Finn Balor, and Franky Monet will make her in-ring debut.
---
NXT Women's Championship
Raquel Gonzalez (c) vs. Mercedes Martinez
Mercedes Martinez makes her way out first. Out next is our champion, Raquel Gonzalez, accompanied by Dakota Kai. In keeping that "big fight" feel, official announcements are made as the lights drop down, forming beams of light around the ring. The bell rings and Martinez is immediately on the offense! Martinez sends the champ outside within seconds of the start of the match. Martinez pounds Gonzalez into the barricade before heading in the ring to break the count. Gonzalez starts fighting back. They head back into the ring as we go to picture-in-picture commercial break. The Champ is in control now, whipping Martinez into the corner. Gonzalez floors Martinez and stands over her, wrenching the neck back with a chin lock. Gonzalez toys with Martinez, using the ropes to choke her. Martinez gets her second wind and throws a series of rights at the champ before slapping her. Martinez beats the champ back into the corner and down, stomping away at her as the ref counts. Martinez with a big forearm. Martinez whips Gonzalez and goes for a big strike but the Champ ducks under and takes down Martinez. Pin attempt, no joy. The ref checks on Martinez as she rolls around the ring. Gonzalez with a quick suplex and a pin attempt. Gonzalez begins working on Martinez's neck, twisting her chin and skull until the challenger gets a foot to the ropes. Gonzalez with a pin attempt, but only gets a two. Gonzalez with a forearm to the back, followed by a short elbow drop and another pin attempt. Kai watches from outside as Gonzalez pounds Martinez against the ropes. Martinez fires up and starts slugging her way out of the corner.
Back from the break and Gonzales continues to maintain control, with multiple pin attempts. Gonzalez with a suplex. Gonzalez again wrenches the neck of Martinez. Martinez fights to her feet, rocking the Champ with a series of fists. Martinez takes down Gonzalez and mounts and pounds. Gonzalez shakes her off. Martinez leaps up on the back of the champion. Gonzalez rams backwards into corner twice but Martinez won't break the hold. Gonzalez powerfully pulls her opponent from behind her, over her head and down. Both women exchange offense until Mercedes Martinez puts Gonzalez down and covers for a close two. Martinez stalks Gonzalez and as the Champ comes up on the apron, Martinez runs along the apron and spears her! Both women are down. Martinez rolls Gonzalez into the ring and attempts a pin. Martinez with kicks and rights in an attempt to keep the champion grounded. Martinez runs off the ropes and Raquel converts a powerbomb into a rope-hung drop. Gonzalez beats Martinez outside the ring. Gonzalez with the Lawn Dart on Martinez into the ring post. Gonzalez attempts a pin but again, no joy. Martinez with a desperate jaw breaker. Martinez drops the champ to her knee and stomps away at her. Martinez with a European Uppercut. Martinez charges into a clothesline. Gonzalez with a backbreaker and a pin attempt. Raquel hoists up Martinez high above her head, looking for that powerbomb, but Martinez wiggles and counters it into a drop of her own! Gonzalez with a very close two. Martinez with three knee shots to the Champ's face. Martinez goes to the well one time too many and Gonzalez drops her hard. Gonzalez finally hits the chokeslam/powerbomb and picks up the win.
Your Winner and STILL NXT Women's Champion, Raquel Gonzalez!
---
Backstage: Johnny Gargano, Austin Theory, Bronson Reed
When we return, we're backstage. Gargano and Theory are being rushed out of the building by several refs and officials. The camera moves in and we see Bronson Reed down in the locker room, apparently ambushed. Reed rises and says Johnny's a dead man.
---
In-Ring: Isaiah "Swerve" Scott & Hit Row
Swerve comes out on the stage and tells us that it's about to get scary in here. He and his crew make their way to the ring. They fetch him a red chair and he sits. Swerve admits that he made some mistakes in the past, but his biggest mistake was trying to be who these people wanted him to be. Swerve, the confident and role model is now Swerve the savage, the dangerous man. Swerve tells us that he's recruited a crew. Top Dollar, the bigger and taller guy, gets on the mic and spits a few lines and implies he's from the NFL. Up next is Ashanti Adonis, followed by their female member, Be Fab. They are now to be known as Hit Row. Swerve makes a few more generic threats and praises his crew.
---
Segment: Cameron Grimes, Ted DiBiase
We get a video in which a beautiful house, overlooking a lake, is on auction. The starting offer is $2 million. Cameron Grimes walks up and says two mil is no problem, and to put him down for it. Grimes is outbid but doesn't know how an auction works. The auctioneer calls off numbers and the price inflates as Grimes competes with a mystery stranger. Grimes bids $8 million when the mystery man bids $20 million. Grimes flips out, wanting to know who outbid him. "The Million Dollar Man" Ted DiBiase turns out to be the mystery bidder! Grimes has a tantrum, as they now seem to be in some kind of competition, fiscally. Grimes is reminded that everyone has a price for the Million Dollar Man. We go to break.
---
Video Package: Toni Storm, Zoey Stark
We get clips from both women as they remind us that they don't like each other. Storm thinks Stark got lucky, so they'll clash again next week because why not?
---
Kyle O'Reilly vs. Oney Lorcan
We cut to the ring where Lorcan is set in the ring, Dunne on apron beside him. Kyle O'Reilly enters and we see the origins of this match–a verbal confrontation in the parking lot earlier today. Lorcan asked KOR "know what?" to which KOR responded, "chicken butt." The bell rings and both men tease a test of strength. Lorcan tries to gain purchase on KOR's arm, but they press against the rope, forcing the break. Kyle with a snap kick to Lorcan's leg; Lorcan latches on and takes KOR down, putting him into a submission. KOR twists and transitions the move into a submission of his own on Lorcan. Both men make it to their feet and back into the corner. The ref calls for the break. KOR backs off and Lorcan takes a swing; KOR ducks. Standing switch, with KOR in the corner now. Then another! Lorcan takes control and uses the Strong Irish Whip to send Kyle O'Reilly hard into the corner. KOR rolls to the apron. Lorcan pursues and KOR twists his body, locking Lorcan's neck with his feet! Dunne comes too close, so KOR breaks the hold and gets in his face–of course, this distraction allows Lorcan to attack KOR from behind as we go to break.
Back from the break. Lorcan drops Kyle to a knee with a series of chops, and continues to chop him into the corner. Kyle fires up and fights back with slaps and punches of his own. Lorcan still gets a few more chest slaps in, and blocks a right kick. Lorcan charges Kyle, who intercepts him with a vicious running knee. KOR targets Lorcan's left leg, focusing his kicks to the back of the thigh. Kyle looks for the guillotine but releases it and kicks Lorcan. Brainbuster from KOR. O'Reilly runs all the way to the top and flies off, dropping a knee onto Lorcan to pick up the win!
Your Winner, Kyle O'Reilly!
Pete Dunne hits the ring and attacks KOR. Lorcan and Dunne work over Kyle until Bobby Fish hits the ring to make the save! Fish clears the ring. Both men pace. KOR welcomes Fish back, and tries to explain he's got his own thing. Fish tells him it's good to be back, and not to worry about it as he's got a few scores to settle too. Fish tells O'Reilly that he'll see him when he sees him.
---
Next Week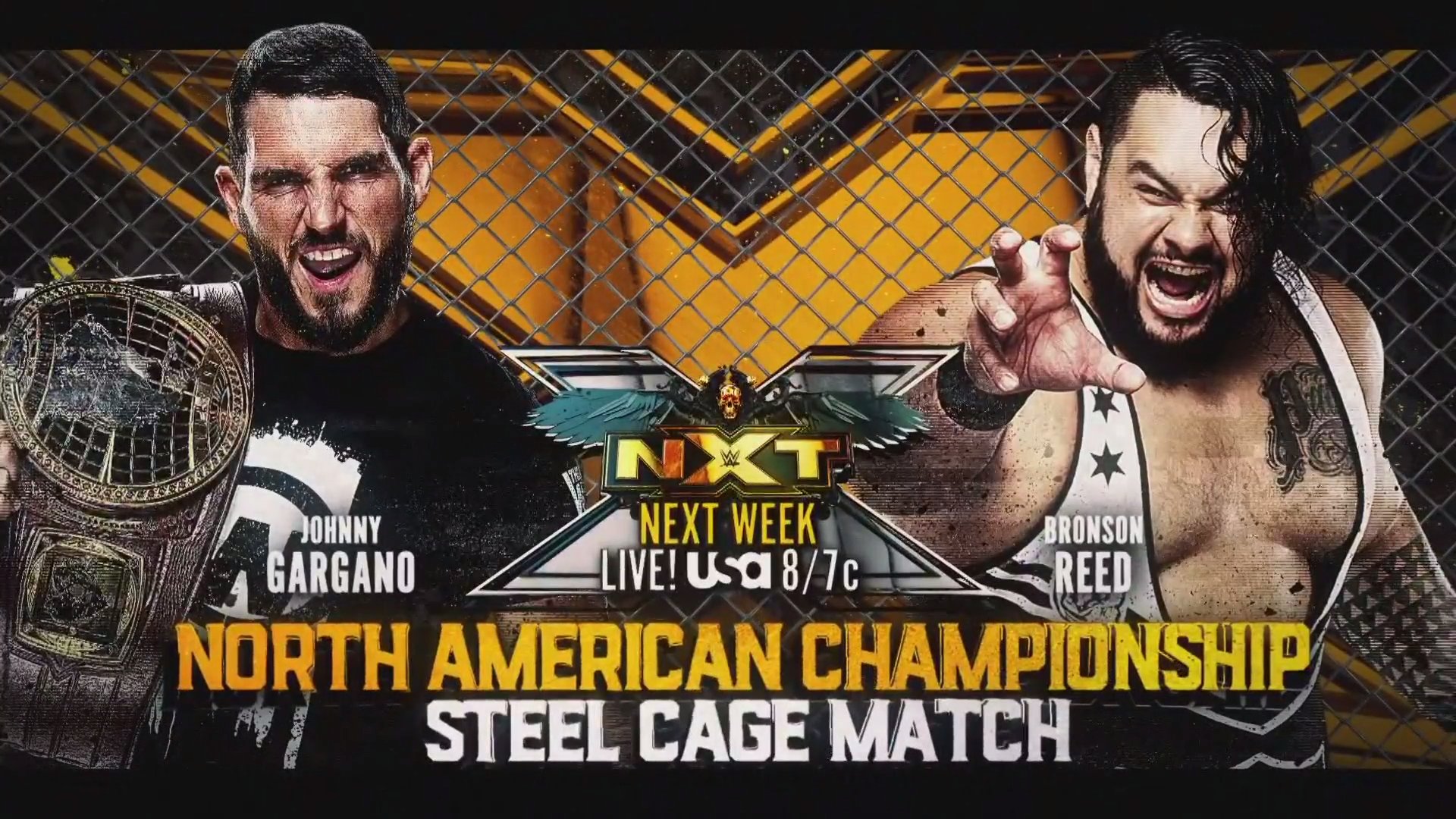 – NXT North American Championship Steel Cage Match: Johnny Gargano (c) vs. Bronson Reed
– Toni Storm vs. Zoey Stark
---
NXT Cruiserweight Championship 2-out-of-3 Falls Match
Kushida (c) vs. Santos Escobar
Escobar is out first, followed by the champ Kushida. Kushida makes a bee line to the ring. Announcements are made and we're off! Fun fact, per Vic Joseph this is the first time the Cruiserweight title has been defended in a two-out-of-three falls match. The bell rings and chaos immediately occurs. Legado attempt to help Escobar but MSK hit the ring to make the save. The refs send Legado to the back. Kushida uses the whole thing as a distraction and dives off the top rope, flying down into Legado and flooring them. The refs tell Legado to go back again, and finally they do. We go to break.
We return from break. Both men exchange blows before Santos drops Kushida with a dropkick. Santos locks in a modified Cloverleaf. After a few long moments, Santos releases it and takes Kushida into the corner. Big chop from Escobar. Escobar sits Kushida on the top turnbuckle and chops the chest again. Santos crawls up and sits backwards, hoists Kushida up into a Samoan carry position, then tosses Kushida up and behind him. Kushida crashes hard into the ring post and tumbles out of the ring. Kushida tries to climb into the ring. Santos with a modified Cloverleaf again. They take it back inside. Escobar whips Kushida and takes him down with a Drop Toe Hold. Escobar sets Kushida prone, face down on the mat, and locks in a beautiful Surfboard submission! Kushida can't escape. The ref checks Escobar's shoulders to ensure they're not down. Escobar finally breaks the hold. Escobar keeps Kushida grounded and uses a chinlock. Escobar covers for two. Escobar takes Kushida into the corner and hammers him with rights. Kushida tries to fire back, but Escobar shuts him down with knee strikes. Escobar uses the ropes to choke and hurt Kushida as the ref warns him.
Santos Escobar sets Kushida up in the corner. Escobar charges in and hits a double knee strike to Kushida's chest. Escobar continues alternating chops and fists on Kushida in the corner. Whenever the ref's warning count gets high, Escobar stops for a moment and resumes. Escobar sits Kushida up top. Kushida shoves Escobar off. Escobar runs up the ropes and stands over Kushida, pummeling his head with rights. Again, Escobar sits Kushida up on the top turnbuckle. He whistles and goes for a Hurricanrana off the top but Kushida rolls through into a pin attempt! Escobar kicks out. Kushida has his second wind. Kushida with a cartwheel dropkick. Escobar recovers and connects with the Phantom Driver and picks up the first pin fall!
Kushida 0, Escobar 1
Kushida locks a wrist lock on Santos and right as we're about to go to a picture-in-picture break, Vic flips out and yells for them not to cut yet. Kushida rolls the wrist lock up into an arm bar! Santos can't reach the ropes! Kushida wrenches back on his arm, and Santos taps! Now we're off to that commercial break!
Kushida 1, Escobar 1
We return from the break. Kushida and Escobar brawl outside. Kushida with a rear arm lock; Escobar rams Kushida into the barricade to break it. Kushida and Escobar lock up over the ropes, Kushida on apron and Escobar inside. They both attempt a submission or suplex. Santos with a stunning punch to Kushida; Escobar, holding his side, darts across the ring for a suicide dive that wipes out Kushida at ring side! Escobar takes Kushida back into the ring. Santos attempting a double underhook maneuver but Kushida counters. Kushida twirls all around Escobar, almost defying gravity, as he counters the move and drops Escobar. Kushida climbs the top rope and dives, landing on Escobar's injured left arm. Kushida with a stiff kick to Escobar's arm! Escobar wisely rolls to the outside, then avoids a Baseball Slide attempt by Kushida. Kushida drops Escobar outside the ring and takes it back inside. Kushida posts up in the corner and runs in for a punt kick. Escobar sidesteps and attempts to roll up; Kushida counters and attempts a roll up; Kushida slaps on the Hoverboard lock! It's converted into an inside cradle for a close two! Leaping kick from Escobar. Escobar goes for suplex, Kushida with the standing switch. Both men begin a series of pins, rolling and countering each other in an incredible sequence. Both men run off the ropes and clothesline each other down as the crowd breaks out into a loud "this is awesome" chant. We are now in overrun territory.
Both men are slow to recover; both are exhausted. Santos once again takes Kushida up to the top, looking for a middle rope maneuver. Kushida squirms around and Locks the Hoverboard lock on Santos on the top rope! Kushida with a superlex rolled into a Hoverboard lock! Santos rolls in an attempt to escape but Kushida repositions and keeps the Hoverboard on! Escobar barely inches his way to the ropes. Escobar rams Kushida into the corner, then another–Kushida has the left arm locked. Kushida with a belly to belly suplex. Kushida pulls Escobar up and hits a rear suplex, bridging into a pin and picks up the fall!
Your Winner 2-1, and STILL NXT Cruiserweight Champion, Kushida!
We end our program as the crowd loudly chants for Kushida. Both men put on a hell of a match.