Results by Mike Hogan of Rajah.com
June 22, 2021
Orlando, FL – Capitol Wrestling Center
Commentary: Vic Joseph, Wade Barrett & Beth Phoenix
---
Quick Match Results
Adam Cole defeated Carmelo Hayes via Panama Sunrise
Io Shirai & Zoey Stark defeated Aliyah & Jessie Kamea via moonsault by Shirai on Kamea
Johnny Gargano & Austin Theory defeated Pete Dunne & Oney Lorcan via One Final Beat by Gargano on Lorcan
Franky Monet defeated Electra Lopez via Road to Valhalla
Hit Row (Ashante "Thee" Adonis & Top Dolla) defeated Ever Rise via powerbomb/cutter double-team on Martel
Non-Title Match: Kyle O'Reilly defeated Kushida via cradle pinfall
---
Adam Cole vs. Carmelo Hayes
We cut to the Capitol Wrestling Center where Tom Phillip's failed clone experiment, Vic Joseph, welcomes us alongside WWE Legend Beth Phoenix and the indomitable Wade Barrett. Cole comes out to new music but still has his "boom" and "Adam Cole, bay-bay!" moments baked into it. Cole gets on the mic. "Last week…Regal decided that I have to fight Kyle O'Reilly at the Great American Bash. Also last week, Samoa Joe decided to assault and attack me and on top of that, they told me that this week I get to come out here and handpick my own opponent." He then tells us that, back in the locker room, Cole realized he doesn't have to pick his own opponent because Adam Cole doesn't follow the rules. He doesn't care what Samoa Joe thinks, Cole claims to be the true king of NXT. Cole tells us that "this ain't happening and nobody's gonna change my mind." But then out comes Carmelo Hayes (fka Christian Casanova). Hayes tells Cole his name and tells him that if anyone's going to change Cole's mind (about having a match tonight), it'll be him. Cole asks for enlightenment on that. Carmelo says there's a famous phrase, "how's it go? Ruthless. Aggression. Yeah, same energy!" He then slaps Cole! Cole calls for the bell angrily and we're off!
Both men clash quickly, alternating brief stints of control. Hayes shows off his agility and prowess as he takes an early lead over Cole. Cole regains the lead when he catches Hayes with a Big Boot on the apron. Cole uses strikes and kicks to slow the pace and ground Hayes. Hayes swings momentum his way with a big clothesline to a charging Cole, followed by a pin attempt. Hayes sends Cole into the corner and begins to beat him as the ref warns, then counts. At four, Hayes backs off. Cole uses this to his advantage, attacking Hayes and beating him out of the ring. Cole whips Hayes into the barricade repeatedly as we head to picture-in-picture commercials. During the break Cole continued his assault on Hayes outside the ring, rolling in and out of the ring to break the ref's count and prevent the count-out. Cole finally takes Hayes into the ring and drops a knee into Hayes' back. Ooh, new Purge movie! Cole whips Hayes into the corner and continues to control the pace. Cole with a Strong Irish Whip and Hayes brutally rams into, and rebounds off of, the turnbuckle. Cole grins as he continues to toy with the youngster. Cole with a slam and a pin attempt. Cole pulls Hayes to his feet and the two begin exchanging chops and kicks, with Hayes' body bouncing off the ropes to give him any form of momentum into his exhausted blows. Cole takes Hayes back to the mat and slaps on a headlock. Hayes punches Cole's arm in an effort to escape.
Back from the break. Cole continues with the headlock. Hayes escapes and fires off a couple of shots until Cole runs him over with a shoulder block. Cole slams Hayes' face into the top turnbuckle and, again, Cole utilizes the Strong Irish Whip. Hayes grimaces in the corner as his back slams into the turnbuckles. Hayes rolls outside as the ref counts, and Cole taunts in the ring. Hayes makes it in at eight. Cole sends Hayes into the corner and slaps him, insulting him and yelling "I'm Adam Cole and you're nobody" in Hayes' face. Again Cole continues to yell insults. Hayes throws a right; Cole replies with one of his own that sends Hayes into the corner. Both men slowly exchange rights until Hayes is whipped into the ropes. Hayes rolls over Adam Cole's back, avoiding a back drop, and drops Cole from behind with a jumping bicycle kick. Hayes covers for a close two. Cole rolls Hayes up for a two but Hayes kicks out. Hayes with an Enziguri and a cover for another close two. Vic Joseph points out the crowd's gone from chanting "who are you" to Hayes' name as the crowd is fired up behind him. Cole and Hayes with a sequence of counters culminating with Cole connecting with the Backstabber for another close two! Cole's pissed and climbs the ropes, perching upon the top turnbuckle. Cole waits for Hayes to rise then leaps, looking for the Panama Sunrise, but Hayes leaps up and counters by kicking Cole in the throat! Cole barely regains control with a strike, heads up top and flies down, finally connecting with the Panama Sunrise and picking up the win. Great match.
Your Winner, Adam Cole (bay-bay)!
---
Earlier Today: Franky Monet & The Robert Stone Brand
Short segment in which it appears Monet may be stealing Stone's crew and, as with many things, he's oblivious.
---
Backstage: Zoey Stark, Io Shirai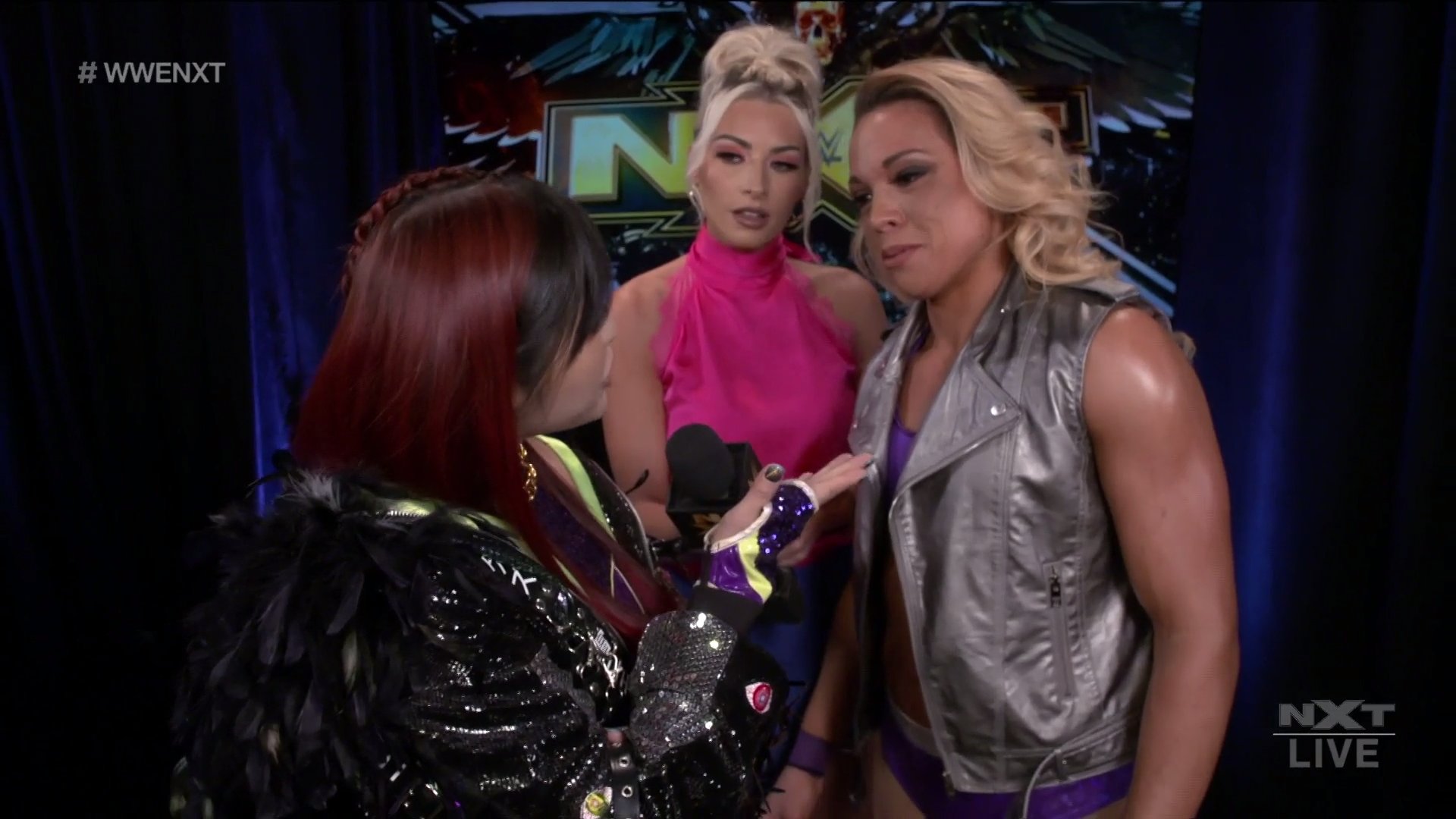 Stark is questioned about teaming with Shirai. Stark admits she was surprised that Shirai selected her. Shirai walks up. Both women essentially agree that they respect each other…a little bit, and sometimes that's all you need. We go to break.
---
Video Promo: "The Million Dollar Champion" LA Knight
Knight is in his pool, his Million Dollar belt across his waist and a cigar in hand. He addresses his attack on DiBiase last week, informing us all that he doesn't need a washed up old man. He throws shade at Grimes and drinks champagne.
---
In-Ring: Johnny Gargano, Austin Theory, Pete Dunne, Oney Lorcan
Austin Theory and Johnny Gargano make their way out to the ring and do a long high-five pose. Gargano gets on the mic. "Exciting times!…There is new management in town which means we need a new NXT champion. A new face of this brand! And we don't need the big, mean-looking angry-faced leather-jacket-wearing doomsday guy, no, we don't need him. We need the handsome, hard-working, headband-wearing, respectable family man…we need…me!" The crowd boos loudly and Theory cheers for his friend. "The 57 days I was NXT champion, this place absolutely thrived…At TakeOver, I proved Karrion Kross is not on my level. I outclassed him every single time we were in the ring together. And everybody knows, everybody knows, I can out-wrestle that man on my worst day!"
He's interrupted by Pete Dunne and Oney Lorcan who slowly stalk down the ramp to the ring. Dunne speaks. "Are you mad? These games are stupid, you know. You must be mad if you think you're number one contender over me." Theory goes to speak and Dunne snaps, "Shut up!" Gargano tells Theory that "they're trying to provoke (us), they're trying to start chaos!" Gargano claims they're "law-abiding citizens. There are rules for a reason, Peter. If you want a fight, you're not going to get it from us. I'm going to put the microphone down gently now." Gargano and Theory start to leave the ring. Theory remains on the apron, pointing a finger at Dunne and exclaiming "I want you!" Dunne makes him pay for it, snapping the fingers per usual. Gargano and Theory head up the ramp as Theory whines about his hand.
---
Earlier Today: Cameron Grimes
Cameron Grimes arrives in his sports car. Two gents in the lot ask how DiBiase is doing and Grimes tells them he's getting better. He thanks them for asking and gives them money. The poor man's Jeff Hardy (name to be added shortly) shows up and insults DiBiase offhandedly, causing Grimes to attack him.
---
Backstage: Adam Cole and William Regal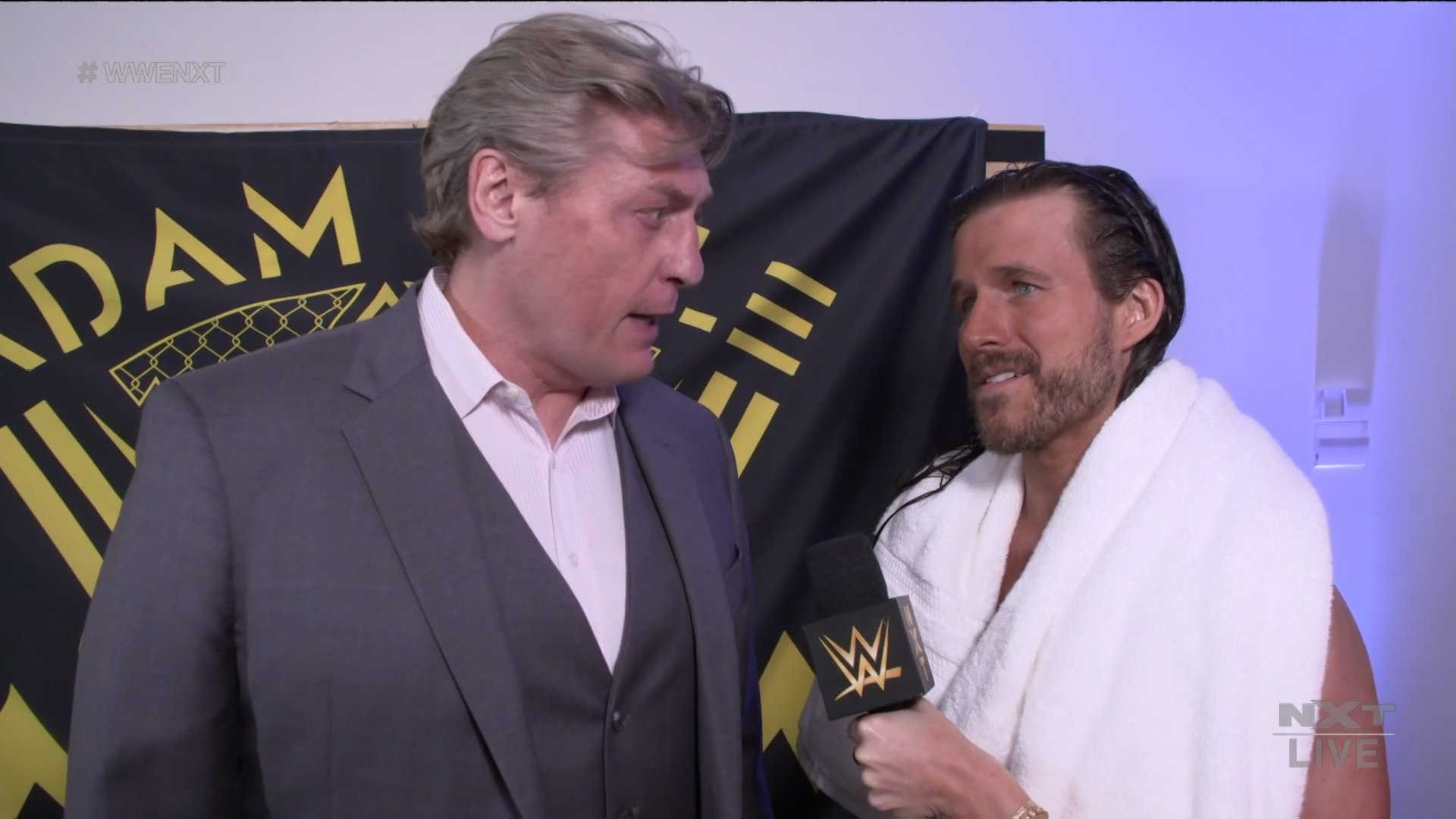 Regal warns Cole not to provoke Samoa Joe after last week. Cole is upset that Regal didn't do anything about Joe's actions, and then states he's leaving. He says bye, gear in hand to leave, and we go to break.
---
Video: The Battery
🔋 #WWENXT pic.twitter.com/Uvtrvqxzmn

— WWE NXT (@WWENXT) June 23, 2021
The battery that's been charging for the last few weeks went from 30% to 31%.
---
Backstage: William Regal, Johnny Gargano and Austin Theory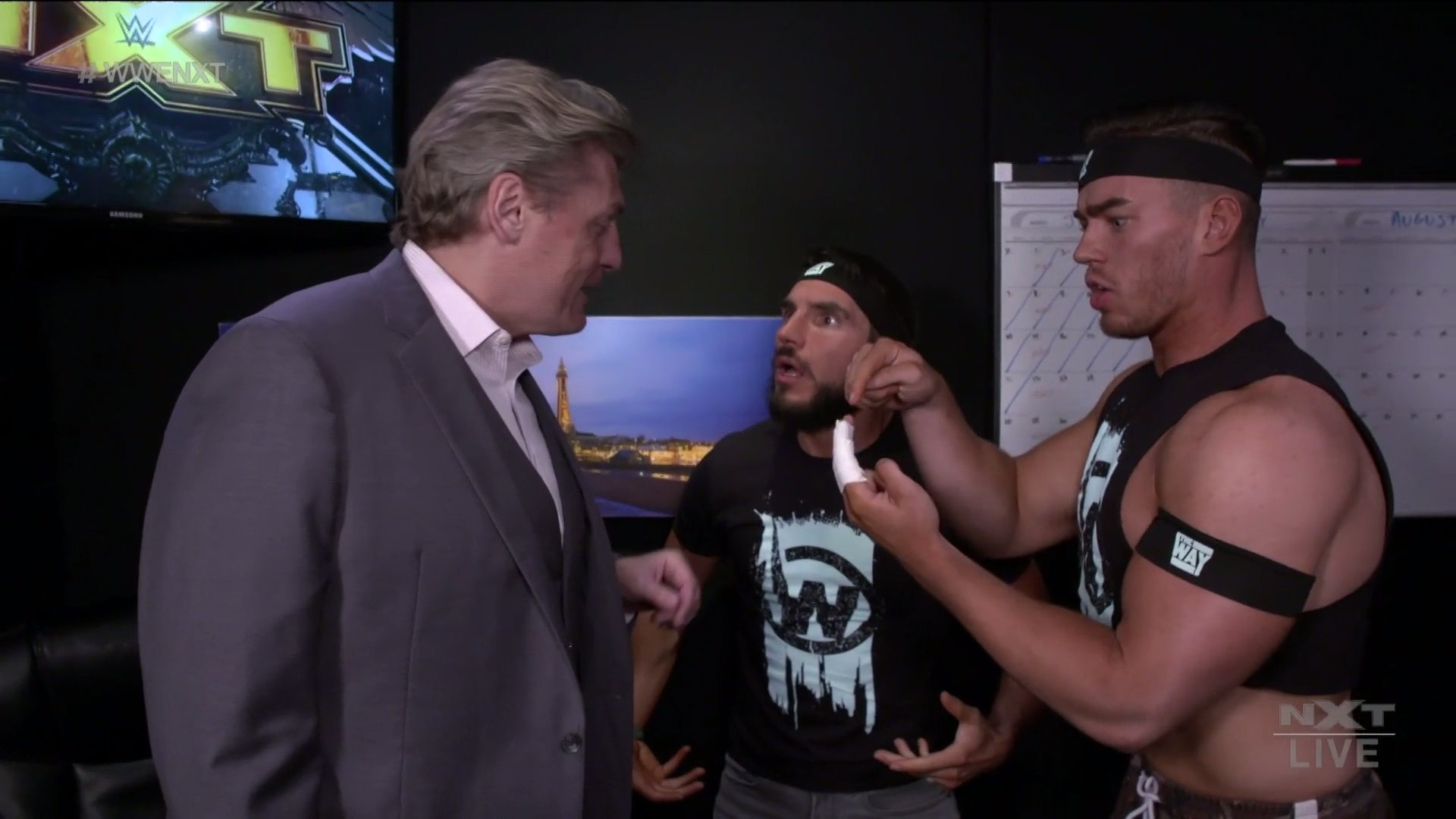 Theory and Gargano are in the principal's office, ratting on the bullies for putting hands on them. Gargano tries to play teacher's pet. Regal is tired of their wasting his time and decides to put them in a match against Dunne & Lorcan.
---
Io Shirai & Zoey Stark vs. Aliyah & Jessie Kamea
The Robert Stone Brand is represented tonight by Jessie Kamea and Aliyah. They're already in the ring when we return to the CWC, as is Zoey Stark. Io Shirai makes her way out in style. Robert Stone stands at ringside supporting his Brand. We start with Shirai and Aliyah. Io with the whip into the ropes followed by a hip toss. Shirai takes control early, dropping Kamea off the apron with a dropkick and laying out Aliyah with another. Shirai takes Aliyah to her corner and tags in Zoey Stark. Stark looks to work the arm but Aliyah breaks free. Stark with an impressive display of agility, leaping past Aliyah and dropping her. Jessi Kamea is tagged in. Kamea with a quick pin attempt for a very close near fall. Stark and Kamea with another roll-up attempt. Stark with a double stomp to the back of Kamea. Kamea recovers and drops Stark, then hits a springboard elbow drop. NXT Women's Tag Team Champions The Way (Candice LeRae & Indi Hartwell come down the ramp, scouting potential competition as Kamea and Aliyah keep Stark in their corner, working together to cut the ring in half. We go to break.
Back from the break. The Way continue to watch from the ramp. In the ring, Jessi Kamea tosses her partner Aliyah onto Zoey Stark, earning a close two count. Aliyah applies a waist-locked submission. Stark tries to fight out of it and Aliyah converts into a front-facing modified sleeper. Stark escapes and makes the hot tag to Io as Aliyah tags in Kamea. Shirai cleans house, taking down both opponents. Shirai kicks Stone from the apron then springboards into the ring, covering Kamea for two. Kamea reverses a kick and tags in Aliyah. Aliyah with a beautiful Northern Lights Suplex, bridging into a pin attempt. Aliyah tags in Kamea and Shirai dives across the ring to tag in Stark. Stark with a big suplex to lay out Kamea. Shirai's tagged back in immediately and heads up top. Shirai connects with the Over-the-Moonsault to pick up the win.
Your Winners, Io Shirai and Zoey Stark!
The Way start to approach the ring, threatening Stark and Shirai. Dakota Kai & NXT Women's Champion Raquel Gonzalez come out and get on the opposite apron. Kai tells them they've lost their minds if they think they can jump ahead of Kai/Gonzalez for a tag title shot. Ember Moon and Shotzi Blackheart come out and point out that they've beaten the current champs and the past. Shotzi states that she thinks that they've forgotten, and she thinks they should remind them…and in her best metal voice, growls that by remind them she means "kick their ass!" All the women brawl in the ring. Samoa Joe makes his way out and calls for a platoon of black-clad NXT Officials who separate our competitors and we go to break.
---
Great American Bash Matches Announced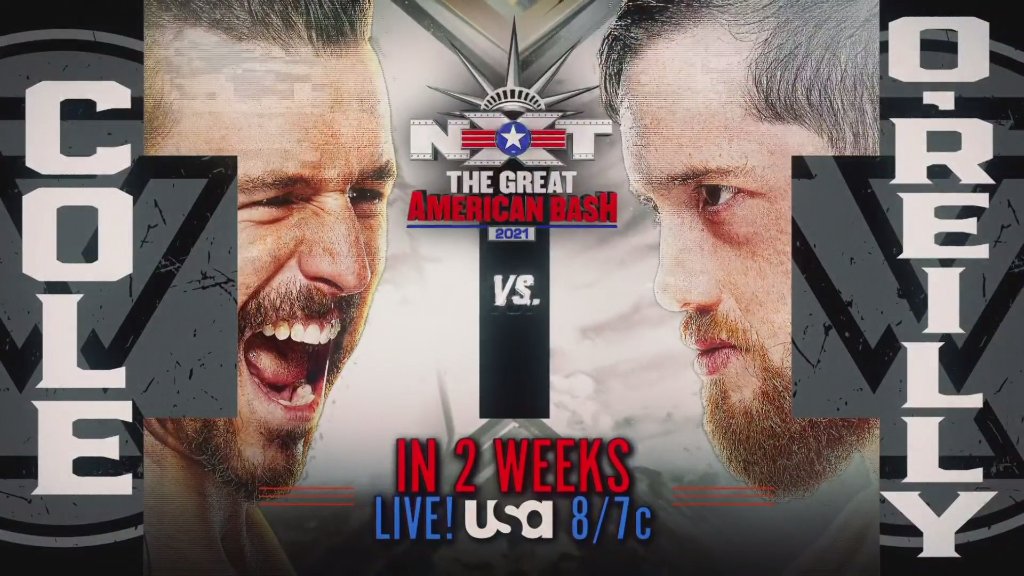 We return from break and get a quick video hyping Timothy Thatcher & Tommaso Ciampa versus NXT Tag Team Champions MSK for the titles. Also, Kyle O'Reilly/Adam Cole II is scheduled for the event.
---
Johnny Gargano & Austin Theory vs. Pete Dunne & Oney Lorcan
Gargano and Theory come down in matching yellow-and-blue Wolverine-inspired ring gear. They high-five, a bit hesitantly as Theory appears dejected. Out next is Dunne and Lorcan so THROW EM UP. The bell rings and we start with Gargano & Lorcan. Gargano starts hot, dropping Lorcan with a dropkick. Lorcan tags in Dunne and Gargano takes him down with a hip toss. Dunne pops up and runs into another hip toss before Gargano works the arm briefly. Gargano tags in Theory, accidentally slapping his injured hand (from Dunne's attack earlier). Dunne and Theory clash briefly before Dunne pulls Lorcan back in. Lorcan focuses on Theory's left arm before tagging Dunne back in, who immediately begins to work on the hand. Dunne and Lorcan corner Theory, utilizing frequent tags to deliver a few strikes each and manipulate Theory's left wrist and arm. Theory fights back with an elbow on Lorcan and gains control. Theory tags in Gargano and together they hit a double high-five followed by a double leaping elbow for a close cover. Dunne comes in. Gargano tags Theory and they work together to double-team Dunne, too. Another close cover. Theory hesitates due to his injured hand and Dunne jumps at it, driving Theory down into the mat and immediately attacking the injured fingers. Dunne pummels Theory on the ribs then drops a knee across Theory's injured hand. Dunne then pounds Theory in the face and continues to work the fingers and wrist. Dunne with a whip to the corner. Theory leaps, using the ropes to propel behind a charging Dunne, whom he takes down and out of the ring with a leaping kick. Theory and Lorcan clash to the outside, and Dunne runs over to attack Theory. Gargano is kept in his corner by the ref, who's fine with Theory being double-teamed, and together Lorcan & Dunne slam Theory's back across the hard edge of the apron as we go to break!
Back from the break. Theory is held on his knees and his arms behind his back by Pete Dunne as Lorcan delivers strong chest chops. Dunne's tagged in and Lorcan holds the injured hand of Theory down, allowing Dunne to stomp it. Theory attempts a surprise roll-up and gets two. Dunne stumbles over to tag in Lorcan and just as Theory is about to tag Gargano, Lorcan catches up to him. Theory with a kick to gain separation and makes the hot tag. Gargano comes in fast, dropping Lorcan then Dunne. The crowd loudly pops for Gargano and are firmly getting behind the Way, chanting "Johnny Wrestling" over and over. Gargano with a slingshot spear. Theory's brought in and hits a springboard Spanish Fly for a close two. Gargano's back in. Dunne looks for a Bitter End. All four mean end up down. Theory and Lorcan are legal and resume throwing rights at each other. Lorcan hits a Blockbuster and quickly tags in Dunne. Theory heads to the Way's corner, looking for a tag, but Gargano's still down. Dunne with an arm and wrist submission, tearing at the shoulder and the fingers! Gargano makes the save with a springboard elbow drop, crashing on top of the two. Gargano gets the tag and brawls with Dunne. Dunne tags in Lorcan and together they look for a double-team move. Gargano kicks Lorcan in the face and escapes Dunne, twisting and swinging around Dunne's body in an incredible show of athleticism. Dunne drops Gargano and looks for the win but Theory dives in, making the save. Theory's legal now. The ref's lost control and we're told Lorcan is legal. Lorcan looks to charge Theory but Gargano intercepts him with a Superkick. Gargano with a Suicide Dive-Tornado DDT combination move, diving through the ropes then snatching Dunne into a Tornado DDT! Gargano picks up the win with One Final Beat on Lorcan and the crowd goes wild!
Your Winners, the Way!
As Gargano and Theory celebrate their win, with the crowd cheering excitedly, Karrion Kross attacks Gargano from behind! The NXT Champion easily demolishes Gargano as Scarlett looks on from the ramp, holding his title, and we head to break.
---
Video: The Battery, Part Deux
The battery that's been charging for the last few weeks went from 31% to 40%.
---
Backstage: Karrion Kross, Samoa Joe, Pete Dunne
Kross and Scarlett are leaving by way of the back as Joe's walking down the hall. Joe and Kross exchange words, with Kross reminding Joe he can't touch anyone unless he's provoked. Kross leaves and Joe turns to face Pete Dunne, and they make eyes at each other.
---
Next Week on NXT
NEXT WEEK on #WWENXT!
🔥 @RealMMartinez & @JakeAtlas_ vs. @XiaWWE & @Bigboawwe.
🔥 Women's #TagTeamTitles No. 1 Contender's #TripleThreat Match.
🔥 @NashCarterWWE & @WesLee_WWE come face to face with @NXTCiampa & Timothy Thatcher. pic.twitter.com/fDnXQdJaT3

— WWE NXT (@WWENXT) June 23, 2021
There will be a triple-threat Women's tag match to determine the new number one contenders for the Way's titles. Io Shirai & Zoey Stark vs Ember Moon & Shotzi Blackheart vs Dakota Kai & NXT Women's Champion Raquel Gonzalez.
---
Franky Monet vs. Electra Lopez
When we return to the ring, Lopez is already in place. Money comes out in furry white boots and white-and-silver ring gear, matching her hair. Money grins at her opponent, full of confidence. The bell rings and they lock up. Monet takes an early lead. Lopez gets about a minute's worth of offense in. Lopez takes time to dance, taunting Monet, and Franky makes her pay for it. Monet utilizes big kicks and aggressively takes it to Lopez with a big slam. Monet goes for a running knee in the corner but Lopez moves, and Monet hits her knee on the turnbuckle. Lopez fires up for a comeback, using a jumping kick and quick strikes to temporarily regain control. Monet rocks Lopez with a forearm, then puts her away with the Road to Valhalla (chicken-wing facebuster–its new name was not mentioned).
Your Winner, Franky Monet!
---
Backstage: Bronson Reed and Hit Row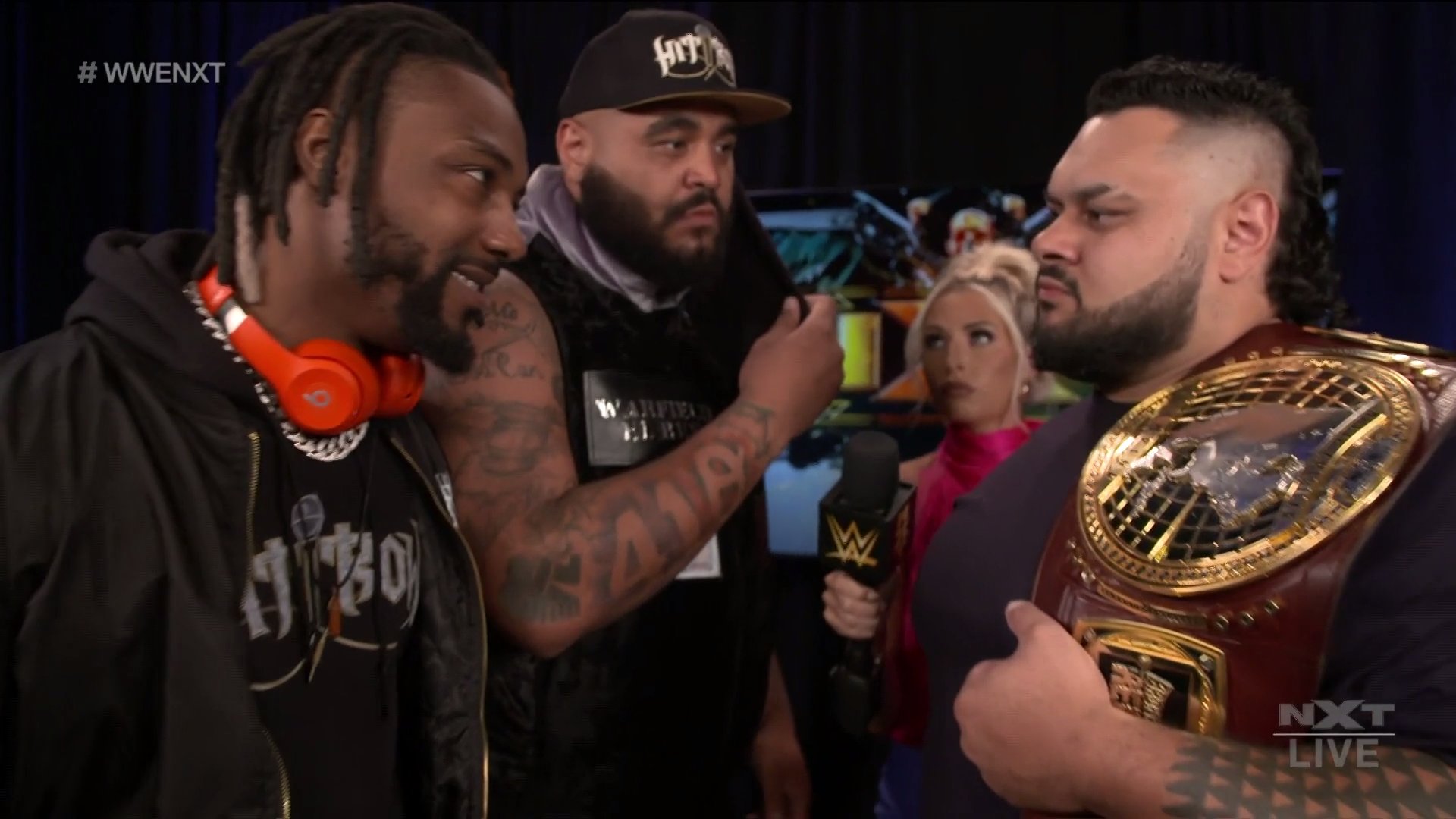 Reed is discussing his title when Hit Row come up. Top Dolla and Reed exchange words, and Dolla mocks Reed because "you're not even from North America!" They head off and we head to break.
---
Hit Row (Ashante "Thee" Adonis & Top Dolla) vs. Ever Rise
After a short video showing Ever Rise attempting to vandalize a car, we cut to the CWC where Ever Rise are already in the ring. Hit Row comes out, and will be represented by Ashante "Thee" Adonis and Top Dolla. The group make their way to the ring and we ready up for this match. We start with Top Dolla and Matt Martel. Top Dolla easily handles Martel and brings in Ashante. Ashante strips off his shirt and throws it at Parker on the apron. Ashante allows Martel to tag in Parker and tackles Parker, pummeling him in the Hit Row corner. Top Dolla is tagged back in and easily picks Parker up on one shoulder, walking around the ring with him. Parker wiggles free and tags in Martel, and together they both wail on Top Dolla. They send him out of the ring and do an "Ever Rise rules" taunt. Top Dolla is not happy; in fact, he feels disrespected and comes back in, shoving Martel into the corner. Top Dolla yells at Martel, and with the assistance of a tag to Ashante, the two hit a double-team move: a powerbomb/cutter combination. Ashante covers to pick up the quick win.
Your Winners, Hit Row!
---
Backstage: Mercedes Martinez, Jake Atlas, Tian Sha
Mack informs Mercedes that she's set for a mixed tag match next week against Tian Sha–represented by Boa and Xia Li. Mercedes is surprised to hear about this and is then asked about her partner. Before she can say much she's attacked, but Jake Atlas quickly intervenes to make the save. We head to break.
---
Video: The Battery, Numero Tres
𝘩𝘢𝘭𝘧 𝘸𝘢𝘺 𝘵𝘩𝘦𝘳𝘦. #WWENXT pic.twitter.com/UBlTPt54Ll

— WWE NXT (@WWENXT) June 23, 2021
The battery that's been charging for the last few weeks went from 40% to 50%.
---
Non-Title Match
Kushida vs. Kyle O'Reilly
When we cut back to the arena, our NXT Cruiserweight Champion is already en route to the ring. Vic Joseph gives special thanks to Poppy for the NXT soundtrack, now out. Out next is Kyle O'Reilly, wearing a tee with a hood on it and doing his "lame dad" rocker entrance of his. Our competitors are ready and we're off with our main event! Kushida and Kyle O'Reilly (KOR) lock up. KOR takes Kushida down and looks for a leg submission, but Kushida counters and looks for one of his own. The pace is slow as both men focus on their ground game for the first couple of minutes. KOR and Kushida eventually break, small nods of respect to each other before locking up. Kushida with a standing switch. KOR pries the arms apart and takes down Kushida. KOR looks for a Triangle Hold but Kushida grabs the ropes with a foot. Both men up and crouch, extending a hand and locking up. KOR converts it into a side headlock. KOR whips Kushida into the ropes; Kushida with his springboard backflip, looking for the elbow strike, but O'Reilly leaps up and catches him in mid-air with an arm bar! Kushida escapes and quickly regains control, again slowing the pace as he works O'Reilly's left shoulder and elbow. Kushida continues to manipulate the joins in O'Reilly's left arm, focusing on the wrist. O'Reilly attempts to escape but Kushida delivers two quick kicks. Kushida looks for a takedown but O'Reilly ducks under and switches, looking to pick the leg from behind Kushida. Both men switch before headbutting. We go to picture-in-picture commercial break.
During the break Kushida maintains control and continues his assault, focusing on O'Reilly's left arm, especially the wrist and shoulder. Kushida punishes O'Reilly during the break, keeping him grounded for the majority of it. Kushida shuts down any O'Reilly attempt at offense. Kushida with a series of kicks to O'Reilly's left arm, then yanks on the arm repeatedly as we return from the break. Vic Joseph continues to call this a dream match. O'Reilly starts to fight back and throws knees to Kushida's gut. KOR takes Kushida down with a Judo throw, then wraps his legs around Kushida's waist in an effort to force a power submission. Kushida punches KOR's ankles, breaking the hold. Both men up and exchange blows. Kushida with an armbar on O'Reilly, then converts it into a Hoverboard Lock! O'Reilly reverses it into an armbar. Kushida reverses that into a German Suplex attempt, but O'Reilly counters that and looks for another armbar. Both men up again. Kushida with another series of hard kicks to KOR's left arm. Kushida with a belly-to-belly bridging suplex pin combination, but KOR gets a foot on the bottom rope just in time.
Kushida climbs up top and leaps, but O'Reilly avoids it. KOR with a big kick and an alley roll into another submission attempt. Kushida shifts, pressing O'Reilly's shoulders to the mat and forcing the break. O'Reilly attempts to hoist Kushida for the Brainbuster but Kushida escapes. Kushida with a beautiful Pele Kick before a rebounding O'Reilly lays him out with a big clothesline. O'Reilly connects with the Brainbuster and picks up a close two. We're in overrun now. The crowd with dueling chants, but predominantly behind O'Reilly. O'Reilly ascends the turnbuckles only to be dropped from the heavens by Kushida. Kushida again targets O'Reilly's left arm. Both men on the apron, with Kushida throwing right kicks into the left arm. O'Reilly blocks a kick and looks for a modified standing Guillotine, but Kushida counters with a belly-to-belly suplex on the apron. Both men spill to the floor and are down as the ref counts. Both men begin to move at five. Kushida sends O'Reilly in at six, and enters at seven. Kushida with a running punt kick to O'Reilly's left arm. Kushida off the ropes but O'Reilly counters with a kitchen sink to the jaw! Kushida throws a desperate uppercut and both men are down. Both rise and Kushida again attacks the left arm. O'Reilly shoves Kushida back into the corner to block another Hoverboard attempt and connects with a jumping knee. Kushida quickly slaps O'Reilly into the Hoverboard Lock in the center of the ring. O'Reilly can't reach the ropes! In one final desperate act, O'Reilly gets enough momentum to roll their bodies, forcing Kushida's shoulders down and picking up the win!
Your Winner, Kyle O'Reilly!
In-Ring: Diamond Mine
Kyle O'Reilly and Kushida offer a gesture of respect until Adam Cole hits the ring, ambushing O'Reilly from behind! Kushida flees the ring. Cole and O'Reilly brawl across the ringside area as officials attempt to separate them.
In the ring, Kushida is attacked by Diamond Mine–a new faction led by Malcolm Bivens and featuring Roderick Strong, Tyler Rust and Hideki Suzuki.