Results by Mike Hogan of Rajah.com
June 8, 2021
Orlando, FL – Capitol Wrestling Center
Commentary: Vic Joseph, Wade Barrett & Beth Phoenix
---
Quick Match Results
Oney Lorcan defeated Austin Theory via ura nage
Isaiah "Swerve" Scott defeated Killian Dain via jumping kick
Mercedes Martinez defeated an unnamed opponent via Air Raid Crash in a squash match
The Grizzled Young Veterans defeated Ikemen Jiro & August Grey via Ticket to Mayhem on Grey
Ember Moon defeated Dakota Kai by disqualification when Raquel Gonzalez attacked Moon as she was about to hit The Eclipse
---
Austin Theory vs. Oney Lorcan
Beth Phoenix, Tom Phillips' evil genius alter-ego "Vic Joseph" and Wade Barrett welcome us to the Capitol Wrestling Center. The live crowd and digital audience cheer as Theory comes out and Boo as Lorcan does. We get clips from earlier today in which the Way brawled briefly with Dunne and Lorcan. We get our bell and start things off. Oney works Theory's arm, looking to latch on but Theory shrugs him off. Theory with fists, a whip reversal in the corner, and caps it off with a float-over and dropkick to layout Oney. Theory looks for some ground game, fighting off Oney's attempted reversal and locking in a side headlock. Lorcan and Theory spend the first couple of minutes exchanging brief controls. Each man uses wear-down moves, with Theory seeming to focus on the neck while Lorcan works on Theory's left leg. Theory escapes a grapple and uses the ropes to assist a springboard splash into the ring. Theory takes some time to gloat, yelling that "this is the way it is." Lorcan takes slight to Theory's words and fires up, starting his comeback sequence. Lorcan punishes Theory with brutal chops and knees, eventually sending Theory out of the ring with a running knee lift. Lorcan follows Theory outside and fires off another series of chops, leaving bright red welts on Theory's chest. Lorcan slips into the ring and out to break the count, then trips up Theory and drops him on his back across the metal ramp. Pete Dunne begins to make his way down the ramp as the ref counts and we go to picture-in-picture commercial break!
During the break Lorcan takes Theory into the ring. Lorcan continues to keep the youngster grounded, using stomps to the back and a mix of power submissions to weaken Theory's back and core. Lorcan goes for a few cheap pin attempts throughout the break. Lorcan works the neck of Theory with a modified Camel Clutch. Lorcan keeps the modified Clutch on for the bulk of the commercial break as Theory desperately tries to reach a bottom rope. Dunne paces outside the ring, watching as Lorcan converts the modified Camel Clutch into a neck twist before settling back into the Clutch. The ref repeatedly checks on Theory, but Austin refuses to give up. As our break ends, Theory tries to power to his feet–only to be sent to the mat by forearms from Lorcan. Johnny Gargano has made his way down as Lorcan breaks the hold and whips Theory into the corner.
Back from the break. Lorcan follows the whip up with a splash. Theory starts to fight back and both men exchange slow, powerful fists until Theory gains the upper hand. Theory sends Lorcan over the top rope and to the outside. Both men take a five count from the ref to recover a bit. As Theory turns to look at Gargano, Lorcan charges across the ring and attacks Theory. Theory crashes outside, grasping his back. Lorcan follows outside and warns Gargano to stay back. Theory recovers quickly, whipping Lorcan into the corner. Theory with a corner clothesline. Theory with a textbook Fallaway Slam! Theory whips Lorcan into the corner and charges into a big boot. Lorcan climbs up but Theory pops up, runs up the ropes, latches on and hits an impressive snap Spanish Fly, picking up a close two! Lorcan and Theory spill to the outside and charge, clotheslining each other. Gargano and Dunne both come over to check on their men, then begin to brawl up the ramp as four refs come out to separate them. Dunne throws some kicks at a restrained Gargano but gets nothing. Back at the ring, Theory takes advantage of the chaos and whips Lorcan into the ring. Lorcan catches Theory climbing the apron and rams his face into the turnbuckle. Lorcan with an ura nage in the middle of the ring to pick up the win!
Your Winner, Oney Lorcan!
---
Video: LA Knight
We get a video promo of LA Knight. At first he's singing the DiBiase theme; he heads through his mansion and asks two pretty persons to join him in the hot tub with champagne. We then see them out there and they excessively laugh at a stupid joke. After a bit too long, he tells them that's enough. He then takes us outside to show off his new car as he continues to make a pitch to be the heir to DiBiase's legacy. We go to break.
---
Doc Hendrix's In Your House Slam Jam
Doc Hendrix shows up with a lot of retro "In Your House" graphics and runs down the matches for this Sunday's PPV. I would not be surprised if we catch a lot of 90's nostalgia Sunday.
---
In-Ring: Legado del Fantasma, Bronson Reed, MSK, Hit Row
We return to find all tres hombres in Legado. Santos is upset on the mic as his two henchmen look angrily and constipated. Santos starts to talk about making Bronson Reed pay for last week, when Bronson Reed himself comes out! North American Champ Bronson Reed tells us that he wanted to tell Escobar that he's full of it but after Reed squished him last week, he's pretty sure it's all emptied out. He gets several replays of the big splash last week, when Escobar was smooshed into the barricade by Reed who assisted MSK during their title defense. Escobar challenges Reed, telling him that if he's so tough he should come on down. Reed nods and agrees and gets in the ring.
Suddenly, MSK rush down and into the ring, standing side by side with the North American champ! Escobar makes a huge challenge–a six man match with all three titles on the line. The winning team gets the North American and NXT Tag Team Champions.
And to make things fun, out comes Hit Row! Isaiah "Swerve" Scott, B-Fab (Briana Brandy), Top Dolla (AJ Francis) and Ashanti "Thee" Adonis all enter the ring. Legado leave up the ring, followed by MSK and Bronson Reed. Hit Row celebrate and dance in the corner, posing for the camera as we go to a break.
---
Isaiah "Swerve" Scott vs. Killian Dain
When we return from the break, Hit Row are at ringside. Dain and Maverick are out with their cheesy music playing. Dain and Swerve have a quick match, during which Hit Row repeatedly try to interfere. Drake Maverick stands on an opposite side of the ring and Barrett comments that Maverick's been no help. Both men exchange control a few times. Dain focuses on his strength, easily tossing Swerve across the ring. Swerve uses his speed and athleticism to wear down the big man. Scott continues to talk smack to Dain. Dain rises at one point and Swerve throws a kick, which Dain catches. Swerve slaps Dain around and calls him Susan, enraging the Beast of Belfast. Dain begins to pummel Scott in the corner for a minute. Scott escapes and runs off the ropes; Dain looks for a Lariat and Scott ducks under, rebounds and catches a standing cross-body from Nikki Cross' husband! Both men exchange leads again. Dain picks the lead by hitting two standing Sentons on Swerve! Dain looks to climb the ropes but Adonis tries to trip him up. Maverick streaks over the steel steps and takes down Adonis. This distraction, along with some assistance from Top Dollar, gives Swerve the lead over Dain. Scott's mannerisms change from grinning evilly to a dark look before he puts Dain away to pick up the win with a jumping kick.
Your Winner, Isaiah "Swerve" Scott!
---
Backstage: Candice LeRae, Indi Hartwell
Candice LeRae and Indi Hartwell represent the Way in this segment. Hartwell focuses completely on Dexter Lumis, then heads off with LeRae not thrilled about it. Useless segment, we go to break.
---
Video: Cameron Grimes
It's Grimes' turn to show off his home, as he drinks in a Jacuzzi, gives a massage to someone, and drives a white Rolls Royce. Grimes promises to take the Million Dollar Legacy "to the moon!"
---
Mercedes Martinez vs. Unnamed Opponent
We cut to the arena as Mercedes begins to make her entrance. Xia Li ambushes her before she can even get a few feet down the ring. Xia Li beats Mercedes down to, and into, the ring. Martinez starts to fight back in the ring and takes Xia Li outside. Martinez pounds Li and sends her over the barricade into the front row of the off-camera crowd. Officials restrain Xia Li as Martinez enters the ring and tells the ref to ring the bell. Mercedes Martinez hits one strike, connects with the Air Raid Crash, and pins her unnamed opponent to win in seconds after the bell rang.
Your Winner by Extreme Squash, Mercedes Martinez
---
Backstage: Breezango
Breezango are curious and attempt to speculate as to what Imperium's issue is with them, besides the fact that they defeated them for the NXT tag titles months ago (okay). They then walk off, but Fandango turns back, pulls his shirt open to flash some chest at the blushing interviewer, and we go to break.
---
Backstage: Triple H, GM William Regal, Poppy, Dexter Lumis, Indi Hartwell
Triple H and William Regal welcome Poppy, 2021's Grammy-nominated Best Metal Performance solo chica. Trips asks her about her new album while thanking her for using her music recently. She states that she's got an album ready to drop now. He asks her about that and with the push of a button, Poppy just dropped her new album live on NXT. Unfortunately, Indi Hartwell showed up right after Dexter Lumis presented Poppy with a drawing (as he's a fan) and hugged Poppy, and Indi ran off very upset. The drama continues.
---
In-Ring: The Million Dollar Man, Cameron Grimes, LA Knight
We see Cameron Grimes and LA Knight both arrive in their white sports cars. Both men are walking backstage, heading out as Ted DiBiase awaits them in the ring. Grimes and Knight troll each other as they make their way out to the ring, including Grimes demanding Knight's music be shut off so his (Grimes) can be played.
In the ring is a podium with a black draped cloth over it, spare mics. Grimes wears a red suit, shirtless, with his brown hat and wad of money in hand as Knight wears his yellow and black street wear. DiBiase informs them that this weekend is the ultimate test. They've both proven themselves worthy but now its time to climb the proverbial ladder of success. A solid gold ladder is then lowered from the ceiling to DiBiase's music! Knight tells Ted that he stands head and shoulders above everybody on the wrestling Earth. He promises to knock that clown's head off (Grimes), or climb the ladder–there's no mountain he won't climb and no hillbilly he won't stomp. He tells us that it's LA Knight's game. Grimes speaks. "Hillbilly? Hilljack? You know, LA Knight, you may actually be right–I may be a hillbilly, and I may be a lil' smelly, but Cameron Grimes is worthy a million!" He reminds DiBiase that Ted said what matters most is what you do in between the ropes. Grimes fires up, telling Ted to take his money and rips off his jacket and gold Rolex, dropping them as he starts to climb the ladder, telling Ted that he's going to take the Million Dollar Legacy straight to the moon. He tells Ted that as he looks up, he doesn't see what he should be reaching for.
DiBiase is glad Cameron Grimes asked and asks two security officers to bring him a case. It's set upon the podium and unlocked. DiBiase opens it, revealing…"Gentlemen, I want you to know that the both of you will fight, crawl, grab, use every fiber of energy and every muscle in your body….just so you can have this." He opens the case and presents The Million Dollar Belt! The crowd flips its shit as both Grimes and Knight practically salivate over the belt. DiBiase wishes them luck!
---
Backstage: Karrion Kross and Kyle O'Reilly
We briefly cut backstage and catch William Regal, along with officials, separating a brawling KOR and Kross. We go straight to break.
---
The Grizzled Young Veterans vs. Ikemen Jiro & August Grey
We return from break as the GYV make their way out. The commentary team is hyped about the return of the Million Dollar Championship. We start with Gibson and Grey. They lock up but Gibson easily maintains control and drives Grey into the mat. Grey tags in Jiro. Jiro fights out of an arm lock and uses a headscissors take down to drop Gibson. He takes too much time celebrating and Gibson drops him and his partner. Jiro fires up but the GYV waste no time showcasing their veteran status. Drake comes in and cleans house, taking out both opponents. Drake with a kick to the back of Jiro's knee before repeatedly attacking it, stomping and kicking the back, inside of the knee before dropping an elbow. Drake tags in Gibson and both men work together for a double slam, dropping BN2's injured left leg across the top rope. Gibson with a kick to the gut followed by a tag to Drake. Gibson with a knee breaker, which Drake transitions into a leg pick and looks for a half crab. Tommaso Ciampa & Timothy Thatcher come out and set chairs up on the ramp, taking seats to watch their recent foes. The GYV lose focus and Jiro tags in August Grey. Grey and Jiro can't withstand a rallying GYV, though, who pick up the win with Ticket to Mayhem on Grey.
Your Winners, the Grizzled Young Veterans!
The Vets address Thatcher and Ciampa at ringside, calling them idiots and telling them that they're through with them–they're going after the tag titles. Thatcher and Ciampa explain that the Vets aren't getting it…they don't get a title shot unless they go through Thatcher & Ciampa. The GYV challenge Thatcher and Ciampa to an old-fashioned Texas Tornado tag match! Ciampa points out that they love tornadoes, they don't need tags, and they sure as hell don't need to wait til next week. Thatcher & Ciampa hit the ring and throw chairs outside the ring at the GYV. Thatcher tells them that he's going to enjoy breaking their limbs. We go to break!
---
Video Promo: Bobby Fish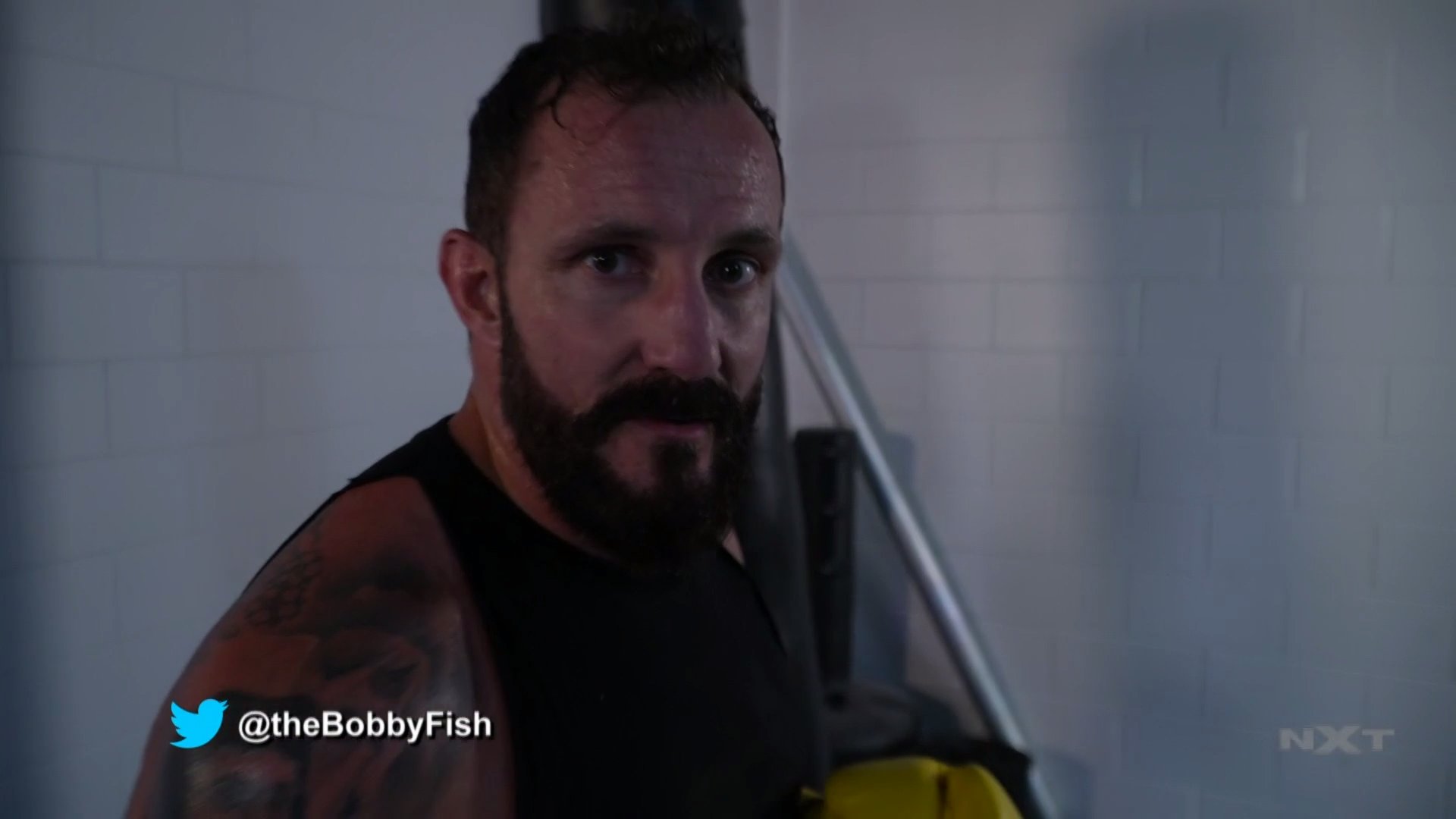 We get a video from two weeks ago, showing Bobby Fish's long-awaited return and the beatdown he took at the hands of Oney Lorcan. We cut to the back and watch Fish kickboxing. He warns Oney Lorcan that he's coming for him.
---
In-Ring: Candice LeRae, Poppy, Io Shirai
LeRae gets on the mic and tells us that she's so sick of hearing about Poppy. The fans start a Poppy chant. LeRae accuses Poppy of hijacking her interview last week and this week, Poppy stole Indi's man because "we all know InDex is a thing." She faults Poppy for Indi leaving the building in tears. She tells Poppy that there are two options: come out and face LeRae now or LeRae can give her a proper introduction to the NXT parking lot. The lights go out and out comes Poppy!
Poppy gets on the mic as she comes out on the stage, stating in a surprisingly higher pitched voice than I expected, "I don't wrestle, but I know someone who does!"
And out returns Io Shirai! The Genius of the Sky has returned, complete with green ringwear! Poppy escorts her down to the ring and helps her remove her jacket. Io hits the ring and hits LeRae, dropping her across the middle rope. Shirai connects with the 6-1-9 followed up by a missile dropkick! LeRae rolls out the ring and angrily backs up the ramp, yelling and having a temper tantrum as Poppy and Io are all smiles and congratulate each other. Poppy and Io hug on the top turnbuckle.
---
Doc Hendrix's In Your House Slam Jam, Part II
Doc Hendricks is back with another In Your House Slam Jam. He reminds us about the Winner Takes All six-man match with the North American and NXT Tag championships on the line. He runs down the card further, addressing the matches from earlier plus the newly-added matches tonight. We cut to commentary who run down the card and our main event match, coming up after this break!
---
Ember Moon vs. Dakota Kai
After the break we start things off. Kai comes out of the gate especially aggressive as her friend and NXT Women's Champion, Raquel Gonzalez, watches from ringside. Kai focuses on her patented kick-based offense, using stiff strikes to keep Moon grounded and foot chokes in the corner until the ref warns her. Kai takes a little too much time taunting Moon. Moon with an arm drag followed by a dropkick to take the lead for the first time tonight. Moon with a take down followed by a seated sliding modified Urinage. Moon covers for two but Kai kicks out just as Gonzalez prepares to hit the ring. Moon begins to punish Kai, yelling at Gonzalez while using sharp kicks to Kai's back and sides. Moon whips Kai into the corner and chases her, splashing her. Moon whips Kai into the opposite corner and follows it up with a running back elbow. Moon goes for the whip again, chasing. This time Kai pops over the ropes to the apron and both women struggle briefly at the ropes. Kai hops down and drags Moon to the mat, then spins Moon's body so fast her face slams into the corner post! We go to picture-in-picture break.
During the break Kai enters the ring. Kai uses a series of working holds to wear down Moon and slow the pace. Kai focuses on Moon's face, slamming her face into the mat and grinding her cheek back and forth along the course canvas mat. Kai with a quick cover but no joy. Kai takes a moment, catching her breath as Moon struggles to her feet. Kai approaches Moon who rolls Kai up for a close two. Kai kicks out then drops Moon with a running jumping kick. Kai slows the pace again, using a waist lock to keep Ember grounded. Moon tries to pull apart the legs but can't, so Moon lays back flat–forcing Kai to break the hold or be pinned. Kai continues her assault, again grounding the former NXT champion and utilizes a chin lock, followed by a back-held sleeper hold, to try to sap the strength out of Moon. Moon breaks free and counters an attempted fist, then drops Kai with three clotheslines as we return from the break!.
Back from the break. Moon connects with one more lariat, an Eclipse and covers for a close two. We get clips from moments ago–that vicious spin on the mat that sent Moon face-first into the pole. Kai attempts more offense but Moon answers kick for kick. Moon hits an incredible Somersault Stunner! Wow, haven't seen that move in years! The crowd loudly chants for Moon as Ember uses a reverse sleeper on Kai. The ref checks as Kai's stuck in that Dragon Sleeper, unable to escape. After a few long moments, Kai slips out of the sleeper and converts it into a modified reverse driver. Kai with pendulum kicks followed by a Helluva Kick in the corner, covering for a close two. Even Gonzalez is in disbelief as Moon just got her shoulder up. Kai pulls up an exhausted Moon, hoists her onto her shoulders and eats a right elbow for it. Moon escapes, hoists up Kai, and bombs her down for a close two. Beth Phoenix calls this a must-win for Ember Moon and Barrett calls it a must-stay-healthy. The official checks on Kai inside the ring as Moon heads outside. Raquel Gonzalez attempts to attack but Moon dodges and takes out the champ! Moon takes out Kai and wipes out both women on the floor before the announcer's table! Moon sends Kai back in and kicks her in the face. Moon climbs up top, looking for the Eclipse, when Gonzalez runs over and hits her with a Big Boot that sends Moon flying to the outside! The ref calls for the bell and checks on moon.
Your Winner by Disqualification, Ember Moon!
Gonzalez is checking on her teammate when Moon attacks her from behind! Gonzalez attempts to hoist Moon but Moon converts the potential bomb into a modified Eclipse! Gonzalez charges Moon in the corner, but Moon uses the top rope to stun the champ. Moon heads up top and dives off, hitting a proper Eclipse on Gonzalez! Gonzalez is out cold! Moon picks up the NXT Women's Championship title and holds it up before placing it across Gonzalez's waist. She slaps her face twice, says something inaudible to the fallen champ, and leaves the ring as Kai checks on her friend.
---
Video Promo: Karrion Kross with Scarlett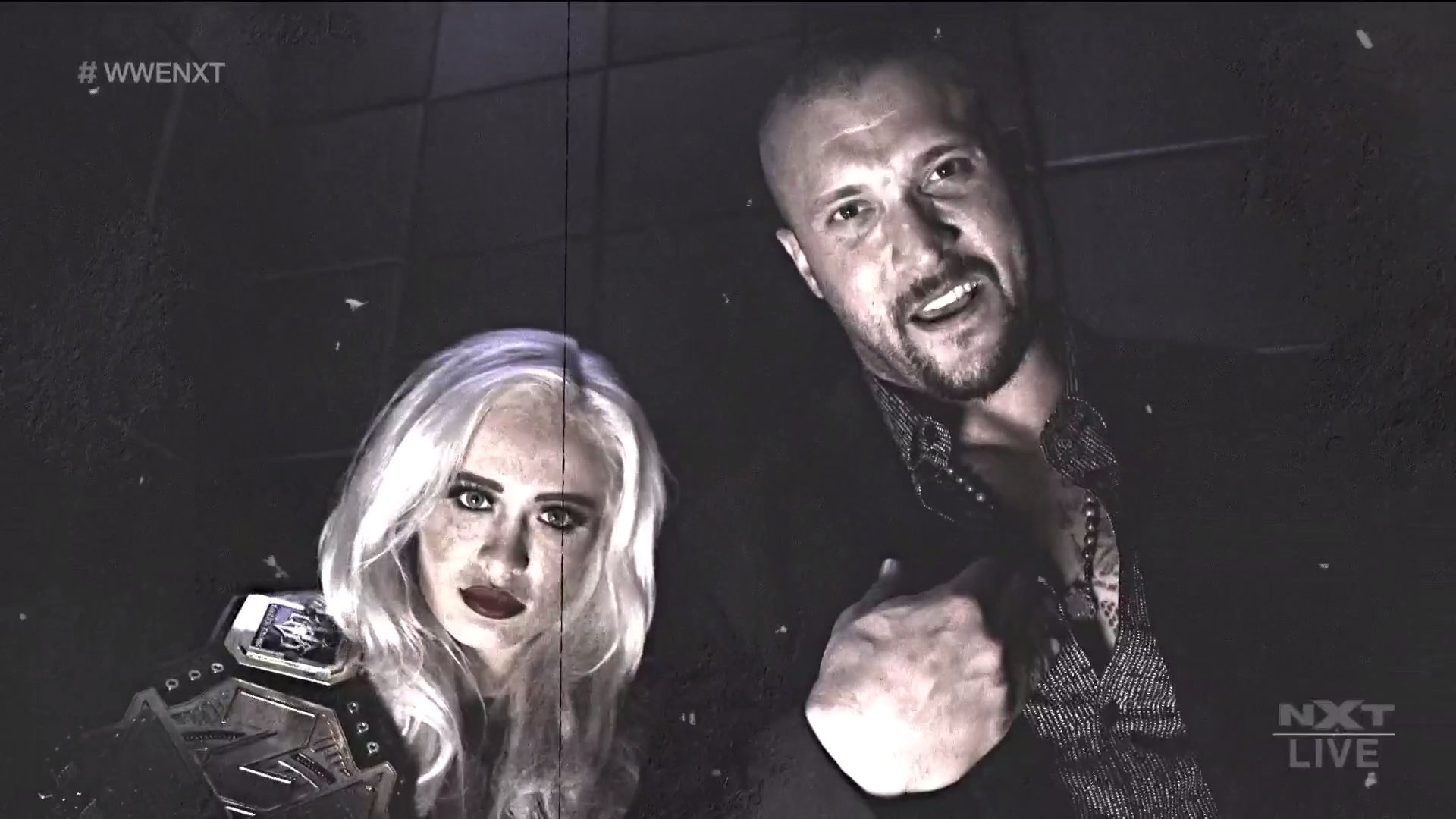 Kross is shown in a pre-recorded promo with a grainy filter effect. Kross addresses the four gentlemen he's about to come face-to-face with. He informs them that they don't have to wait until Sunday to get these hands (just kidding). We go to break.
---
In-Ring: Karrion Kross, Johnny Gargano, Pete Dunne, Adam Cole, Kyle O'Reilly
NXT Champion Karrion Kross & Scarlett are shown in a pre-recorded promo with a grainy filter effect. Kross addresses the four gentlemen he's about to come face-to-face with. He informs them that they don't have to wait until Sunday to get these hands (just kidding). We go to break. When we return, we cut awkwardly to the ring where Kross and Regal are already exchanging words. Regal refuses to capitulate to Kross; Kross tells Regal that Regal isn't in charge anymore and he demands all four competitors come out. This whole bit feels rushed as it's now 10:00pm EST. Kyle O'Reilly makes his way out and tells Kross its only a matter of time until he takes the title away. Johnny Gargano comes out on a mic, standing on the announcer's table and tells someone to call a doctor because "those are some sick burns." He then addresses Kross and asks if he's gonna take that from Kyle O'Reilly? He admits Kross is no Johnny Gargano, not even in his league, but if he were Kross he'd go over there and choke Kyle out right now. Gargano urges him to be careful, though, and not trip as he's not the most graceful one in NXT. Kross yells something like "shut up, mark" to someone in the crowd then tells Gargano to get in the ring. Pete Dunne comes out next, telling Kross to shut up, and threatening to take his title. Adam Cole shows up on the big screen behind the ring. Cole tells us that he's not stupid enough to come out there tonight, but Kross is stupid to take on them all. Cole reminds Kross that he doesn't need to beat Kross to become NXT Champion–"Maybe I'll beat Johnny Gargano, again, or maybe I'll beat Pete Dunne again, or maybe I'll beat the guy who doesn't even deserve (to be in the match, Kyle O'Reilly)." KOR gets back on the mic and calls Cole too big of a bitch to be there in person, "but that ain't me, Kross," he states. Kross asks him who he is and KOR slaps Kross. All hell breaks loose at 10:05pm. All four in-person competitors brawl. Kross cleans house, using a series of belly-to-belly suplexes to toss off his competitors and security. Two members of security restrain Kross, allowing others to Superkick him repeatedly. KOR, Dunne and Gargano take each other out with the champ back on his feet, cleaning house once more. Kross holds his title up, yelling "One…versus…everyone!" Adam Cole Superkicks Kross repeatedly from behind; apparently he was there all along! He holds up the title as the crowd loudly chants "Adam Cole, bay-bay!" We end our program.