Results by Matt Boone of Rajah.com
July 26, 2021
Kansas City, MO – T-Mobile Center
Commentary: Jimmy Smith, Corey Graves & Byron Saxton
---
Quick Match Results
Damian Priest defeated Sheamus via Hit the Lights
Raw Tag Team Championship: AJ Styles & Omos (c) defeated The Viking Raiders via tree slam by Omos followed by 450 splash by Styles on Erik
Veer defeated Drew McIntyre by disqualification when McIntyre hit him with a Claymore as he was holding a chair
Natalya & Tamina defeated Eva Marie & Doudrop via superkick by Tamina on Eva after a video distraction by Alexa Bliss
Karrion Kross defeated Keith Lee via Kross Jacket
Mustafa Ali & Mansoor defeated Mace & T-Bar via victory roll by Mansoor on Mace
Handicap Match: Bobby Lashley defeated Shelton Benjamin & Cedric Alexander via Jackhammer on Benjamin and Dominator on Alexander
John Morrison defeated Riddle via Starship Pain after Riddle was distracted by Omos breaking his scooter
WWE 24/7 Championship: Reginald (c) defeated R-Truth via roll up
Charlotte Flair defeated Nikki A.S.H. via pinfall counter of a cross body
---
In-Ring: Nikki A.S.H., Charlotte Flair, Rhea Ripley
Nikki A.S.H. settles into the ring and her music fades down. The crowd chants "Nikki! Nikki!" as she holds her title up high. She starts off by saying she has always wanted to say this — "Welcome to Monday Night Raw!" A.S.H. talks about it being like a dream come true to be the women's champion. The fans break out in a "You deserve it!" chant. She said in the past when she reached for the stars she didn't have the confidence she needed and she was so afraid to fail. One day she realized whether she fails or not she is still who she is. She says when she put on her A.S.H. outfit, it gives her the confidence it reminds her that no matter what if you believe in yourself you can overcome all of the odds. It worked for her and it can work for you. We can all be "Almost Super Heroes."
Before she can continue talking, out comes "The Queen" Charlotte Flair. She stands in front of Nikki like she's not even there. She says Nikki is a joke and she's here to add status to the show. She claims Nikki stole her title. The fans chant Nikki's name again as Charlotte claims she will be forced to bow down to the real champion when she gets her rematch at SummerSlam.
As Charlotte starts to rant to the fans about them being part to blame, she is cut off by the theme of another former Raw Women's Champion, as Rhea Ripley makes her way down to the ring. She grabs a mic and the fans chant her name. She mocks Charlotte for only holding the title this last time for one whole day, despite being an 11-time champion. Ripley states her case for why she should challenge Nikki for the title at SummerSlam.
Nikki asks who said anything about either of them getting a title shot at SummerSlam. She says like her butterfly represents, this women's division is ready for the metamorphosis. She says she'll be leading that charge as our new Raw Women's Champion. Charlotte says she's had it up to here with her super hero crap. She calls her a Marvel Barbie rip off and claims she'll leave SummerSlam with the title. Ripley says it'll be hers.
Finally, Adam Pearce and Sonya Deville make their way out and tell everyone to relax. Sonya says there will be a Raw Women's Championship match at SummerSlam and it looks as though it could be contested in a triple threat match. They then make Charlotte Flair vs. Nikki A.S.H. tonight in Kansas City. Rhea laughs and Charlotte attacks her with a cheap shot. Nikki knocks Charlotte out of the ring with a dropkick and poses with her title.
---
Sheamus vs. Damian Priest
We shoot to an earlier today video message from Damian Priest. He verbally dresses down Sheamus and says he shouldn't be U.S. Champion. He then vows to show him something in their U.S. Championship Contender Match. The commentators plug it coming up next as we head to a commercial break.
The bell sounds and we are off-and-running in this contenders match as these two lock up. Sheamus takes Priest down but he works his way back up. Sheamus shoulder blocks him back down. Sheamus then runs into a big shot from Priest, who follows up by arm-dragging him down to the mat.
As he goes to work on him, we head to a mid-match commercial break as the action continues in the ring. When we return from the break, we see some more back-and-forth action. Priest takes over and eventually removes the protective mask from the face of "The Celtic Warrior." He hits a chokeslam off the top rope on Sheamus and goes for the cover, however the U.S. Champion kicks out.
Sheamus starts to pull ahead on offense briefly, blasting Priest with a big running knee for a close near fall of his own until Priest reclaims the lead in the bout, finishing off the champion with Hit the Lights for the pin fall victory. As Priest exits the ring, Sheamus shouts that his nose is broken again and asks for a doctor.
Winner: Damian Priest
---
Raw Tag Team Championship
AJ Styles & Omos (c) vs. The Viking Raiders
We hear the bell and Erik sprints across the ring and takes out Styles with double knees. He tags in Ivar, who picks up where he left off, blasting "The Phenomenal One" with another big shot before knocking Omos off the apron.
Another tag leads to The Viking Raiders hitting their double-team finisher. They go for the follow-up pin but Omos yanks the legal man off of Styles and pulls him out of the ring and out to the floor. He does the same with the other Viking Raiders and beats both down, leaving them laying on the floor at ringside as we head to a mid-match commercial break while the action continues.
When we return from the break we see Omos dominating the action in the ring now, and then Styles tags in. From there, The Viking Raiders start to take back over control of the offense as they take it to Styles until Ivar walks into a super kick from "The Phenomenal One" in the corner of the ring. Styles follows that up with a tornado DDT for a near fall, however Ivar kicks out to keep this one alive.
Ivar holds Styles' leg to stop him from tagging in the big man. Instead, Erik tags in and goes to work on Styles while Ivar holds Omos' foot on the ring apron during a pin attempt. Styles managed to kick out regardless to keep this one going. He hits a big Pele kick and then finally makes the tag to bring Omos back in the ring.
Omos scoops Erik up and walks him around the ring before slamming him down and declaring the squared circle his house. Ivar tries to run in but runs directly into a big boot from Omos, who then dumps him out to the floor before splashing on his partner in the corner of the ring. He hits the two-handed chokeslam and leaves Erik laying before tagging Styles in. Styles takes his time and goes for a springboard 450 splash. He hits it and makes the cover to retain the titles.
Winners and STILL Raw Tag-Team Champions: AJ Styles & Omos
---
Drew McIntyre vs. Veer
We see highlights from Money In The Bank of Sheer and Yanky helping Jinder Mahal screw Drew McIntyre out of becoming 2021 Mr. Money In The Bank and then footage from last week's Raw of "The Scottish Warrior" wearing out Mahal's henchman Shanky with 30 chair shots.
After McIntyre's entrance, Mahal, Shanky and Veer all come out. Mahal gets on the microphone and announces his lawyer and tells McIntyre he has a big lawsuit coming for him. He gives him a chance out but Drew opts against it and leads the fans in a "Drew is gonna kill you!" chant.
The bell sounds after Veer settles into the ring and we are off-and-running with our next match of the evening here on Raw. McIntyre goes after Veer early on but it doesn't take long before Veer actually get in some offense of his own. His offensive run is short lived as Drew cuts it short and starts dominating the action again. He is stopped briefly as Veer slaps him, but this only enrages him and leads to a bigger onslaught from McIntyre.
McIntyre pummels Veer in the corner of the ring until he is distracted by Mahal at ringside, who slams a steel chair down on the ring apron repeatedly until Drew looked over. When Drew looked back at Veer, he ate a big kick that decked him. Veer lawn-darts himself into McIntyre in the corner and continues to work him over with fast-paced, impressive offense that event prompts a compliment from the commentary team on the broadcast.
Drew starts to take back over and goes on to dominate the action for about a minute or two until Mahal brings a chair into the picture by putting it in the ring. Drew hits a Claymore Kick into the chair into the face of Veer. This ends the match and leaves Drew as the loser via DQ.
Winner via DQ: Veer
After the match, Mahal exits the scene with Veer and Shanky but he leaves his lawyer at ringside, which McIntyre notices. He heads out and throws him in the ring. He calls for the Claymore Kick and then takes the ref out with it as the aforementioned trio watches on from the top of the entrance ramp.
---
Natalya & Tamina vs. Eva Marie & Doudrop
We see footage of what happened on Alexa's Playground with Eva Marie and Doudrop on last week's Raw. From there we shoot backstage and hear Eva Marie give some words of wisdom to Doudrop before they make their way out and down to the ring.
The bell sounds and we're off-and-running with our next match of the evening. Nattie and Eva kick things off for their respective teams. Eva slaps Nattie and Nattie charges her, so she runs to her corner and tags in Doudrop.
Doudrop and Nattie go at it with the larger Doudrop faring well early on. She uses her size and strength to take it to the veteran. Nattie starts favoring her leg and then she tags out to Tamina. We see Doudrop and Tamina circle each other and then they go at it, with Tamina taking Doudrop down with a side head lock.
She controls the larger foe on the ground and when she goes to hoist her up, Doudrop muscles her down and then hits a cross body. As Eva hits the ring and nearly gets the win, she is distracted by a video that plays on the big screen from Alexa Bliss. It wraps up saying this is the Lilly-lution. Eva flips out but turns around into a big super kick from Tamina. 1-2-3. The champs win.
Nattie has to be helped to the back after the match.
Winners: Natalya & Tamina
---
Karrion Kross vs. Keith Lee
The bell sounds and we are off-and-running with our next match of the night. Kross goes right after Lee but has trouble muscling him up in the corner of the ring. Lee turns the tables and he doesn't have the same problem, as he manhandles Kross up in the air before slamming him down.
Kross rolls out to the floor. Lee goes out after him. Kross spears Lee into the ring apron and then rams him into the steel post. He hits a lift-and-throw T-bone suplex as we head to a mid-match commercial break as the action continues outside of the ring.
When we return from the break we see Lee still in control of the action, which has resumed inside the ring. The commentators inform us that it has been all Kross in the lead throughout the break. Kross puts the Cross Jacket submission on Lee in the middle of the ring. Lee hangs on and eventually separates the grip of the NXT Champion and slamming him down to the mat.
Lee hits the ropes and mauls through Kross like a freight train with a big shoulder tackle. Lee plays to the crowd now as he waits for Kross to get up. He hooks Kross looking for the Spirit Bomb but Kross reverses and counters into a big side-suplex. Kross blasts Lee from behind with a big forearm blow and then locks up the Kross Jacket submission on Lee on the mat. Lee fights it but eventually taps out.
Winner: Karrion Kross
---
Backstage: Nikki A.S.H., Rhea Ripley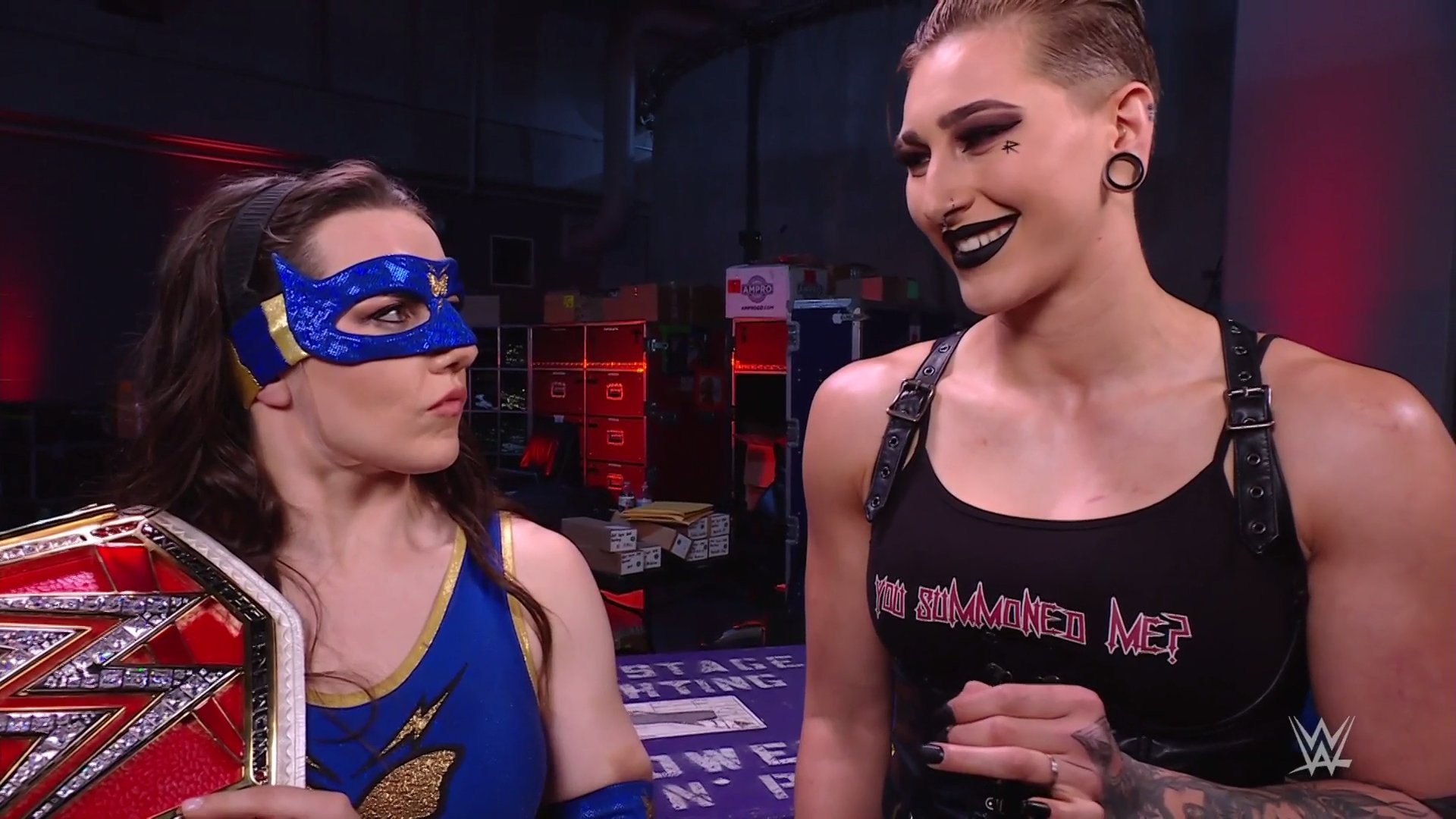 We shoot backstage live where Sarah Schreiber is with the "Almost Super Hero" herself. She talks about wanting to be an inspiration to little boys and girls and then shifts gears to her match against Charlotte Flair.
As she wraps up her promo, Rhea Ripley confronts her. She tells her she appreciates her positivity but says at SummerSlam she's getting her title back. Until then, she wants Nikki to go out there tonight and give Charlotte hell.
---
Mace & T-Bar vs. Mustafa Ali & Mansoor
We return from the break and see split-screen "earlier today" interview footage from Mace and T-Bar. They ramble on about jungles and devouring Ali and Mansoor.
Ali and Mansoor head down to the ring as we see split-screen "earlier today" footage of these two talking about their plans for tonight. Ali tells him to follow his lead out there and they'll be just fine.
The bell sounds and we see Ali go right after T-Bar, only to be turned inside out by him. T-Bar then tags in Mace, who picks up where T-Bar left off, taking it to Ali and ragdolling him around the ring. Mansoor breaks up a pin attempt and is then knocked off the ring apron.
Mace & T-Bar hit a powerful double-team spot on Ali and then T-Bar settles back in as the legal man in the match. He hits Mansoor but turns around into a big spinning kick from Ali that connects. Both guys tag out.
Mansoor takes the hot tag and flies into Mace with a forearm, taking the fight to his larger opposition. He blasts him with a nice kick and then a reverse DDT for a pin fall attempt that T-Bar breaks up. T-Bar knocks Mansoor out to the floor and follows out after him, only for Ali to take him out with a big dive from the ring to the floor.
Mace throws Ali down but then Mansoor with the victory roll onto Mace for the win.
Mansoor celebrates with Ali outside the ring as if they just won the Super Bowl.
Winners: Mustafa Ali & Mansoor
---
In-Ring: Bobby Lashley, MVP
Bobby Lashley makes his way out accompanied by MVP and the two make their way down to the ring where the reigning top dog on the WWE Raw brand is going to give his response to the challenge issued to him by WWE Hall of Fame legend Bill Goldberg on last week's show.
As Lashley settles in the ring, we see highlights of the aforementioned call-out from Goldberg on last week's show. MVP rambles for a minute or so to build things up and then asks Lashley for his thoughts.
Lashley says he's not even going to dignify Goldberg's challenge with a response.
As he goes to continue talking, he is cut off by the theme music of Cedric Alexander. He talks about wanting his opportunity against the champ. While Alexander settles into the ring, we hear Shelton Benjamin's theme play and he comes out mocking Cedric's voice. He then makes his way down to the ring where he says he's here to give Lashley a real challenge.
MVP tells the two of them that they are not on the champ's agenda. Lashley says he'll take them both on — at the same time. He tells someone to get a referee.
Handicap Match
Bobby Lashley vs. Shelton Benjamin & Cedric Alexander
The bell sounds and Lashley goes right at Benjamin, turning him inside out. He turns and sees Alexander, who throws his hands up and says he doesn't want any part of him. Lashley dumps him out on the floor anyways.
Lashley turns Benjamin inside-out again and then heads out to the floor where he hoists Alexander up and slams him into the ring post. He drags him back in the ring where Benjamin starts duking it out with him. He hits a step-up knee on the champ and then Alexander follows up with a tornado DDT.
They both try and cover him but Lashley kicks out. Benjamin goes after him again but Lashley shucks him off and then hits a big spinebuster on Alexander. He then blasts Benjamin with a spear. He hoists Benjamin up and hits a Jackhammer, the trademark move of Goldberg himself. He then blasts Alexander with a Dominator and scores a double pin.
Winner: Bobby Lashley
---
Backstage: The Miz, John Morrison, AJ Styles, Omos
What's @AJStylesOrg saying to @mikethemiz & @TheRealMorrison?!@TheGiantOmos won't give us a sneak peak!#WWERaw pic.twitter.com/4bygnp6fcP

— WWE (@WWE) July 27, 2021
We shoot backstage and see The Miz in his wheelchair looking at his phone when up walks John Morrison who picks up a Drip Stick.
The two talk about being ready for tonight when up comes Raw Tag-Team Champions Omos and AJ Styles. Styles says he needs to talk to them about something.
Omos blocks them as they chat and we head back inside the arena for our next match of the evening here on Raw.
---
Riddle vs. John Morrison
Early on the action hits the mat, as we see a triangle submission attempt thwarted. Riddle ends up taking it to Morrison, dumping him out on the floor before kicking Miz's wheelchair over with The Miz still sitting in it as we head to a mid-match commercial break with the action still in progress.
When we return from the break we see Morrison taking it to Riddle now with the action back inside the ring. It isn't long, however, before Riddle fires back up on offense, hitting a back-flip off the middle rope and splashing onto Morrison on the floor.
As he rolls Morrison back into the ring, we see Raw Tag-Team Champions AJ Styles and Omos heading down to the ring. Morrison starts to take back over on offense following the distraction assist from the tag champs.
Morrison works Riddle over on the mat as Styles and Omos settle in at the ringside area. Riddle powerbombs and dropkicks his way back into competitive form. We are shown Omos and Styles watching on from ringside as Riddle positions Morrison near the ropes before he begins climbing up them.
Riddle climbs up and then sees Styles handing his scooter over to Omos. Omos breaks it in half over his knee. Riddle screams and is yanked off the top from behind by Morrison and slammed down. He follows up with Starship Pain for the pin fall victory.
Winner: John Morrison
After the match, Morrison and Miz celebrate with the Drip Stick on the floor while Styles and Omos hit the ring. Styles hits a Styles Clash on Riddle and leaves him laying as his theme plays.
---
WWE 24/7 Championship
Reginald (c) vs. R-Truth
We see Reginald capturing the 24/7 Championship after Shayna Baszler and Nia Jax turned on him following their match where he cost them the WWE Women's Tag-Team Championships when they attempted to reclaim them from current title-holders Natalya & Tamina.
From there, R-Truth raps his way down to the ring as his shot at the 24/7 Championship owned by the aforementioned Reginald is up next.
From there the entrance music for Reginald plays and the reigning WWE 24/7 Champion flips his way out and down to the ring where he soars over the top rope after bouncing on a trampoline or something in the aisle. It definitely looked cool.
Reginald settles into the ring as Truth looks mesmerized by the athleticism of his opponent. The bell sounds and Truth keeps talking while wearing a headset mic. Reginald is gonna compete in his suit it appears.
Truth tells Reginald to give him his baby back. He begins talking and clowning with him and goes for a clothesline but Reginald avoids it. Truth grabs him and says we can do this the easy way or the hard way. Reginald takes his coat off and flips out of frame.
R-Truth asks if he's gonna take his coat off like that and then chases him around with it while he flips away from him. He finally throws the coat over Reginald's face. He goes to follow-up but Reginald avoids it and ends up rolling Truth up to retain his title.
Winner and STILL WWE 24/7 Champion: Reginald
After the bell sounds a bunch of wrestlers hit the ring and he somehow runs and flips over the top rope and out to the floor. He then back-flips his way up the entire entrance ramp and smiles and waves while wearing the 24/7 title around his waist.
---
Nikki A.S.H. vs. Charlotte Flair
We shoot backstage where Sarah Schreiber is standing by with Charlotte Flair. "The Queen" claims there wouldn't be a women's championship if it weren't for her. She says she's sick of "Almost Superstars" bringing down the title she has held five times.
The bell sounds and we are off-and-running with this week's Raw main event. Charlotte and Nikki circle each other as the fans start to break out in pro-Nikki chants. "The Queen" charges over and immediately clotheslines her down before chopping the crap out of her in the corner. She slaps her in the face and begins taunting her and looking to pry her mask off.
"The Queen" continues to dominate the action for a few more minutes and after this looked to be a completely one-sided affair from the word go, finally the Raw Women's Champion fires up and starts getting in some offense as the crowd inside the T-Mobile Center comes alive. She hits a big spot on the floor but then Charlotte takes back over and begins dominating again as we head to a mid-match commercial break with the action still in progress.
When we settle back in from the break, we see Charlotte stretching the arms of Nikki around the steel ring post from outside of the ring. She heads back into the ring and works over the "Almost Super Hero" with mat work as the commentators talk about how Charlotte has been dominating this one-sided beatdown straight out of the gate.
Finally, Nikki A.S.H. starts to fire up and fight back into competitive form. She ends up getting the better of things and heads to the top rope. She comes off with a flying cross-body splash but Charlotte rolls through with the momentum and covers her. 1-2-3. Charlotte wins. She immediately starts mocking the Raw Women's Champion after the match.
Winner: Charlotte Flair
Once the match ends, we get an immediate post-match interview from the winner. Charlotte is congratulated on the victory, which offends her. She asks what she is being congratulated for. She asks what anyone thought was going to happen. She says no one is on her level.
Nikki points out that it says "ALMOST Super Hero" right in the name. She says she's confident she can beat her so she challenges her to a rematch for next week's show. She drops the mic.
Charlotte demands the interviewer pick the mic up and hand it to her if anyone wants to hear her response. She accepts the challenge and extends her hand for a handshake.
A.S.H. goes to shake Charlotte's hand, but "The Queen" pulls her in close and knocks her down and out of the ring. She gets in her face and points to one of her fans' signs and taunts her saying she's so inspirational but it doesn't matter. She brings her into the ring and beats her down some more, leaving her laying as her music plays to end this week's show.