Results by Roy Nemer of Wrestleview.com
July 9, 2021
Tampa, Florida (Yuengling Center)
Commentary: Michael Cole and Pat McAfee
---
Quick Match Results
Money in the Bank Qualifying Match: King Nakamura defeated Baron Corbin via Kinshasa
Shotzi Blackheart & Tegan Nox defeated Tamina & Natalya via the Ball Pit (top rope senton) by Blackheart on Natalya
Money in the Bank Qualifying Match: Seth Rollins defeated Cesaro via the Stomp
---
Backstage: Jimmy Uso, Paul Heyman
👀

Friday Night #SmackDown starts RIGHT NOW on @FOXTV! @HeymanHustle @WWEUsos @WWERomanReigns pic.twitter.com/vd7OtPQnrf

— WWE (@WWE) July 10, 2021
We cut to the arena and Jimmy Uso is trying to get into Roman's office but Paul Heyman stops him. Heyman says Roman is working on something and Jimmy deserves his full attention and he will get it tonight as Jimmy walks away.
In-Ring: Roman Reigns, Jimmy Uso, Jey Uso
Roman Reigns walks down to the ring. He says lots of people didn't like that he wasn't there last week but there were a few things that he didn't like last week too. He said Edge lied by saying that Roman feared him and at WrestleMania, for 10 seconds or maybe 20 seconds, there might have been a bit of doubt or fear. But that propelled him and he ended up winning. And the only reason Edge was able to get to him a few weeks ago was because Roman wasn't even thinking about him. He was concentrated on his family.
Out comes Jimmy Uso to the ring. Jimmy asks him why he thinks he got in Edge's face last week, if it wasn't for him but for them. But he didn't see Roman last week, he must have been on vacation. Roman says he didn't tell him to make decisions for them and if anyone earned a vacation it's him but he doesn't take vacations. Roman says he was busy doing what Jimmy couldn't do, he was busy doing his job too.
Out comes Jey Uso to the ring. Jey says he is back and not for anyone of them but for all of them. He tells Roman that his right hand man is back. And as for Jimmy, he always has his back, even through these hard times right now, to get back to doing what they do and that is to become the seven time WWE Tag Team Champions. They both hug as Roman laughs.
Roman says he has been saying it all along. That's all he ever wanted. He says seven time tag team Champions, Universal Champion for however long he wants to be. And the way they do it is together, on the same page, all of them working together and no one can touch them if they do it his way. Both Jimmy and Jey hug Roman in the middle of the ring.
---
Backstage: Baron Corbin
Baron Corbin is backstage and in comes Kayla. She asks him about how history with Nakamura as Corbin says he has to win tonight. He lost his money, his crown, his car, even payments on his house. He has to win, he needs to win and he wants to win. He says he won the Money in the Bank before and he will do it again.
---
Money in the Bank Qualifying Match
Baron Corbin vs. King Nakamura
Results of this match by Mike Hogan of Rajah.com
Big E makes his way out to observe this match from ringside. And to remind us why Baron Corbin is emo, we get a short video package showing his failed attempt to usurp the crown two weeks ago from the true king, Shinsuke Nakamura. We also see him admit candidly that he lost all his money in a bad investment, and last week Corbin's car was repossessed mid-match against Big E, causing a distraction and costing him the match. Big E has a mini-fridge and a sofa set up next to the announcer's table. Big E and Pat McAfee both take a spot on the touch as Pat tells Michael Cole to stay at the desk. We get another short video, this one from earlier today.
Nakamura and Boogs show up to the arena in Corbin's repossessed car, adding injury to insult as the former king despondently looks on from the ring. Finally, Rick Boogs comes out. "I came here to rock with a man who rolled here in a sweet, sweet chariot! King Nakamuraaaaaaaa!" Boogs strums a couple of chords then hops on lead guitar as our one true King Shinsuke Nakamura makes his way out to an excited digital crowd! As the duo make their way down to the ring, Baron Corbin attacks King Nakamura until Boogs interjects himself and we go to break.
Back from the break. Pat McAfee and Big E are seated on E's sofa and are soaking their feet in electric foot soaks. Haha! Pat's chillin' like a villain with Big E as Corbin has the first lead of the night. As the match started mid-break, we return to find the Baron with a slow pace, steadily softening the midsection of the King. Baron focuses on his Golden Gloves-winning past as he throws deliberate, powerful fists. After a few moments, the King fires up after a kick to the face. Nakamura battles Corbin into the corner. Nakamura places Corbin across the ropes int he corner and connects with a running knee. We're reminded that Corbin won a Money in the Bank in the past but failed to cash in. Corbin takes control back in the ring and hooks a single leg crab. Nakamura reaches the ropes. Corbin with a back suplex and pin attempt for a short two. Pat McAfee says Baron could be an unstoppable force then mentions his (vastly receding) hairline. Nakamura sends Corbin outside. Corbin attacks an unsuspecting Boogs without provocation. Nakamura exits the ring to assist his friend, only to be slammed across the announcer's table as we go to break.
Back from the break. Nakamura and Corbin struggle for a lead in the ring. Nakamura drops Baron to a knee with a big kick, but runs right into a Deep Six from the Baron. Corbin covers for two. Big E hypes the return next Friday to the live crowd. He and Cole thank the viewers and ThunderDome audience, and the city of Tampa. Corbin with a slam and another pin attempt. Pat McAfee continues to call Corbin "the man with the hairline" and make other cracks about Corbin's balding head. Corbin looks for a top rope move but Nakamura transitions into an arm bar, then into a Triangle. Baron Corbin hoists Nakamura up with one arm and drops him down with a single-arm Powerbomb. Nakamura stays latched on and goes right back to the Triangle! Corbin again attempts the one-armed Powerbomb but drops to a knee. The Baron drops to the mat as our King keeps pressure on the neck, switching to a sleeper. Corbin is almost out–but his foot is under the rope. The ref forces the break. Nakamura sets up in the corner, calling for the Kinshasa, and charges right into a big lariat from Corbin! Nakamura bounces back quickly and connects with another Kinshasa, putting away the Baron.
Winner: King Nakamura
---
Backstage: The Usos
Jimmy and Jey are backstage and Jimmy apologizes for everything he said to him. Jey tells him not to worry about it. Jey tells him to think about handling things before Roman has to.
---
Tamina & Natalya vs. Shotzi Blackheart & Tegan Nox
Natalya and Tamina come out to the ring. Natalya says that before they came down to the ring, they were told that they were going to be challenged by a new tag team no one has ever seen before. Tamina says whoever they are, to get out here and to end it. Out come Shotzi Blackheart and Tegan Nox (who is now just known as "Nox") of NXT to the ring.
The bell rings and we are under way. Natalya and Nox start the match and an arm bar by Nox as Shotzi is tagged in. They double team Natalya. Shotzi goes for the cover but Natalya kicks out. Tamina is tagged in and they double team Shotzi. Tamina goes for the cover but Shotzi kicks out. Tamina clothesline Shotzi down and an elbow. She goes for the cover but Shotzi kicks out.
Right hands by Tamina as she slams Shotzi down. Tamina knocks Nox off the ring apron. Natalya is tagged in and they double team Shotzi. Natalya goes for the cover but Nox gets in the ring and breaks it up. Natalya with a clothesline on Nox. Shotzi with a clothesline on Natalya. Shotzi climbs the top rope and she hits her with the Ball Pit. She goes for the cover and gets the pin.
Winners: Shotzi Blackheart and Nox
---
Backstage: Edge
Megan is backstage with Edge. He says he will go to the ring and call Roman out but he is interested in seeing if Roman comes out alone or not.
---
In-Ring: Sonya Deville, Carmella, Liv Morgan
Sonya makes her way down to the ring. She says that Bayley has an injury and will be out for at least nine months and she will not be able to compete for the SmackDown Women's Championship at Money in the Bank. However, Bayley did have words to the WWE Universe. We see a clip of a recorded video by Bayley. She says you wanted to see the longest reigning Women's Champion in WWE history take back her title.
Bayley says but now she is hurt and they don't care that she is hurt. That she did this to get better for Money in the Bank, that she did this for everyone and this is all their fault. And who ever replaces her is not as good as her.
Sonya says Bianca Belair will no longer defend her WWE SmackDown Women's Championship at Money in the Bank but instead will defend it next week in Texas in front of an audience. And her opponent will be a former SmackDown Women's Champion and two time Money in the Bank winner, Carmella.
And as she says that, out comes Carmella to the ring. Carmella says she gets that everyone is mad, she is hot and they are not. She thanks Sonya for the long overdue honor but once more, Sonya made a mistake. In addition to being a two time Money in the Bank winner, she is also the hottest woman in WWE.
Out comes Liv Morgan who says she doesn't understand. Sonya appoints Carmella at Money in the Bank and now she is appointed as Bayley's replacement. Liv says she cannot just appoint Carmella as Carmella cuts her off. Liv gets in Sonya's face as Sonya says enough. She was about to announce Carmella's replacement for Money in the Bank and that is Liv. And she has a few seconds to get out of her face before she changes her mind.
Liv tells Carmella she hopes she wins next week because when she wins Money in the Bank, she will cash in on her. Out comes Bianca Belair to the ring. Bianca says she will gladly accept Carmella as her appoint. She doesn't know if Bayley's injury is real, if it's not, it's a new low for her. And if it is, she respects her competitive skills. And she will see Carmella next week.
---
Backstage: Roman Reigns, Paul Heyman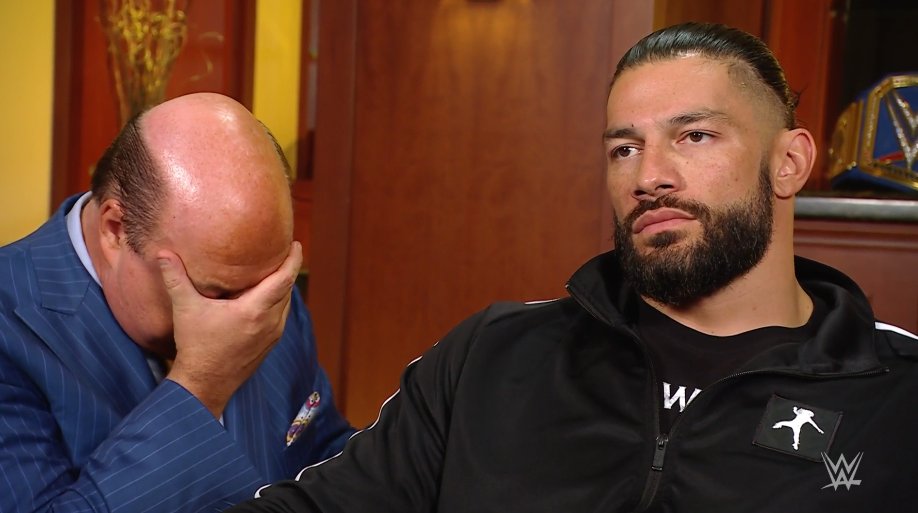 Paul Heyman tells Roman that they may have a problem and that is Edge. He says Edge intends on calling him out to the ring tonight. Heyman apologizes and says that Edge also questioned his manhood.
---
Video: Toni Storm
Make way for #ToniStorm because she's coming to #SmackDown!

😱 😱 😱 pic.twitter.com/x6zkMShHxl

— WWE (@WWE) July 10, 2021
Tony Storm will be joining SmackDown.
---
Money in the Bank Qualifying Match
Seth Rollins vs. Cesaro
Kevin Owens is on commentary. The bell rings and we are under way. Seth goes for a roll up but Cesaro kicks out. Cesaro to the ropes but a shoulder block knocks Seth down. Cesaro with a back breaker. He goes for the cover but Seth kicks out. Cesaro on the ring apron as he climbs the top rope and a cross body. He goes for the cover but Seth kicks out. Seth rolls to the outside of the ring.
Back from commercial, Cesaro clothesline Seth to the outside of the ring. Cesaro goes to the outside as Seth slams him into the announce table. Seth throws Cesaro into the ring steps and back into the ring. Seth goes for the cover but Cesaro kicks out. A kick to the back by Seth followed by a knee to the face. He goes for the cover but Cesaro kicks out. Seth stomps on Cesaro in the corner as the referee breaks it up.
Cesaro with an uppercut and he slams Seth down. He goes for the cover but Seth kicks out. Cesaro climbs the top rope but Seth runs to the top and a superplex off the top rope. Seth goes for another suplex but Cesaro reverses it and he suplexes him to the outside of the ring.
Back from commercial and Cesaro is spinning Seth around. He goes for the sharpshooter but Seth grabs the ropes. An uppercut by Cesaro. He goes for the cover but Seth kicks out. Cesaro grabs Seth who is holding on to the turnbuckle pad and it gets exposed. Cesaro jumps off the second rope but Seth knocks him down. Seth goes for the Stomp but Cesaro catches him and Seth throws him into the exposed turnbuckle. He goes for the cover but Cesaro kicks out.
Seth with a forearm to the back of the neck. He goes for the cover but Cesaro kicks out and Cesaro is bleeding. He rolls to the outside of the ring. Seth throws Cesaro into the barricade and onto the announce table. Cesaro gets back in the ring and Seth with another forearm to the back of the neck and Cesaro falls back to the outside. Seth with the DDT on the ring ramp. Cesaro gets back in the ring as the referee is about to count to ten. Seth goes for the Stomp, Cesaro reverses it and hits him with the Uppercut. Cesaro is about to get up but Seth hits him with the Stomp. He goes for the cover and gets the pin.
Winner: Seth Rollins
---
Backstage: The Usos
The @WWEUsos have stormed @EdgeRatedR's locker room… but there's no Edge to be found. 👀#SmackDown @WWERomanReigns @HeymanHustle pic.twitter.com/tCGxhEGAZ4

— WWE (@WWE) July 10, 2021
Jimmy and Jey are backstage. Jimmy is about to knock on Edge's door but Jey tells him to wait for Edge to come out.
Back from commercial and they enter Edge's locker room but Edge is not there.
---
Backstage: Seth Rollins, Edge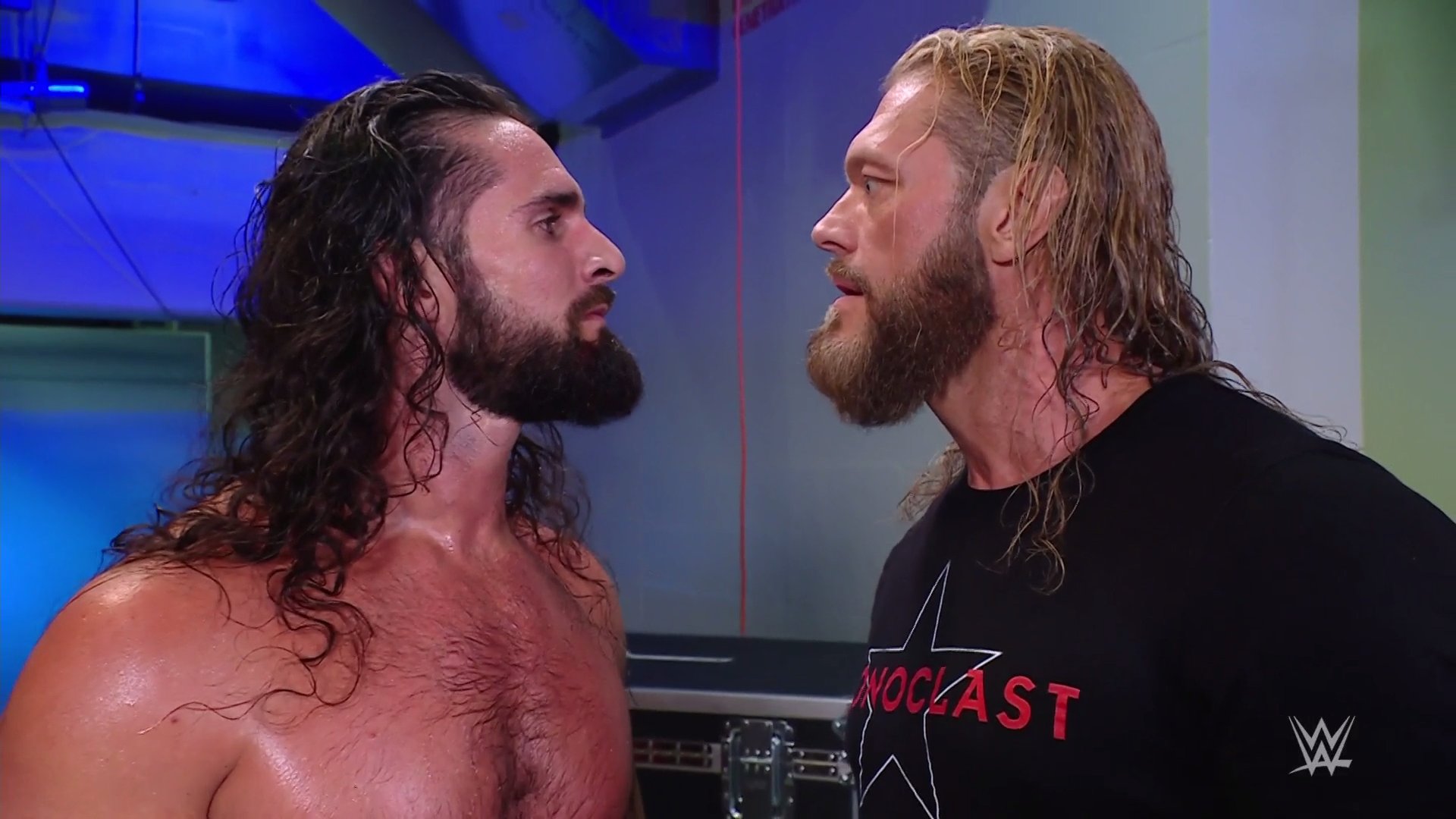 Seth is backstage celebrating and in comes Kayla as he hugs her. She congratulates her and he says congratulations are in order. He told everyone that Cesaro didn't stand a chance. He says Cesaro is not on his level, he is the present, the future Money in the Bank. He says the last time he won Money in the Bank, he cashed in on Roman Reigns. And last time he waited for the perfect moment to cash in and maybe this time he won't wait. Maybe this time he will cash in at Money in the Bank. Rollins says he should be competing against Roman Reigns at Money in the Bank for the Universal title.
Edge is standing behind Seth. Edge says he heard this whine and he wanted to see where it was coming from. Edge says Seth complains about not getting a title shot while he takes it. Edge says he will go do something that Seth won't do and that is calling Roman out.
---
Backstage: Chad Gable, Otis
Gable says Otis is a human wrecking ball. It doesn't matter if you are Ford, Dawkins, Big E, Edge or even Roman Reigns, if you step to the Alpha Academy, the result is the same. Otis says he will destroy anyone.
---
In-Ring: Edge, Roman Reigns, The Usos, Rey & Dominik Mysterio
Results of this segment by Mike Hogan of Rajah.com
Edge makes his way out to the ring as we head to our final break. Edge is on the mic when we return. He mocks Jimmy and Roman's fear of him, and has production put up a side-by-side image of both men in a bar-assisted from Edge. Edge tells the camera that he's going to live inside Roman's head until this is done. Edge tells Roman via camera that he's calling him out, he's throwing down his punk card and "get your ass out here."
In the back, Roman watches with Jimmy and Jey Uso and Paul Heyman. Roman rises and instructs the Usos to stay put as he'll handle this on his own.
Roman and Paul Heyman make their way out again as Edge paces in the ring. Roman begins his walk at 9:48pm. He reaches the ringside at 9:52pm.
The Usos music plays and out come the Usos. Roman stops them at the bottom of the ramp and looks at them, clearly not happy with their disobedience. Roman tells the Usos "What'd I say? He's calling me out one-on-one. …I'm gonna handle this, you understand? I'm gonna handle this." Jey says, "Get him, Uce!"
At 9:53pm, Roman removes his jacket and contemplates entering the ring. Finally he climbs up on the apron. Edge backs up and invites him into the ring, giving him plenty of space. Roman cautiously enters the ring and both men stand face to face at 9:54pm. Edge throws a right! Roman throws one too! Both men unleash with a series of rights! Roman and Edge battle into the corner.
The Usos are up on the apron when suddenly the Mysterio music plays! Jey and Jimmy turn to guard the ramp entrance as Edge and Roman slug it out int he ring. Rey & Dominik Mysterio hit the ring and attack the Usos from behind with steel chairs! The Mysterios and Usos battle outside the ring as Edge and Roman continue to fight inside. The Usos gain the upper hand with a Superkick that lays out Rey.
Edge sets Roman up for a Spear but Jey Uso grabs Edge's leg from outside the ring, blocking it. Rey hits the ring again! Edge with a Spear to Jimmy Uso as Roman Reigns escapes the ring and flees up the ramp! Inside the ring, Rey and Dominik continue to attack the Usos. Double 6-1-9!
Edge retrieves a steel chair and breaks the metal support tress/bar off the bottom, just like last week. Roman shakes his head "no" as Edge enters the ring. Edge uses the bar on Jey Uso! Jey Uso screams in pain as all three tribe members have now experienced this submission at the hands of Edge. Roman is pissed but remains up the ramp as Edge tortures Reigns' cousin in the hold. Finally Edge releases it and, backed by the Mysterios, stands tall in the ring. Edge grins at the Universal Champion as he puts down first and last month's rent, folks, because Edge lives in Roman's head now. We get multiple replays of what we just witnessed. Edge holds the bar up and yells, "Roman! One week! One week, Roman!" Edge then grins sadistically as he puts Jey Uso back in the bar-assisted submission! The Mysterios hold Jimmy Uso down, so Edge releases Jey and puts the same hold on Jimmy! Roman walks from the top of the ramp as the Mysterios and Edge continue to dismantle his cousins, with Edge taking turns on both twins. Roman walks to the back as our program ends.