WWE TLC: Tables, Ladders & Chairs
December 16, 2018
San Jose, CA – SAP Center
---
Quick Match Results
Cruiserweight Championship (Kickoff Show): Buddy Murphy (c) defeated Cedric Alexander via Murphy's Law (10:35)
Ladder / Guitar Match (Kickoff Show): Elias defeated Bobby Lashley (6:20)
Mixed Match Challenge Finals: R-Truth & Carmella defeated Jinder Mahal & Alicia Fox via Code of Silence submission by Carmella on Alicia (5:50)
SmackDown Tag Team Championship Triple Threat: The Bar (c) defeated The New Day and The Usos via Brogue Kick by Sheamus on Xavier (12:15)
Tables, Ladders & Chairs Match: Braun Strowman defeated Baron Corbin via help from several wrestlers (16:00)
Tables Match: Natalya defeated Ruby Riott via powerbomb through table (12:40)
Finn Balor defeated Drew McIntyre via Coup de Grace after interference from Dolph Ziggler (12:20)
Chairs Match: Rey Mysterio defeated Randy Orton via victory roll (11:30)
Raw Women's Championship: Ronda Rousey (c) defeated Nia Jax via arm bar submission (10:50)
WWE Championship: Daniel Bryan (c) defeated AJ Styles via inside cradle (23:55)
Intercontinental Championship: Dean Ambrose defeated Seth Rollins (c) via Dirty Deeds to become the new champion (23:00)
SmackDown Women's Championship Tables, Ladders & Chairs Triple Threat Match: Asuka defeated Becky Lynch (c) and Charlotte Flair after interference from Ronda Rousey to become the new champion (21:45)
---
Cruiserweight Championship (Kickoff Show)
Buddy Murphy (c) vs. Cedric Alexander
This was a really good match and the crowd was into it. Alexander eventually hit the Lumbar Check, but Murphy got his foot on the rope. A shocked Alexander went to pick Murphy up, but Murphy drove his face into the turnbuckle, then hit him with a running knee, then nailed him with Murphy's Law for the win.
Winner: Buddy Murphy (10:35)
---
Ladder / Guitar Match (Kickoff Show)
Elias vs. Bobby Lashley
The first person to grab the guitar above the ladder wins. Elias was in the ring to sing a song, playing a babyface again so he didn't insult the crowd, which pretty much ruins the whole schtick imo. Bobby Lashley and Lio Rush came out to interrupt him before he could start singing. Lio Rush said that nobody came here to see Elias, they all came here to see the Almighty Bobby Lashley. Lashley then did his "favorite pose," bending over and grabbing his ass.
Early in the match, Elias tried to climb the ladder, but Lio Rush ran in to interfere, giving Lashley time to attack Elias. Later, Elias powerbombed Lashley on a ladder, then went to grab the guitar. Lio Rush tried to climb up the ladder, but Elias easily knocked him off and grabbed the guitar for the win.
Winner: Elias (6:20)
Elias went to hit Lashley with the guitar, but Lio Rush climbed on his back, allowing Lashley to attack Elias. Lashley then nailed Elias with the guitar and stood over him, then did his "ass" taunt again.
---
Mixed Match Challenge Finals
Jinder Mahal & Alicia Fox vs. R-Truth & Carmella
The winners of the match will get the #30 entry into their respective Royal Rumble and an "all expense paid vacation to anywhere in the world." A couple of minutes in, Truth and Carmella started to do their "dance break" but the Singh Brothers ran in and started dancing instead. R-Truth started dancing with one of them, but threw him out of the ring, then threw the other out too.
Alicia Fox put on her captain hat and started yelling at R-Truth. He took it from her and put it on his head, she kicked him, then Carmella kicked her. Carmella then locked on the "Code of Silence" and Alicia Fox quickly tapped out.
Winners: Carmella & R-Truth (5:50)
They were interviewed in the ring after the match and were asked where they were going on their vacation. R-Truth said that he already took care of it and submitted their destination. Carmella asked him where they were going. Barcelona? Paris? R-Truth said to think bigger, think cultural epicenter… then said that they are going on vacation to WWE Headquarters in Stamford, CT. Carmella looked dumbfounded.
---
SmackDown Tag Team Championship
The Bar (c) vs. The New Day vs. The Usos
David Otunga was on commentary instead of Byron Saxton for this match. They said that Saxton was "under the weather" but would be back this week. Xavier Woods and Kofi Kingston were in for the New Day. Basically nothing happened in this match for like the first 8 minutes. Lots of Sheamus and Cesaro rest holds. The crowd was dead.
The action finally picked up a lot, with some quick action and the Usos hitting everyone with superkicks. Later, Sheamus tried to hit a Brogue Kick on Kofi, but he countered. Kofi hit Trouble in Paradise, Woods hit a springboard splash, but the pin was broken up. Kofi climbed to the top and dived back first onto the Usos and Cesaro.
In the ring, Sheamus suddenly hit Xavier Woods a Brogue Kick out of nowhere for the win.
Winners: The Bar (12:15)
---
Tables, Ladders & Chairs Match
Braun Strowman vs. Baron Corbin
If Strowman wins, he will get a title shot against Brock Lesnar at the Royal Rumble. If Corbin wins, he will become permanent GM. If Corbin loses, he "will be removed from power on Raw."
Heath Slater was the referee. Corbin was introduced and got on the mic as the crowd booed heavily. Corbin said that he hears all of their complaints… but too bad, because tonight, he will become the permanent general manager.
The bell rang and Heath Slater started counting to ten… He got to 7 and Braun Strowman's theme hit and out he came, with a sling on his right arm. Strowman got on the mic and said that Corbin forgot that in a TLC match, there were no disqualifications, so if let's say somebody wanted to help him, it would be perfectly legal.
Apollo Crews (ok…) appeared at ringside with a steel chair. Then Bobby Roode and Chad Gable appeared with chairs… then Finn Balor appeared with a chair.
Corbin told referee Heath Slater to get these guys out of here, but Slater took off his referee shirt and threw it in Corbin's face, then nailed him with a punch. Everyone then took turns nailing Corbin with steel chairs. Corbin started walking down the ramp…
Suddenly, Kurt Angle's music hit and out he came. He grabbed a chair and nailed Corbin with it several times, knocking him back into the ring where everyone attacked him again. Angle then hit him with an Angle Slam. Coup de Grace by Balor.
Heath Slater put his referee shirt back on. Braun Strowman put his foot on Corbin and Slater counted… 1-2-3.
Winner: Braun Strowman (16:00)
Baron Corbin is no longer the Raw GM and Braun Strowman will face Brock Lesnar for the Universal Championship at the Royal Rumble.
---
Tables Match
Natalya vs. Ruby Riott
The Riott Squad brought out the table with a decal of Jim Neidhart on it. Early in the match, Liv Morgan tried to interfere, getting up on the apron, but Natalya knocked her down and she fell really hard through a table on the floor. Bad bump… Officials went to check on her. She seemed to be hurt, but could have just been selling.
Later on the outside, Natalya said "you want to mess with my family, bitch?" and slapped Ruby hard on the face. Sarah Logan tried to interfere, but Natalya body slammed her through a table.
Ruby attacked Natalya and put her face up to the Jim Neidhart table, then said "look at him, he's ashamed of you." Crowd booed… Ruby brought the Anvil table into the ring and set it up in the corner. They tried to put each other through the table… Is Natalya going to smash Ruby through the decal of her father… This match is ridiculous. Making me laugh.
Natalya pulled out a table with a Ruby Riott decal on it, then put on her dad's jacket. Natalya set Ruby up on the table, but Ruby got up and kicked Natalya. She tried a frankensteiner, but Natalya powerbombed her through the table for the win. All things considered, that was very entertaining.
Winner: Natalya (12:40)
---
Finn Balor vs. Drew McIntyre
Drew McIntyre totally dominated this match for the first seven minutes or so. Balor tried to fight back and got in some quick flurries of offense, but McIntyre mostly controlled the match.
A few minutes in, as the referee wasn't looking, Dolph Ziggler came in from the crowd and superkicked McIntyre on the outside. Ziggler then grabbed a chair, but McIntyre kicked the chair into his head.
McIntyre climbed into the ring holding the chair and was immediately hit with a dropkick (into the chair) by Balor. Coup de Grace by Balor… 1-2-3.
Winner: Finn Balor (12:20)
---
Chairs Match
Rey Mysterio vs. Randy Orton
Orton dominated most of the match. At one point, Mysterio fought back and set Orton up on a chair on the outside, then jumped off the apron but Orton moved and Mysterio landed on the chair right on his tail bone… Ouch…
Later, Orton set up three chairs in the ring. He went for an RKO but Mysterio countered and smashed Orton's face onto the chair, then suddenly rolled him up with a victory roll and picked up the pinfall. After the match, Orton looked shocked and angry.
Winner: Rey Mysterio (11:30)
---
Backstage: Finn Balor, Dolph Ziggler
Consider @HEELZiggler's assistance a one-time only occasion, @FinnBalor… #WWETLC pic.twitter.com/s0EhqzS5TA

— WWE (@WWE) December 17, 2018
Backstage, Balor was asked about his win over McIntyre. He said that he doesn't know what the hell Ziggler was doing out there. Ziggler appeared and said "you're welcome" then said that he's lucky he was there. Balor told him to keep his nose out of his business, and Ziggler punched him and tossed him into some crates, then walked away.
---
Raw Women's Championship
Ronda Rousey (c) vs. Nia Jax
Ronda got a big pop and Nia got a good amount of boos. About a minute in, Ronda tried to lock on the arm bar, but Nia countered into a big sit out powerbomb. Nia dominated the match for a few minutes until Ronda was able to hit a top rope crossbody block onto Nia on the outside.
Later, Nia hit a Samoan drop for a near fall, then brought Ronda up to the middle rope, but Ronda powerbombed her off the middle rope. She prepared for the arm bar, but Tamina distracted her. Nia came up from behind and tried to hit her "face breaker" punch, but Ronda threw her down and locked on the arm bar and Nia tapped. Good match.
Winner: Ronda Rousey (10:50)
---
Backstage: Nia Jax, Becky Lynch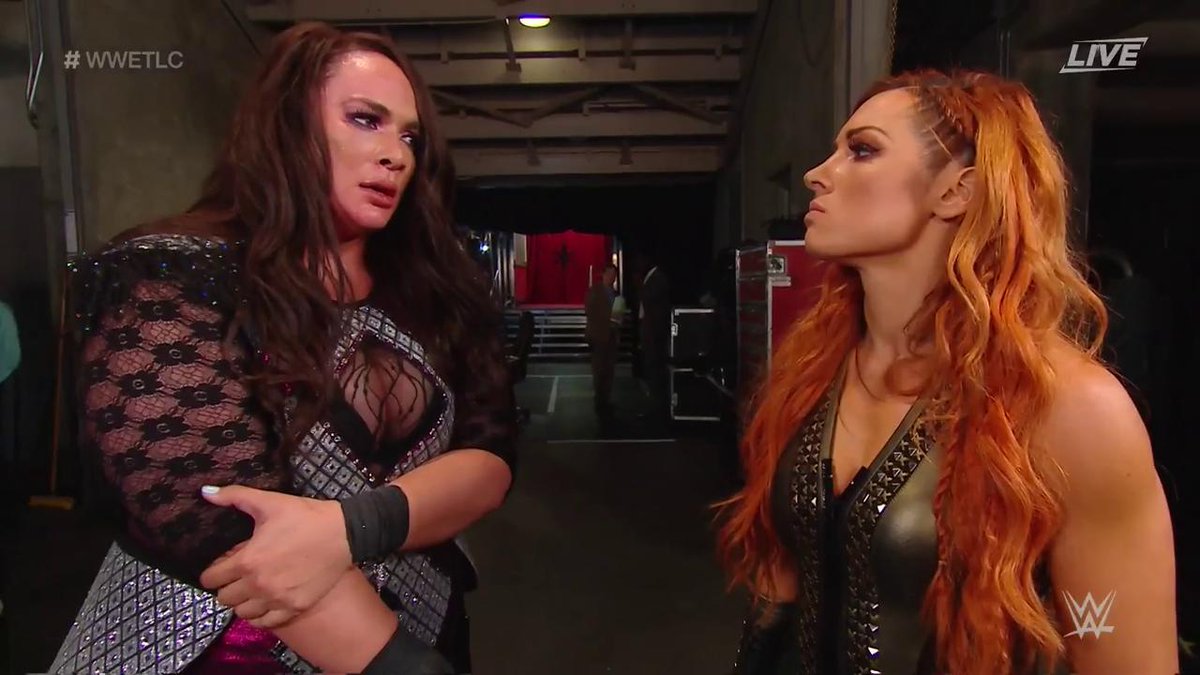 Nia Jax was shown walking backstage after her loss and she suddenly ran into Becky Lynch. Becky said "Remember when you broke my face?" then kicked her in the stomach and punched her in the face, then said "Keep my name out your mouth."
---
WWE Championship
Daniel Bryan (c) vs. AJ Styles
A few minutes in, Styles went for the Styles Clash, but Bryan fought him off. Styles locked on a Calf Crusher, but Bryan reversed into a LeBell Lock (formerly the Yes Lock), but Styles broke free. Great springboard 450 by Styles, then he locked on another Calf Crusher, but Bryan was able to grab the rope.
On the outside, Styles hit a Phenomenal Forearm off of the crowd barricade. In the ring, Styles went for another Phenomenal Forearm, but Bryan moved. Styles rolled him up with an inside cradle, but Bryan reversed it… 1-2-3. Slow build, but a pretty good match.
Winner: Daniel Bryan (23:55)
---
Intercontinental Championship
Seth Rollins (c) vs. Dean Ambrose
Ambrose controlled most of the match, repeatedly attacking Seth Rollins' knee, which was a story throughout the match. Really slow. Like 15-20 minutes into it, the crowd started chanting "this is boring." Damn.
Ambrose went for Dirty Deeds, but Rollins blocked it. Ambrose went to the top, but Rollins hit him with a superplex into a Falcon Arrow, but only got a near fall. The crowd has turned on this match. They looked bored and were chanting random things and booing.
Rollins ran at Ambrose, but Ambrose put out his fist to do the Shield fist bump. Rollins looked at him, hesitated and nailed him with a superkick. On the outside, Rollins hit Ambrose with a powerbomb into the barricade. Back in the ring, Rollins said "this is for Roman Reigns" and slapped Ambrose, then went for another superkick but Ambrose hit him with a Dirty Deeds out of nowhere for the win.
This was not very good mostly due to it being very slow for too long, but I feel pretty bad for Rollins and Ambrose about the crowd turning on it so badly.
Winner and new Intercontinental Champion: Dean Ambrose (23:00)
---
SmackDown Women's Championship
Tables, Ladders & Chairs Match
Becky Lynch (c) vs. Asuka vs. Charlotte Flair
Early on, Asuka tossed Becky off the top turnbuckle back first onto a ladder, then later powerbombed Charlotte through a table in the corner.
In a crazy spot, Becky Lynch set up Charlotte and Asuka on the announce table, then jumped off near the top of the ladder… Asuka moved, but Becky landed directly with her ass right on Charlotte's stomach and they went through the announce table. Damn.
It's #WWEEvolution all over again!!!! #WWETLC #ThisIsAwesome #TLCMatch @BeckyLynchWWE @MsCharlotteWWE @WWEAsuka pic.twitter.com/K3GHf37mHG

— WWE (@WWE) December 17, 2018
Charlotte looked like she could have been hurt, but she was fine about a minute later, grabbing a kendo stick and nailing Asuka and Becky with it repeatedly. Later, Becky hit a brutal becksploder on the outside onto Charlotte into the barricade. Asuka grabbed the kendo stick and went to work on Becky… then Charlotte gave her a crazy-looking spear into the barricade. Nice. Crowd chanted "this is awesome."
.@MsCharlotteWWE CRUSHES Asuka! WOW!

➡️ https://t.co/ePt5TzD6sU pic.twitter.com/3GY9BOOHv9

— TDE Wrestling (@totaldivaseps) December 17, 2018
Charlotte set Becky on a table on the outside, then climbed to the middle rope and did a senton through the table! Jesus.
.@MsCharlotteWWE: "I'm THE WOMAN!"

➡️ https://t.co/ePt5TzD6sU pic.twitter.com/KzMnnkY2v2

— TDE Wrestling (@totaldivaseps) December 17, 2018
Charlotte climbed the ladder, but Asuka climbed up after her and they fought until Becky ran in and set up a second ladder. Asuka was knocked down and Charlotte and Becky fought on top of the ladder…
Suddenly, Ronda Rousey walked down into the ring and shoved the ladder as Becky and Charlotte were on it, sending them into the ropes and out of the ring. The crowd booed Rousey who walked back down the ramp with a serious and determined look on her face.
WHAT IS @RondaRousey DOING OUT HERE?!?! #WWETLC @BeckyLynchWWE @MsCharlotteWWE pic.twitter.com/UQlD96vetS

— WWE (@WWE) December 17, 2018
With Charlotte and Becky down on the outside, Asuka climbed up the ladder… and grabbed the title for the win. What a great match. Easily the best of the night.
Winner and new SmackDown Women's Champion: Asuka (21:45)
Asuka celebrated with her title as Charlotte and Becky looked on from the outside with scowls on their faces.