March 9, 2020
Washington, D.C.
Commentary: Tom Phillips, Byron Saxton, and Jerry "The King" Lawler
Results by: Mike Tedesco of Wrestleview.com
---
Quick Match Results
Rey Mysterio defeated Angel Garza via top rope splash
Bobby Lashley defeated Zack Ryder via the Dominator
Drew McIntyre defeated Erick Rowan via Claymore
The Kabuki Warriors defeated Natalya & Liv Morgan via kick to the head by Asuka on Natalya
WWE 24/7 Championship: Riddick Moss (c) defeated Cedric Alexander via neckbreaker
Aleister Black defeated Seth Rollins by DQ when Murphy interfered
Seth Rollins, Murphy & AOP defeated The Viking Raiders & The Street Profits via the Stomp by Rollins on Ford
---
We go into the garage to see a camera crew waiting for the arrival of Edge.
---
In-Ring: Becky Lynch, Shayna Baszler
Raw Women's Champion Becky Lynch makes her way to the ring. After winning the Elimination Chamber last night, Shayna Baszler will fight Lynch for the title at WrestleMania 36. A "Becky" chant picks up. Lynch says, "Washington, D.C., the Man has come around." The time for joking is over. She finally knows who her WrestleMania opponent is, the cage fighter Shayna Baszler.
Video Package: Shayna Baszler destroys five women inside Elimination Chamber to win an opportunity at the Raw Women's Championship
Shayna Baszler appears on the titantron. She says at WrestleMania, she is taking the Raw Women's Championship. Baszler says, "And there's not a damn thing you can do about it, bitch." A "Becky" chant picks up. Lynch says Baszler cut through the entire field in minutes, including the one person it took Lynch her entire career to beat. Baszler was a successful cage fighter, the longest combined champion in NXT history, and a world class scumbag. Lynch calls Baszler a black hole of charisma. While she may be a bitch, she's the bitch that runs this division. Another "Becky" chant picks up.
Lynch used to only recognize her as the constipated robot from NXT that refused to shake her hand after last year's WrestleMania. Lynch remembers. Lynch says Baszler was bitter that she ripped this title out of her friend Ronda Rousey's broken hand. Lynch has beat trained killers and will do it again. At WrestleMania, it'll be The Man vs. The Queen of Spades. Lynch believes Baszler is underestimating her. She'll smash Baszler's face in for it. Lynch holds the title up.
---
Rey Mysterio vs. Angel Garza
Mysterio quickly hooks a side headlock, but Garza pushes him off. Mysterio slingshots over him and hits a head-scissor takeover into the turnbuckle. Garza hooks a hammerlock, but Mysterio counters with a snapmare. Mysterio goes for a hurricanrana, but Garza blocks it and flips him off. Garza hits a running big boot and smiles at the crowd. Mysterio elbows Garza back, but he has a whip reversed on him. Mysterio goes for a slingshot, but Garza superkicks him. Garza gloats in the ring and dropkicks Mysterio out of the ring. Garza removes his pants and celebrates.
We come back from the break to see Garza send Mysterio into the ropes, pop him up, and kick him in the midsection. Garza puts Mysterio on the ropes and signals for a 619, but Mysterio pops out and dropkicks Garza down. Mysterio punches Garza before driving him to the apron. Mysterio then dropkicks him to the floor, hits the ropes, and slides out of the ring with a splash.
Mysterio puts Garza in the ring for a seated senton. Mysterio hits the ropes and hits another seated senton followed by a kick to the head for a near fall. Mysterio for a springboard, but Garza catches him and hits a slingshot reverse suplex for a near fall. Mysterio catches Garza with an enzuigiri to send him into the ropes. Garza avoids a 619 and connects with a superkick. Garza sets up for the Wing Clipper, but Mysterio pushes to the corner. Garza puts Mysterio on the top rope, but Mysterio head-butts him down. Mysterio goes for a destroyer, but Garza catches him. Mysterio counters into a head-scissor takeover and connects with a 619! Mysterio follows up with a top rope splash for the win!
Winner by Pinfall: Rey Mysterio
---
Backstage: Kevin Owens, Seth Rollins, Murphy, AOP
We see Kevin Owens walking into the arena earlier today only to be blocked by AOP and Murphy. Seth Rollins walks up laughing and eating popcorn. Rollins asks if Owens wants some popcorn. Owens takes his luggage and throws it at Akam. The rest of them attack Owens and throw him into some steel before kicking his head against a crate. They throw Owens into a cage and dump a tray cart on top of him. Referees and producers run up to break it up. Rollins laughs and continues eating popcorn while walking off.
---
In-Ring: Charlotte Flair, Rhea Ripley
Video Package: Rhea Ripley visits Raymond James Stadium ahead of WrestleMania 36
Charlotte Flair makes her way to the ring. Flair asks if everyone saw that video package. Meet Rhea Ripley, the big thing, the new shiny toy. Flair sarcastically says, "Inspiring." Flair is confused. Ripley said in order to be the best, she has to beat the best… but Ripley doesn't want to be anything like her because she wants to be herself. Flair wants to make one point: Ripley isn't Flair, she'll never be Flair, and there is only one of her. Ripley can continue to be shiny and the next big thing because it won't last. Flair is here to remind everyone why she is fighting for the NXT Women's Championship. Flair wants to teach Ripley a lesson. It's one thing to stand in an empty stadium talking about you hopes and dreams. It's another thing to stand in an arena with 90,000 people and be humbled by The Queen. WOO!
NXT Women's Champion Rhea Ripley confidently walks out to the ring. Flair does not look pleased. Ripley says she wants to explain something, but Flair cuts her off. Flair says we've heard enough from her. This is not NXT. This is Monday Night Raw. This is Flair's kingdom. Flair says Ripley is excused and puts a hand out. Ripley punches Flair down, and Flair just smiles. Ripley leaves the ring and is smiling.
---
Randy Orton is shown standing in a dark, smoky room. He's waiting for the arrival of Edge.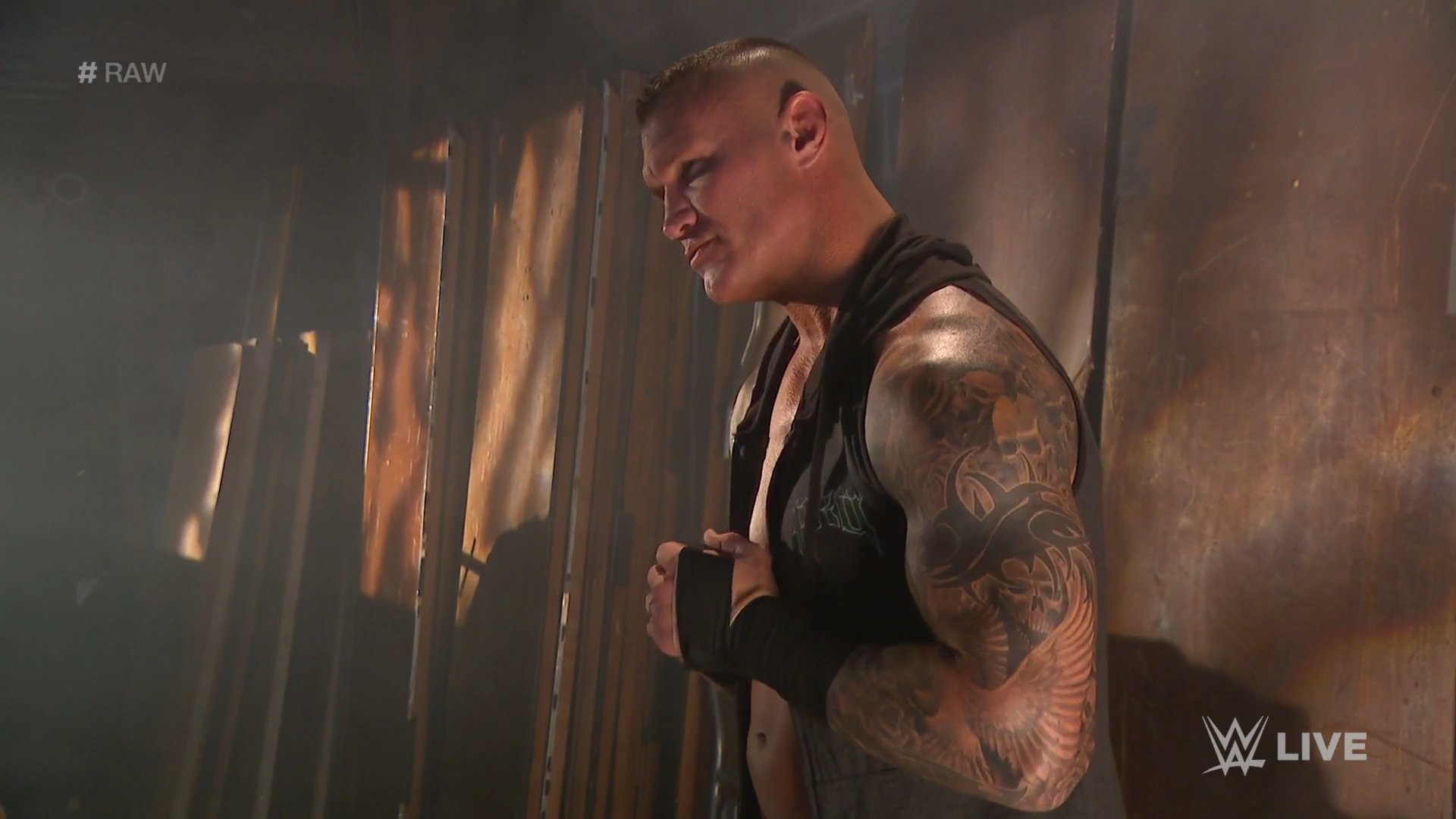 ---
Zack Ryder vs. Bobby Lashley
The bell rings, and Lashley shoulder blocks Ryder down. Lashley puts him in the corner and viciously stomps him down. Lashley hits a running shoulder to the midsection and chokes him with his boot. Lashley sizes him up and charges, but Lashley boots him back. Lashley sidesteps a missile dropkick and connects with a vicious spinebuster. Lashley hits the Dominator for the win.
Winner by Pinfall: Bobby Lashley
---
Backstage: Aleister Black, Seth Rollins, Murphy
Aleister Black is sitting backstage ready to speak when there's a knock at his door. Seth Rollins and Murphy walk in. Black asks what he can do for them. Rollins says Murphy has told him all about Black. Rollins says Black has had an issue with the numbers game. Rollins knows how to play the numbers game. Just ask Kevin Owens. Rollins offers Black to join his movement. Black says, "Oh perhaps… no." Rollins says Black is either with him or against him. Black says those words sound like fighting words. In this case, Rollins did knock on the right door. Black accepts the fight. Rollins stares at him and walks off.
---
Erick Rowan vs. Drew McIntyre
The bell rings, and McIntyre big boots Rowan back. Rowan goes for an Iron Claw Slam, but McIntyre gets out and clotheslines him over the top rope. Rowan pulls McIntyre out of the ring and sends him into the ring post before hitting a belly-to-belly overhead suplex on the floor. McIntyre sits on the apron before walking over to Rowan's tarantula in the cage. It's still covered up. McIntyre puts it down, takes the top of the steel steps, and crushes the cage!
Rowan is infuriated and goes to attack, but McIntyre gives him a Glasgow Kiss. McIntyre gets him in the ring and hits the Future Shock DDT. McIntyre backs up to the corner, gives a count, and crushes Rowan with a Claymore Kick for the win.
Winner by Pinfall: Drew McIntyre
---
The Kabuki Warriors vs. Natalya & Liv Morgan
WWE Women's Tag Team Champions The Kabuki Warriors are in the ring. They're shouting and screaming wildly in Japanese. Asuka is furious over losing last night and just wants to beat someone tonight.
It'll be Liv Morgan starting against Kairi Sane. They lock up, and Sane pushes her into the ropes before rubbing her face. Morgan smiles and slaps back. Morgan bends under a clothesline and rolls Sane up for a two count. Morgan sends her into the ropes, but Sane hits head-scissor takeover. Morgan quickly pulls her into the ropes and hits a dropkick for a two count. Morgan hits a splash in the corner and tags Natalya in. They hit Sane with a double-team suplex for a two count. Natalya sends Sane into the ropes, but Sane holds on. Ruby Riott walks down to the ring to watch.
We come back from the break to see Natalya and Morgan hit Asuka with a double-team hip toss. Asuka attacks her on the ropes before the referee backs her up. Sane snaps Natalya's injured arm from Elimination Chamber off the ropes. Sane tags. in and attacks the arm. Asuka tags back in and comes off the top rope with an axe handle to the arm. Sane tags in and does the same move. Sane covers her with a foot for a one count. Asuka tags in and sends her into the ropes for some kicks. Sane dropkicks Natalya, and Asuka covers for a near fall. Asuka hits a low kick to the face before applying an arm bar. Natalya punches out of the hold, so Asuka applies a guillotine. Sarah Logan walks down and stands at the foot of the ramp with Ruby Riott. Natalya fights up and slams Asuka. At ringside, Riott and Logan randomly get into a fight. Morgan goes to the top rope and hits a cross-body to the floor on Riott and Logan.
In the ring, Natalya elbows Sane back and rolls her up for a two count. Natalya quickly hits Sane with a discus clothesline for a near fall. Natalya elbows Sane back, and Asuka blind tags in. Natalya applies a Sharpshooter to Sane, but she's no longer the legal competitor. Asuka runs in and kicks Natalya in the head for the win.
Winners by Pinfall: The Kabuki Warriors
---
In-Ring: AJ Styles
AJ Styles makes his way to the ring with Luke Gallows and Karl Anderson. Styles does not look happy. Not once, but twice did Undertaker stick his nose in his business where it doesn't belong. Not once, but twice did Undertaker take moments from him. Undertaker stole a beautiful trophy from him at Super ShowDown and at Elimination Chamber, he cost him a match.
Video Package: The Undertaker returns at Elimination Chamber to help Aleister Black defeat AJ Styles
A loud "Undertaker" chant picks up. Styles looks disgusted. Three years ago at WrestleMania, he saw the Undertaker get beaten by Roman Reigns. After the match, Undertaker folded up his coat and walked up the ramp like he was walking off into the sunset. Undertaker probably should have done that after Brock Lesnar beat him. Still, it was a beautiful, powerful moment. Undertaker ruined it by coming it. Styles asks if it was ego. Whatever it was, it'll cost him. Styles wants Undertaker at WrestleMania.
A few years ago, he'd have been hesitant about calling Undertaker out. Truth is he doesn't see a monster or a phenom. He sees a broken down old man named Mark Callaway! Undertaker should have retired 10 years ago when he was in his prime. Styles doesn't know what keeps him coming back, but he's got a pretty good idea: his wife. It's Michelle McCool. Styles says Michelle McCool and the Undertaker are married if people didn't know. McCool plays Undertaker like a fiddle. Whatever she wants, she gets even if it means her husband has to walk to the ring and get hurt to get her what she wants. They have a beautiful family, but she's the most conniving person he's met in his life. The truth is the truth. Styles has some advice for the Undertaker. Styles is a good guy. Styles says Undertaker's wife is going to run him into the ground, and Styles will help her.
Styles will make sure Undertaker dies in the ring at WrestleMania. Styles says he will take the Undertaker's soul at WrestleMania. Styles will do exactly what his wife wants him to do. Styles challenges Undertaker to a one-on-one match at WrestleMania. What does Undertaker have to lose? He already lost his dignity, pride, and mystique. Undertaker is just a broken down old man. They can yell for Undertaker all they want. The people don't give a damn about the Undertaker. Styles tells Undertaker to accept the fight so he can put the literal nail in his coffin.
---
WWE 24/7 Championship
Riddick Moss (c) vs. Cedric Alexander
Moss quickly floors Alexander with a shoulder block. Alexander kicks him back and charges, but Moss catches him and hits a fallaway slam out of the ring. Moss gets him in the ring for a two count. Moss applies a chin lock. Alexander hits a jawbreaker and kicks him back. Moss quickly sends him to the apron, but Alexander boots him back. Alexander hits a springboard flatliner for a near fall. Moss puts Alexander on the apron, but Alexander knocks him back. Moss sweeps the feet and hits a running shoulder in the corner. Moss follows up with a neckbreaker for the win.
Winner by Pinfall and still WWE 24/7 Champion: Riddick Moss
---
In-Ring: MVP, Edge, Randy Orton
MVP is in the ring when we come back from the break to see him running down Washington, D.C. MVP says he's transitioning from being an in-ring competitor to an absolute brainiac. He's tasted championship gold and can help other get there. In order to build his stable, he needs winners. MVP wants to build his stable with Edge. Edge is an old friend of his that needs focus. With MVP's focus and leadership, he can make Edge a champion again. Edge just has to focus and listen to him. They have that kind of relationship.
Edge's SUV drives into the arena, and he steps out looks intense! MVP says Edge is all business. MVP invites Edge to come out because he has a proposition for him.
Edge's music hits, and he comes out to a BIG pop! Edge gets in the ring, takes the microphone from MVP, and says, "Randy! I need you to grow a set and get your ass out here right now!" MVP asks what is wrong with Edge. MVP says Edge is focusing on the wrong things and asks how his wife is. Edge turns around and spears MVP! Randy Orton all of a sudden gets in the ring and blindsides Edge! Edge fights him off and hits Orton with an RKO!
Edge quickly goes outside and grabs a chair. Edge puts it in the ring before getting another chair. Edge gets in the ring, but Orton escapes. MVP tries to attack, but Edge takes him out with a head and arm choke while wildly staring at Orton. Edge puts MVP on the chair, shouts that this is Randy Orton, and crushes MVP with a con-chair-to! The crowd loudly chants, "One more time." Orton looks stunned. Edge obliges the crowd and hits an unconscious MVP with another con-chair-to. Orton is irate and stares down the ramp at Edge. Orton leaves, and Edge soon chases after him!
---
The Undertaker and AJ Styles will have a contract signing for their WrestleMania match next week on Raw.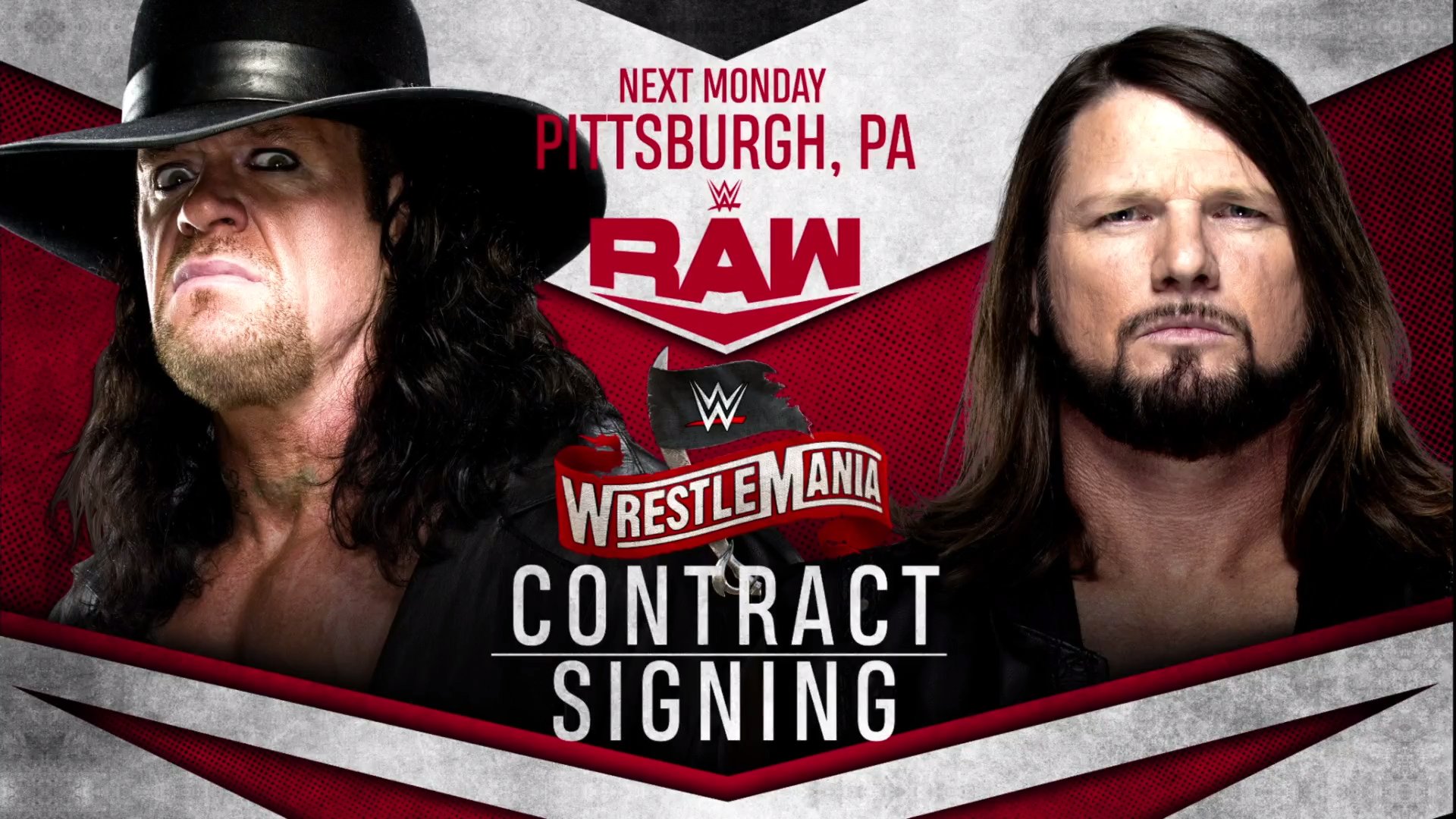 ---
Video: Triple H
Video Package: Triple H receives an Arnold Classic Lifetime Achievement Award
---
Backstage: Paul Heyman, Drew McIntyre
Paul Heyman is shown backstage. For 18 years, his client, Brock Lesnar, has demonstrated that he is the single most dominant force in WWE. The list of victims is endless: Roman Reigns, Seth Rollins, Randy Orton, Hulk Hogan, The Rock, "Nature Boy" Ric Flair, Stone Cold Steve Austin, John Cena, and even The Undertaker at WrestleMania. No one has ever been so dominant for so long.
Drew McIntyre appears and says everything Paul Heyman just said is true. No one has dominated quite like Brock Lesnar until he ran into McIntyre. Just in case Lesnar thought the Royal Rumble elimination was a fluke, he showed him last week on Raw that Lesnar has met his match. McIntyre has learned not to make a claim or promise he can't keep. McIntyre says he will kick Lesnar in the face and pin him to become the reigning, defending, undisputed WWE Heavyweight Champion of the World at WrestleMania.
---
Backstage: Edge
Charly Caruso catches up with Edge. Edge insanely asks where Randy Orton is. Charly says Orton left the arena. Edge looks possessed.
---
Seth Rollins vs. Aleister Black
The bell rings, and they lock up. Rollins applies a waistlock, but Black takes him down. Black applies a front facelock. Rollins fights out, but Black hits a pair of arm drags. Rollins quickly takes him down and goes for a Stomp, but Black moves. Rollins then avoids Black Mass. Black sends him out of the ring and feigns a plancha before sitting crosslegged in the ring.
We come back from the break to see Rollins take Black down and apply a chin lock. During the break, Rollins drove Black neck-first into the top rope. Black fights up, but Rollins takes him down and pulls him out on the apron. Rollins then knees him in the face. Rollins punches away at him in the corner before posing. Black drops Rollins on the apron. Rollins goes for a springboard, but Black moves. Black takes him down with some strikes, sweeps the feet, and dropkicks him in the head before kipping up. Black hits a springboard moonsault. Murphy gets on the apron, but Black knocks him off. Rollins rolls Black up for a two count. Black kicks him and hits a snap German Suplex. Murphy breaks up the pin.
Winner by Disqualification: Aleister Black
Black takes Murphy down and attacks. Rollins attacks Black and calls AOP down. AOP come down to the ring and double-team Black. They hit a double-team powerbomb/neckbreaker combo. The Viking Raiders run down and attack AOP. Raw Tag Team Champions The Street Profits run down as well. The ring is cleared of Rollins and his cohort.
Montez Ford says we should make this an 8-man tag match in Washington, D.C. The Viking Raiders and The Street Profits are up and they want the smoke. Rollins agrees.
The Viking Raiders & The Street Profits vs. Seth Rollins, Murphy & AOP
Montez Ford will start against Murphy. Murphy kicks him back and sends him to the corner, but Ford slingshots over him. Ford does some flips and hits a dropkick. Angelo Dawkins tags in and hits a shoulder block on Murphy for a two count. Akam and Ivar tag in. Ivar punches and goes for a whip, but Akam forearms him. Ivar takes him down and tags Erik in. Erik viciously knees Akam in the face. Ivar tags in, and Akam takes him down. Seth Rollins tags in and punches away at Ivar. Ivar blocks a whip and fights off a double-team. Erik tags in and slams Ivar on Murphy for a near fall.
Footage is shown from earlier in the night of Rollins, Murphy, and AOP viciously attacking Kevin Owens backstage.
Back to live action, Ford comes off the top rope, but Rezar catches him and hits a fallaway slam. Akam tags in, and he knees Ford in the chest before clubbing him down. Murphy tags in and punches Ford. Murphy hits a snapmare followed by a chin lock. Ford fights up, but he's pushed into Murphy's corner. Ford fights out and tags Erik in. Erik hits Murphy with a shoulder block before hitting a head and arm trap suplex. Erik kicks Rezar back before having a whip to the corner reversed. Erik slingshots over him and dropkicks Rezar out of the ring. Rezar catches him trying a suicide dive, and they stare at each other. Murphy wipes out Erik with a meteora off the apron.
We come back from the break to see Erik still being beaten down. Rollins tags in and lays Erik out at ringside. Erik soon sends Rollins hard into the barricade. Erik gets in the ring, but he's stopped from making a tag. Murphy and AOP take out Erik's partners to prevent the tag. AOP get in the ring and viciously knee Erik in the face for a near fall. Akam tags in and clubs away at Erik before applying a chin lock. Rollins tags in and punches away at Erik before applying a front facelock. Rollins shouts that no one is getting the smoke. Erik fights up, but Rollins takes him down before kicking Ivar off the apron. Erik quickly flips him over and knees Rollins in the face.
Ford and Murphy are tagged in. Ford hits a springboard cross-body on Murphy before giving dropkicks to the members of AOP and one to Murphy. Ford hits a DDT, and they go to commercial in the middle of the hot tag.
We come back from the break to see Rollins send Ford hard into the corner. Rollins clubs Ford and mocks him. Ford rolls him up, but Rollins quickly gets out and clotheslines him down. Rollins applies a chin lock, but Ford fights up. Rollins clubs Ford and tags Murphy in. Murphy hits a suplex for a two count. Murphy kicks Ford in the back and applies a chin lock. Ford soon fights up, but Murphy hits a back suplex. Murphy saunters around the ring, and Ford wipes him out with a superkick.
Ivar tags in and turns Rollins inside out with a shoulder tackle. Ivar wipes out AOP with a seated senton and a kick. Akam quickly takes Ivar out over the top rope. Rollins superkicks Erik and hits a falcon arrow, but Ford breaks it up. Murphy blocks a kick from Ford and flips him. Ford wipes out Murphy with a kick. Akam slams Ford, so Dawkins wipes him out. Akam takes Dawkins out, and Erik attacks Akam. Erik viciously slams Rollins as he tried for a Stomp. Ford tags in and hits a wild frog splash on Rollins, but Murphy breaks it up. Dawkins throws Murphy out of the ring and punches him. AOP catches Murphy. The Viking Raiders wipe them all out with stereo suicide dives. Rollins takes Dawkins out with a springboard knee to the head. Ford takes Rollins out of the ring and hits a summersault senton on everyone!
Ford gets in the ring, and Rollins hits a Stomp out of nowhere to pick up the win!
Winners by Pinfall: Seth Rollins, Murphy, and AOP
Kevin Owens all of a sudden pulls Rollins out of the ring. AOP quickly attacks Owens and put him in the ring. Owens hits a Stunner on Akam before knocking Rezar over the top rope. Owens hits Murphy with a Stunner, and Rollins hits Owens with a Stomp. Rollins angrily looks at Owens and hits a second Stomp. Rollins talks trash to Owens and pulls him up for a third Stomp as the show comes to an end.