WrestleMania 36 Night 1
Orlando, FL – WWE Performance Center
Commentary: Michael Cole, JBL, Tom Phillips, Byron Saxton
---
Click here for WrestleMania night 2 results.
---
Quick Match Results
Kickoff Show: Cesaro defeated Drew Gulak via airplane spin (4:25)
WWE Women's Tag Team Championship: Alexa Bliss & Nikki Cross defeated The Kabuki Warriors (c) via Twisted Bliss by Bliss on Sane to win the titles (15:05)
Elias defeated King Corbin via roll up (9:00)
Raw Women's Championship: Becky Lynch (c) defeated Shayna Baszler via pinfall by reversing Kirifuda Clutch (8:32)
Intercontinental Championship: Sami Zayn (c) defeated Daniel Bryan via Helluva Kick (9:13)
SmackDown Tag Team Championship Triple Threat Ladder Match: John Morrison defeated Jimmy Uso and Kofi Kingston via grabbing the belts (18:39)
Kevin Owens defeated Seth Rollins via Stunner (17:20)
24/7 Championship: Mojo Rawley defeated R-Truth (c) to win the title
Universal Championship: Braun Strowman defeated Goldberg (c) via four running powerslams to win the title (2:10)
Boneyard Match: The Undertaker defeated AJ Styles via burying Styles in a grave (18:17)
---
The Performance Center was essentially set up the same way that Raw and SmackDown have been. Nothing different or new. It's going to be very very rough to watch two nights of hours of wrestling with no crowd noise…
---
Kickoff Match
Drew Gulak vs. Cesaro
Gulak worked on Cesaro's arm throughout the match. Cesaro eventually went for the Neutralizer, but wasn't able to pick Gulak up because of his hurt arm. But he gave Gulak an uppercut followed by an airplane spin, without using his arms, and picked up the win. This was fine.
Winner: Cesaro (4:25)
---
Intro: Stephanie McMahon
Stephanie McMahon welcomed us to the show and said that it was taking place on a closed set with no fans because WWE wants to still provide entertainment during these times. Something about perseverance… whatever.
---
They showed a video montage of people singing "America the Beautiful" at previous WrestleManias.
---
Host: Rob Gronkowski
Gronkowski stood on a balcony above the ring and talked about WrestleMania being "too big for one night" and about how he likes to party… Mojo Rawley came on and talked about "getting hyped" then Gronk gave him a few chops to the chest. This shit sucks so much.
---
WWE Women's Tag Team Championship
The Kabuki Warriors (c) vs. Alexa Bliss & Nikki Cross
Michael Cole and JBL keep fake laughing on commentary, acting like they are "having fun." This is incredibly bleak. Somehow worse than I expected. They are still doing long arm bars and stuff… This match felt just unbelievably too long. Just a standard WWE match that you've seen 500 times on WWE TV… but with no crowd noise.
Asuka locked on an Asuka Lock on Cross, but Bliss hit Twisted Bliss to break it up. Later, Nikki tossed Asuka's shoulder into the ring post, then hit her swinging neckbreaker on Sane. Twisted Bliss by Alexa… 1-2-3, new champs.
Winners and new champions: Alexa Bliss & Nikki Cross (15:05)
---
Backstage: Sami Zayn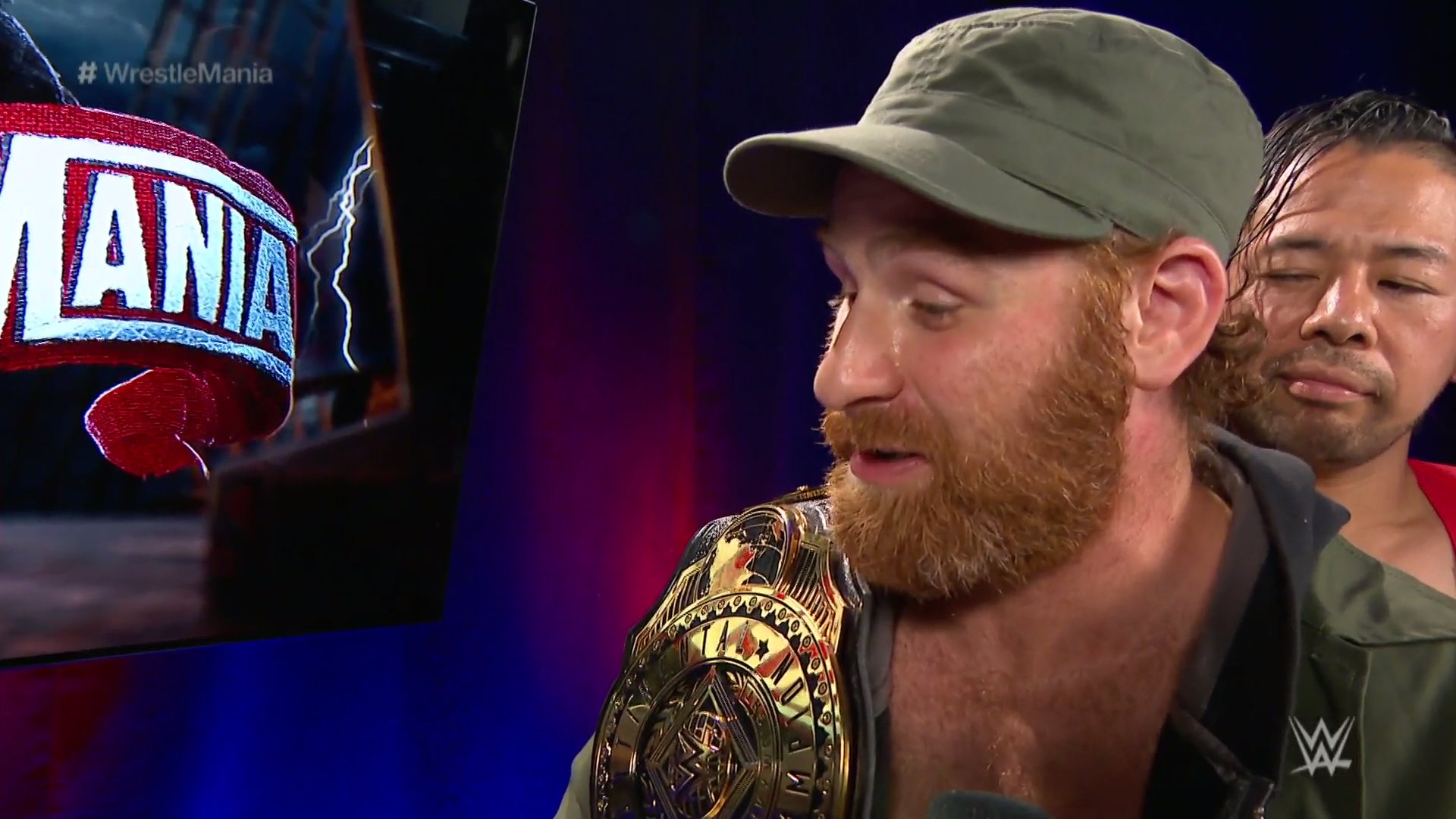 Backstage, Zayn said that just because Bryan has a match with him tonight, that doesn't mean that he's going to get his hands on him, because he, Nakamura and Cesaro have a plan.
---
Elias vs. King Corbin
They recapped Corbin knocking Elias off of the balcony last week. Corbin said that he demands that he win by forfeit, but Elias walked out. Corbin ran at him, but Elias smashed him in the back with his guitar. The match hasn't technically started, so it's not a DQ, they explained.
They wrestled a standard, boring nothing-happening match with lots of "right hands." In the end, Corbin tried to pin Elias and put his legs on the middle rope for leverage, but the ref caught him and told him to stop. Corbin started arguing with the ref and Elias rolled him up from behind, grabbed a handful of tights and got the win.
Winner: Elias (9:00)
---
Raw Women's Championship
Becky Lynch (c) vs. Shayna Baszler
I'm going to play New Jack's theme throughout this match to make it hopefully seem better…
They showed Becky arriving in a semi-truck. They started off exchanging some pretty hard blows, then Shayna went for the Kirifuda Clutch, but Becky broke free and they started fighting on the outside. This match seems much better than the first three because they seem to be doing non-standard stuff. They were hitting each other pretty hard.
Baszler grabbed Becky by the legs and slammed her into the announce table a couple of times, then brought her into the ring and locked on the Kirifuda Clutch… but Becky fell backwards, rolled over and pinned Baszler's shoulders down on the mat as she still had the hold locked on… 1-2-3. This was by far the best (and only bearable) match so far.
Winner: Becky Lynch (8:32)
---
Intercontinental Championship
Sami Zayn (c) vs. Daniel Bryan
Zayn was accompanied by Cesaro and Nakamura, while Bryan was accompanied by Drew Gulak. Zayn kept running out of the ring at the start of the match. Bryan ran after him, but ran into Cesaro, then later ran into Nakamura. Finally, Gulak attacked Cesaro and Nakamura and Bryan got his hands on Zayn.
Bryan dominated Zayn for several minutes as Zayn pleaded for mercy. Zayn finally fought back with an elbow to Bryan and a little offense, but Bryan regained control and hit a few hard Yes Kicks, then stomped on his head.
Gulak started a "Yes" chant, but Cesaro and Nakamura attacked him. Bryan took them out with a suicide dive, then jumped off the top at Zayn, but Zayn nailed him with a Helluva kick… 1-2-3. Interesting… Not a bad match.
Winner: Sami Zayn (9:13)
---
SmackDown Tag Team Championship
Triple Threat Ladder Match
John Morrison vs. Jimmy Uso vs. Kofi Kingston
This match is apparently still for the titles, with them hanging above the ring. A few minutes in, Morrison laid Uso on a ladder that was wedged into the ropes in the corner, then hit him with a corkscrew senton off the top. Later, they set up Jimmy Uso horizontally on a ladder that was bridged on the apron and barricade… Morrison went up to one corner, Kofi went up to another… but Morrison walked ON the rope, over to Kofi's corner, and gave him a Spanish fly into the ring. Impressive.
This is going way too long… All three climbed the ladder and grabbed the belts at the same time, then started a tug of war over it… Kofi and Uso gave Morrison a double headbutt and he fell off the ladder onto a ladder bridge below… and he had the belts in his hands as he fell.
Winner: John Morrison (18:39)
---
Kevin Owens vs. Seth Rollins
After about 10 minutes of not much happening, Rollins hit a buckle bomb, then a superkick, then ran at Owens, but Owens hit him with a popup powerbomb.
They fought to the outside and Rollins grabbed the timekeeper's bell and hit Owens in the head… and the ref called for the DQ. Incredibly shitty finish for a WrestleMania match… What a waste of time…
Owens got on the mic and said that Seth doesn't get to end things this way. He told Rollins to come back and fight, no DQ and no rules. Rollins walked back to the ring and the bell rang to restart the match. Hopefully this doesn't go another 10+ minutes… This match has been bad.
Rollins hit Owens with a steel chair a few times. Owens fought back, hitting Rollins with the bell a couple of times.
Owens set Rollins up on the announce table and climbed on top of a big WrestleMania sign that was behind the table… Looked about 15 feet up… and he jumped off with an elbow drop onto Rollins through the table. Cool…
Owens rolled Rollins into the ring… Stunner, 1-2-3.
Winner: Kevin Owens (17:20)
OH MY MESSIAH!!!! 😱#WrestleMania @WWERollins @FightOwensFight pic.twitter.com/pKxa9daB7P

— WWE (@WWE) April 5, 2020
---
Segment: Rob Gronkowski, Mojo Rawley, R-Truth
Gronk and Mojo were on the balcony, talking about how "great" the show has been and it's only night one. R-Truth came out and said that he can't rest while being the 24/7 Champion. Gronk and Mojo stared him down and hit him. Gronk tried to pin him, but Mojo said "no you don't" and dragged him off, then pinned Truth himself to become the new 24/7 Champion. Mojo told Gronk, "Come get it, I ain't running" as Gronk looked shocked.
New 24/7 Champion: Mojo Rawley
---
Backstage: Paul Heyman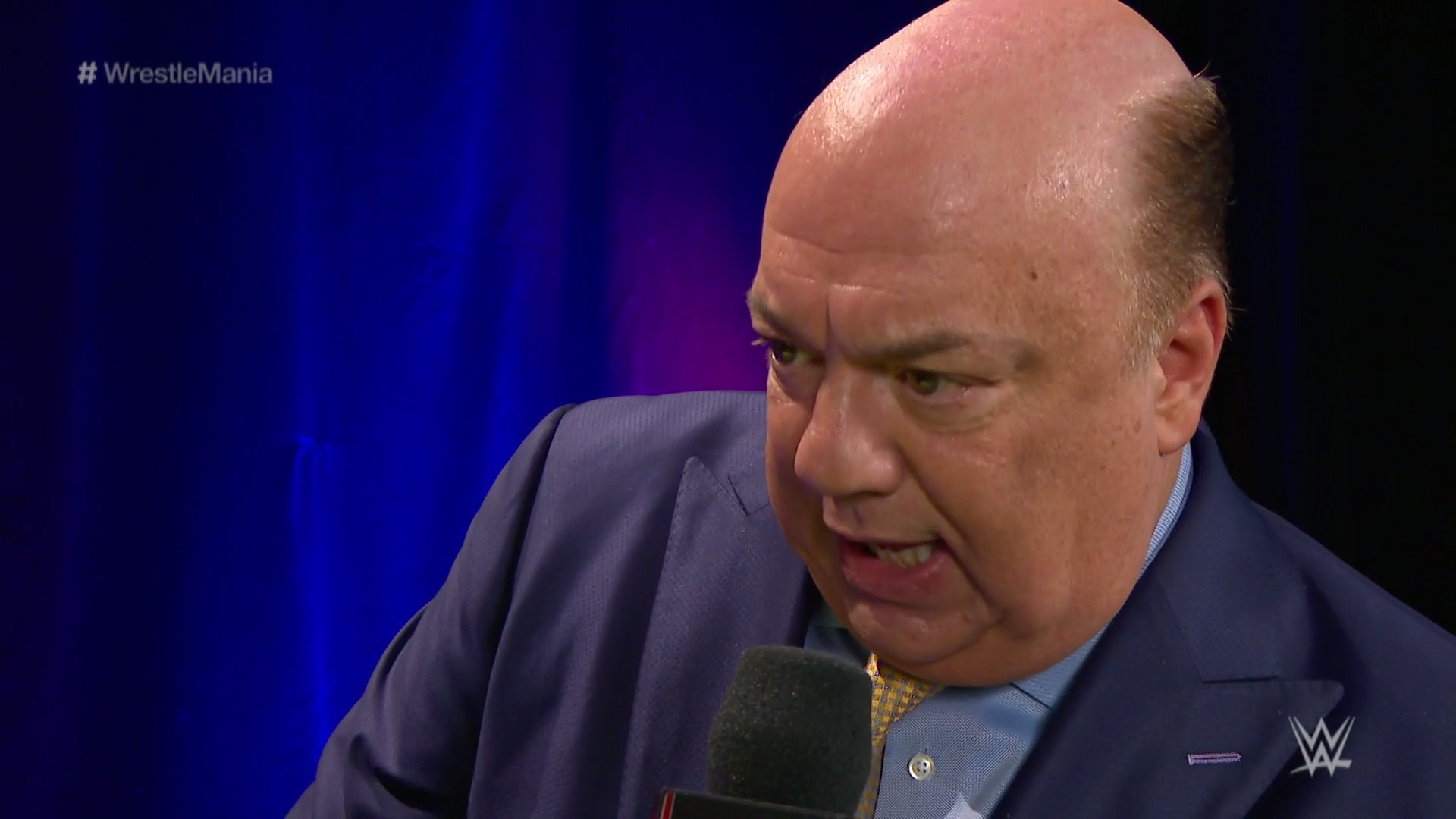 Heyman said that in 24 hours, McIntyre is going to be exposed as a "big bitch wannabe who can't fill the shoes of Brock Lesnar."
---
Universal Championship
Goldberg (c) vs. Braun Strowman
They stared each other down and Goldberg hit him with a kick to the stomach. Strowman tried for a powerslam, but Goldberg escaped and hit him with a spear… Strowman got up… Another spear… and a third. 1-2-no. Strowman got up again and was hit with another big spear.
Goldberg went for a Jackhammer, but Strowman countered into a Powerslam, and a second… and a third. He picked him up again and hit a fourth emphatic running powerslam. 1-2-3… Braun Strowman is the Universal Champion.
Winner and new Universal Champion: Braun Strowman (2:10)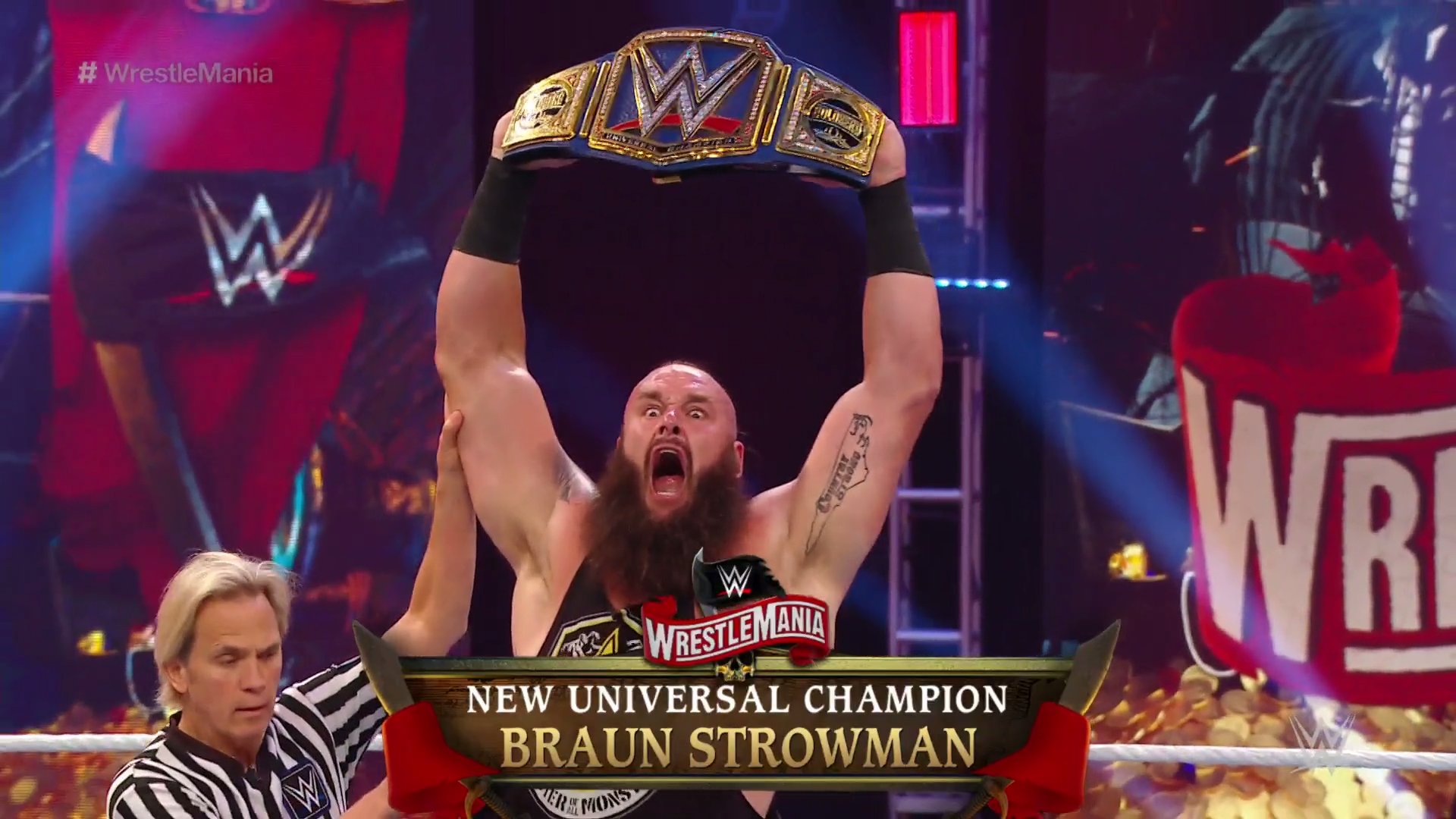 ---
Boneyard Match
The Undertaker vs. AJ Styles
They showed "cinematic" shots of gravestones, and a hearse drove through cemetery gates into a graveyard. A casket was pulled out by some hooded men, and AJ Styles jumped out of the casket and laughed. He said "this doesn't look scary at all."
"Now That We're Dead" by Metallica played and they showed shots of the Undertaker riding a motorcycle to the cemetery… lol…
AJ said that he took the liberty of digging Undertaker's grave for him. Undertaker said that AJ dug his own grave. AJ grabbed a rock, but Undertaker knocked him down.
Undertaker tried to hit AJ again near the hearse, but AJ moved and Taker smashed his arm through the window. Then he tossed AJ onto the windshield, smashing it. Undertaker started punching him on top of the hearse.
AJ threw some dirt in Taker's eyes and kicked him in the balls to take control. AJ tried to punch him into the grave, but Taker fought back. There was "spooky" music playing in the background.
Undertaker knocked AJ into the grave. Suddenly, Anderson and Gallows showed up and said, "Hey dead man, we're just getting started." Undertaker walked towards them, but a creepy looking barn behind them suddenly lit up with bright white light and a bunch of "druids" in black hoods and cloaks walked out and surrounded Undertaker. Taker easily took care of them one by one, but Anderson and Gallows beat him down. They grabbed a shovel but Undertaker beat them down and nailed them both with the shovel.
AJ Styles suddenly ran up from behind and smashed what seemed like a grave stone on Undertaker's back. Styles punched Taker, then yelled in pain, saying "You made me break my finger." Styles ran at Undertaker and put him through a wooden fence.
Styles yelled at Taker, saying he's a broken shell of what he used to be, and he should retire. Undertaker gave him the finger. Styles picked up a shovel and said, "I'm doing the world a favor. I'm gonna bury you." He smashed the shovel on Taker's back and he fell into the grave and appeared to be "knocked out cold." Styles grabbed a handful of dirt and threw it at him and said, "Ashes to ashes, dust to dust."
Styles got into a tractor and prepared to bury Undertaker but Undertaker suddenly appeared from behind him. Styles looked shocked… Undertaker punched him, but Styles ran and climbed a ladder up to the roof of a rundown house. Undertaker climbed up after him. Gallows and Anderson climbed up, but Taker threw Gallows off of the building, then hit Anderson with a Tombstone on the roof.
Undertaker grabbed AJ by the throat and chokeslammed him off of the building to the floor. Undertaker climbed down and asked him, "What's my wife's name? Do you remember? Why don't you tell me how old I am?" He said "We're not done yet. We're just getting started." Styles said, "I'm sorry, don't bury me." Undertaker said, "Tell me what you're sorry for." AJ apologized again and begged him not to bury him. Undertaker said that he's not gonna bury him. "You fought your ass off." He hugged AJ, then walked away… but turned around and gave AJ a big boot, knocking him into the grave. He got into the tractor and dumped a bunch of dirt into the grave on top of Styles…
The Undertaker's bell tolled… He revealed a tombstone above the grave that said "AJ Styles Rest in Peace 1977-2020." Styles' hand was shown sticking out of the grave. Taker got on his motorcycle, then raised his fist in victory. Pyro hit from the top of the run down shed behind him and his logo appeared on it… Metallica hit again and the Undertaker rode off as WrestleMania came to an end…
Winner: The Undertaker (18:17)