Results by Mike Hogan of Rajah.com
May 18, 2021
Orlando, FL – Capitol Wrestling Center
Commentary: Vic Joseph, Wade Barrett & Beth Phoenix
---
Quick Match Results
Toni Storm defeated Zoey Stark via hip lock powerbomb
Jake Atlas defeated Cameron Grimes via roll up as Grimes was distracted by Ted DiBiase
Killian Dain defeated Alexander Wolfe via crossbody
Legado Del Fantasma (Joaquin Wilde & Raul Mendoza) defeated Timothy Thatcher & Tommaso Ciampa via kick and Russian leg sweep combo on Ciampa after Grizzled Young Veterans attacked Ciampa
Sarray defeated Aliyah via Saito suplex
Hit Row (Ashante "Thee Adonis & Top Dolla) defeated Tony Nese & Ariya Daivari via side slam by Top Dolla on Daivari
NXT North American Championship Steel Cage Match: Bronson Reed defeated Johnny Gargano (c) via Tsunami splash – New Champion
---
Toni Storm vs. Zoey Stark
We head straight to our first match. Former NXT UK Women's Champion Toni Storm is out first to mild boos. Zoey Stark comes out next to a generally favorable crowd response. The bell rings and both women take a few moments to size each other up as the crowd chants for Zoey. Storm plays the heel well, a smug face on her as she slaps Zoey. Zoey fires back. Stark sends Storm out of the ring with a springboard-assisted missile dropkick. Stark with a springboard crossbody onto Storm at ringside. Stark sends Storm into the ring and takes her down with another missile dropkick, which once again sends Storm to the outside. Stark looks to climb up top but Storm blocks her, dropping Stark down hard on the apron before she tumbles to the floor. Storm whips Stark into the steel steps, rams her hip into Stark against the stairs, and taunts Stark as Storm climbs into the ring. Stark gets in the ring as the ref reaches eight. Storm pulls up Stark and uses fists and kicks to beat Stark into the corner and down. Stark tries to fire up but Storm puts a stop to it with a DDT followed by a pin attempt. Storm maintains control with a big right hand. Storm with a hair-assisted toss across the ring on Stark. Storm with a backbreaker on Stark and a backbreaker submission. Storm loses control when Stark drops her with a step-up Enziguri. We go to picture-in-picture commercial break.
During the break Stark is unable to capitalize on the kick and Storm begins a series of working holds to wear down Stark's neck. Storm with a suplex followed by a chinlock. Storm again drops Stark and puts a sleeper on her. Storm attempts a cover but only gets two. Storm pulls Stark up angrily and throws a right. Stark fires back with a right of her own. Storm with a headbutt, but Stark with a chop, a right, another chop, another right, Stark has the former champ pressed against the ropes as she continues to throw rights. We return from break as Stark whips Storm into the corner and hits a running kick. Stark with a pin attempt but nothing. Stark with a running seated leg drop and a two count. Stark looks for a half-and-half suplex but Storm attempts to reverse it with the Storm Driver. Stark reverses that into a roll-up pin attempt. Stark takes control and finally connects with the half-and-half suplex before driving knees into Storm. Pin attempt but no joy. Storm quickly fires back with a sitout powerbomb but Stark kicks out. Storm with a hip lock powerbomb out of nowhere to pick up the win suddenly!
Your Winner, Toni Storm!
After the match, Franky Monet came out onto the stage with her dog and posed and kissed the dog. She'll make her in-ring debut next week.
---
Backstage: Legado Del Fantasma, Timothy Thatcher & Tommaso Ciampa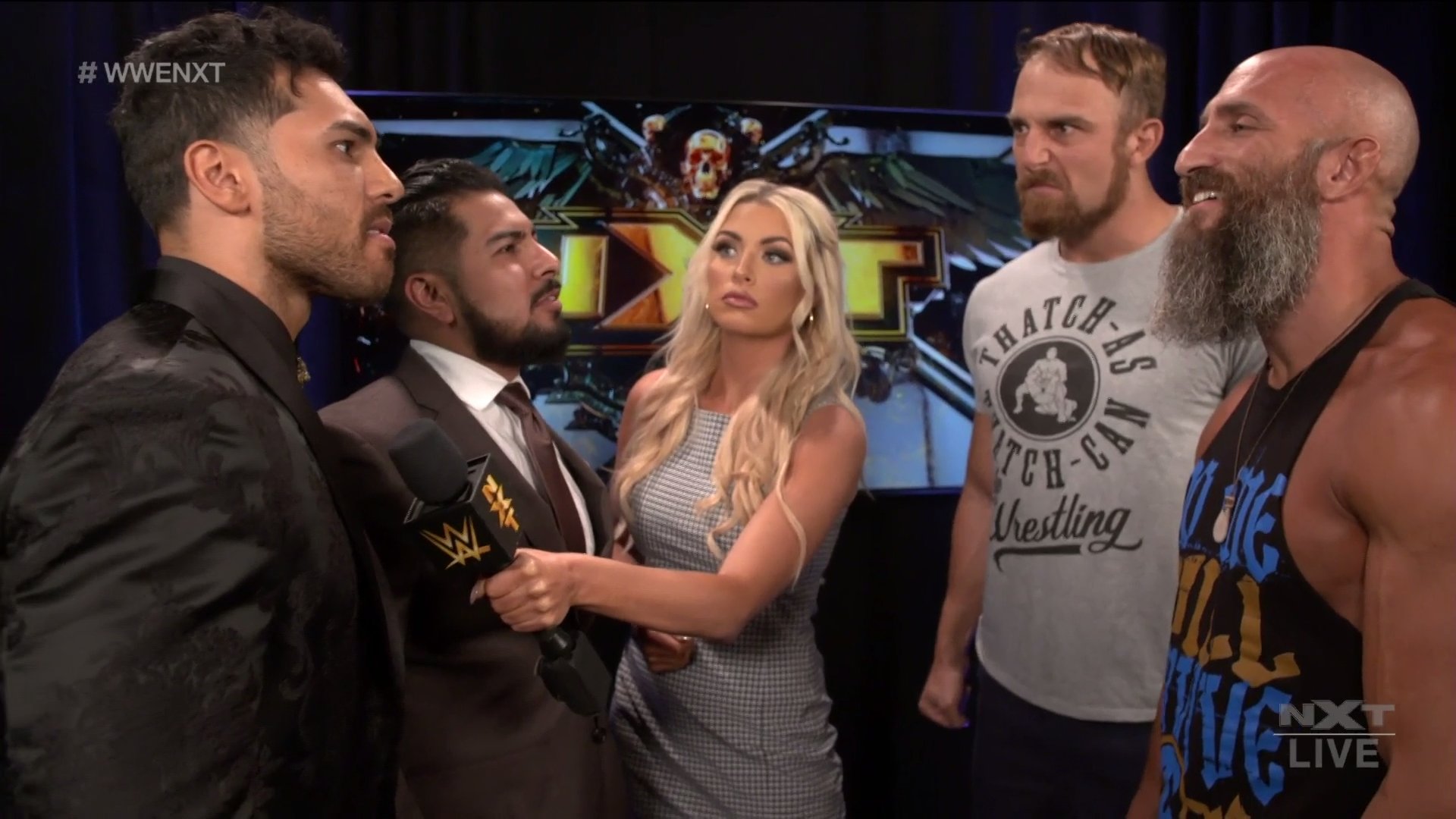 Legado are talking to Mackenzie. They cut a short promo, stating they're going to handle MSK to get their titles back. Thatcher & Ciampa walk up and remind Legado that MSK has never beaten them (Thatcher/Ciampa). Thatcher says "I do not have shoes" in Spanish. Legado ask him what, and both teams set up a tag match later tonight.
---
Earlier Today: Cameron Grimes
Why don't you put your 💵 where your 👄is, @CGrimesWWE?

GRIMES vs. @JakeAtlas_ TONIGHT on #WWENXT! pic.twitter.com/qx1GQjxKWv

— WWE NXT (@WWENXT) May 19, 2021
We see a video from earlier today. Grimes pulls up in his expensive car and attempts to park it in a reserved spot. He's then informed by the lot attendees that Mr. DiBiase has already acquired that spot. They laugh at Grimes as he gets more and more frustrated. We go to break.
---
Segment: Candice LeRae & Indi Hartwell
We have a video of Indi Hartwell and Candice LeRae in a spa, cucumbers over their eyes and face masks on as a man gives them a massage. Their titles are displayed on a table next to them. Candice talks smack about Dexter Lumis, calling him a loser and telling Indi she's smart to not be involved with him. The camera pulls back to show us that Dexter Lumis is the one attending to them as the segment ends–with them completely unaware.
---
Video Package: Bálor vs. Kross
Karrion Kross and a few minor sports analysts weigh in on their opinions from Bálor's first match against Kross. We hear quotes from Bálor as well and the video attempts to give a big-fight feel to the upcoming Bálor/Kross II at TakeOver in a few weeks.
---
Jake Atlas vs. Cameron Grimes
We return to the Capitol Wrestling Center. Jake Atlas is already in the ring. Out comes his opponent, Cameron Grimes. He comes out on the mic, demanding his music be cut. He's tired of everyone thinking it's funny when DiBiase one-ups him. He demands production play a video, which contains a series of clips from DiBiase's illustrious career, including odd moments such as when he stepped in poop. The bell rings and Jake Atlas immediately sends Grimes out of the ring as we go to break.
Back from the break. We find Grimes in control, punching Atlas along the ropes and around the ring. Atlas throws a right and counters a back drop attempt with a kick to Grimes' face. Atlas with a springboard arm toss. Impressive athleticism from the youngster. Both men swap control. Grimes focuses on insulting slaps and wear-down moves before using stiff kicks to soften up Atlas' midsection. Grimes with an Irish Whip so strong, he flips over himself and Atlas bounces off the corner. Grimes takes a moment to say his own name–gloating, apparently–and Atlas takes issue with it, firing off a series of chops. Grimes goes for the kick but Atlas catches the foot and slaps Grimes across the face. Atlas with a strong Irish Whip of his own. Atlas escapes a rear suplex attempt, standing switch, and German Suplex! Ted DiBiase's limo has just arrived. Swing and a miss from Grimes; Atlas with another big suplex. Atlas continues his offense until Grimes catches the youngster on a misstep, dropping Atlas hard.
Grimes posts up in the corner, starting to count, when "the Million Dollar Man" Ted DiBiase comes out on the ramp to an elated crowd! Grimes leans on the ropes, yelling at DiBiase. Atlas uses the distraction to springboard off the ropes and roll Grimes up for the huge upset win!
Your Winner, Jake Atlas!
Afterwards, DiBiase laughs at Grimes and walks off. Grimes pursues to the limo and tries to open the door. DiBiase rolls the window down, mocks Grimes, and drives off while Grimes yells "That damn Ted DiBiase!"
---
Video Promo: Bronson Reed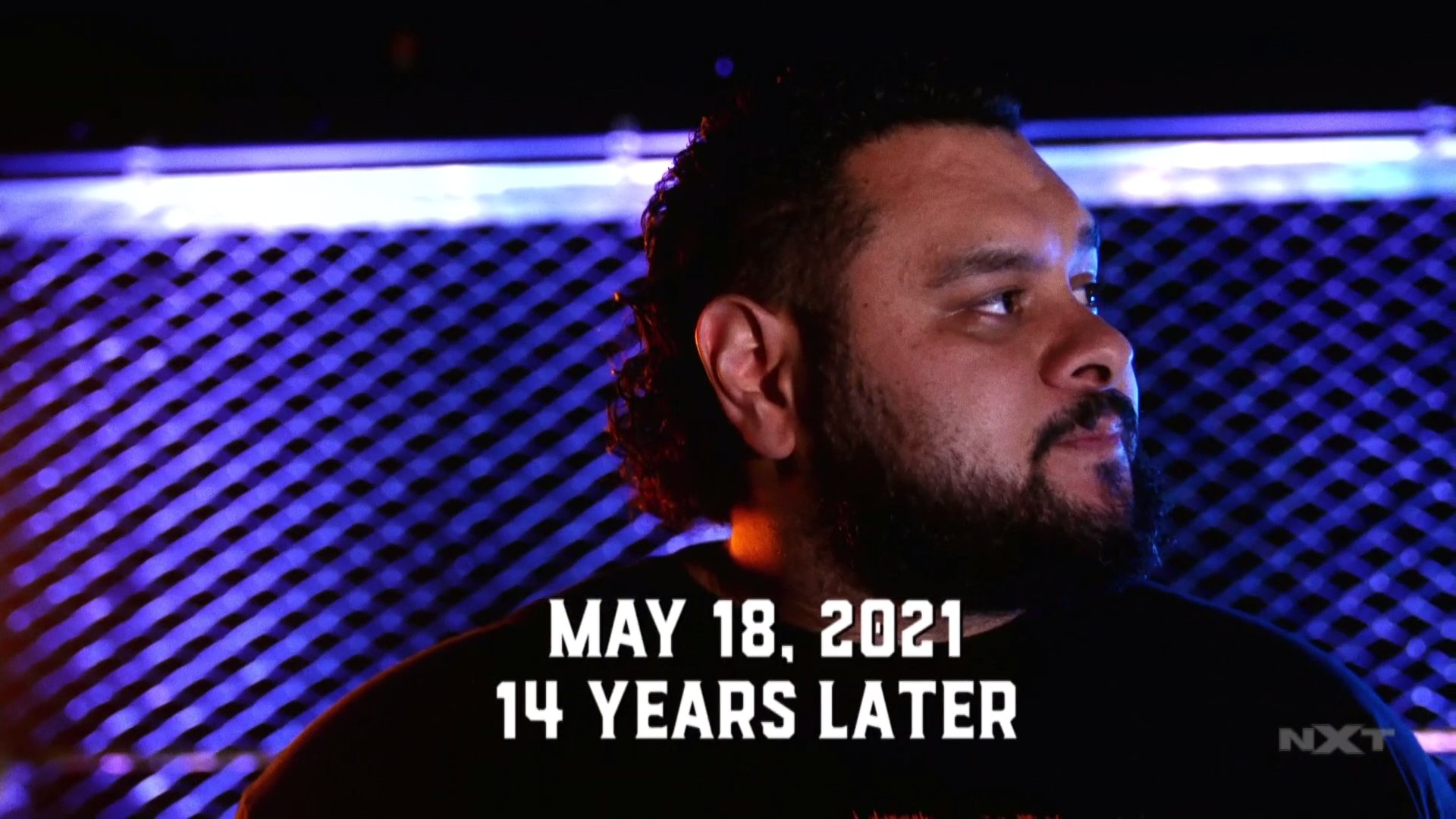 May 18, 2007 was the date of Reed's first match, he informs us. And now, 14 years later to the day, Reed knows he has to go through The Way to get to the North American title. He points out the ladder matches, triple threats; the trips to Japan, to Europe; everything that made him who he is. He promises to walk out as champ and look his wife in the eyes as champ. Note: they're a cute couple! Aww.
---
Interview: Pete Dunne
We see a pre-recorded interview between sports journalist Arash Markazi and "the Bruiserweight" Pete Dunne. Dunne mentions that he could go for his old NXT UK title, try to get it back from WALTER, but he doesn't want to do that. He babbles on and it's very hard to understand him. He says he's not afraid of a fight and he's never had a bad match. He tells us to ask Finn, as Dunne's opponents leave differently than others. He speaks of mixing traditional British wrestling with bits of styles he's picked up from around the world and all his travels. Dunne goes on to say that the fans in attendance add to the excitement of the match, and is eager for them to return. Dunne then states that at this point in his career, its time to go for the NXT title. He's already conquered the NXT UK, time for NXT.
---
Alexander Wolfe vs. Killian Dain
We return to the ring where Imperium stand posed, sans WALTER. This match was supposed to take place last week but was bumped to tonight. Dain comes out to that cheesy music once again, Drake Maverick in tow. The ref calls for the bell and we start with an attempted lockup followed by a standing switch. Dain with a big right but Wolfe fights back with knees and a right boot. Wolfe continues to pound his former inSAnitY partner. Uppercut followed by a forearm uppercut from Wolfe. Dain fights back, punching Wolfe into the corner. Dain whips Wolfe into a corner and splashes him. Dain runs Wolfe across the ring and slams his face into the turnbuckle. Outside the ring, Fabian Aichner attacks Drake Maverick to distract Dain just long enough for Wolfe to drop the big man. Marcel Barthel slips a steel chair into the ring. The ref warns Wolfe about it. Imperium tell Wolfe to finish it. Wolfe charges with the chair but Dain drops him with a flying crossbody and picks up the win in a very short match.
Your Winner, Killian Dain!
Wolfe is consoled by his Imperium partners. As they pose, Aichner and Bartel both attack Wolfe from behind. They beat on him and hit him with the double-team move called the Imperium Bomb. They stand over the fallen former friend. We go to break.
---
Backstage: Raquel Gonzalez, Dakota Kai, Ever-Rise
Mac asks the champ about her match last week. Raquel states that she can show respect for Mercedes for putting her to the test. Kai hints that they should go for the Women's Tag Titles again. They try to plant a few seeds that there may be tension brewing soon. Ever Rise come up and arrogantly begin insulting the two women, telling them that The Way are better than them and deserve the titles, etc. They then try to goad Dakota into hitting them. Raquel slugs Chase, knocking him down with his cup of coffee. As they walk off, he asks what happened and his partner shrugs, drinks his coffee, and informs him he just got knocked out by a girl.
---
Legado Del Fantasma (Joaquin Wilde & Raul Mendoza) vs. Timothy Thatcher & Tommaso Ciampa
When we return to the arena, Thatcher and Ciampa are on their way out as Legado is already ready. Joaquin Wilde and Tommaso Ciampa start things off. Ciampa easily takes control and sends Wilde out of the ring. Back in the ring, Ciampa with a clothesline and a pin attempt. Ciampa with a side headlock. You can expect a lot of working holds and wear-down moves from Ciampa and Thatcher due to their catch wrestling style. Thatcher is tagged in and grabs Wilde by the neck, then appears to headbutt Wilde's back. Wilde charges forward, forcing Thatcher back into the Legado corner. Raul Mendoza makes the tag. Thatcher wastes no time in working the arm of Mendoza, completely neutralizing him. Mendoza forces his way to a rope for the break, so Thatcher tags in Ciampa. Ciampa works over Mendoza, throwing him into the corner and using a variety of whips, arm breakers and wristlocks as he beats on Mendoza. Mendoza finally manages to get some offense in, raining fists onto Ciampa. Mendoza arrogantly doesn't tag out, and Ciampa takes control back. Ciampa takes Mendoza to his corner and tags in Thatcher. Thatcher immediately targets the chin and neck. Mendoza attempts a side headlock but Thatcher slips his head out of it and immediately twists the sleeper arm back and behind Mendoza. Mendoza powers out of the hold and whips Thatcher into the ropes. Mendoza with a basement dropkick to the left knee, dropping Thatcher. Mendoza kicks Thatcher repeatedly but it only serves to piss him off. Thatcher pops up, drops Mendoza and slaps an ankle lock on him. Wilde comes in, looking to make the save, but Ciampa intercepts him and puts him in an ankle lock, too! Double ankle locks! Legado both manage to roll it through into a pin attempt. All four men break and clash and as we go to break, everyone is down in the ring but the ref.
Back from the break. We return to see Ciampa repeatedly running against the left ropes before splashing each individual Legado member in different corners. He must do this a dozen times before Legado flee/fall out the ring. Mendoza comes back in and catches Ciampa with kicks. Wilde tags in and Legado hit a double leg breaker followed by a double basement dropkick, one to each side of his face. Pin attempt but it comes up short. Wilde holds Ciampa in a lock and drags him back to the corner, tagging in Mendoza. Mendoza takes Ciampa to a neutral corner and lays into Ciampa with slaps and chest chops and blows. Big spear to the midsection in the corner by Mendoza. He backs up, twirls a finger in the air and goes for a second shoulder thrust/spear. CIampa moves and Mendoza catches nothing but metal! Ciampa tags in Thatcher. Thatcher takes down an entering Wilde then hammers Mendoza with forearm uppercuts. A snap suplex and pin attempt. Thatcher beats Mendoza in the corner before tagging in Ciampa as the ref counts to four. Ciampa comes in and slaps, chops and punches Mendoza as the ref counts, and he tags in Thatcher as the ref hits four. Thatcher and Ciampa repeat this once more. Ciampa finally with a big running right knee to Mendoza's skull, picking up a two. Ciampa twists Mendoza's left arm and whips him into the corner. Ciampa looks for a splash but Mendoza moves. Mendoza goes up top and looks to fly. CIampa dodges. Mendoza and Ciampa clash in the middle, exchanging rights. Ciampa with a haymaker. Ciampa looks for the Fairy Tale Ending but Mendoza escapes and counters. Ciampa's dropped to his knees and in the wrong corner. Wilde is tagged in and connects with a suplex before tagging in Mendoza. Wilde runs off the north ropes and, with assistance from Mendoza, springboards off the top rope and crashes down on Ciampa. Mendoza and Wilde take Thatcher off the apron and attempt to double team Ciampa. Thatcher yanks Mendoza out of the ring, allowing Ciampa to hit a snap DDT for an incredibly close two count! Wilde makes the save. Mendoza and Thatcher engage on the apron and the ref is distracted.
The Grizzled Young Veterans sneak down to the ring and attack Ciampa. They send him into the ring before the ref sees them. Legado pick up the win with that assistance.
Your Winners, Legado Del Fantasma!
---
Backstage: Bobby Fish
Mackenzie starts to ask Fish about coming to the aid of Kyle O'Reilly last week. Fish tells her that last week was more about Pete Dunne–whose heel tactics put Fish on the shelf for months–and not KOR. He had to sit back and watch as the Undisputed Era imploded. We're shown a graphic black-and-white photograph from WarGames last year, and the gnarly injury Fish suffered due to Dunne. Fish puts Dunne on notice as he's coming for him. We go to break.
---
Segment: Candice LeRae & Indi Hartwell
So @CandiceLeRae bought @ShotziWWE @WWEEmberMoon the flowers? Do you know what this means….

INDEX IS STILL ALIVE AND WELL!!!! #WWENXT @indi_hartwell @DexterLumis pic.twitter.com/EWDTuswaqy

— WWE (@WWE) May 19, 2021
Candice and Indi are still in the spa. A tech comes in and tells Candice that her credit card declined. Candice tells her to run it again. Indi tells the tech that it's impossible, as they're tag team champions. It's then revealed that Candice is the one who sent flowers to Shotzi & Ember. Indi freaks out, exclaiming that Dexter "still loves me!" She runs off, happy, screaming it over and over.
---
Backstage: Johnny Gargano, Austin Theory
Gargano cuts a quick, solid promo. He points out that he left Kross laid out last week, and tonight he's going to show Reed in a cage why Gargano is the North American Champion and unstoppable.
---
Aliyah vs. Sarray
We return to the ring where Robert Stone and Jessi Kamea stand with Aliyah. Out next is her opponent and guaranteed winner, Sarray. Aliyah, wearing bright green in stark contrast to Sarray's vibrant red, starts off in control. Aliyah spends the first two minutes in control, using whips and strikes. Sarray starts her offense, stunning Aliyah with a pair of fists and a jumping kick that flattens Aliyah. Sarray heads up top and dives, connecting a missile dropkick to Aliyah's face. Aliyah stumbles and falls against the bottom rope. Sarray streaks over and hits a combination basement dropkick/baseball slide, striking Aliyah and sliding out the ring, nearly taking out Robert Stone. Sarray mercifully puts the short match to an end, covering Aliyah after a rear suplex to pick up the win.
Your Winner, Sarray!
---
Video Promo: Shotzi Blackheart & Ember Moon
The former NXT Women's Tag Team Champions promise to strip it down and get back on track with "Ember's Law" and tell Raquel and Dakota to back off–they've already beaten them for the titles. They put The Way on notice.
---
Video: Diamond Mine
𝙏𝙧𝙖𝙞𝙣. 𝙋𝙚𝙧𝙛𝙤𝙧𝙢. 𝘽𝙚𝙘𝙤𝙢𝙚. 💎#DiamondMine #WWENXT pic.twitter.com/CCCW2ygTWy

— WWE NXT (@WWENXT) May 19, 2021
Another mysterious Diamond Mine promo airs.
---
Hit Row (Ashante "Thee Adonis & Top Dolla) vs. Tony Nese & Ariya Daivari
We get a brief look at Isaiah "Swerve" Scott, Ashanti "Thee" Adonis, B-Fab (Briana Brandy), and Top Dolla (AJ Francis) as they make their way backstage. We go to break–we'll see more of Hit Row up next.
Adonis and Dolla represent Hit Row in this match. Adonis starts first and starts a very speedy, athletic exchange of moves and counters. Top Dolla is tagged in and easily tosses Niece across the ring. Dolla picks up both Nese and his partner, one Samoan carried and the other held cross body, and slams them both down. We're reminded that Top Dolla was in the NFL. Adonis is tagged in. Daivari comes in legally but Adonis takes control immediately. Adonis beats Daivari down in the corner as the ref warns. Dolla tags himself in, grabs his partner Adonis and tosses him across the ring and right onto Nese. Dolla then puts away Daivari with a big side slam. Short squash-ish match.
Your Winners, Hit Row!
Hit Row cuts a quick promo, with each member speaking. Swerve goes on to tell us that whomever wins the North American match tonight is on notice that Swerve's gonna be peeking in on them.
---
Backstage: William Regal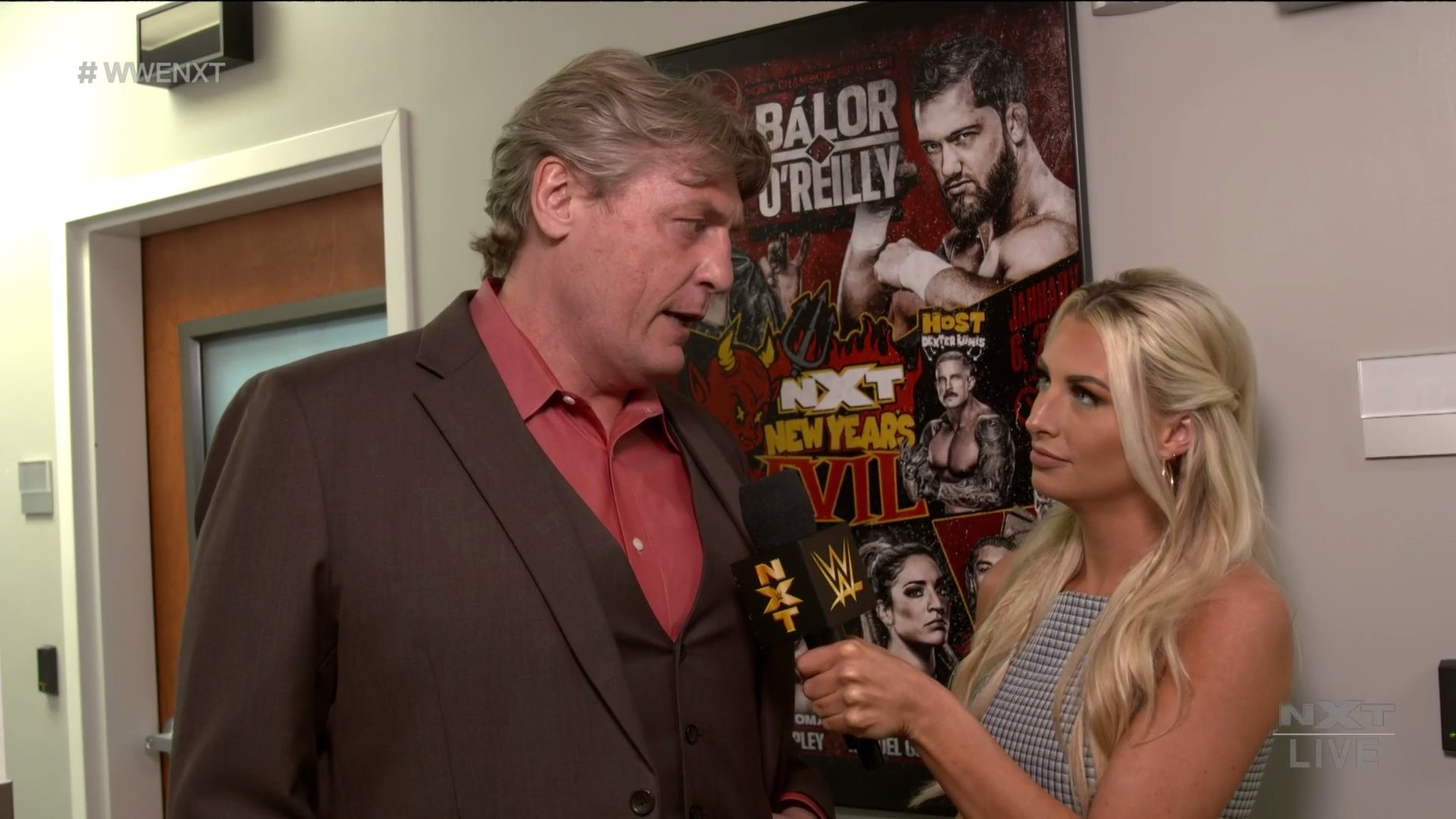 Mackenzie asks Regal about the tag divisions. Regal sets a match between MSK and Legado for the tag titles. He's also setting Ember Moon & Shotzi Blackheart vs Raquel Gonzalez & Dakota Kai next week in an effort to see who's more worthy of a title shot. He also mentions that he's bringing in some new talent to compete with Kushida.
---
Next Week
NEXT TUESDAY on #WWENXT!
🎬 The World Premiere of @FrankyMonetWWE
💰 @CGrimesWWE vs. @MDMTedDiBiase in a Million Dollar Face-Off
❌ @WWEKarrionKross vs. @FinnBalor for the #NXTTitle pic.twitter.com/DgldaJDFTU

— WWE NXT (@WWENXT) May 19, 2021
A "Million Dollar Face-Off" with Ted DiBiase and Cameron Grimes awaits us, as does the debut of Franky Monet, Ember Moon & Shotzi Blackheart vs. Raquel Gonzalez & Dakota Kai, and Balor vs. Kross II.
---
NXT North American Championship Steel Cage Match
Johnny Gargano (c) vs. Bronson Reed
The lights dim and the steel cage begins to lower as we go to break. When we return, our challenger is out first. Out next comes Gargano in Wolverine-inspired ring wear, accompanied by Austin Theory. After the official announcements are made, our match starts. Gargano immediately darts for the door, attempting to dive out before it's closed. Reed stops him and spends the first couple of minutes slowing the pace and punishing Gargano. Gargano finds his chest and face rubbed against the steel links. Gargano looks for a middle-rope shoulder thrust but Reed counters and launches Gargano through the air. Reed looks for a Stalling Suplex but Gargano floats over and uses a chop block to take the big man down. Gargano partially climbs the cage and connects with a Moonsault onto Reed. Gargano starts to climb again. Reed is up and grabs his foot. Gargano looks to leap down onto Reed, but Reed catches him in a Samoan carry and drops him down, covering for two. Reed heads to the corner and starts to climb the ropes. Austin Theory climbs the outside of the ring partially, distracting Reed. Gargano drops Reed across the top rope with a superkick, crotching him as we go to our final break!
During the break Gargano takes control. He sends Reed into the corner and climbs the middle ropes, raining rights down across Reed's face. Gargano attempts to escape; Reed grabs the foot. Gargano kicks himself free then climbs back down. Gargano with a running Kitchen Sink to Reed in the corner. Gargano holds his hands up, pacing around the ring, gloating. Gargano positions Reed between the ropes and cage and slams him back against the cage a few times. Gargano runs off the opposite ropes, looking to splash Reed into the cage, and catches a big fist from Reed for his troubles. Reed back into the ring but Gargano drops the big man. Gargano with kicks to the thigh and legs. Gargano with a mount-and-pound on Reed. Gargano moves Reed's neck across the middle rope and presses down on the back of his neck, choking him. Gargano with a right to the side of Reed's face. Reed rolls out to the apron again. Gargano throws fists as Reed's pinned between the ropes and cage.
Back from the break. Gargano maintains control initially until Reed catches him climbing the cage. Huge powerslam from Reed. Gargano pops up and runs into a clothesline. Again, Gargano pops up and runs into another. Reed catapults Gargano face-first into the cage. Theory tries to coach and cheer on his friend from outside the cage. Reed and Gargano clash in the ring again. Reed with a desperate slam and pin attempt, a split second away from picking up the win. Reed climbs the ropes and along the cage. Gargano chases him and the two men struggle on the rope until Gargano vaults them both off. Gargano and Reed continue to vie for control. Reed looks to escape out the opened door but Theory closes it, refusing to let him out. Reed strikes the door and knocks Theory out of his way. Before Reed can try to exit, Gargano is all over him. Gargano with a huge counter that drops Reed across the back of his neck and, per Wade Barrett, the impact "popped the cage door open." Gargano begins to climb (someone closed the door). Gargano turns and goes for the One Final Beat on Reed but Reed blocks it.
Both men are down and exhausted. Gargano struggles to his feet and connects with the One Final Beat but only picks up a two! Gargano starts to climb the cage. Reed is slow to his feet. Reed pauses Gargano's ascent. Reed climbs the corner and after a brief struggle, Reed leaps off the middle rope, yanking Gargano down and into a huge powerbomb! The crowd goes crazy with a "this is awesome" chant as our show is officially in over-run territory.Reed begins to climb the cage. Theory climbs from the outside and Gargano hops on the cage next to Reed. Reed tosses Gargano off then knocks Theory off the cage exterior. Reed goes up top and hits a splash on Gargano. Reed goes back up top and dives, hitting the Tsunami and picking up the win!
Your Winner and NEW North American Champion, "the Colossal" Bronson Reed!
We get several replays of the highlights and a large pyro display behind the new champ. Our show closes on Reed who proudly holds his title high.