Results by Josh Boutwell of Wrestleview.com
September 29, 2021
Rochester, NY (Blue Cross Arena)
Commentary: Jim Ross, Tony Schiavone, Excalibur & CM Punk
---
Quick Match Results
Adam Cole defeated Jungle Boy via the Boom after a low blow kick
Cody Rhodes & Lee Johnson defeated Matt Sydal & Dante Martin via brainbuster by Johnson on Martin
Trios Match: Darby Allin, Jon Moxley & Eddie Kingston defeated Anthony Greene & Bear Country via Violent Crown by Moxley & Kingston on Green
16-Man Tag Team Match: Orange Cassidy & The Dark Order (Evil Uno, Stu Grayson, John Silver, Alex Reynolds, Alan "5" Angels, Preston "10" Vance & Colt Cabana) defeated The Hardy Family Office (Matt Hardy, The Butcher & The Blade, Private Party, Angelico, Jack Evans & Jora Johl) via Fatality by Uno & Grayson on Johl
Tay Conti & Anna Jay defeated Penelope Ford & The Bunny via Queen Slayer by Jay on Ford
TNT Championship: Sammy Guevara defeated Miro (c) via 630 senton – New Champion
---
This week's "Dynamite" opens up with a graphic in memory of Brodie Lee.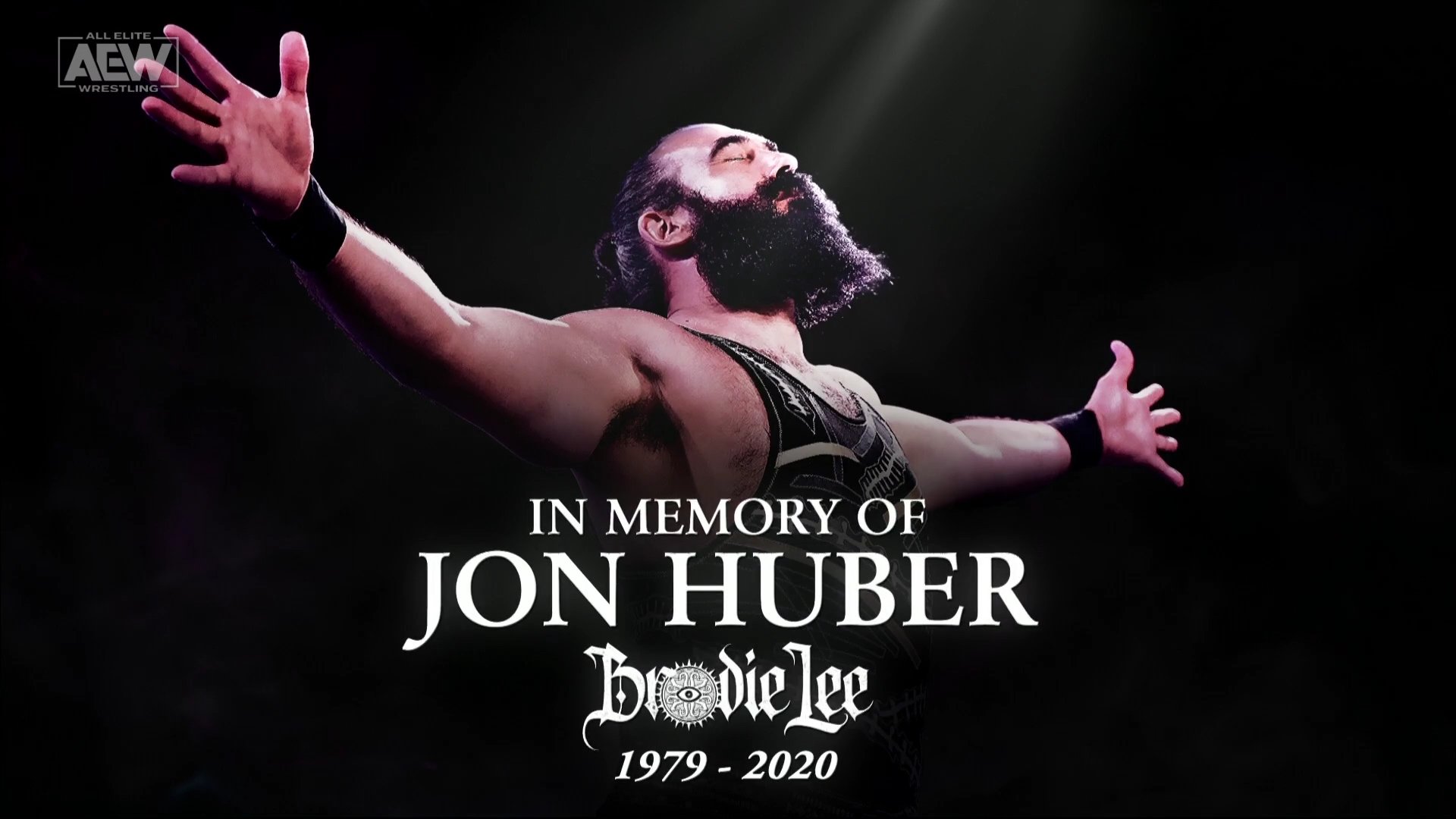 ---
We cut to CM Punk making his way to the announce table. He will be on commentary for the entire show tonight.
The best way to start off an #AEWDynamite…some @CMPunk 🤘 pic.twitter.com/ejoH0KXCBb

— All Elite Wrestling on TNT (@AEWonTNT) September 30, 2021
---
Jungle Boy vs. Adam Cole
This is the first time Cole and Jungle Boy have met one-on-one but Cole & The Bucks defeated Jurassic Express and Christian on the Sept. 24 Rampage. Cole and Jungle Boy lockup with Cole catching Jungle Boy in an early headlock only for the two to exchange counters showing off some mat work. Every time Jungle Boy tries to speed things up, Cole snatches him back down to the mat with a side headlock takeover.
Jungle Boy takes Cole down with a shoulder block followed by the Double Spring Lucha Armdrag followed by a dropkick. Cole rolls to the floor to get away from Jungle Boy and try to cut off his momentum. Jungle Boy chases him back in the ring where Cole puts the boots to him. Cole shoves Jungle Boy off the top rope to the floor and slams him into the ring apron. Back in the ring, Cole hits a Hangman's Neckbreaker and goes back to the headlock.
Jungle Boy fights back to his feet and breaks the hold with a series of elbows only to eat a Running Back Elbow from Cole. Cole whips Jungle Boy into the turnbuckles hard but Jungle Boy fights out with elbows and chops. Jungle Boy hits a Basement Dropkick to Cole's knees and then a big Lariat. Jungle Boy attempts a Fisherman's Suplex but Cole blocks it and the two exchange strikes.
Cole and Jungle Boy exchange kicks until Jungle Boy caps off the sequence with a Brainbuster. Jungle Boy hits a Belly-to-Belly Suplex into the turnbuckles followed by a Bridging German Suplex for two. Jungle Boy hangs Cole up in the Tree-of-Woe but Cole knees him in the face only to eat a Leaping Enziguri. Jungle Boy hangs upside down again and then hits a Sliding Dropkick for a nearfall.
Jungle Boy goes for a Fireman's Carry but Cole counters into a rollup for two. Cole hits a Backstabber and a Kneecap Brainbuster for two. Cole slaps Jungle Boy repeatedly slaps him until Jungle Boy slaps him back and hits a Poison Rana and a Sliding Lariat to the back for two! Jungle Boy hits a Cradle DVD! 1…2…NO Cole kicks out!
Jungle Boy slaps Cole and then hits the ropes but runs into a Superkick but the momentum caused Jungle Boy to fall backwards through the ropes onto the floor. Cole dives off the apron but Jungle Boy moves out of the way and then goes for a dive of his own but Cole hits him with a Leaping Enziguri in midair. As Cole tries to climb back in the ring, Jungle Boy comes out of a nowhere with a Flying Rana over the top onto Cole off the apron!
Back in the ring, Jungle Boy runs right into a Superkick from Cole followed by the Panama Sunrise! 1…2…NO Jungle Boy kicks out! Cole pulls his knee pad down and attempts a Last Shot, but Jungle Boy ducks and locks Cole in the Snare Trap! Cole almost gets to the ropes but Jungle Boy starts to pull him back only for Cole to kick him off. Jungle Boy goes for a German Suplex but Cole kicks him in the nuts as the referee was out of position and follows up with the Boom (Last Shot) for the pin!
Winner: Cole via pinfall (The Boom)
The Elite comes out to the ring as we head to a break.
---
In-Ring: The Elite, Bryan Danielson
Karl Anderson says some stuff about being Elite that no one cares about before handing the microphone over to someone people actually care about, Cole. Cole says he told the world he would beat Jungle Boy and he did exactly that. Cole says he did it on his own because he is Elite. Cole says he is still undefeated and Cutler starts to say something before Nick Jackson takes the microphone away from him. He hands the microphone to Nakazawa as a "CM Punk" chant starts. Nakazawa says he has nothing to say and gives it to Omega. Omega makes fun of the chants and says his telephone has been hanging off the hook and all of his social media has been crazy after his match with Danielson.
Omega says he doesn't care about how anyone thinks about the match but says that Danielson took him to the limit. He says despite that he still didn't beat him. In the end, Omega says that Danielson couldn't get the job done and says he will never give him a rematch. Danielson wastes no time coming out onto the ramp.
Danielson asks the fans if they want to see a rematch and they start chanting "yes." Danielson says they want a rematch and he wants one but Omega doesn't have enough balls to give him the rematch. He refers to Omega as "Kenny 'No Balls' Omega" which results in a "Kenny No Balls" chant. Danielson asks if any of the other members of The Elite have any balls and challenges any of them to a match for Rampage. Omega says why wait until Rampage and suggests a fight right now. Danielson agrees but says he isn't coming alone and Jurassic Express, Christian and Kazarian come out and join him in charging to the ring causing The Elite to retreat.
---
Backstage: The Lucha Brothers, Andrade El Idolo
.@AndradeElIdolo has some friends who want to take the @luchalibreaaa Tag Team Titles from the #LuchaBros – Tune in to @tntdrama NOW to watch #AEWDynamite LIVE! pic.twitter.com/47G1KXHcb2

— All Elite Wrestling (@AEW) September 30, 2021
In the back Andrade approaches Lucha Brothers and asks where PAC is and his assistant says he thinks it's time they defend their AAA Tag Team Titles. Andrade says he has many luchador friends that can help him take those titles and Fenix says any time he wants to try he's welcome.
---
Cody Rhodes & Lee Johnson vs. Matt Sydal & Dante Martin
Martin and Homelander start the match off against each other with Rhodes taking Martin down and working him over with some mat work. Sydal and Johnson tag in and do some nice mat work, as well. Martin tags back in and Johnson takes him down with a shoulder block only for Martin to jump over him and then hit a Back Kick. Johnson and Martin take turns showing off insane athleticism flipping over each other. Rhodes and Sydal come in and then spill to the outside. Cody attempts a Springboard Plancha but Sydal moves and then hits a Meteora off the apron. Johnson hits a Somersault Plancha onto Sydal but then Martin hits an insane Springboard Somersault Plancha onto both Rhods and Johnson.
Johnson hits a dropkick on Sydal after Sydal was teasing the Lightning Spiral. Martin and Rhodes tag in and Martin hits a dropkick but runs into a Snap Powerslam from Cody. Cody goes for a Hip Toss but Martin counters into a Leaping Headscissors. Martin and Cody exchange strikes and Cody hits a Disaster Kick knocking Sydal off the apron. Cody hits a Gringo Killa but Martin kicks out at two.
Cody goes for a Powerslam but Sydal kicks Cody in the head. He hits a Rana on Johnson and Martin hits an insane Missile Dropkick on Cody for two. Martin hits a Double Springboard Moonsault for two but Cody then backdrops a charging Martin over the top to the floor. Johnson blind tags Cody and Superkicks Sydal in the face. He tries to bring Martin in but Martin catches him with a rollup for two. Martin misses a clothesline and eats a Superkick. Johnson hits a Kneecap Brainbuster for the pin.
Winner: Johnson & Rhodes via pinfall (Kneecap Brainbuster)
In-Ring: Cody Rhodes, Arn Anderson
Cody Rhodes challenges Malakai Black to come out right now but Arn Anderson intervenes and tells Cody to stop talking. Arn says that he has systematically destroyed them and he questions what Cody was doing when he took his boot off and did his speech. Arn says that Cody should have finished Black last week instead of checking on him. He says Black is an "assassin" that will do anything to destroy the man he is in the ring with. Arn says he would fight him for Cody but he's too damn old. Arn says the biggest difference between he and Cody is that if someone pulls up next to Cody in the street and tells him to get out of the car, Cody says "okay, just don't hurt me" and gets out. Arn says he pulls his glock out and spills the guy's brains all over the place. Arn says he doesn't coach losers and tells Johnson to come with him as they leave the ring.
---
Trios Match
Darby Allin, Jon Moxley & Eddie Kingston vs. Anthony Greene & Bear Country
Allin catches Greene with a La Magistral for a nearfall as Moxley and Kingston brawl with Bear Country. Moxley and Boulder tag in with Moxley rocking the denim jacket with his jeans. Boulder and Bronson take turns working Moxley over and get a nearfall. Bronson climbs on the shoulders of Boulder and goes for a Splash but Kingston kicks his knees out from under him. Kingston German Suplexes Bronson and then Moxley hits a Snap German on Boulder.
Greene managed to tag himself in as Allin hits a Coffin Drop on Bear Country on the outside! Green hits a series of kicks and strikes on Kingston and Moxley but he just bounces off of them as he went for a Springboard Cross Body. They hit the Violent Crown on Greene for the pin.
Winner: Allin, Moxley & Kingston via pinfall (Violent Crown)
Sting hits the Stinger Death Drop on Greene after the match and Kingston walks around the ring with a Brodie Lee sign holding it up.
---
Video Promos: Dr. Britt Baker D.M.D., Ruby Soho
Last week on #AEWDynamite: Grand Slam, Dr @RealBrittBaker stole one from @realrubysoho, but #RubySoho is determined to climb back into contention for the #AEW Women's World Title – Tune in to @tntdrama NOW to watch #AEWDynamite LIVE! pic.twitter.com/XVYjoPWzG8

— All Elite Wrestling (@AEW) September 30, 2021
Ruby Soho and Britt Baker cut dueling promos on their match last week. Baker says Soho has to go back to the back of the line and Soho says the next time they face each other she will feel the consequences and she will take her title.
---
16-Man Tag Team Match
Orange Cassidy & The Dark Order (Evil Uno, Stu Grayson, John Silver, Alex Reynolds, Alan "5" Angels, Preston "10" Vance & Colt Cabana) vs. The Hardy Family Office (Matt Hardy, The Butcher & The Blade, Private Party, Angelico, Jack Evans & Jora Johl)
Matt Hardy leads HFO out to the ring and he says that he was supposed to make his debut in Rochester a year and a half ago but fortunately that got deleted because they don't deserve him.
The Dark Order argue with each other as soon as they get in the ring and that allows HFO to take advantage and begin working over members of the Dark Order.
Evil Uno walks out on his team and Stu Grayson starts arguing with him as he does so. A big brawl between the remainder of the participants begins. Brodie Lee Jr. leads his mom with Tay Conti and Anna Jay and tells them to get their shit together as Brodie Jr. throws papers in their faces like Brodie used to. Evil Uon and Stu hit the ring and cleans house.
Dark Order take turns with insane dives including Vance flipping Reynolds over the top before Spearing Quen onto the pile. Silver goes nuts with all kinds of stomps kids and suplexes! Vance hits a Spinebuster on Blade and OC hits the Orange Punch on Hardy. Uno and Grayson hit the Fatality for the pin!
Winners: Dark Order via pinfall (Fatality)
Dark Order celebrates together with Lee's wife and son.
---
Video Promo: Lio Rush
The Man of the Hour @TheLionelGreen is bringing his big business style to #AEW! pic.twitter.com/i6H0DwKRPM

— All Elite Wrestling (@AEW) September 30, 2021
Lio Rush appears in a vignette and says he's a business man, calling himself "LBO Lio." He says that an LBO is a "leveraged buyout," then goes on to explain what that is as images of stock tickers, skyscrapers and expensive cars are shown.
---
Video Promo: FTR
#FTR is refocused and revitalized, and that's bad news for the rest of the #AEW tag team division – Tune in to @tntdrama NOW to watch #AEWDynamite LIVE! pic.twitter.com/7Z8qAM9U9X

— All Elite Wrestling (@AEW) September 30, 2021
FTR cuts a promo backstage and says that they are revitalized right now, which is bad news for every other team in AEW.
---
In-Ring: Dan Lambert, Men of the Year
Dan Lambert leads Scorpio Sky and Ethan Page to the ring and he mocks Jericho after what his MMA boys did to him last week. Lambert then gives Jericho credit for putting AEW on his shoulders, while also running down AEW at the same time. Lambert lambasts the crowd and says that they bashed Jericho's brains in and he won't ever wrestle again. He says that Tony "Khan-man's" job of selling snake oil is now harder without Jericho.
Sky says he was one of the first champions in AEW and he has had one of the best winning percentages in the company and even climbed a ladder and grabbed a "gigantic Sonic ring" and that wasn't good enough for AEW. He says that Lambert sees he and Page as a main eventer.
Page says that people look past them because they don't swear or wear face paint or wear "feaux leather" and then he runs down his accolades in martial arts and wrestling. He says they will not be looked over any longer.
---
Video Promos: Thunder Rosa, Jade Cargill, Nyla Rose
A massive three way matchup on #AEWRampage between @Jade_Cargill, @thunderrosa22, & @NylaRoseBeast – Tune in to @tntdrama NOW to watch #AEWDynamite LIVE! pic.twitter.com/j5RRzPwn7U

— All Elite Wrestling (@AEW) September 30, 2021
Rosa, Cargill and Rose cut promos for their upcoming three way match on Rampage.
---
Video Promos: Hikaru Shida, Serena Deeb
.@shidahikaru is after 50 wins in #AEW, but to get there, she has to get through the Woman of 1,000 Holds @SerenaDeeb next Wednesday on #AEWDynamite's Anniversary Show – Tune in to @tntdrama NOW to watch #AEWDynamite LIVE! pic.twitter.com/IutSTKhEWn

— All Elite Wrestling (@AEW) September 30, 2021
Hikaru Shida cuts a promo about going for her 50th win but she will have to get through Serena Deeb next week to get to it.
---
Tay Conti & Anna Jay vs. Penelope Ford & The Bunny
Jay and Conti drag Bunny and Ford out to the floor and beat them down before Jay drags Bunny back in the ring and goes to work on her. Conti hits a series of Judo throws on Ford as she and Jay make quick tags. They kick Ford and Bunny in the face and then hit Splashes. Ford manages to catch Jay with a Backstabber and Bunny hangs her up in the ropes. Ford hits a Slingshot Knee Drop on Jay.
Conti hits a Springboard Cross Body on Ford and tags Jay in where they hit a Double Suplex for two. Ford avoids a clothesline with a Matrix followed by a Stunner and then a Gutbuster for two. Ford goes up top but misses a Moonsault Press. On the outside, Conti hits a TayKO on Bunny. In the ring, Jay hits the Dangerous Jay Kick before locking her in the Queen Slayer for the KO!
Winners: Jay & Conti via pinfall (Queen Slayer)
Brodie Jr. runs out and celebrates with Conti and Jay.
---
In-Ring: MJF, Darby Allin
MJF comes out to Tony Schiavone's annoyance. MJF says he wants AEW to be successful and he will do whatever it takes to make that happen but only as long as he is given what he deserves. MJF says that AEW keeps building more and more momentum and there are several young men that have helped build AEW in the future. He calls Sammy Guevara, Jungle Boy, Darby Allin and MJF the pillars of AEW and says he beat the others.
MJF says without him AEW "ain't shit" and he deserves to be World Champion. MJF says that Tony Khan is in his Top 2 of "Khans in professional wrestling" but if Khan doesn't give him what his wants he will pull out his good friend Bruce Prichard's phone number and call him up.
Darby Allin interrupts MJF and MJF makes fun of his "school shooter mime on a skateboard" routine. Allin tells MJF to shutup and tells him to leave if he wants to go somewhere else and gets what he wants and no one would care. Allin says he is AEW until death and reminds MJF that he's the only one of the two to have won a championship in AEW.
MJF makes fun of Allin's "Batman voice" and then talks about Allin being straight edge and asks if anyone knows why he is straight edge. MJF talks about his drunk uncle getting in a car accident with Allin in the car and the fact that his uncle died. MJF says it's a travesty because the wrong man died that night. Allin says that MJF can't break him and then asks what MJF is going to do now and MJF gets pissed and leaves as Punk on commentary says that the bully doesn't know what to do when someone stands up to him.
---
Next Rampage and Dynamite Cards
#AEWRampage THIS FRIDAY at 10/9c on @tntdrama
– @bryandanielson v #NickJackson of the @youngbucks
– Hair vs Hair: @orangecassidy v @JackEvans711
– @thunderrosa22 v @NylaRoseBeast v @Jade_Cargill pic.twitter.com/OGaAcgGQEJ

— All Elite Wrestling (@AEW) September 30, 2021
Rampage:
Bryan Danielson vs. Nick Jackson
Hair vs. Hair Match: Orange Cassidy vs. Jack Evans
Thunder Rosa vs. Jade Cargill vs. Nyla Rose
Dynamite (Two Year Anniversary):
Eight Man Tag Team Match: The Elite (Kenny Omega, Adam Cole & The Young Bucks) vs. Bryan Danielson, Christian Cage, Jungle Boy & Luchasaurus
TNT Championship: Sammy Guevara (c) vs. Bobby Fish
Casino Ladder Match: Winner receives a world title match
Hikaru Shida vs. Serena Deeb
---
TNT Championship
Miro (c) vs. Sammy Guevara
Sammy shoots in with a Pump Kick attempt right off the bat but Miro sidesteps him and then lays him out with a big Forearm Smash. Miro stomps Guevara and hits a Vertical Suplex before taunting him. Miro goes to work on Guevara's legs and his back. Miro runs Sammy over with a Polish Hammer and gets a nearfall. Sammy uses Sammy's necklace to choke him with it.
Miro misses a clothesline and Sammy hits a Cross Body sending both men flying over the top to the floor. Guevara throws Miro into the ring post and then sends him flying into the steps. Sammy rolls Miro in the ring and then goes for a Shooting Star Press but Miro catches him in midair and hits a Belly-to-Belly Overhead Suplex!
Guevara catches Miro with a Jawbreaker but as he goes for a Flying Knee Miro catches him again and hits a German Suplex. Miro hits a series of Shortarm Lariats but as he went for a third one Guevara catches him with a Spanish Fly out of nowhere! Guevara hits a Superkick and a Shining Wizard!
Guevara goes for a Pump Kick but Miro sidesteps him and goes for a German Suplex, but Sammy lands on his feet and then ducks a charging Miro sending Miro flying over the turnbuckle to the floor! Guevara hits an insane Twisting Fosburry Flop over the corner post onto Miro on the floor! In the ring, Sammy goes for the 450 Splash but Miro moves and Guevara lands on his feet only to eat a Black Hole Slam for two.
Miro goes for the Pump Kick but Sammy moves and hits a Flying Knee followed by a second one! Sammy hits an Enziguri and climbs up top but Miro cuts him off. Miro climbs up with Sammy and goes for a Superplex but Sammy knocks him off and hits a Diving Cutter! Sammy goes for GTH but Miro blocks it and hits a Thrust Kick! 1…2…NO Sammy kicks out!
Miro calls for Game Over but Guevara rolls to the outside. Miro gets pissed off and rips the top turnbuckle pad off of each corner. Fuego del Sol runs out and tries to stop Miro but Miro lays him out. Sammy comes flying in with a Knee Strike that sends Miro into the turnbuckle. Sammy hits a Tornado DDT followed by the GTH! Sammy goes up top and flips of Miro before hitting the 630 Splash! NEW DAMN CHAMP! 1….2…3!
Winner & NEW TNT Champ: Sammy via pinfall (630 Splash)